NOISE.IFUNK started as a workshop during the summer of 1995 at The Public Theater,
where it opened in November to virtually unanimous critical acclaim by theater and dance
critics, playing until January 1996. It then transferred to Broadway in April, 1996 and
reopened to a second round of rave reviews, nine Tony Award nominations including best
musical, and sell-out crowds. In his review of the Broadway production, Ben Brantley of
The New York Times exclaimed: "Sing hallelujah! NOISF / FUNK is alive and flying higher
than ever. This white-hot exchange of energy can sometimes be found at a rock concert, but
rarely at a Broadway musical." NOISE / FUNK shattered Ambassador Theater house
records during its three triumphant years on Broadway.

17 year old Dominique Kelley performs "The Lynching Blues" in BRING IN DA NOISE, BRING IN DA FUNK Photo by Michal Daniel
BRING IN 'DA NOISE, BRING IN 'DA FUNK has set design by Riccardo Hernandez,
lighting design by Jules Fisher and Peggy Eisenhauer, costume design by Paul Tazewell,
sound design by John Weston and projection design is by Batwin+Robin.

The Grammy nominated original cast recording of BRING IN IDA NOISE, BRING IN
'DA FUNK is available on RCA Victor.

BRING IN 'DA NOISE, BRING IN 'DA FUNK was conceived and developed in The
Public Theater's LuEsther Lab which is devoted to the creative process and the development
of new work. Funding for the Lab is provided by the LuEsther T. Mertz Charitable Trust,
The Harold and Mimi Steinberg Charitable Trust, The New York Times Company
Foundation, The Greenwall Foundation, The Nathan Cummings Foundation, The Frederick
Loewe Foundation and the Herb Alpert Foundation.


The world premiere of BRING IN 'DA NOISE, BFJNG IN -DA FUNK at The Public
Theater was made possible, in part, by generous grants from The LuEsther T. Mertz
Charitable Trust, Dorothy and Lewis Cullman, The Andrew W. Mellon Foundation and the
Harkness Foundation for Dance.

The Tickets for the Houston engagement of BRING IN 'DA NOISE, BRING IN 'DA FUNK
will go on sale Sunday, March 21 and can be purchased at all Ticketmaster ticket centers
including Foley's and Kroger. To charge-by-phone, call 713-629-3700; for groups of 20 or
more, call 713-693-2692 or toll free at 1-800-889-8457. Ticket prices range from $15.00 to
$49.50. Performance times are Tuesday through Saturday at 8:00 p.m., Saturday and Sunday
matinees at 2:00 p.m. with a specially priced $15.00 matinee on Thursday, April 29 at 1:00
p.m. Please note: the 2:00 matinee on Saturday, May 1 will be captioned for the hearing
impaired. The TDD # for tickets is l-800-755-6244.

The MasterCard Broadway Series is made possible by MasterCard International. With
headquarters in Purchase, NY, MasterCard International is a global payments company with
one of the world's most recognized brands. It is dedicated to helping more than 22,000
financial institutions provide their customers with a variety of payments.

Additional support for the 1998 - 1999 MasterCard Broadway Series is provided by
Continental Airlines, Of'ficial and Exclusive Airline and Lucent Technologies, Official
Communications Technology Sponsor.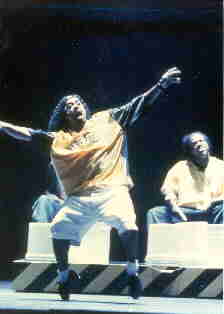 Jimmy Tate performs as 'Da Beat in BRING IN DA NOISE, BRING IN DA FUNK Photo by Michal Daniel