HOUSTON GRAND OPERA'S
1998-1999 Season

HOUSTON GRAND OPERA
Phone 713-546-0246 or 1-800-346-4462

David Gockley
General Director

Patrick Summers
Music Director

---------------------------------------

WAGNER'S

THE FLYING DUTCHMAN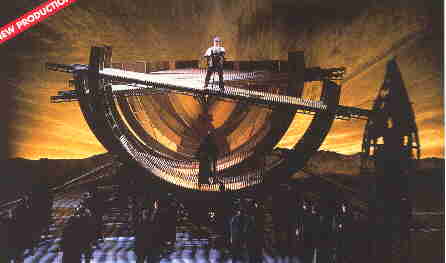 Awesome Power! HGO's New Production Comes In Like A "Lion".

October 23, 25m, 28, 31, 1998 and November 3, 6, 8m, 1998

From the opening moments when his Ghost Ship magically emerges from the raging storm to the Dutchman's final heavenward ascent, Richard Wagner's first great opera is a feast for the eyes, ears and intellect. Especially as conceived by the visionary Julie Taymor, creator of Broadway's "breathtaking" (NY Times), "awe-inspiring" (Time) The Lion King.

Compelling and concise, The Flying Dutchman draws us deep into myth - a seaman damned to sail forever unless he can find redemption in a woman's love. Will he find her? Will she make the supreme sacrifice? Our sensational opener stars Franz Grundheber, today's preeminent Dutchman, and Ljuba Kazarnovskaya. Austrian conductor Dietfried Bernet makes his HGO debut.

---------------------------------------

OFFENBACH'S

THE TALES OF HOFFMAN

October 30, 1998 and November 1m, 4, 7, 10, 13, 15m, 1998

Join a half-mad poet in his obsessive search for his feminine ideal. Passion knows no limits as Hoffmann reels from fetish to fantasy. Offenbach's opulent masterpiece bursts with gorgeous melodies, including the famed "barcarolle." But these "Tales" come with a cutting edge. Is perfect love attainable?

HGO has assembled a sterling cast, under the direction of the Royal Shakespeare Company's Ian Judge, to capture every nuance of this ultimate operetta. With Ramon Vargas (1997's Faust), Dean Peterson (1998's Figaro) and Spanish sensation Maria Bayo, fresh from a triumphant Met debut.

---------------------------------------

SONDHEIM'S

A LITTLE NIGHT MUSIC


Send in the Stars! Opera legends sing Sondheim.

January 29, 30, 31m, 1999 and February 3, 9, 12, 14m, 1999

Frederica von Stade! Thomas Allen! Sheri Greenawald! Evelyn Lear! Only HGO could assemble this much star power for a magical new mounting of the Tony Award Winning A Little Night Music.

Stephen Sondheim, musical theater's resident genius, has created a marvelous operetta celebrating the ages and stages of love. Young Love. Lost Love. Twilight Love. A weekend in the country captures them all in three-quarter time. Featuring Sondheim's hit, "Send in the Clowns."

Here's a lot of lovely night music. Beautifully, hauntingly sung as you have never heard it before!

---------------------------------------

VERDI'S

LA TRAVIATA


A courtesan is conquered by love. New production, new voice!

February 5, 7m, 10, 13, 16, 19, 21m, 1999

Champagne for everyone! Followed by tears. Raise your glass as Patricia Racette, the Violetta of the moment, makes her Houston debut as the star-crossed courtesan.

A brilliant concept by director Christopher Alden (Harvey Milk) takes you behind the brocade of this true-to-the period production to examine a Parisian male-dominated society that creates then destroys its most celebrated "demimonde." Violetta's capacity for selfless love both dooms and redeems her. One of the truly great portraits ever captured in literature, on film (Camille) and on the musical stage.

Verdi's classic will be the first of many memorable productions performed under the baton of new Music Director Patrick Summers.

---------------------------------------

TOD MACHOVER'S


RESSURRECTION
HEAVEN ON EARTH


Libretto by Laura Harrington




April 23, 25m, 28, 1999 and May 1, 4, 7, 1999
World Premiere! An opera to light our way to the millennium.

On a canvas vast as Czarist Russia, Tolstoy painted searing portraits of the human spirit. HGO proudly presenta a romantic, lyrical new opera drawn from this novel that inspired a revolution and still speaks to us today.

With glorious pageantry, soaring melody and a resounding choruses, Resurrection traces the fate of a young nobleman called as a juror in a prostitute's trial. To his horror, she proves to be the servant girl he once loved and impregnated, then abandoned. Her sentence: Siberia. In penance, the nobleman renounces his heritage, frees his servants and joins his life's journey to hers. Directed by Braham Murray; conducted by Patrick Summers.

---------------------------------------

BOITO'S


MEFISTOFELE
THE DEVIL'S HELL ON EARTH


April 30, 1999 and May 29m, 5, 8, 11, 14, 16m, 1999

Ramey's Satan is highly selective. He appears only to subscribers!

If you saw America's favorite bass in the 1992 Mefistofele, you haven't forgotten. If not, here's your opportunity
to encounter Samuel Ramey as evil incarnate. In an utterly incendiary production.

But save your soul. Only a subscription to HGO's 1998-99 season will admit you to next season's phenomenal finale. Boito's version of the Faust legend transports you from a Witches' Sabbath to the love bower of Helen of Troy, from glimpses of Hades to visions of Heaven. Joining Mr. Ramey are William Joyner as Faust and Patricia Racette (La Traviata as Margherita. And on the podium, the return of another HGO favorite - John DeMain.