ALLEY THEATRE
Gregory Boyd, Artistic Director
Paul R. Tetreault, Managing Director

Alley Theatre and Eve Ensler Make
(L-R) Lisa Richards as Alice, Sherri Parker Lee as Jane. Photo by T. Charles Erickson. Lemonade is a complex, unsettling and funny story about a middle-aged housewife named Alice who finds an amnesiac man, Bernard, at her kitchen table. Their new intimate relationship perplexes Alice's anorexic attorney daughter Jane and sends them on the run from the law. Directed by David Wheeler.
LEMONADE
WORLD PREMIERE of Incisive New Play
By the Writer of The Vagina Monologues with Set by Last Season's
Tony Award-Winning Designer Richard Hoover
http: / /www.alleytheatre.com

October 8 - November 7, 1999; Opening October 13, 1999
HOUSTON, Texas-The Alley Theatre will unveil the world premiere of Eve Ensler's riveting
Lemonade. A finalist for the 1999 Susan Smith Blackburn Prize, Lemonade is a complex, unsettling
and funny story about a middle-aged housewife named Alice who finds an amnesiac man, Bernard, at her kitchen table. Rather than question his past or inquire about his intentions, she offers him lemonade.
Richard Hoover, the Tony-Award-winning scenic designer for the Alley/Royal National Theatre/Moving Theatre production of Not About Nightingales by Tennessee Williams last season, has created the set in the Alley's intimate Neuhaus Arena Stage. David Wheeler (Alley's Misalliance and Death of a Salesman) will direct, replacing the previously announced Lenka Udovicki.
Sponsored by Finger Interests, the world premiere of Lemonade begins previews Friday,
October 8 and opens Wednesday, October 13, running through Sunday, November 7, 1999.

Recently named the 1999 Guggenheim Fellow in Theatre Arts, Ms. Ensier says that Lemoikade is
about memory, accountability, love-and the distortions of love. Alice and Bernard begin an intimate
relationship that perplexes Alice's severe daughter Jane and sends them on the run from the law. Based on a true story and told from the fernale perspective, Lemonade begs the question, "Can we ever know someone's true self"

The cast of Lemonade includes Alley Company Actor Sherri Parker Lee (fresh ftom the Alley's
Broadway run of Not About Nightingales), Lisa Richards (Alley's Death of a Saleman) and Stephen Mendillo (Broadway's Orpheus Descending), in his Alley debut.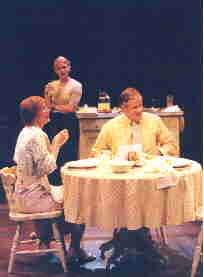 (L-R) Lisa Richards as Alice, Sherri Parker Lee as Jane, Stephen Mendillo as Bernard. Photo by T. Charles Erickson. Lemonade is a complex, unsettling and funny story about a middle-aged housewife named Alice who finds an amnesiac man, Bernard, at her kitchen table. Their new intimate relationship perplexes Alice's anorexic attorney daughter Jane and sends them on the run from the law. Directed by David Wheeler.
Ms. Ensler is an accomplished playwright, screenwriter and director who may best be known for
The Vagina Monologues, a piece that gives voice to a number of different stories from women across the globe about experiences unique to being a woman. During the Alley's run of Lemonade, Ms. Ensler will be in New York performing The Vagina Monologues, beginning September 21 at the Westside Theatre, 407 W. 43rd Street. Originally produced in 1996 in New York at downtown's HERE theater, The Vagina Monologues garnered Ms. Ensler a 1997 Obie Award and a Drama Desk Award nomination. On Valentine's Day 1998, it was the centerpiece for V-Day, a gala theatrical and musical event featuring artists such as Winona Ryder, Glenn Close, Whoopi Goldberg, Calista Flockhart and Susan Surandon to raise consciousness and funds to fight domestic violence. A second V-Day event was held in London at the Old Vic in February 1999.

Ms. Ensler also wrote Necessary Targets, a play about women affected by the war in Bosnia.
First Lady Hillary Clinton, Glenn Close and Marisa Tomei gathered with nearly 200 women from the former Yugoslavia to honor female victims of post-war Bosnia. Following this gathering, Ms. Close and Ms. Tomei traveled to war-tom Sarajevo to join native actors in a production of Ms. Ensler's Necessary Targets at the National Theater.
Ms. Ensler's other plays include Floating Rhoda and the Glue Man (published in The Best
Plays of 1993), Extraordinary Measures, The Depot, Scooneat, Loud in My Head, Ladies, Reef and Particle and Cinderella Cendrillion (directed by Anne Bogart). She is working on new projects
including Conviction, a play based on the life of a political prisoner in an American prison; Seven
Counts, a screenplay about women in prison for Glenn Close; and Points of Reentry, her next book which explores women's relationships with their bodies, to be published in February 2000.

Lemonade scenic designer Richard Hoover creates sets for both film and theatre. His innovative,
all-steel design for Not About Nightingales won a Tony Award for design, the London Evening Standard Award, the Olivier Award and the London Critic's Circle Award. He has designed sets for the films Dead Man Walking, Bob Roberts and the upcoming The Cradle Will Rock-all directed by Tim Robbins. His film credits also include Girl, Interrupted starring Winona Ryder, Payback with Mel Gibson, Apt Pupil for director Bryan Singer, Blackout for Abel Ferrara, and others. In television, he designed for the acclaimed series Twin Peaks. He has designed sets for many Off-Broadway theatres in the United States including Playwrights Horizon, Circle Rep and New York Theatre Workshop. Regionally, he has designed for The Guthrie Theatre, Milwaukee Rep and The Old Globe Theatre.
~

The Alley Theatre, recipient of the 1996 Special Tony Award for outstanding regional theatre, is
a resident theatre company located in the heart of downtown Houston. Alley productions have been seen throughout the United States and abroad. In 1998, the Alley Theatre continued its commitment to international collaborations by joining Vanessa Redgrave and Corin Redgrave's Moving Theatre of London to produce the world premiere production of Tennessee Williams' early play Not About Nightingales at the Cottesloe Theatre in London. A collaboration with the Moving Theatre and Royal National Theatre and directed by Trevor Nunn, Not About Nightingales made its U.S. debut at the Alley Theatre in June 1998 and went on to open at the Circle in the Square Theatre on Broadway in the Spring of 1999. Featuring two Alley actors in principal roles, Not About Nightingales was nominated for a Tony Award for Best Play. The Alley began its 1998-99 season with the world premiere of an original and unique musical event entitled The Civil War by Gregory Boyd, Jack Murphy and Frank Wildhom (composer of Jekyll & Hyde and The Scarlet Pimpernel and an Alley Theatre Associate Artist). The Civil War (Tony Award nomination, Best Musical) also went on to a run at Broadway's St. James Theatre in April, 1999, making it the second Alley offering on Broadway that season.

For the 1999-2000 season, Gregory Boyd, the Alley Theatre Artistic Director has chosen to
include a juxtaposition of the new, the contemporary and the classic-including a trio of new plays by three writers making their Alley debuts: Lemo6ade, a world premiere by Eve Ensler, As Bees in Honey Drown, a brilliant comedy by Douglas Carter Beane, and Margaret Edson's 1999 Pulitzer Prize winner Wit. Alongside these are three modem masters who helped define 20th century playwriting: Arthur Miller, Tom Stoppard and Nodl Coward (whose centennial is being celebrated); and two very contrasting productions of plays written by the young William Shakespeare, on his way to defining an earlier millennium.

TICKET INFORMATION
Tickets to Lemonade can be purchased at the Alley Theatre Box Office, 615 Texas Avenue, or
bycalling7l3-228-8421. Ticketstopreviewperformancesare$23;ticketstoperforinancesonorafter
October 13 range from $37-42. Groups of 10 or more can purchase tickets at a discounted rate by calling 713-228-9341,ext.350. Patrons with low hearing may call (TI'Y) 713-220-5710 to purchase tickets.

SPECIAL PERFORMANCES AND EVENTS
CAPTIONED PERFORMANCE .
The Alley Theatre continues its efforts to make its productions available to broader audiences by
offering a captioned performance for patrons with low-hearing at 2:30 p.m. Sunday, November 7.

TALK TO THE ARTISTS
Alley patrons are invited to attend two post-perforrnance Talk Backs with the cast and members
of the artistic staff on Thursday, October 14 and Wednesday, October 20.
This production is recommendedfor mature audiences.
~
ALLEY THEATRE EXPANDS ITS ARTISTIC STAFF
September 2, 1999
HOUSTON, Texas-The Alley Theatre will begin its 1999-2000 season with three impressive additions to its staff-. James Black, an Alley Theatre Resident Company Actor for 13 years, takes on a new role as Associate Director at the theatre, Kevin Rigdon joins the Alley as Associate Director / Design, and Malcolm Nicholls is the new Resident Sound Designer.

"We are very pleased to have secured the talent of these three individuals as part of the Alley family,' said Alley Artistic Director Gregory Boyd. "Their addition promises to enhance the quality of our productions and we are honored that they have chosen our theatre to call home."

James Black, an Alley Theatre Resident Company Actor for 13 years, returns to Houston from his
Broadway debut in Not About Nightingales to begin his tenure as the Alley Theatre's new Associate Director, He will hold this position and continue to perfonn on stage as a member of the Alley's Resident Company. Mr. Black's longtime association with the Alley has provided him with a vested interest in the future of the theatre and its artistic path. His new position will have him working along side Artistic Director Gregory Boyd on a number of issues concerning progranuning, casting and recruitment and long-term artistic planning. Mr. Black has been a favorite with Houston audiences who have seen him play a diverse array of Alley Theatre roles over the years: Uncle Peck in How I Learned to Drive; multiple roles in Mere Mortals; Buzz Hauser in Love!
Valour! Compassion!; Drummond in Inherit the Wind; Shlink in In the Jungle of Cities; Hercule Poirot in Black Coffee; Harold Mitchell in A Streetcar Named Desire; J.P. Worthing in The Importance of Being Earnest; Roy Cohn in Angels in America; Proctor in The Crucible; title role in MacBeth; McMurphy in One Flew Over the Cuckoo's Nest; and others. A native of La Porte, Texas, a suburb approximately 30 minutes outside of Houston, Mr. Black has also been involved in the Houston Shakespeare Festival, as well as in an extensive list of film and television credits that include: Tne Man with the Perfect Swing, Olympia, The Legend of Texas, Fire and Rain, Challenger, Night Game and Killing in a Small Town. He will be featured in the
Alley's season opener Arthur Miller's A View From the Bridge later this month.

Resident Sound Designer Malcolm Nicholls, 29, is a 1998 MFA graduate of the Yale School of
Drama with a long list of theatre credits to his name. In New York, Mr. Nicholls worked as sound
designer for several projects including On the Clock, a part of the New York Fringe Festival; Jocasta, a world premiere opera by the independent theatre Voice & Vision; PenthesHea with the Juilliard Drama Division; and Alice Down in the Hole with Access Theatre. While in New York, Mr. Nicholls also worked with the renowned theatre troupe the Wooster Group with members such as Willem Dafoe, Spalding Gray, and Elizabeth LeCompte. Later, his experience as a resident sound designer for the Actors Theatre of Louisville allowed him the opportunity to work on numerous productions including Angels in America, Hamlet, Nixon's Nixon, Full Gallop, Noises Off, Peter Pan, Always Patsy Cline, Once On This Island, and Pump Boys & Dinettes. Mr. Nicholls' diverse experience stems from his, work at several theatre festivals and theatres such as the 23 d Humana Festival in Louisville, the Yale Repertory Theatre, the Ko Theatre Festival in Amherst, Mass., and the national tour of the Company of Women. Originally from Connecticut, this is Mr. Nicholls' first time in Texas. His first design assignments at the Alley will be Arthur Miller's A View from the Bridge and the world premiere production of Lemonade by Eve Ensler.

Associate Director / Design Kevin Rigdon is a Professor of Design at the University of Houston
and has worked on more than 15 Alley productions as a scenic and/or lighting designer including last season's Travesties, The Beauty Queen of Leenane and How I Learned to Drive. Before his move to Houston in 1997, Mr. Rigdon was Resident Designer at the Steppenwolf Theatre in Chicago for more than 110 productions. He has numerous Broadway productions to his credit including The Old Neighborhood, Buried Child, A Streetcar Named Desire, Glengarry Glen Ross and The Grapes of Wrath, for which he received a Tony Award nomination for Scenery and Lighting. As the resident associate on design, Mr. Rigdon not only designs for the Alley, but also advises on design issues and artistic planning. Past Alley productions designed by Mr. Rigdon also include Sherlock's Last Case, Spider's Web, Mere Mortals, Picasso at Lapin Agile, The Greeks, Inherit the Wind, In the Jungle of Cities, The Nerd, Black Coffee, The Cryptogram, Julius Ceasar and Antony and Cleopatra. Mr. Rigdon's experience also includes work with The Kennedy Center, The Goodman Theatre, and the American Repertory Theatre, among others.
~

ALLEY THEATRE ELECTS BILL STEWART AS NEW BOARD PRESIDENT
September 7, 1999
Houston, Texas - After eight years of contributing to the Alley Theatre's fundraising efforts while on the Executive Committee, J.W. (Bill Stewart) will take over as President of the Alley Theatre Board of Directors. Mr. Stewart - Chairman, President and Chief Executive of BJ Services, a global provider of services to energy producing companies - succeeds Jerry Finger.
"With a major production of View From the Bridge, the world premiere of Lemonade
and a new version of Christmas Carol for starters, this promises to be another groundbreaking
season in artistic and administrative endeavors. I am looking forward to overseeing the Alley's
hardworking board and in contributing to the future goals and achievements of the Alley," said
Mr. Stewart.

Mr. Stewart joined Hughes Tool Company in 1969 as Project Engineer. He made a career move from engineering to finance and in 1978 was promoted to Assistant Secretary for the Hughes Tool Company. In 1981, he was named Vice President - Legal and in 1983 promoted again to Corporate Secretary. Finally, in 1985 Mr. Stewart took over as Vice President, Operations for BJ - Titan Services, which he has held since 1990 when BJ Services separated from Baker Hughes.
A native of Baytown, Mr. Stewart is also involved with the board for The Children's
Museum of Houston, as well as several other industry activities including Director of the
Petroleum Equipment Suppliers Association.

615 Texas Avenue Houston, Texas 77002-2795 , Administrative Offices: 713-228-9341, Fax: 713-222-6542
Box Office: 713-228-8421 - TTY-. 713-790-5710
Continental Airlines is the official airline of the Alley Theatre.

~