"A LOTTA LOVE AND A LOTTA BASKETBALL"
A review of the Worldfest – Houston's Opening Night Film
LOVE AND BASKETBALL
Written and Directed by Gina Prince - Bythewood

By Theresa Hyde
TheresaHyd@aol.com
April 7, 2000 Friday









CYNTHIA COOPER




The St. Thomas Episcopal School Band Bagpipes announced the arrival of Houston Royalty. Her Royal Highness CYNTHIA COOPER, Womens National Basketball Association Champion and Most Valuable Player, escorted by rising movie star "hot hot hottie" Oman Epps, paraded down the movie theatre aisle after being introduced by Worldfest – Houston International Film Festival Chairman and Founding Director J. Hunter Todd. Her shiny evening dress accentuated her beautiful feminine curves, especially those clearly defined biceps on her upper arm.

"Where's the basketball court?" she asks the crowd, as Mr. J. Hunter Todd points to the big movie screen. "I was gonna take Omar on for a game," she says as the crowd cheered. The Meyerland Plaza General Cinema theatre seemed so small as the roaring crowd and her enormous regal presence filled the room.

Omar Epps, who is starring in the Opening Night Film LOVE AND BASKETBALL, as Quincy, an offspring of an NBA veteran, thanked the crowd for coming out. "I had a lot of fun making this movie," he declares. Now, let me tell you how incredibly hot Omar Epps is right now. Never mind the fact that his movie THE WOOD is currently playing on Pay Per View all month long, I spotted him on TV again Wednesday night as I was working out at the local gym. MTV had their 1999 Movie Awards on, and he stepped onstage with Taye Diggs to introduce Bawitdaba by Kid Rock. As I watch him in person sitting a few rows back, he seems so shy now as he turned his head down low.







(L-R) Omar Epps and Sanaa Lathan star in LOVE AND BASKETBALL, written and directed by Gina Prince - Bythewood.




LOVE AND BASKETBALL is a movie written and directed by Gina Prince – Bythewood, a former UCLA basketball player. Even though this movie is written by a female who is making her feature film directorial debut, it does not come across as a "chick – flick – girl – movie". The screenplay for LOVE AND BASKETBALL, Prince – Bythewood's first original was accepted to both the equally prestigious Sundance Institute's Writer's Lab and Director's Lab. Produced by Spike Lee, Sam Kitt and Andrew Z. Davis, the movie stars Sanaa Lathan, who is attractive and engaging as the tomboyish Angela. The cast also includes Dennis Haysbert, Kyla Pratt, Debbi Morgan, Tyra Banks and the passionate Alfre Woodard, who plays the reliable and steadfast mother.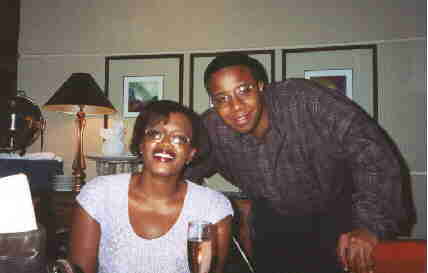 (L-R) Camille Kenney and Brad McCrea talks about LOVE AND BASKETBALL, a film written and directed by Gina Prince - Bythewood.




I talked to CAMILLE KENNEY of the Amazon Xociety, whose motto is:
Dedicated to the empowerment of women in practical ways!

Theresa: What do you think of the movie LOVE AND BASKETBALL?
Camille: I liked it a lot. I really identified with it. Not just for the basketball, and not just being a typical, or what people think a female basketball player should be. You know, she (Angela played by Sanaa Lathan) wanted to play basketball and they didn't understand it. And they thought she was strange, that girls shouldn't be playing basketball and they didn't understand.

Theresa: I was wondering how close this movie was to being the story of Cynthia Cooper….
Camille: I know that the director used to play basketball for UCLA.
Brad McCrea: Cynthia Cooper went to USC, she traveled to foreign countries and played international for a while, just like the Angela character in the movie.
Theresa: What do you think of the music?
Camille: The soundtrack was excellent, old school jams. I think everybody that's in their twenties and thirties, they grew up with those songs. And those dances…..
Theresa: It got pretty emotional there…..
Camille: I wasn't crying, 'cause I didn't know how it was gonna end. I didn't know if she was gonna give up her career for him. In the whole, I think the movie is in balance, a story for the new millennium. Because it is!
Theresa: She became successful with her basketball career…..
Camille: And he has the baby, and they're waving, while mom's working. And it feels good that women have the opportunity now, that they can actually make money doing what they love to do. She could play basketball but she couldn't have it all.
Theresa: And she's trying to work at the bank, and wear high heels….
Camille: See, I've been there too. I identified with her.

Theresa: Also, a group discussion was held, which consisted of Film Festival attendees BEN SCOTT, TONYA WILLIAMS, KIMBERLY WILLIAMS, JAMARA WILKES, and BRAD McCREA. We completely dissected the film.








(L-R) Tonya Williams, Theresa Hyde and Ben Scott discuss LOVE AND BASKETBALL, a film written and directed by Gina Prince - Bythewood.



Theresa: What do you think of the movie LOVE AND BASKETBALL?
Ben: A lotta love and a lotta basketball. It's a wonderful movie.
Tonya: What I like about it is, now I like basketball, but I also liked the romance, it made me happy and sad, it made me cry….
Ben: It made everybody cry. It had a lot of family values too, really strong family ties. I just can't wait to see it again.

Theresa: How about Omar Epps' performance?
Ben: Oh great, but I think she (Sanaa Lathan who plays Angela) was definitely awesome.
Tonya: Her emotions, and the expressions on her face, that's what got to me more than anything else.
Theresa: Sanaa Lathan was more beautiful than Victoria's Secret Supermodel Tyra Banks because of her emotions and despite the fact that she's sporting a scar on her left cheek.
Ben: Definitely more appealing.
Theresa: What do you think of Alfre Woodard, who played the mother?
Tonya: She was subtle, but she made a point.
Ben: What I got from her was that it took a lot of strength, not just to play the role, but her position. Because it takes a lot of strength to subdue your own wants and needs…
Theresa: And to slap your own daughter…
Jamara: I didn't expect that at all…..I said….whooaaw….
Theresa: What is your favorite part of the movie?
Jamara: Oooooh, favorite part? (giggles) I'm not gonna say my favorite part but it was a great movie.
Theresa: In the Strip-Basketball scene, Omar Epps did reveal a little more of himself. Now I know why Cynthia Cooper was looking for the basketball court in the theater. I'd be looking for one too, if I were standing next to Mr. Hottie.








(L-R) Kimberly Williams, Theresa Hyde and Jamara Wilkes discuss LOVE AND BASKETBALL, a film written and directed by Gina Prince - Bythewood.



Kimberly: I thought the movie was very realistic, very good. I like movies better for their realism. My favorite part was when she (Angela) asked him (Quincy) to play her one last game, one – on – one, and when he asked why, she said, "For your heart." That was my favorite part.
Ben: That was mine, too.
Kimberly: Yeah, and he looked like, "What?" And she was so serious with him. And then he agreed to play the one last game.
Ben: She just made me think of something, when he said "Double or nothing….", that was kinda……
Theresa: (the whole group responds in agreement) Oh yeah……
Kimberly: Yeah, that was a great comeback. I have to give him a little credit for that. Here's a little criticism, I think that in some parts, he was a little too hard on her at times. Because if he really loved her, he coulda cut her some slack. But in five years, he only tried to call her two times? He's been in love with her since she was 10 years old. I know that his dad (played by Dennis Haysbert) had a lot to do with it. But it just seemed like, if she was his best friend, why didn't he call her more? That was the only thing I didn't like.

Theresa: But you know if it were easy, they wouldn't have made the movie.
Kimberly: I didn't expect it to be easy, because I know how arrogant basketball players can be. You can expect basketball players to be arrogant, but only to a certain extent. And they never forget where they came from or the people that were there for them before. Now, I'm not saying that all basketball players are arrogant, but they do start to take on like a Charles Barkley. Everybody has a little bit of Charles Barkley in them. You know Michael Jordan was nice, but he still had some kinda attitude in him. He probably deals with it in a different way. That's how you can tell he's so macho, like he has to have things his way. And I still like the Omar character, but he could have been nicer.

Tonya: That was actually the same debate that we had……
Ben: I was thinking that he should have definitely looked her up first. After he got his head straight, more than anybody else, because they had this love affair and friendship.
Kimberly: He didn't really get his head straight, though. You could tell a little bit that he was still kinda battling. He couldn't end it with his dad, he couldn't even talk to him. He told his dad to leave.
Tonya: I didn't like that part either.
Kimberly: He couldn't even let bygones be bygones. He is so afraid of getting hurt. He is so afraid of the pain that his dad caused him, even when she came back from Spain to visit him in the hospital. And I do like the part where Alfre Woodard told her to fight.
Ben: Yeah, yeah….
Kimberly: That was like her way of working through her daughter…..
Jamara: Because her daughter had given up on him, too.
Ben: When her mom told her she admired the fight in her.

Kimberly: I just thought they were going their separate ways. In another sense, they were trying to show how easy it is for men and how hard it is for women. I thought that was gonna tear them apart.
Tonya: They both had their highs and their lows.
Kimberly: He couldn't understand why she had to go for her curfew. They didn't have pressures on him like they had on her.
Ben: It wasn't like she just left, I mean, she did have responsibilities.
Kimberly: That's the part about being in a relationship…..
Ben: Exactly what I thought. But then again, she coulda stayed too. But it would have jeopardized her basketball career.
Kimberly: But knowing her and knowing her love for basketball……
Ben: Right.
Kimberly: Why would you ask somebody you love to put something as important as that on the line?

Jamara: With the situation with his parents, he couldn't see anything else with his dad being unfaithful. Why would he even take it out on her?
Ben: Thank you. Thank you.
Jamara: But he knew she's already having trouble on the team.
Ben: But it was tough for him dealing with his mother, too. I felt pretty bad with his mother crying like that. That's why I couldn't understand why he would turn around and do the same thing to this woman, seeing his mother really hurt.
Kimberly: But he was honest with Angela.
Theresa: That's right.
Kimberly: He didn't lie about it.
Ben: But he put it in her face, though.
Brad: Yeah!
Kimberly: That just shows that he wouldn't do the same thing that his dad did. Because he knows that everything that his dad told him was a lie. He felt like, "I'm just gonna keep it real. I'm not gonna lie about it anymore."
Ben: I was looking at how bad she felt though. That's pretty bad.
Kimberly: That's another problem that made me mad, 'cause he came back arrogant instead of apologizing for what he did.



Tonya: That's what I was trying to get to understand too, was that the reason why he wasn't as forgiving was because he was hurt. And that's only human nature, sometimes you hold onto some grudges and it's hard to let it go. And I don't think that he was being mean, but I just think that he didn't know how to express it, or tell his father. When he started crying with his father, that's when I started crying. I really wanted his father to walk over there and hug him, but he didn't. It still ended there, I didn't like that part.
Kimberly: That was the realistic part. It would have been just another movie, if they woulda hugged, you know?
Tonya: Yeah……
Kimberly: So I think that's why the director, she really deserved props for that movie because she really kept it real. She kept you down to earth and grounded with it.

Theresa: I'm so proud of the fact that the movie is written and directed by a woman. I mean, she directed the love scenes, the basketball scenes. I can't help thinking that she is the female Spike Lee.
Kimberly: And that's what Ben said. He said, "I could tell that Spike Lee had his influence in the movie."
Ben: Yeah, that's right. I just couldn't understand how you could cut friends loose like that, for a whole five years.
Kimberly: I don't either.
Ben: I can't understand that.
Kimberly: I guess it worked out perfectly. I guess that shows how fate controls your life. He got her. The person that was there before, was there for him. And the person that came in for the money. If he would have told Tyra Banks that he was going back to her, Tyra Banks would have dumped him.
Ben: Yeah (laughs) I was hoping to see that part.

Kimberly: The soundtrack was excellent. I would advise anybody that likes old music from the eighties, and even early nineties to get the soundtrack to this movie. That was gooooood music.
Ben: Uh-huh, yeah. I was boppin' all the way through, man…..(starts shakin' his hips).
Kimberly: Me too!
Tonya: They did a remake of a song, what was that song when she was in her bedroom? That soundtrack was the bomb!!!
Kimberly: You know with the eighties, oooooh, I remember that song!!! I WANNA BE YOUR MAN (starts singin') What was the name of that song, at the dance? That's not COMPUTER LOVE, though?
Brad: No, that's I WANNA BE YOUR MAN!
Kimberly: I WANNA BE YOUR MAN, that was sooooo good.
Ben: (laughs) What was I doing back then?
Theresa: (everyone's having a good time, reminiscing)

Ben: You know what I thought they were gonna do at the dance? I thought they were gonna leave each other's partner, come over and start dancing with each other.
Brad: I thought about that, too.
Kimberly: I like the fact that at the end, they both were curious about how each other was doing. (laughs) I like that.
Ben: (laughs) Oh yeah, oh yeah.

Tonya: I love that dance scene. (laughs) Girl!!!
Ben: What was that little pop dance, what was that? I can't remember the name.
Kimberly: (laughs) I took me back, though. I can remember everything like when I was in my twenties. Even the clothes they had on. Did you see that black t-shirt he had on?
Brad: And the over – alls with one over the shoulder…..
Ben: I was checkin' out the hairdos…..
Brad: With the corn rows, and the streak, the three on the side.
Kimberly: And the one with her with one side clipped up and the other side coming out. Soooo eighties, that was so eighties.
Ben: It looked like they were going back to Soul Train, like they dug up some of them old films. (laughs)
Kimberly: They must have (laughs). And then that silver dress that the girl had on, Omar's date. The one with the big waistband, you know what I'm talkin' about? The front is two sides draped over each shoulder, and the back is bare.
Theresa: Like that old prom dress.
Tonya: They're bringing it back.
Kimberly: That was Soul Train right there.
Theresa: But they did end up together that night. That was the best love scene (every one agrees)
Ben: I kinda had a feelin' that something like that was gonna happen. (laughs)