THE COMPANY ONSTAGE

Presents

THE SISTERS ROSENSWEIG



Pulitzer Prize Winning Playwright Wendy Wassetstein




by
Wendy Wasserstein

Directed by Michael Massey

Joyce Randall McNally and Patti Lindloff
Artistic Directors

CAST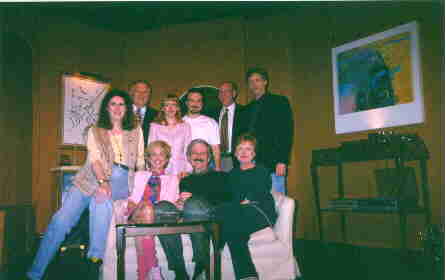 Sara Goode................................Patti Lindloff
Tess Goode...............................Elizabeth Seabolt
Pfeni Rosensweig.....................Jayne Hansen
Geoffrey Duncan.......................Tom Eschbacher
Marvyn Kant..............................R.K. Hansen
Gorgeous Teitelbaum................Janet Hansen
Tom Valiunus..............................Kevin Tully
Nicholas Pym..............................Keith Lindloff
 -----------------------------------------------------------------------------



Interview with Michael Massey
Director for The Sisters Rosensweig

by Theresa Hyde
TheresaHyd@aol.com

Upon watching Sisters Rosensweig, you'll feel like you have just seen a Woody Allen movie. Intelligent, Jewish, Funny, Conversational, London-Chic, relationship problems, Chanel fashion, dinner parties, anxiety and insecurity, international politics, and Manolo Blachinki..........I mean, Blahnik. Manolo Blahnik shoes. But the dramatic difference is that you're watching live theatre. Another difference is that it is written by a Pulitzer Prize Winning Playwright named Wendy Wasserstein. This Houston premiere presentation by The Company OnStage is represented by a fine, quality cast and directed by Michael Massey.

Mr. Massey is a graduate of Stephen F. Austin University with a degree in Theater. Directing credits at Company OnStage include Arsenic and Old Lace, Catch Me If You Can, Rumors, and The Princess and the Pea. Company OnStage audiences have seen Michael on stage in Inherit The Wind, Lend Me A Tenor, Hay Fever, How The Other Half Loves, Jake's Women, and Harvey. Mr. Massey is also responsible for the set design in this production.

THYDE: Tell us a little bit about Sisters Rosensweig.......
MMASSEY: This play is about three women, who are Jewish, and who are sisters. It takes place in Queen Anne's Gate London, and the occasion is the 54th Birthday of the oldest sister, Sarah Rosensweig. It's a wonderful relationship between 3 sisters who have gone through different trials, tribulations and searches in their lives. Searches for the possibilities in their lives.




(L-R)Jayne Hansen as Pfeni, Patti Lindloff as Sara, and Janet Hansen as Gorgeous



THYDE: Why did you choose to present this play?
MMASSEY: Actually, the play was chosen by our Artistic Director, Joyce Randall McNally. But, I was the first in line to direct it. I am familiar with Wendy Wasserstein's work, and really wanted the opportunity to be able to direct it. Because of the complexity, the challenges, and the humanity that she writes into her characters. She won the Pulitzer Prize for The Heidi Chronicles.

THYDE: You seem to be a big fan. Have you actually met her?
MMASSEY: I always make a joke with everyone that........My family and I went to New York this past summer and I said that I had a lunch date with Wendy Wasserstein, if she would return my phonecalls (laughs). But, no, I've never actually spoken to her. In some of her notes, and articles written about her, and in quoting her, she writes in such a way that you feel like you know her anyway.

I was surfing the web, and found some information, some quotes that Wendy Wasserstein has made. One of the things that she stated is that when she wrote this play, she felt that she had written one of the most serious themes, dramas that she's written to date. The play, then went into preview performances, which is actually that time between rehearsals and before the show actually opened. The audience members, came in for the first time, and they started laughing at it. She was shocked because she didn't realize that. I think a lot of it had to do with just the natural rhythm that she writes into all of her dialogue in a relationship. And the wittiness she so keenly develops between the characters. She worked in conjunction with the director, who directed several of her shows. He stated that after looking at it, comedy is just gonna make a careful balance. As you may have noticed in the play, there's a lot of humanity just like real life. There is a lot of laughter, but there's sadness, angst, and worry.

THYDE: Tell us about your past background......
MMASSEY: I have been directing here on Company OnStage for the past 3 years. One of the numerous plays I've directed is a Neil Simon Comedy called Rumors.

THYDE: What made you want to be a director?
MMASSEY: I went to Stephen F. Austin University, where I majored in Theatre and Sociology. I did mostly acting, but I just became more and more interested in directing. I guess, the older one gets the more interested you get into doing those kinds of things. It's a rarely wonderful opportunity to work and create, and step back and be able to look at ongoing living work of art. You view it more objectively, than if you're actually performing in it as an actor.

THYDE: What's the most challenging part of being a director?
MMASSEY: Coordinating in trying to get a visual picture to be somewhat true to the intentions of the playwright, especially when you have a good script. To have a work of art that the audience will come to and leave the theatre with the imprint of that creation behind their eyelids.

THYDE: What qualities do you look for in a director?
MMASSEY: Someone has to be very creative. Willing to take risks, but risk within the framework of the work of art that they're performing, or directing.

THYDE: What about actors? What qualities do you look for in actors?
MMASSEY: I look for people that I can work with. One of my objectives is to have a cast that can get along. They've got to be talented and intelligent because they've got to take directions. They've got to be willing to work together as a team.

THYDE: Who influenced you as an artist?
MMASSEY: When I went to college, there was a wonderful director that was very encouraging, Thomas Heino. He was a very disciplined director. Joyce Randall McNally, who's the Artistic Director of this theatre has a strong influence because she's very mellow in her approach.

THYDE: What would you like the audience to gain from watching this play?
MMASSEY: It's hard to say because this play means different things to different people. I think the most important thing is perhaps something that Wendy Wasserstein has mentioned, and it's quoted in the play, that "Life does have possibilities." Just because we become older and grow, we don't need to shut the door to new experiences.

THYDE: What would you like to say to the Houston Theatre-going audience?
MMASSEY: Come On Down to Company OnStage!!!

-----------------------------------------------------------------------------


Interview with Elizabeth Seabolt
Starring as Tess Goode in Sisters Rosensweig

by Theresa Hyde
TheresaHyd@aol.com




(L-R) Patty Lindloff as Sara (mother) and Elizabeth Seabolt as (daughter) Tess



Elizabeth Seabolt plays Sara Goode's young daughter, Tess in Sisters Rosensweig. She returns to The Company OnStage after performing in Blithe Spirit at Theatre Suburbia. Other acting credits include Hay Fever and Picnic at COS, Our Town and Chastity at Pasadena Little Theatre, Skeleton's Out of the Closet at Cast Repertoire Company, and Wait Until Dark at Playhouse 1960 among others. Elizabeth is a gorgeous redhead, whose red hair is as brilliant as her performance.

THYDE: You're very young, the youngest in the cast
ESEABOLT: Yes, I am actually (laughs)

THYDE: How old are you?
ESEABOLT: I'm 23. December 18th, 1974.

THYDE: Tell us about Tess, the part you're playing. You work with a tape recorder in this play, interviewing people.......
ESEABOLT: Yes, I saw you with the recorder, I said, Hey! Umm, let's see, Tess is 17, hoping to go back to America to go to College. She's at that age where she's getting along with her mom, but not quite getting along with her mom. She's sort of coming to terms with how to get along with her mom. She's very intelligent and sort of trying to find herself.

THYDE: Tess and her boyfriend were attempting to go to a place......
ESEABOLT: Lithuania. Yeah, the Lithuanian Resistance.

THYDE: How did you become a part of this play?
ESEABOLT: Actually, I auditioned for Arsenic and Old Lace when Michael was directing it. He was not able to cast me, but said that he had a character in this play that he thought I would be good for, and asked me if I would come audition. I was more than happy to do it, because I've worked with him as co-actors, and really enjoyed working with him. I wanted to experience what it would be like working with him as a director.




(l-r) Elizabeth Seabolt as Tess (seated), Kevin Tully as Tom, and Patti Lindloff as Sara



THYDE: And you like it?
ESEABOLT: Oh yeah, he's one of those directors that doesn't just tell you where to walk, or what line to say when. He gets into why the character does these things, thinks about the past and the present, which is really good.

THYDE: Tell us about your past background. How did you become an actress?
ESEABOLT: I started out when I was about 8. I was a very hyperactive child. I think I saw the movie Annie, and decided that I wanted to be an actress. So my parents enrolled me in drama classes at Chris Wilson Studios, and I started taking acting classes. And then when I was 12, I got to do Wait Until Dark, which was my first role. It was a really great experience.

THYDE: What qualities do you look for in an actor?
ESEABOLT: I would say, someone who's able to play each role as a different person, as opposed to playing them all the same. I mean you can be a really good actor, and you can find the emotion and find the depth, but if you're playing each role the same way, it's not really Acting. The best compliment I've ever had is that......I think a friend of mine came to see a play, and said that I totally didn't recognize you from the last character I saw you play. And that was great, because I was like, "That's what I'm driving for!"

THYDE: What do you want the audience to gain from watching this play?
ESEABOLT: There are real possibilities in life. Sometimes when it seems like you've reached the end of the line, and it feels like this is where you're at and not go any further. You actually CAN! There is that possibility to open that door again.
-----------------------------------------------------------------------------


WHO IS YOUR MOST FAVORITE ACTOR or DIRECTOR?

Director Michael Massey: Martin Scorsese is one of my favorite directors. I really enjoy Merryl Streep, she's terrific. Robert Duvall is probably my favorite male actor because he just slips into his characters so wonderfully.

Elizabeth Seabolt (Tess): Kate Winslet. I think she's just awesome. Mira Sorvino's really good. And I also really like, Bette Davis. I'm a big Bette Davis fan.

RK Hansen (Mervyn): Actors? After myself? I like Harrison Ford.

Janet Hansen (Gorgeous): Oh, that's a hard question, cause I don't watch too much TV, I hardly ever go to the movies. So I guess my favorite actors are the ones that I first loved when I was a kid. I've always loved Julie Andrews. I like Kathy Bates. I've always loved Audrey Hepburn, which is funny, because I have a line about her in the play. When I put the Chanel suit on, and I say, "Do I look like Audrey Hepburn?"

Tom Eschbacher (Geoffrey): Character actors, I like John Hurt. He is one of my favorite British actors.

Patti Lindloff (Sara): The list is too long........the best stage performance I've ever seen is Alec Guinness in London. That was wonderful, unbelievable. Alec Guinness and Maggie Smith.


-----------------------------------------------------------------------------

Interview with R.K. Hansen
Starring as Mervyn Kant in Sisters Rosensweig

by Theresa Hyde
TheresaHyd@aol.com

R.K. Hansen will be remembered by Company Onstage Audiences for his performance as Lenny in last season's Rumors. R.K. attended the University of Texas at Austin and South Texas College of Law and lists his hobbies as playing the guitar and cooking.

THYDE: Tell us about the part you're playing.......
RKHANSEN: I play, approximately, a 58-year old, New York furrier, who is a friend of Geoffrey's. I'm touring Europe with the American-Jewish group, he invites me to dinner......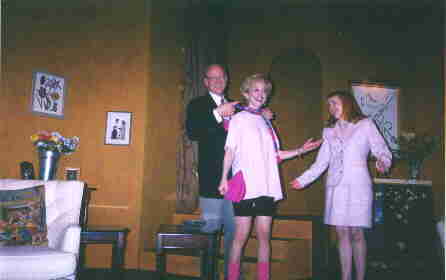 (L-R)R.K. Hansen as Mervyn Kant, Wife Janet Hansen as Gorgeous Teitelbaum, and Elizabeth Seabolt as Tess Goode



THYDE: And Mervyn is from.......
RKHANSEN: New York.

THYDE: How did you become a part of this play?
RKHANSEN: I went to auditions.

THYDE: Tell us about your past acting background.......
RKHANSEN: I have the total experience of one play, which the director of this play was kind enough to put me in. It was a Neil Simon play called Rumors. It's the only other play I've been in, in my life.

THYDE: How do you like acting? (laughs)
RKHANSEN: I've been acting since I was a child.

THYDE: That was a good performance, though. Did you find it hard? I'd like to know what you do for a living......
RKHANSEN: I'm a trial lawyer.

THYDE: You're an attorney!
RKHANSEN: And so since 1976, I've been basically a trial lawyer. Trial lawyers produce, direct, and star in productions all the time. So I really didn't find it to be a very big transition from being a trial lawyer to somebody who performs onstage.

THYDE: I got a speeding ticket on Friday the 13th. Maybe you can help me, what can we do to take care of this?
RKHANSEN: I'll tell you what I tell all my clients. Was it the Houston Police Department that gave you the ticket?

THYDE: Yes (laughing).
RKHANSEN: Go down, before your first Court date, and set it for a Court Trial. And then, go to Court, and see if the police officer shows up. If he doesn't show up, he'll dismiss your ticket. If he does show up, say, I think I wanna have a jury trial. And then they'll reset it for a jury trial. And then you'll get another chance at him not showing up. If he shows up that time, they'll probably give you Defensive Driving.

THYDE: I used to work for an attorney, also. It was really fun, it was in Las Vegas, he was a criminal lawyer and his clients were counterfeiters, murderers, rapists, child molestors......
RKHANSEN: I started out with Criminal Law. I practiced Criminal probably most of my life, only in the last 5 years, I've been doing Civil Law.

THYDE: You've always practiced here in Houston?
RKHANSEN: I was with The District's Attorney's office for about 6 years. Did Criminal Defense work for about 8 years.

THYDE: You don't direct, do you?
RKHANSEN: I haven't, but I really want to. I'd love to direct a play.

THYDE: Do you like the creative part of Acting?
RKHANSEN: Well, I've always been drawn to creative stuff. I was in a band, when I was in High School, I play the guitar, and I cook.

THYDE: Who influenced you as an artist?
RKHANSEN: My wife (laughing).

THYDE: Mr. Hansen is married to Janet Hansen, who plays Gorgeous Teitelbaum in this play. How is it working with your wife, as an actor?
RKHANSEN: Oh, it's not any problem at all. She's very motivated, and she practices her lines constantly. Of course, I have to live with her character during the entire run of the show, but Dr. Gorgeous is okay (laughing).

THYDE: What would you like the audience to gain from watching this play?
RKHANSEN: I just like to see people laugh. If the audience laughs, and they walk away happy, then I've done my job.

-----------------------------------------------------------------------------