THE 32ND ANNUAL WORLDFEST-HOUSTON
The Houston International Film Festival
WorldFest-Houston, The Independent Film Festival

THREE SEASONS
Opening Night Film
32nd ANNUAL WORLDFEST
HOUSTON INTERNATIONAL FILM FESTIVAL
APRIL, 1999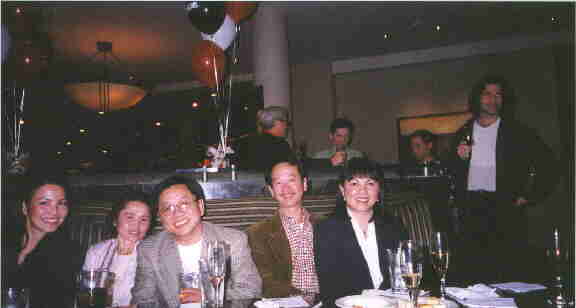 Actress Zoe Bui(left) and Film Festival attenders.


Winner of both the Jury Prize & Audience Awards at the Sundance Film Festival, Three Seasons depicts the stories of four strangers in Saigon who in the early hours of the New Vietnam suddenly find themselves expatriates in their own country, passed over by the "improvements" of Western progress.

The young Kien An, who is a living memory of the old ways, living a life seemingly unchanged by the passage of time, is hired to be a personal assistant to a reclusive spiritual master. In the center of the city, Hai, a cyclo driver falls for a proud, young prostitute, Lan, with lofty ambitions, who frequents the new marble hotels. Lan has reinvented herself as someone who can survive in the cold-hearted capitalist world. Hai bridges the two worlds on his cyclo.

Meanwhile, Woody, a young boy who hustles trinkets on the streets, meets G.I. James Hager, who is searching for the daughter he left behind in the war. James Hager is a reminder of the country's ravaged past while young Woody is a symbol of its future. These stories merge to paint a portrait of a country in transition, the last moments of a culture which, through a second invasion by its former enemy, will never be the same again.

TONY BUI
Twenty-six year old filmmaker Tony Bui was born in Saigon, Vietnam and came to the U.S. at the age of two. As a teenager in California, he grew up watching movies from his father's video store and making his own Super 8 films. Tony went on to study film at Loyola Marymount University. In 1994, after visiting Vietnam several times, he made Yellow Lotus, a short film which was one of the first foreign narrative films allowed to shoot freely in Vietnam. The film screened at the Sundance film festival and won numerous awards at national and international film festivals, including the Grand Prize at WorldFest. Three Seasons is Bui's first feature film and it was chosen for both the Sundance Writers and Directors Lab in 1996. It is the first American film to be shot in Vietnam, and one of the only foreign language films ever fully financed by an American distributor.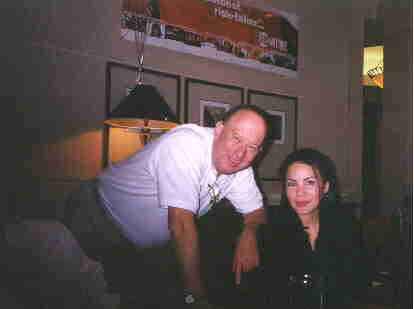 (L-R) Worldfest Chairman and Founding Director J. Hunter Todd and Actress Zoe Bui


THREE SEASONS, Opening Night Film
Interview with Film Actress Zoe Bui

By Theresa Hyde
TheresaHyd@aol.com
April 9th, 1999

From the very beginning, it was crystal clear that the tantalizing Actress Zoe Bui was going to be this year's Darling of the Houston International Film Festival. Dressed in a black evening ensemble with black faux fur lined collar, she is found sitting properly at the center of the THREE SEASONS table. She is surrounded by the beautiful young Oriental ladies with their long silky black hair, as Chairman and Founding Director J. Hunter Todd expressed his praises of this year's Opening Night Film to the small Vietnamese crowd. I admired her delicate features as I approached her with my first question.

THYDE: Tell us about the movie…
ZOE: The movie is called Three Seasons. There are 4 stories, actually 3 main stories that inter-mingle. The first story is about a cycle driver who falls in love with a very proud prostitute. The second story is about a yellow lotus picker who lends her hand to a poet who has lost his fingers because of leprosy, she helps to express his poetry because he can no longer do so. The third story is about a young boy who meets the character (played by Harvey Keitel) and he loses his little case and believes that the Harvey Keitel character has stolen the case. And the last story is about the Harvey Keitel character trying to find his long lost daughter.

THYDE: Where was THREE SEASONS filmed?
ZOE: The movie was filmed in Vietnam. The first American production to be shot in Vietnam.

THYDE: Why did you choose to be a part of this film?
ZOE: I wanted to be a part of this film because first of all, it's a great script. And of course, any actress, anybody would want to be a part of the film. And I would have done P.A. (Production Assistant) work. I would have done it for free. The script is just a well-written script, very visual. The character's life is multi-faceted, very real. She's a real person, not just a caricature and not just a stereo-type.

THYDE: What would you like to say to the regular film-viewer?
ZOE: I think that the reception that we've gotten for this film has proven that people are very receptive to these types of films. And people in general, the general public, they want to see films about other cultures, if only they had the chance to see such films. And I believe that if they got the opportunity to watch this film, they would be greatly entertained, engaged, enlightened, and inspired.

THYDE: The party continues as WorldFest Chairman Hunter Todd announces…….
HUNTER: Champagne for everyone! They've opened the bar, new champagne for everyone, as much as you want!

THYDE: Isn't this great? And now your movie tonight is Opening The Houston Film Festival.
ZOE: The Houston Film Festival is a great festival. It's a great opportunity, a stepping stone.

THYDE: As I went around and interviewed the Film Festival fans and attenders, they offered their praise and comments about THREE SEASONS…

Film Buff #1: This kind of film really brings fresh air onto the scene. This film is very introspective. It has depth, and it also has breadth. It's not the Hollywood kind of movie, where you rush through it, and you get nothing out of it in the end.

Film Buff #2 (Mr. Bui): I love the film a lot. I myself am Vietnamese who came here 5 years ago. I had the opportunity to go back again about a year ago. A lot of the stories in this movie, I can relate to it because the emotion was very high when I went back there a year ago. And just like my friend here said, the movie has a lot of depth in the emotions. It's not just an action movie.

Casey Kelly, a screenwriter and screenwriting teacher at Rice University (Continuing Studies): I saw THREE SEASONS and I loved it! Talk about a whirl! I mean I've never seen that movie before in any form and it was beautifully interwoven. It was fresh and very, very moving. Excellent movie.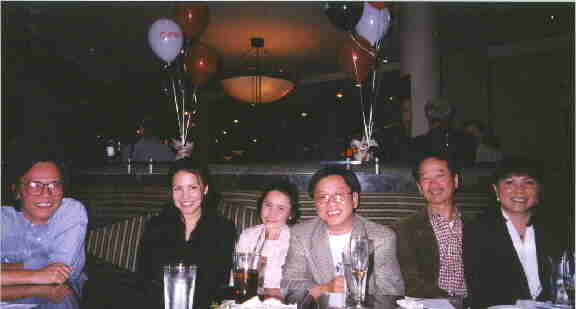 Actress Zoe Bui(second from left) and Film Festival attenders.