www.TUTS.com

Presents
SLEEPING BEAUTY
and her Winter Knight
December 12 - 24, 2017
Hobby Center for the Performing Arts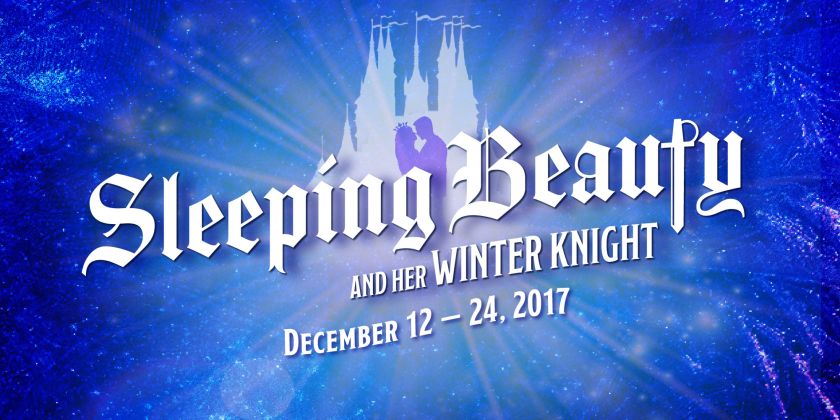 SLEEPING BEAUTY

december 12 - 24, 2017

WHO/WHAT:

Theatre Under The Stars (TUTS) presents

SLEEPING BEAUTY

DATES:

December 12 – 24, 2017

WHERE:

The Hobby Center for Performing Arts – Sarofim Hall (800 Bagby St., Houston, TX, 77002)

TICKETS:

Online: tuts.com, Phone: 713.558.TUTS

Calendar Listing:

THEATRE UNDER THE STARS and LYTHGOE FAMILY PANTO

PRESENT

SLEEPING BEAUTY AND HER WINTER KNIGHT

Dates: December 12 - 24, 2017

Tuesday, December 12 at 7:30 PM

Wednesday, December 13 at 7:30 PM

Thursday, December 14 at 7:30 PM

Friday, December 15 at 7:30 PM

Saturday, December 16 at 2:00 PM and 7:30 PM

Sunday, December 17 at 2:00 PM and 7:30 PM

Tuesday, December 19 at 7:30 PM

Wednesday, December 20 at 7:30 PM

Thursday, December 21 at 7:30 PM

Friday, December 22 at 7:30PM

Saturday, December 23 at 2:00 PM and 7:30 PM

Sunday, December 24 at 2:00 PM

Venue: Hobby Center for the Performing Arts

800 Bagby

Houston, TX 77002

Ticket Prices: Prices start at $30

For Tickets and Information:
Online: TUTS.com

Email: patronservices@tuts.com

Phone: 713-558-TUTS(8887)

Box Office Window: Theatre Under The Stars Box Office (inside the Hobby Center for the Performing Arts)

800 Bagby

Houston, TX 77002

Lobby Hours Monday-Friday from 10:00 AM - 6:00 PM Saturdays from 11:00 AM - 4:00 PM
JOHN O'HURLEY AND LAUREN TAYLOR JOIN THE CAST OF SLEEPING BEAUTY AND HER WINTER KNIGHT
Houston, TX - Theatre Under The Stars and Lythgoe Family Panto are excited to announce that John O'Hurley of Seinfeld and Broadway's CHICAGO, and Lauren Taylor of Disney's Best Friends Whenever, will be joining the cast starring as "The King of Houston" and "Princess Aurora"!
John O'Hurley is well known for his role on the TV show Seinfeld, for his run as the runner up on the the first season of Dancing with the Stars, and NBC's Host for the The National Dog Show. He also starred in CHICAGO on Broadway and Monty Python's SPAMALOT, both on tour and in Las Vegas. Lauren Taylor recently starred as "Shelby" on the Disney Channel's Best Friends Whenever. She also appeared on the Netflix series Richie Rich and is an accomplished singer who has opened for artists including Wilson Phillips, Michael Bolton, Vanessa Williams, and Debbie Gibson.
O'Hurley and Taylor join previously announced cast members Garrett Clayton of Disney's Teen Beach Movie, and Vonzell Solomon who was the second runner up on the fourth season of American Idol who are starring as "The Prince of River Oaks" and "The Good Fairy" respectively. Joining the cast as "Silly Billy" is Ben Giroux, who has appeared on many TV shows including NCIS, Psych, Bones, House, and Anger Management. Along with Giroux, Jeff Sumner, whose credits include HAPPY DAYS - NATIONAL TOUR, LITTLE SHOP OF HORRORS, and GODSPELL, joins the cast as "Nanny Tickle".
Additionally, 24 students from TUTS Humphreys School of Musical Theatre (HSMT) and The River Performing and Visual Arts Center (The River) have been cast as the children's chorus, along with a number of Houston-based dancers.
"Theatre Under The Stars is so delighted to have the opportunity to work with the Lythgoe Family Panto and bring this captivating production to our stage," said Hillary Hart, Executive Director of Theatre Under The Stars.
The students are divided into two groups who will perform on alternate days. The HSMT and The River students who will be performing in the production are: Julien Ames-Zuniga, Jade Brion, Andrew Burke, Abriel Coleman, Morgan Dallison, Brennan Emeka, Karli Fisher, Chase Fontenot, Sydney Gamarra, Bryce Gilleylen, Elle Graper, Sean Graul, Laci Hepler, Nevaeh Joseph, Michael Karash, Anneliese Kelly, Kelly Lomonte, Isabella Morrison, Hannah Pettit, Courtney Schmitt, Saylor Swick, Hope Vanderburg, Abbey Yadan, and Mia Zatarain.
"We are thrilled to be expanding to Houston this year with Theatre Under The Stars introducing more families to share in the magic of theatre!" says Becky Lythgoe, Producer and Co-Founder of Lythgoe Family Panto. "Panto allows the entire family to come together, ages 3-103, to share in the joy of LIVE theatre at the holiday season! We are especially excited to have students from HSMT and The River join our inclusive ensemble for this production and for us to offer an arts educational experience working alongside professionals from the industry."
As previously announced, the creative team for the production includes Director, Linda Goodrich (TUTS 2016 production of MARY POPPINS), Choreographer, Spencer Liff (Emmy nominee for So You Think You Can Dance), Music Supervisor, Michael Orland (American Idol), and Music Director, Jim Vukovich. SLEEPING BEAUTY AND HER WINTER KNIGHT is written by Kris Lythgoe, with unique Houston customization to the script. His producing partner and co-founder of LFP, Becky Lythgoe, also serves as Casting Director and loves to bring stars from stage and screen together with local artists in their productions.
Previously Lythgoe Family Panto established their reputation with productions including A CINDERELLA CHRISTMAS starring Lauren Taylor, Alex Newell and Morgan Fairchild, PETER PAN AND TINKER BELL - A PIRATES CHRISTMAS starring Sabrina Carpenter and John O'Hurley, SLEEPING BEAUTY AND HER WINTER KNIGHT (the original of this production) starring Olivia Holt and Lucy Lawless, ALADDIN AND HIS WINTER WISH starring Ben Vereen, Jordan Fisher, and Ashley Argota – and A SNOW WHITE CHRISTMAS starring Ariana Grande and Neil Patrick Harris.
Lythgoe Family Panto produces fun, musical theatre the whole family can enjoy. Known for their creativity and involvement in television hits American Idol and So You Think You Can Dance, the Lythgoes are dedicated to bringing affordable theatre to families across America. Based on the Grimm fairy tales and others, each story has been modernized with topical scripts for parents and well known pop songs for kids. The Lythgoes pride themselves on creating a memorable experience a family can share together.
SLEEPING BEAUTY AND HER WINTER KNIGHT tells the story of Princess Aurora who is cursed by an evil fairy, Carabosse, and of the handsome Prince who is on a quest to save his Sleeping Beauty before it's too late. An updated version of the classic Grimm fairytale, in the style of a traditional British family Panto, SLEEPING BEAUTY AND HER WINTER KNIGHT is a singing and soaring winter adventure that features family-friendly magic, with a comedic twist, dancing (with So You Think You Can Dance alumni), a live pony, interaction with the audience and contemporary music from Jessie J's "Domino" to John Legend's "All Of Me", Pharrell Williams "Happy" to Survivor's "Eye of The Tiger" and more.
SLEEPING BEAUTY AND HER WINTER KNIGHT runs December 12 - 24, 2017 in Sarofim Hall at the Hobby Center for the Performing Arts. Special offers are available including opportunities for groups and Family 4 Packs for $99. Additionally, a limited quantity of Golden Tickets are available as an add-on feature. A Golden Ticket allows the ticketholder (children only) a special on-stage experience during the production. To learn more about any of these options, and to purchase tickets, contact the Theatre Under The Stars Box Office at 713-558-TUTS (8887) or visit TUTS.com.
This production of SLEEPING BEAUTY AND HER WINTER KNIGHT is possible in part thanks to the generous support of production sponsors, Accenture, Enbridge, and the Four Seasons Hotel Houston.
Children's Memorial Hermann Hospital is the official healthcare partner of Theatre Under The Stars. United Airlines is the official airline partner of Theatre Under The Stars. KTRK ABC-13 is the official media partner of Theatre Under The Stars. TUTS is supported in part by the City of Houston through the Theater District and the Texas Commission on the Arts.
THEATRE UNDER THE STARS ("TUTS") - (Dan Knechtges, Artistic Director; Hillary J Hart, Executive Director) - was founded by Frank M. Young in 1968 and is Houston's leading musical theatre company for performance, arts education and professional theatrical training; ranging from the classics to new work development. As a 501c3 performing arts organization, TUTS is dedicated to breaking down barriers to access by focusing on inclusivity, education, and community engagement through a commitment to artistic excellence, programs in the community, technique-based curriculum at the Humphreys School of Musical Theatre, and explorative, creative life-skills at The River Performing and Visual Arts Center. For more information, visit www.tuts.com.