Theatre Under The Stars
Frank M. Young, President / CEO
John C. Breckenridge, Producer

Presents

VICTOR / VICTORIA




Chicago Kingpin King Marchan (Michael Nouri) falls for the androgynous Parisian nightclub entertainer, Victor/Victoria (Anne Runolfsson). But is the object of his affection a he or a she? King wants to know, and so does the mob!



Book by Blake Edwards.....Music by Henry Mancini.....Lyrics by Leslie Bricusse

STARRING

ANNE RUNOLFSSON

BARRY WILLIAMS

MICHAEL NOURI

and TARA O'BRIEN as NORMA

May 10 - 30, 1998
Final Production at The Music Hall

Musical Numbers

Paris By Night.....If I Were A Man.....Trust Me.....

Le Jazz Hot.....The Tango.....Crazy World.....Attitude
King's Dilemma......Apache.....You & Me.....Paris By Night (Reprise).....Almost A Love Song
Chicago, Illinois.....Living In The Shadows.....Victor / Victoria

---------------------------------------------------------------------------------------

Set in Paris during the 1930's, Victor / Victoria is the story of Victoria Grant, a singer down on her luck, who is persuaded by Carroll Todd, a kind but struggling cabaret emcee, to let him present her in his club as Victor, a man performing as a woman! Desperate for work, she agrees, and soon Victor / Victoria becomes the toast of the Paris Nightclub circuit. Then she falls in love with King Marchan, a handsome Chicago club-owner visiting Paris. Much to the dismay of his floozie girlfriend, Norma, King is likewise attracted to the gender-challenged Parisian star. Hilarious antics ensue as jealous Parisian club owners attempt to unmask Toddy's new star, and the Chicago underworld attempts to trap King in a compromising relationship.

---------------------------------------------------------------------------------------


BARRY WILLIAMS TEAMS WITH ORIGINAL BROADWAY STARS ANNE RUNOLFSSON, MICHAEL NOURI, TARA O'BRIEN IN TUTS' VICTOR / VICTORIA - FINAL MUSIC HALL PRODUCTION MAY 10-30


Houston, TX - VICTOR / VICTORIA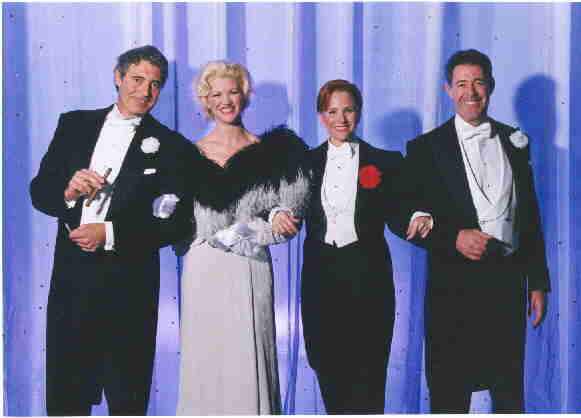 Victor / Victor At Last!(L-R) Broadway veterans Michael Nouri, Tara O'Brien, Anne Runolfsson and Barry Williams star in the Post-Broadway Premiere of Victor / Victoria, the 1996 Broadway hit written by Blake Edwards with music by Henry Mancini



Hollywood film giant Blake Edwards' 1996 Broadway sensation, will become the final production ever in the historic Music Hall when Theatre Under The Stars gives the gender-bending musical its first post-Broadway staging May 10-30 starring Barry Williams and original Broadway cast members Anne Runolfsson, Michael Nouri and Tara O'Brien.

Broadway's #1 box office smash of 1996, Victor Victoria received a whopping seven award nominations from the Outer Critics Circle, who ultimately named the show the "Outstanding Broadway Musical of 1996." An hilarious mistaken-identity farce, the show's Broadway opus became the last work of longtime movie composer Henry Mancini (Breakfast at Tiffany's, Hatari, Days of Wine and Roses, Charade, Arabesque, Darling Lili, The Pink Panther), together with lyricist Leslie Bricusse (Stop the World....., The Roar of the Greasepaint....., Jekyll & Hyde) and with additional music by Frank Wildhorn (Jekyll & Hyde, The Scarlett Pimpernel).

Blake Edwards, who adapted his popular screenplay of Victor / Victoria for the stage, directed its Broadway staging which starred his wife, the legendary musical star Julie Andrews. TUTS' production of Victor / Victoria stars Barry Williams in the role of Carroll Todd (Toddy), while Anne Runolfsson repeats the dual title role she shared on Broadway with Miss Andrews. Michael Nouri reprises his Broadway role of King Marchan, and Tara O'Brien repeats her Broadway role as King's jealous Chicago Tootsie, Norma.

Other featured performers are Jody Ashworth as Squash, John-Charles Kelly as Andre Cassell and Steve Routman as Henri Labisse. Completing the song and dance ensemble are Michael Bunce, Christine Ciccone, Ann Cooley, Jason DeRoest, Amir Levy, Jennifer Marquardt, Elizabeth Ormond, Noelle Player, Patricia Salvo, Vincent Sandoval, Michael Serapiglia, Susanne Trani, Martina Vidmar, Billy Vitelli, Keith Weirich and Brek Williams. Swings are Emmett Murphy and Liza Shaller.

Don't miss this special event!!!

How can one resist seeing Greg Brady in an evening gown?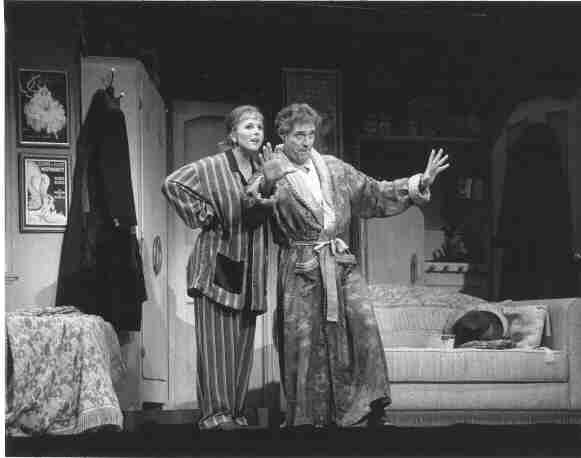 WE CAN MAKE YOU A STAR! Toddy (Barry Williams) and Victoria (Anne Runolfsson) look toward a successful future



Barry Williams, most recently completed a successful run in the First National touring company of City of Angels and has appeared on Broadway in the musical Romance, Romance at the Helen Hayes Theatre and in the title role in Pippin. Additionally, he performs regularly for corporations and colleges around the country and headlined in Las Vegas at the Stardust Hotel.

Well known for his role as Greg in The Brady Bunch, Barry virtually grew up on television. He played the reliable big brother for five years and then reprised the character for the various Brady Bunch incarnations, culminating with the CBS series The Bradys in 1990. Further television credits include a two-part episode of Highway to Heaven, HBO's Perversions of Science, Murder She Wrote and Full House. In the years prior to and following the Bradys, Williams has worked consistently in TV and musical theatre, starring in such productions as They're Playing Our Song, Oklahoma!, Born Yesterday, West Side Story, I Do! I Do!, Wait Until Dark, The Music Man and Man of La Mancha. In 1981, he starred for TUTS at the Music Hall in Grease.




RELISHING THE RUSE - Toddy (Barry Williams) and Victor / Victoria (Anne Runolfsson) succeed in convincing Paris that she is a Polish count who is a female impersonator.



Anne Runolfsson, who shared the role of Victor / Victoria with Julie Andrews, performed all matinees of the Broadway run and replaced the superstar to standing ovations for all performances during Miss Andrews' illness. As Broadway stand-by for Ms. Andrews, Liza Minnelli and Raquel Welch, performed the role of Victoria Grant in Victor / Victoria more than 120 times. Also on Broadway, Anne ceated the role of Roxane in Cyrano- The Musical.

Prior to that she originated the role of Lily in the First National tour of The Secret Garden and played the role of Fantine in the First National tour of Les Miserables. Off-Broadway she has created the roles of Suzy / Sarah in Jack's Holiday and Tommy in Cather County, both at Playwrights Horizons. Regional credits include Petra in A Little Night Music at the Williamstown Theatre Festival, Fanny Brice in Funny Girl at Tehatre by the Sea (Rhode Island) and lead roles in Blame It On The Movies at the Coast Playhouse and Tequila at the Skylight Theatre in Los Angeles. Originally from Southern California, Anne moved to New York City in 1989. Heard to great acclaim in concert throughout the U.S. and Europe, she cites as highlights appearing as a soloist with Jose Carreras at Radio City Music Hall, performing in a tribute to Woody Allen at the Cinemusic Festival in Gstaad and performing her one woman show in Reykjavik at the National Theater of Iceland. Anne has performed extensively in cabaret in such famous rooms as New York's Rainbow and Stars, L.A.'s The Cinegrill and Chicago's Pump Room. She can be heard on the International cast recording of Les Miserables, everyday nationwide on The Rosie O'Donnell Show jingle, as a soloist on the CD "David Friedman and Friends" and on her own CD. She will sing this year with the St. Louis Symphony, the Metropole Orchestra in The Netherlands and The Long Island Philharmonic.

Her recently released CD entitled "At Sea" occasioned much rhapsodizing by Victor / Victoria lyricist Leslie Bricusse and other critics. "Anne has a show-stopping, death-defying vocal range and dexterity," Bricusse enthused. "Her voice is an exquisitely versatile instrument, delicate and expressive as a piccolo solo one moment, bold and sassy as a big brass band the next. She takes us on a musical tour..... from early Julie Andrews to vintage Ethel Merman with many stops in between. Best of all, she introduces (her audience) to the myriad musical talents of Anne Runolfsson."

Michael Nouri, a veteran of Broadway (Forty Carats opposite Julie Harris), Off-Broadway and regional stages, was the first choice of director Blake Edwards for the role of King Marchan, which he created and played for the entire Broadway run. Also well known as a movie and television actor, his films include Goodbye Columbus, Flashdance, The Hidden, The Imagemaker and Little Vegas. His TV credits include "Love and War," "Beacon Hill," "Bay City Blues," "The Gangster Chronicles," the mini-series of "Rage of Angels" and "The Last Convertible" and the TV movie "Quiet Victory: The Charlie Wedemeyer Story."

Miss Tara O'Brien plays the gum-smacking gangster moll, Norma Cassidy. Out of all the cast, she got the most laughs with her relentless beating of King Marchan's body guard. And her sexy presentation of the musical number, "Chicago, Illinois" warranted her a standing ovation from the audience. Tara made her Broadway debut as the Street Singer in Victor / Victoria, moving into the role of Norma midway through the New York run. Off-Broadway she appeared in By Jupiter and The New Yorkers, while national audiences have applauded her as The Witch in Into The Woods, The Narrator in Joseph and the Amazing Technicolor Dreamcoat, Fastrada in Pippin, Ruth in The Pirates of Penzance and Mrs. Lovett in Sweeney Todd.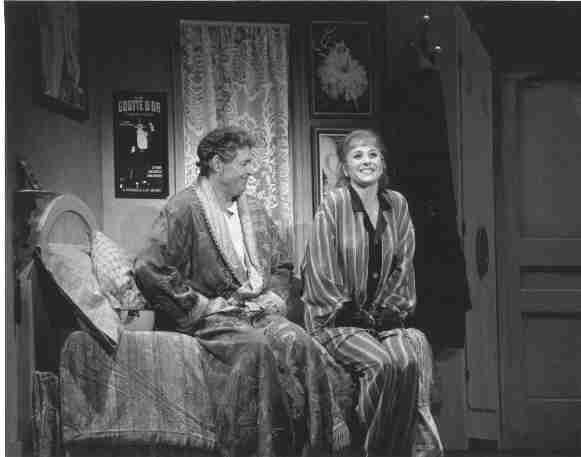 From the Broadway production team come the lavish new sets designed by Tony winner Robin Wagner and the resplendent costumes by Tony-winning designer Willa Kim. TUTS' production will be directed by Mark S. Hoebee, who assisted Edwards and Marshall with Victor / Victoria on Broadway. Hoebee has directed or choreographed over 30 musicals for such premiere American stages as Paper Mill Playhouse, Marriott's Lincolnshire Theatre, Sacramento Civic Light Opera and North Carolina Theatre. He recently made his TV debut as choreographed for a Broadway story episode of CBS-TV's Touched by An Angel.

Choreographer is Dan Mojica, who currently stages all Beauty and The Beast productions worldwide. Musical director John Mezzio, direct from the national tour of State Fair, will conduct Victor / Victoria's eclectic score, which segues from Runyonesque musings and comic solos to romantic ballads and such big,brassy song and
dance numbers as "Le Jazz Hot." Lighting design is by Diane Ferry Williams. Sound designer is Scott Armstrong, and hair designer is Bernie Ardia. Production Stage Manager is Roger Allan Raby.

To purchase Victor / Victoria tickets by phone, call (toll-free) 1-800-678-5440. Tickets ($22.50 to 69.50) also are on sale at Theatre Under The Stars' box office in Corporate Plaza One, 2600 Southwest Freeway (off Kirby Drive) and at all Admissions outlets. The New Musical Zorro, originally scheduled for these May dates, will now be performed August 13 - 30 at the Wortham Theatre Center.