CHRIS WILSON'S
ACTORS THEATRE
OF HOUSTON
For Reservations Call (713) 529-6606
Proudly Presents the 13th Season
http://www.actorstheatre.hypermart.net
ABOUT THE PRODUCING DIRECTOR
CHRIS WILSON
The Producing Director
For more than fifty years CHRIS WILSON has worked in the performance and entertainment industry as an actor, director, producer and teacher. From university degrees to producing director of Actors Theatre of Houston, her professional experience has encompassed Broadway, national touring companies, radio, television, regional educational and dinner theatre, summer stock and film. Her acting assignments number in the hundreds including the long running Broadway musical FOLLOW THE GIRLS starring Gertrude Niesen and Jackie Gleason.

For the Alley Theatre, she opened the second season and played leading roles in many Alley productions, notably the World Premiere of Paul Zindel's THE EFFECT OF GAMMA RAYS ON MAN-IN-THE-MOON MARIGOLDS in which she originated the role of Bea Hunsdorfer. She founded and was Producing Director of Studio 7, the training wing for Houston Music Theatre, where she mounted many memorable productions. She has appeared in seven feature films, working with Academy Award winner Ben Johnson, Patty Duke and David Wayne.

On national TV in David Susskind's ESSO THEATRE, she worked with Oscar recipient Ann Revere. On stage she has appeared with Eddie Bracken, Virginia Mayo, Dwayne Hickman, Dawn Wells, Bob Horton, Richard Egan, and Joseph Cotten. She has directed stage productions starring Doug McClure, Sid Caesar, James Drury, Pat Paulsen, Claude Akins, George Maharis, Jessie White, Dick Wilson and Sonny Bono. For Actors Theatre of Houston, she has directed forty-four productions in eleven seasons.
ROSENCRANTZ & GUILDENSTERN ARE DEAD
Interview with George Brock and Foster Davis
by Tom Stoppard
January 22 thru February 27, 1999
From the mind of one of the 20th Centuries acknowledged master playwrights comes a backwards look at fate, reality, and Shakespeare's Hamlet. Who is Rosencrantz? Why is Guildenstern? And what are they doing in Elsinore? Enter a world of fabulous word play and quirky characters where the evening hinges on the toss of a coin.
THE UNEASY CHAIR
by Evan Smith
March 19 thru May 8, 1999
The Southwest premier of a fabulous romantic comedy.
TOYER
by Gardner McKay
May 28 thru June 26, 1999
The Houston Premiere of a dark psychological thriller that will keep you on the edge of your seat. A serial killer that doesn't kill, but toys with his prey before turning them into vegetables goes after the woman that is trying to help his victims. A brilliant battle of wills that keeps you guessing till the end. For mature audiences only.
WILD OATS
by John O'Keefe
July 23 thru August 28, 1999
This late Restoration comedy is an hilarious romp about a troupe of merry players and the aristocrat who wants to be one of the boys! Fabulous language, wonderful characters, and hilarious situations makes this a wonderful way to spend a summer's evening with the entire family!
PREVIOUS SEASON
TALK RADIO(Brandon Smith interview)
by Eric Bogosian
September 19 thru October 26, 1997
From the playwright who brought you SuBurbia comes the powerful drama that made his name synonymous with Intensity in the '90's. "Nighttalk" host Barry Champlain goes nation wide tomorrow night and this evening he's going to show you why. A riveting and darkly humorous night of theatre.
AGNES OF GOD
by John Pielmeier
Interview with the Cast
January 23 thru March 1, 1998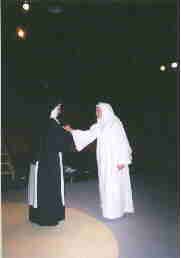 Agnes of God
This brilliant theological thriller takes us into the mind of a young nun accused of strangling her child and leaving it in a waste paper basket and into the heart of a doctor trying to unravel two mysteries: Did Agnes murder her child and where did the child come from? A mystery that's more than just "whodunnit".
The cast prepares to go onstage
SIMPATICO
by Sam Shepard
May 29th thru June 28th, 1998
The chronicler of Americana's newest play. Two men meet in a hotel room in the desert. One has the power to destroy the other's life and just might do it.....unless. Shepard takes us into the world of the fast time hustlers and seedy players of The Kentucky Derby with his keen eye for dark humor and gritty romance. A must see.