Inprint, Inc.
Presents
Nation Bank / Finger Literary Conversations

THE PLAY'S THE THING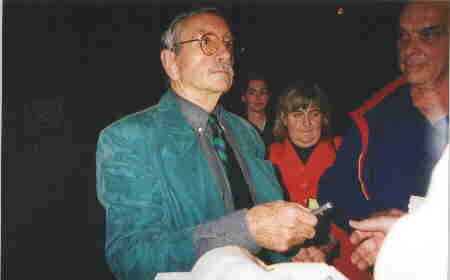 Edward Albee signing autographs at Stages Repertory Theatre

Featuring three evenings at the theatre with three of America's leading playwrights. Each evening will consist of readings of selections from the playwright's work, an on-stage interview of the playwright conducted by a local theatre expert, and a question / answer session with the audience.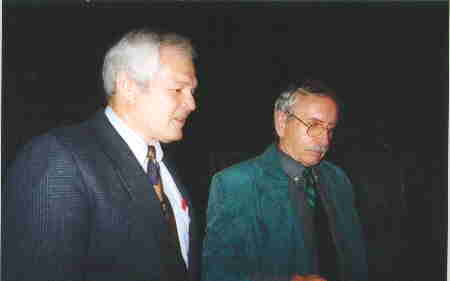 (L-R) Dr. Ted Estess, UH Dean of the Honors College and Edward Albee, the Playwright




Series tickets are $40, $25 for students and senior citizens, available in advance, general admission seating. Tickets for a single evening are $15, $10 for students and seniors, available only at the door on the night of the performance. For more information please call 713-521-2026.

Co-sponsored by Stages Repertory Theatre, Alley Theatre, and The Ensemble Theatre





EDWARD ALBEE

Monday---March 23, 1998---8:00pm---Stages Repertory Theatre---3201 Alley Parkway

Mr. Albee was interviewed by Dr. Ted Estess, Dean of the Honors College and Jane Morin Cizik Chair in the Humanities, University of Houston.

One of the most heralded dramatists of the twentieth century, Edward Albee is the author of a large body of work, including The Zoo Story, The Death of Bessie Smith, Who'r Afraid of Virginia Woolf, The Ballad of Sad Cafe, A Delicate Balance, Seascape, and Three Tall women, the last three of which were awarded the Pulitzer Prize for Drama in 1966, 1975, and 1994. Currently Distinguished Professor of Theatre at the University of Houston, he is an Alley Theatre Associate Artist, where he has directed productions of his own plays and the work of Samuel Beckett. He is president of the International Theatre and received the National Medal of Arts in 1996.






HORTON FOOTE

Monday---April 6th, 1998---8:00pm---Alley Theatre---615 Texas Avenue

Mr. Foote was interviewed by Gregory Boyd, Artistic Director of the Alley Theatre.

Horton Foote left Wharton, Texas (where he currently resides) in 1993 at age 17 to become an actor. He is the author of many plays, including Valentine's Day, Courtship, The Trip to Bountiful and Lily Dale - all of which he adapted for film - and his nine-play Orphan's Home Cycle. He received Academy Awards for his film adaptation of To Kill A Mockingbird and his original screenplay, Tender Mercies, both of which also received Best Screenplay Awards from the Writers Guild. In 1995, he was awarded the Pulitzer Prize for Drama for The Young Man from Atlanta. He has received an award in literature from the American Academy of Arts and Letters, and in 1996, he was elected to the Theatre Hall of Fame.


NTOZAKE SHANGE

Monday---April 27th, 1998---8:00pm---The Ensemble Theatre---3535 Main Street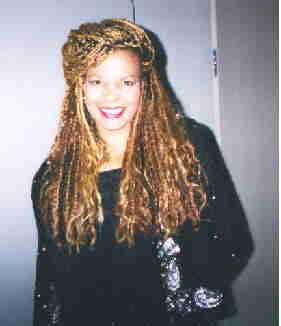 The very beautiful lyrical poet and playwright Ms. Ntozake Shange




Ms. Shange was interviewed by Dr. Elizabeth Brown-Guillory, Associate Professor of English, University of Houston.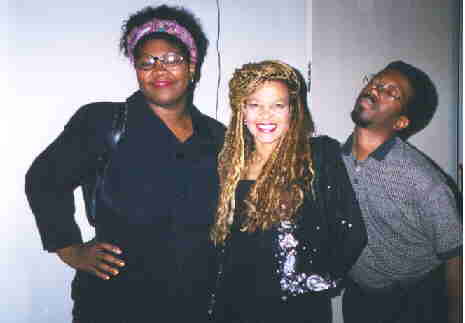 (L-R) RPAC's Tamiyka White, Playwright Ntozake Shange, and RPAC Founder and Artistic Director Tyrone L. Dargins




Ntozake Shange is the author of many plays, including the Obie Award-winning For Colored Girls Who Have Considered Suicide / When the Rainbow is Enuf. Her adaptation of Bertoldt Brecht's Mother Courage and Her Children also won an Obie. Her novels include Liliane, Betsey Brown, and Sassfras, Cypress & Indigo, and she has published several collections of poetry. Recipient of a Guggenheim Fellowship and a lila Wallace / Readers Digest Writers Award, she is currently associate professor in the Department of English and Foreign Languages at Prairie View A&M University. From 1991 - 1993, she was Heavyweight Poetry Champion of the World.




RPAC's Tyrone L. Dargins, Writer Theresa Hyde and Playwright Ntozake Shange




Tyrone L. Dargins is the Founder and Artistic Director of Renaissance Performing Arts Center. RPAC staged Ntozake Shange's Love Space Demands in March 1998.
At the time we were taking these photos, I begged him, "Tyrone, quit acting so goofy!" but it didn't work. - T.Hyde


The golden-haired, svelte-figured Ntozake Shange
(Man! I didn't know playwrights can look this good! -TH)

Actor Phil Fisher and Richard A. Levy, Executive Director of Inprint Inc.




Actor Phil Fisher played The Doctor in Edward Albee's ALL OVER. Don't miss his essay on Edward Albee in Close Encounters of the Coincidental Kind.

INPRINT, INC., a non-profit organization dedicated to the literary arts, presents readings, workshops, seminars, and other literary programs to the Houston community; provides fellowships to students in the Creative Writing Program at the University of Houston; and brings the power of the written word to diverse groups in the Houston area through outreach and educational activities.


Phil Fisher and Richard A. Levy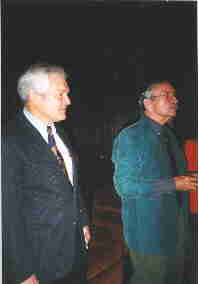 Dr. Ted Estess and Edward Albee



For more information: Inprint Inc., 1524 Sul Ross, Houston, Texas 77006 or call 713-521-2026