ALLEY THEATRE'S 1998 - 99 SEASON
Gregory Boyd Celebrates 10th Season at the Helm of Tony Award-winning Theatre
Alley Theatre
615 Texas Avenue Houston, Texas 77002
Office 713-228-9341 / Box Office 713-228-8421
www.alleytheatre.com

Gregory Boyd
Artistic Director

Paul R. Tetreault
Managing Director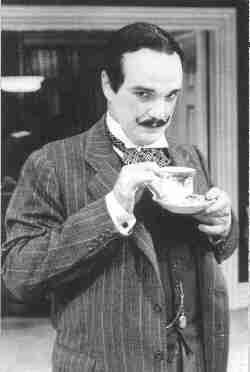 James Black as Hercule Poirot in the 1996-97 production of Black Coffee. Photo by Bruce Bennett.
__________________________________________________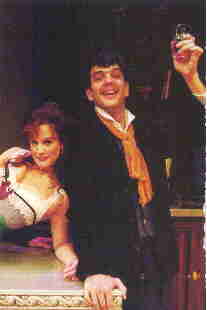 Sherri Parker Lee and Al Espinosa in the 1996-97 production of Picasso at the Lapin Agile. Photo by Bruce Bennett.
THE CIVIL WAR
by Frank Wildhorn, Gregory Boyd and Jack Murphy
September 8 - October 11, 1998

__________________________________________________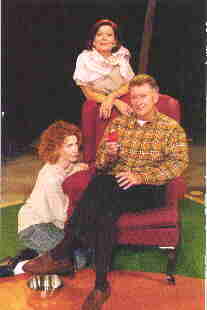 (L-R) Melissa Bowen, Annalee Jefferies and Edmond Genest in the 1996-97 production of Sylvia. Photo by Bruce Bennett.
HOW I LEARNED TO DRIVE
by Paula Vogel
October 2 - October 25, 1998

__________________________________________________

John Feltch (front) and James Black in the 1996-97 production of In The Jungle of Cities. Photo by T. Charles Erickson.
A CHRISTMAS CAROL
by Charles Dickens
November 23 - December 27, 1998

__________________________________________________

THE BEAUTY QUEEN OF LEENANE
by Martin McDonagh
January 8 - February 6, 1999

__________________________________________________

HEDDA GABLER

by Henrik Ibsen
A New Version by Christopher Hampton
Directed by Gerald Freedman
February 19 - March 20, 1999 (Large Stage)

Alley Resident Company Actor Annalee Jefferies is Hedda Gabler in Ibsen's explosive theatrical masterpiece of sex and power - perhaps one of theatre's most gripping psychological dramas and one of the most intriguing roles ever written for a woman. When Hedda's icy sensuality upsets the balance in her new marriage, she must take drastic measures to prevent scandal and ridicule and remain in control.

__________________________________________________

THE ZOO STORY and THE AMERICAN DREAM

Written and Directed by Edward Albee
Neuhaus Arena Stage
March 5 - March 28, 1999

In honor of the 40th anniversary of their premieres, the Alley presents the three-time Pulitzer Prize-winning playwright's own new production of his early masterpieces, both presented as a double bill. The Zoo Story, written in 1959, launched Albee's career with its harrowing and caustically funny portrait of a young man alienated from contemporary life. "The finest play, written by an American, that can be seen for love and money," said The Villager of the premiere - teamed with The American Dream, Albee's startling comedy of middle-class morality and murder, it remains a theatrical fantasy of the highest order, packed with the excoriating imagination and the wild humor that has made Albee internationally famous. Mr. Albee has been an Associate Artist of the Alley Theatre since 1989.


__________________________________________________

GROSS INDECENCY: THE THREE TRIALS OF OSCAR WILDE

By Moises Kaufman
Large Stage
April 2 - May 1, 1999

Alley Company member Jeffrey Bean returns to the Alley in a tour-de-force role as the great playwright Oscar Wilde in this brilliant new drama, the most talked-about new play in years. Wilde's incendiary trial on the charge of "gross indecency" captured the attention of the Victorian world, and has much to say about today's sexual politics. "Unforgettable! Maybe even life-changing!" (USA Today)
FOR MATURE AUDIENCES


__________________________________________________

MISALLIANCE
By George Bernard Shaw
Directed by David Wheeler
Large Stage
May 14 - June 13, 1999

David Wheeler, director of last season's acclaimed Death of a Salesman, returns to the Alley with Shaw's delightful romantic comedy Misalliance. Shaw's brilliant intelligence and sparkling wit shine in this romp through the pitfalls of what happens when businessmen try to "negotiate" the limits of courtship, marriage and sex. When Hypatia (one of Shaw's most delightful heroines), daughter of underwear magnate John Tarleton, sets her sights on marrying the aristocratic Bentley Summerhays, more than romantic complications ensue. Could this marriage between the "great and good middle class" and the "vicious and corrupt aristocracy" be a misalliance? Only the "accidental" arrival of a Polish acrobat provides the even more unexpected resolution.


__________________________________________________

TRAVESTIES

By Tom Stoppard
Directed by Gregory Boyd
Neuhaus Arena Stage
May 21 - June 13, 1999

Travesties is Tom Stoppard's brilliantly funny, pyrotechnical tour de force - a freewheeling fireworks display about art, revolution, sex and song-and-dance by the author of Rosencrantz and Guildenstern Are Dead, Arcadia and the current London smash The Invention of Love.

Travesties centers around the fictional meeting of three extraordinary figures in Zurichin 1917: novelist James Joyce, the dadaist Tristan Tzara and Lenin. The Revolutionary and two revolutionary artists collide inside the faulty memory of oen of Stoppard's greatest comic creations, a minor official names Henry Carr, whose exuberant imagination rewrites history in very surprising ways. A dazzling display of theatrical sleight-of-hand andone of the great comedies of the contemporary theatre.


__________________________________________________

TICKET INFORMATION

Single Tickets for the 1998 - 99 season are on sale now at the Alley Theatre Box Office, 615 Texas Avenue, or by calling 713-228-8421. Groups of 10 persons or more can purchase tickets at a discounted rate by calling the group sales department at 713-228-9341, ext. 350. Patrons with low hearing should call (TTY) 713-220-5710 to purchase tickets.

Pay-What-You-Want performances, pre- and post-show discussions, sign interpretation, audio-description, Spanish translation and captioning are offered for select performances. Please call 713-228-8421 for more information. All plays are subject to change.


In Patrick Hamilton's thriller Angel Street, Jack Manningham (John Feltch) embarks on a treacherous scheme to drive his well-to-do wife Bella insane. The Manningham's maid Nancy (Amy Elizabeth McKenna) becomes a pawn in his game. Photo by T. Charles Erickson.
ANGEL STREET

A Thriller by Patrick Hamilton
January 14 - February 7, 1998