ALLEY THEATRE
www.alleytheatre.org

Gregory Boyd, Artistic Director
Dean R. Gladden, Managing Director
Box Office Phone 713-220-5700

Presents

THE 2015 SEASON

"ALLEY @ UH" 2014-2015 SEASON
Alley Theatre, with financial support from its Extended Engagement Capital Campaign, began renovations on its downtown building on July 14,2014. Renovations will continue through the summer of 2015, with the grand opening of the renovated Alley Theatre scheduled for fall 2015. During this renovation, the Alley Theatre will perform at the University of Houston Theatre.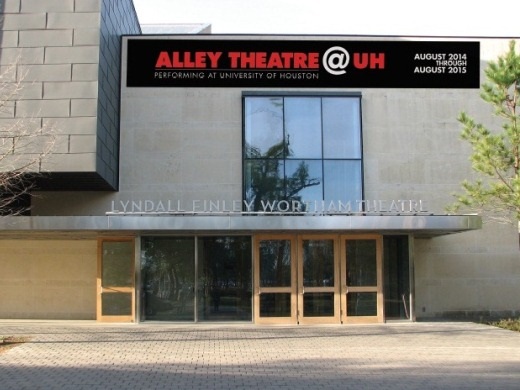 The Elgin entrance address for use on most mapping programs is 4116 Elgin Street, Houston, TX 77004.

The 2014-2015 Alley Theatre @ UH Season Includes:
-0-0-0-0-0-
Marvelously Funny Comedy
The Foreigner
By Larry Shue
Directed by James Black
Previews start July 3, Opens July 8, Through August 9, 2015
The Foreigner is one of the most popular comedies in the Alley's history. In the marvelously funny comedy, Alley Resident Company member Jeffrey Bean leads the cast of this comic gem, set in a remote fishing lodge, where socially awkward Charlie discovers intriguing and dangerous secrets under the guise of a foreigner who speaks no English. Suitable for general audiences.
Lead Sponsor: Chevron, Enbridge Energy Company. Inc.
Supporting Sponsor: PwC
-0-0-0-0-0-
Alley Resident Company in the Romantic Comedy
As You Like It
By William Shakespeare
Directed by Gregory Boyd
Previews start January 30, Opens February 4, Through February 22, 2015

​​​​​​
​"All the world's a stage" in this masterpiece about romance and mistaken identity. Elizabeth Bunch, Chris Hutchinson and Todd Waite lead the company in one of Shakespeare's greatest comedies. As You Like It traces the separate and intertwining journeys of Rosalind and Orlando, who have each been banished from their home and family. Independently, they each set out with a faithful friend and loyal servant and make their way through the Forest of Arden. Lovers discover lovers, fathers find daughters, brothers reclaim brothers, people are transformed and evil is converted in this delightful story of love. Suitable for general audiences.
Lead Sponsor: Schlumberger
Supporting Sponsor: Baker Botts L.L.P.

-0-0-0-0-0-

Riveting American Classic
All My Sons
By Arthur Miller
Directed by Theresa Rebeck
Previews start March 27, Opens April 1, Through April 19, 2015

All My Sons, Arthur Miller's first commercial success, was inspired by the story of a successful businessman who sold the government defective airplane parts during World War II. The play takes place following the war, as the Keller family desperately hopes that their son Larry, who was missing in action three years earlier will return home. As their other son prepares to propose to the woman he loves, who was Larry's girlfriend when he went missing, the Kellers confront realities and family secrets are revealed. Contains mature themes.

Renowned playwright Theresa Rebeck returns to the Alley to direct All My Sons. She is a Pulitzer Prize nominee and the Alley Theatre has produced five of her plays including the world premiere of Fool in 2014, What We're Up Against in 2012, Mauritius in 2009, The Scene in 2007 and Bad Dates in 2005. Rebeck's awards include the Mystery Writer's of America's Edgar Award, the Writer's Guild of America award for Episodic Drama, the Hispanic Images Imagen Award, and the Peabody, all for her work on NYPD Blue. She has won the National Theatre Conference Award for The Family of Mann, and was awarded the William Inge New Voices Playwriting Award in 2003 for The Bells. Mauritius was originally produced at Boston's Huntington Theatre, where it received the 2007 IRNE Award for Best New Play as well as the Eliot Norton Award. Other awards include the PEN/Laura Pels Foundation Award, the Athena Film Festival Award, an Alex Award, a Lilly Award and in 2011 she was named one of the 150 Fearless Women in the World by Newsweek.

-0-0-0-0-0-

Funny, moving, sexy and spectacular
Kneehigh's
Tristan & Yseult
Adapted and directed by Emma Rice
Writers: Carl Grose and Anna Maria Murphy
Previews start April 24, Opens April 29, Through May 24, 2015

Britain's innovative and exciting theatre company Kneehigh makes their Texas debut with a wonderfully inventive, utterly timeless, delightful tale of love. Cornish King Mark rules with his head, until he falls head over heels for his enemy's sister. Based on the ancient tale, Tristan & Yseult revels in forbidden desires, broken hearts and grand passions. Seen through the eyes of the 'Unloved,' Tristan & Yseult blends comedy, live music and tender truths in an irresistible night of love! For mature audiences, adult language and sexual situations.
-0-0-0-0-0-
Gershwin Celebration
George Gershwin Alone
Music by George Gershwin and Ira Gershwin
Book by Hershey Felder
With Hershey Felder as George Gershwin
Directed by Joel Zwick
Previews start May 29, Opens June 3, Through June 21, 2015
George Gershwin's genius and his fascinating, too short life are celebrated in this remarkable performance by Hershey Felder. George Gershwin Alone is a delightful, touching and comic evening of sheer joy. Brimming with irresistible music, the show includes songs by the creator of An American in Paris such as, "Someone to Watch Over Me," "Summertime," and "I Got Rhythm" – it's a tribute to the American song book and to an extraordinary American character. Rave reviews include: "Furiously dramatic" (The New York Times), "dazzling…sheer genius" (NY Daily News) and "glorious and fascinating" (USA Today). Suitable for general audiences.
-0-0-0-0-0-


* Play titles and dates are subject to change.
While, the theatre at UH does not have a physical address to enter into a car GPS or online/mobile map, Enter 4116 Elgin, Houston, TX 77004 to get to the Elgin entrance of the parking lot.
ALLEY THEATRE @ UH PARKING INFORMATION
FREE PARKING:
Enter the Alley Theatre @ UH free parking lot from either Cullen or Elgin. The Elgin entrance is to the east of Cullen and is the first right entrance past the light at Cullen. The Cullen entrance is the first left entrance past the light at Elgin. After you turn, drive 0.1 miles and take the first turn left at stop sign into the parking lot. The parking lot is monitored and patrolled by campus security.
Log onto www.alleytheatre.org to purchase a new subscription or call 713.220.5700, then press 1 between noon and 6 p.m. Monday through Sunday.

<![if !supportLineBreakNewLine]>
<![endif]>