THE ALLEY THEATRE
www.alleytheatre.org
Gregory Boyd, Artistic Director
Dean Gladden, Managing Director
PRESENTS

Theresa Rebeck's Sharp-Witted Comedy

THE SCENE

October 25 through November 25, 2007 on the Alley Theatre's Neuhaus Stage
THE SCENE is Intense & Terrific. Fast Paced and Very Clever. It's High Powered Energy, Interesting & Edgy. Just like Houston City Life.
By Theresa Pisula
Theresa@houstontheatre.com
October 31, 2007
Houston, Texas
The evening started off with a delicious Halloween dinner at Birra Porretti's, which was right next door to the Alley. The wait staff was dressed in costumes - there was Dracula, Wendy of the Adams Family, a Toy Soldier, and K-Fed whose 2 baby dolls were dangling from his neck along with his rapper's bling. Pretty nifty! For appetizers, we had calamari and crab cakes and then for our entrees, we had the weight conscious shrimp salad and frozen bellinis to refresh our palettes. For dessert, my associate Lori Hayden and I were served with chocolate mousse topped with whipped cream and strawberries. And all dinner long, we discussed the daily stress, the bump and grind of Houston city life. Not really knowing what to expect of the intense drama lay waiting ahead of us called THE SCENE down by the Alley.
As we were seated at the Alley's Neuhaus Stage, it didn't really matter that we were in the very last row because this small intimate theatre is cozy enough. In fact, I would say we had the best seats in the house because we saw everyone that came in. To my left, I saw a very modern, expensive-looking silver refrigerator and wondered if it was part of the set. Of course it was, as I found out later. Alley Theatre's Artistic Director Gregory Boyd, who was seated a couple of rows in front of us does not leave anything to chance. The ever-beautiful Houston socialite Lynn Wyatt is, of course, seated on the front row.
As the first scene opened, we were greeted with loud modern beat music. Kudos to Paul James Prendergast for his original composition and sound design as he set up every scene change with rave music with a vibrating beat. Then, you were enveloped in pitch black darkness. As the lights went up, three of the four characters in the play are already set up. Now, I can't say enough about the versatility of Alley Theatre's actors because you see Elizabeth Bunch as Clea and Jeffrey Bean who plays Charlie. And I've seen them both before, in different roles, of course. It is quite amazing how they can transform themselves into totally different people every time you see them.

Jeffrey Bean as CHARLIE and Elizabeth Bunch as CLEA in the Alley Theatre's production of THE SCENE. THE SCENE runs on the Alley's Neuhaus Stage through November 25, 2007. For more information, visit www.alleytheatre.org. Photo by John Everett.
The setting is a high rise apartment in New York City with one of those gorgeous, to-die-for views. Clea is skinny, petite and young (born 1982) and uses words such as shit-faced, edgy and "giving off vibe." She refers to air and water as surreal which bothers Charlie a lot. "Why do you talk like that?" he asks her in obvious fascination. She rambles on after she downs a glass of vodka, as she confesses the fact that she never drinks since her mom is an alcoholic. Then, she talks about a lady she met that day as she describes her as a frigid, infertile Nazi priestess who happens to be Stella, Charlie's wife. Yeah, Clea is that obnoxious. Scene change and the fun rave music starts up that makes you want to dance. But since you're at an Alley Theatre play, you just dance inside your head.
Now I have to admit that the husband and wife scenes with Charlie and Stella were awkward and uncomfortable. It doesn't have to be this way, normally, but it is - when Theresa Rebeck shoves the presence of Clea in the mix. This is when the play becomes interesting. Stella describes herself as boring, pathetic insane nut, the one we can all identify with. She talks about food: low carb pasta, to be exact and how these pathetic liars can come up with such a concept. Charlie talks about seeing a real Picasso at this one party, "Not that great but its real art." He advances toward his wife in a sexually intimate way and she pushes him off. Interesting.
Charlie is an unemployed actor looking for work and he talks about those TV people, how they suck up to the powers-that-be like "psychotic sheep". Lewis, his best friend comes in and he offers some Cool Ranch potato chips to anyone. And of course, Stella starts chomping down, like we all normally do. And then she talks about how she pays all the bills. Awkward. Now how did that get in there? I don't quite remember but it is pretty impressive at how Theresa Rebeck just kind of stuck that comment in there without my notice. It doesn't matter. You just move on. I enjoyed the way Theresa led me through this fast-paced conversation of this high powered energy busy city life with fake TV people. I can really relate.
The Scene changes and this time with rap music. We find ourselves in Lewis' bachelor pad as he has asked Clea up for a drink. They engage in a flirtatious dance. "Would you like to kiss me?" she asks of Lewis. "Is that a trick question?" he asks in return. Nothing exciting, just a little foreplay. Charlie barges in on them as Lewis was about to make his move. Charlie expresses his frustration in looking for work. So passionate was his oratory, in fact, that he received a well deserved applause from the audience. What a set up! Did the audience know they fell for that scene just like Clea is now falling for Charlie? Somehow, Clea manages to get rid of Lewis for a few minutes. I don't know why but this deviously charming little bitch was able to figure out how to do it. Just enough time to steal a kiss. Or is it just a kiss? Isn't Theresa Rebeck just brilliant?
Half time and we all did our thing during the 15-minute intermission. We bump into Houston socialite Lynn Wyatt by the water fountain and we asked her what she thought of the play. "I love it! He's good, she's good. They're all terrific. So clever! I love it! I love it!" I know it sounds like she's gushing but I feel exactly the same way.
After intermission, Clea is on top of Charlie, in his own home. She is definitely on top of things as they get it on hot and heavy. The sex is so intense, you could almost see everything. And when I say that, I mean her panties are halfway down. Here's their conversation during sex:
He said: Wait! Give me a minute!
She said: No! Don't Stop!
He said: How old did you say you are?
She said: Don't categorize me!
He said: Don't you get sore?!
His describes her as voracious. She laughs hysterically at the thought that his wife could just walk in at any minute. He tells her it's not funny.
And then here's THE SCENE. His wife walks in. Awkward. And then there were gasps from the audience. Then, hootin' and hollerin' guffaws and laughs. Loud, boisterous laughter. What a great party! Then, Stella, his wife mentions the 14 years of marriage. It is sooo funny! I guess it would be safe to say that Theresa Rebeck specializes in awkward threesomes. The conversation gets intense. The wife feels disgust. She calls him self-loathing. Charlie rationalizes the situation. She accuses him of projecting. He accuses her of being too competent. It is such intelligent banter that you don't notice comments like "I don't want to get snot on your sweater," as Stella runs to Lewis' apartment to cry on his shoulder.
Director Jeremy B. Cohen is brilliant with the scene changes as well. You try to imagine what rehearsals were like as you look at the behind-the-scenes pictures of the 4 characters plus the design team that are published in the Playbill. And the pictures are accompanied with notes from the playwright. "THE SCENE is a perverse retelling of OF HUMAN BONDAGE…It's very funny – sickly funny," says Theresa Rebeck.
Theresa Rebeck goes on to say that "Human beings range from saints to monsters, and for me, you're constantly being challenged as to where you're going to fall on that continuum. What choices are you going to make? Which direction are you going to go in? I'm actually interested in poor behavior. I'm interested in what drives people to poor behavior. I do believe that there are monsters out there, and that they are monsters."
I think we know which pretty little monster Theresa is referring to. By the end, we feel sorry for Charlie. The monster in him morphs into a pathetic loser, still has no job, constantly begging for money. In the end, he starts crying to Clea. "You are so much work!" Clea tells him. She says that she's "gonna have to have a massage for a week" just to deal with his bullshit. And finally, Charlie concludes that his life filled with fake TV people, is all so surreal.
Don't miss THE SCENE by Theresa Rebeck showing through November 25, 2007 down by the Alley. The Alley Theatre is located at 615 Texas Avenue, Houston, Texas 77002.
-0-0-0-0-0-
CAST
Jeffery Bean as Charlie
Elizabeth Bunch as Clea
Liam Craig as Lewis
Elizabeth Rich as Stella
-0-0-0-0-0-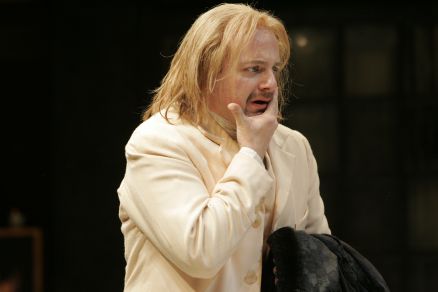 Jeffrey Bean as Prince Myshkin in the Alley Theatre's production of SUBJECT TO FITS: A RESPONSE TO DOSTOEVSKY'S THE IDIOT. SUBJECT TO FITS ran on the Alley's Neuhaus Stage from January 19 through February 18, 2007. For ticket information, visit www.alleytheatre.org. Photo by Michael Daniel.

Elizabeth Bunch as Aglaya Yepanchin in the Alley Theatre's production of SUBJECT TO FITS: A RESPONSE TO DOSTOEVSKY'S THE IDIOT. SUBJECT TO FITS ran on the Alley's Neuhaus Stage January 19th through February 18th, 2006. For ticket information, visit www.alleytheatre.org. Photo by Michael Daniel.
(L-R) Elizabeth Heflin as Vivien Leigh, Jeffrey Bean as Kenneth Tynan and Elizabeth Bunch as Joan Plowright in ORSON'S SHADOW. ORSON'S SHADOW ran through April 30th, 2006 on the Alley's Neuhaus Stage. For ticket information, visit www.alleytheatre.org. Photo by John Everett.
(L-R) Jeffrey Bean as Kenneth Tynan and Elizabeth Bunch as Joan Plowright in ORSON'S SHADOW. ORSON'S SHADOW began March 31st and ran through April 30th, 2006 on the Alley's Neuhaus Stage. For ticket information, visit www.alleytheatre.org. Photo by John Everett.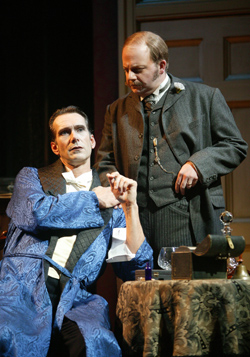 (L-R) Todd Waite as Sherlock Holmes and Jeffrey Bean as Dr. Watson in the Alley Theatre production of Sherlock Holmes. The production opened on the Alley Theatre Hubbard Stage October 15 and ran through November 2nd, 2003. For more information, click on www.alleytheatre.org or call 713-228-8421. Photo by T. Charles Erickson.

SPECIAL PERFORMANCES AND EVENTS
TALK-BACK
Members of the cast return to the stage following the 7:30 p.m. Tuesday, November 6, 2007 performance. The cast takes questions from the audience. TalkBacks are led by a member of the Alley Artistic Staff.
TICKET INFORMATION
Tickets to Alley Theatre productions such as THE SCENE are available for purchase at www.alleytheatre.org, at the Alley Theatre Box Office, 615 Texas Ave, or by phone at 713-220-5700. The added convenience of reservations by phone or Internet is available for a nominal fee. Groups of 10 or more can receive special concierge services by calling 713-315-3346. The added convenience of reservations by phone or internet is available for a nominal fee. Please note: There will be no performance on Thursday, November 22, 2007 in observance of the Thanksgiving Holiday.