STAGES
Repertory Theatre

Presents
The World Premiere Of

ASCENDANCY

By Gary Bonasorte
Directed by Rob Bundy

Featuring

Robin Burke................................Jason Armstrong
Kate McCleary...........................Anne Quackenbush
Jimmy DiStefano........................Bryan Bounds
Dr. Holland..................................William Hardy
Robert Golden.............................Joel Sandel
Nick McCleary.............................Lew Temple
Maria Almeida..............................Alissa Alban

The play takes place in the present time in and around New York City.

--------------------------------------------------------------------------------------
DIRECTOR'S NOTES: ROB BUNDY

Even in its early form, Ascendancy was an eloquent and inspiring cry for hope in this unending war against AIDS. Initially, during the reading, I was worried that Gary had written something that might be dismissed as just another play about AIDS. However, his message of hope and encouragement makes this a very special and important addition to our country's dramatic literature.

Gary Bonasorte wrote Ascendancy during very troubled times when AIDS was at the height of its unstoppable rampage, killing hundreds daily while continuing to baffle doctors and researchers. As co-founder of the Community Research initiative on AIDS (CRIA) in New York City, Gary is an active participant in the war against this devastating disease. Three years ago, this clinic lost 12 volunteers to AIDS within a year. By writing Ascendancy, Gary continues to contribute his considerable talents to the cause.

I felt compelled to produce the premiere of this inspiring play because of its message and the hope it offers us. Such hope comes not only from a new chapter in the fight against AIDS (protease inhibitors, which is not the cure for AIDS but the flicker of a promise that there might be one). Rather the message is hope itself - and it lies within a quiet, lovely little space we all carry within ourselves. As the character Robert tells us, it's simple: "Look around you. Find love and you live forever. That's the deal. Love is life."

---------------------------------------------------------------------------------------
Interview with Anne Quackenbush
Kate McCleary in Ascendancy

by Theresa Hyde
TheresaHyd@aol.com

Anne Quackenbush plays Kate McCleary in Ascendancy. A quirky, funny, but very responsible character who talks to Tex, the oven, through the gas pipes, only when it's lit up. Anne is making her Stages' debut. Most recently she revived her role as Bette Davis in Me and Jezebel at New Heights Theatre. With Theater Lab, she was seen as Kryla in Poor Super Man, Erica in Suburbia, and Patricia Green in Breaking the Code. Other roles include Nora in A Doll's House, and Mary in Main Street Theater's production of Mary, Mary.

In California, she taught and performed with the San Francisco Shakespeare Festival. She received her BA in theatre from Scripps College in Claremont, CA and trained at the American Conservatory Theatre in San Francisco and the Royal Academy of Dramatic Arts in London. Director Rob Bundy sat with us during the interview.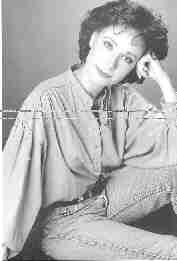 Anne Quackenbush



Theresa: Ms. Quackenbush
Anne: Mrs., actually. Not Mrs. Quackenbush. In Theatre, Anne Quackenbush.

Theresa: Okay (smiling). How long have you been married?
Anne: 3 months.....and four days. Whew, okay, we made it that far......

Theresa: Tell us about the part that you're playing.
Anne: Kate McCleary. She works at a clinic that's doing drug trials for new drugs, the AIDS drug. It's a very busy place. My character is, in a sense, a connector for the plot in terms of my relationships, my family, my brother. Different people in the play, but I have a connection to all of them. I do a lot of the work at the Clinic.

Theresa: How did you become a part of this play?
Anne: Well, originally, we did the stage reading last February.
Rob: I was overwhelmed with Anne's work in a play called Poor Super Man. And from that day on, I just had to work with her, and when this play came, there was no other actor that I thought of.

Theresa: Tell us about your past background. Are you originally from Houston?
Anne: No. My mother is a native Texan. And I did live here when I was a child. I've been doing theatre since I was 7. We moved overseas when I was a teenager, and I did a lot of work there. I came back to the United States for Scripps College in Claremont California, got a degree in Theatre. I did some graduate work at ACT, and the Royal Academy in London. And worked in Santa Barbara for many years, and then went to San Francisco. Worked for festivals and productions there, and came out here three years ago because my mother had a stroke, actually. A bad and good thing.

Theresa: And you decided to stay here?
Anne: Absolutely. At first, simply because my mother was that sick and she needed somebody with her. She had been calling me every year for five years saying, "I called the Alley and set up an audition.....and I can get you a plane ticket....." And I'd say, "No, I'm not moving to Houston." I was horrified at the thought of leaving California.

I have a story, too when I got here. The night before I left California, I was auditioning for a production. And I walked in and the woman who I was competing against quite often in San Francisco saw me. She got very upset, turned around, pretended she didn't know I was there. She proceeded to slam the current show I was in to everyone who would listen. And I just thought, "Whatever...." I went on with the audition even though I knew at that point I was gonna be leaving.

And then, I came here. Within the first month, I hit most of the theatre companies here in town. And I was reading for a role, I was up against an actress here. I ended up getting it. And like, the next week, when there was another round of auditions at Main Street Theatre, I started trying to find it because it was a little hard to find. She comes running out of the theatre....."Anne, I'm so glad you're here. You probably don't know anyone," and brought me in, and introduced me to every single other actor that was there. I mean, I kept thinking, "Where's the broken glass and the toe shoes?" I am so.....Not used to this. There's more Southern Hospitality here.

Theresa: Who are your most favorite actresses?
Anne: I have this thing for Judi Dench. I will watch her any place, any time. I'm kind of an Anglophile because I spent a lot of time in London. Saw a lot of British Actors, Ian McKellan spit on me once, while I was sitting on the second row. I got a little shiver. And Derek Jacoby, another stage actor, saw me act. He judged a competition when I was in eighth grade. He said my "Alice was a bit Bitchy, Dah-rlin," (most British accent).
(Laughs) It's funny because people, when they say favorite actors, a lot of times, you think of film actors. Simply because, movies are so much more prevalent, and people can connect to that easier. Not too many people know Stage Actors.

Theresa: What qualities do you look for in an actor?
Anne: Imagination, definitely. Because then, when you're working together you got more things thrown in the pot. You know, you can work with somebody on the same thing over and over, and it's a little different everytime.

And Listening. There's nothing worse than being on stage with someone who's staring off, sort of slightly above your eye level....."Stay with me, stay with me".

Theresa: In all of the roles that you've played, which one is your favorite?
Anne: Well, this one.
Rob: She has to say that.....
Theresa: I get that a lot. When I ask people, they say This Role......
Anne: It's hard not to, unless you're really not happy with what you're doing because it becomes so absorbing. Even when you don't realize it, it's what you're thinking about all the time.
Rob: And it's because it's the truth, it's the role that you're working on.......
Theresa: You have to be in character.
Anne: You're emotionally committed to it, to a degree........

Theresa: If you had a dream part.......
Anne: Well, actually I didn't want to get too old before I got to play Nora in Doll's House. And I did. There's a Tom Stoppard play that I love called Jumpers. I just love that play. And I don't know why no one will ever do it, because you have to have a gymnastic troupe. Maybe we can work the little Cirque De Soleil thing.
Theresa: (Pointing to Rob Bundy) Oh, he can make it happen
(To Anne) What do you have in the future?

Anne: Nothing is set. I have a bunch of things in the fire, but I'm hoping. Independent Films, all of a sudden. I made one little 20-minute Independent Short Film and they all started calling. Actually, there's two people talking to me about it. But the thing I always say first, especially even through my agency, Stage productions are first for me. No matter what.

You wanna work with me, you gotta schedule around that. That's the way it goes. Never ever thought I would ever do anything but Stage in my entire life. I have no memory of wanting to be anything else except briefly, an Astronaut. But I found out you had to join the Military.


Theresa: In Quills (ripple), you had an Astronaut in your cast. Jerry Miller, who played Coulmier has an Aeronautical and Astronautical Engineering degree and works as an astronaut trainer and flight controller at NASA.
Rob: Actually he is a Rocket Scientist.
Theresa: Oh, is that what he is? (I stand corrected)
Anne: He loves Acting......
Theresa: He's an awesome Actor. And then, I read the playbill, and realized......hhmmmm, Astronaut.
Anne: In one of the shows here, we were driving off. And the first week of rehearsals, we were having a lunch break, and we drove together. So, I asked him, "So what do you do, do you do something else?" He said, Rocket Scientist.
Theresa: (laughing) You must've thought, Yeah Right.
Anne: I said, No Way! (laughs)
Rob: He laughed at us......
Theresa: That's like, Brain Surgery
Rob: Right (laughing)

Theresa: Just out of curiosity, what is William Hardy's role in this play? William Hardy played the role of The Marquis de Sade (ripple).
Rob: Bill Hardy plays a doctor. Sort of plays the Establishment. Which is the opposite of what he did in Quills.

Anne: I just want to say, I think what's really important for all of us in the show is that #1, we have the chance to work on a production from the beginning, basically. We got to do read through and the workshop, and then, we got to work with the playwright. That was a new experience for me. On a professional level, it was just my first experience working a play through with the playwright there.

And it was a fantastic experience. Mostly in part, I think to Gary (Bonasorte). And also to Gary and Rob's ability to work well together. It was a wonderful experience to all of us. This play means so much to us, personally. I think every single one of us feels very strongly about the message of the play. And we don't always get that as an Actor. You have to work yourself up to that point. But there was no work involved in making such a strong commitment to what this play was all about.

Theresa: In working with the playwright, did it change your views and influence your role?
Anne: Oh yes. Although he was fairly non-invasive when it came to the Direction and the Acting. You know, he was there for reference. But he's such a great spirit.

-----------------------------------------------

ABOUT THE PLAYWRIGHT:

GARY BONASORTE

Gary Bonasorte's first play, The Aunts, was produced off-Broadway in 1989 and has been published by Samuel French. His political farce, Killing Real Estate Women, was produced in Washington DC in 1992 and ran for three months. The Marie Antoinette Society was a finalist in the Steppenwolf Theatre's New Plays Project and Reinventing Daddy was first produced at the Circle Repertory Theatre Lab. He was awarded the Phi Beta Kappa award for creative achievement for his play, Virginia Woolf - The Early Years, at Bucknell University. He trained as an actor for three years at the Drama Centre London.