THE 33RD ANNUAL WORLDFEST HOUSTON INTERNATIONAL FILM FESTIVAL
GRAND AWARDS GALA
Saturday, April 15th, 2000
The Grand Ballroom of The Red Lion Hotel at The Galleria
Cocktails - Dinner - Awards Presentation
Music Provided by The World Champion St. Thomas' Episcopal School Bagpipe Band (Michael Cusack, Director), and The Picardy Players


Film Festival Award Presenters and Page Parks Models
(L-R) Lindsey Green, Andrea Page, Amanda Moore


The Houston International Film Festival
Grand Awards Gala 2000
Interviews by Theresa Pisula
April 15th, 2000

In preparation for the Grand Awards Gala, I wanted to know what they were gonna be serving during the Awards Show dinner. So I interviewed Mr. Andy Bissonnet, the executive sous chef to Mr. Leo Woronowicz, who is the Executive Chef in Charge for the Red Lion Hotel at the Galleria Area.

ANDY: I work directly under the executive chef, the executive sous chef. Sous means under in French, so I'm his underling. Basically, I take the executive chef's place in his absence.

THERESA: Why don't you give me a description of what you will be serving for dinner tonight.
ANDY: First we start out with a salad. We will be serving exotic field greens, a spring mix or combination of 7 or 8 baby lettuces. Fresh fetta (goat) cheese and enkoi (real fine mushrooms). Then, we have a nice intermizzo, with raspberry sorbet, to cleanse our palette.
For the main course dinner, we have salmon with lemon pepper chicken, and nape (to cover with some sauce) with a little bit of basil cream. Nape - to coat the fish and chicken with the back of the spoon. Served with Basmati rice blend with a medley of baby vegetables, carrots, zucchini, petti-pan sunburst.

THERESA: Delicious. What about for dessert?
ANDY: For dessert, we will serve a Chef's Special Babvou Creation with Chocolate Clapboard. Basically it's a little piece of cake, a round circle with flavored mousse inside of it. It's got a layer of hard chocolate on top. It's got a leaf with hazelnuts on top of it. It's gonna be nice. And then I'm gonna do a raspberry coolie and some englaze (cream egg custard).

THERESA: And I remember last year, the chocolate Film Clapboard.
ANDY: Yeah, and the Clapboard. The Film Festival Clapboard, we got more Clapboards this year. And then we're gonna have fresh berries with it also. For beverages, wine will be served, water, coffee, iced tea and Champagne glass.

---------------------------------------------------------------------------------------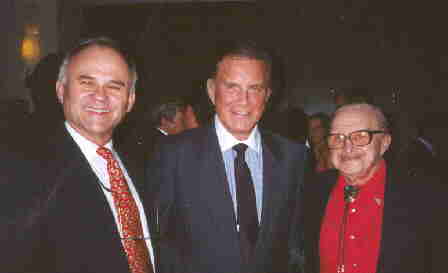 Dr. David Jacobs representing a documentary called A FORCE FOR GOOD, Cliff Robertson who stars in THE FAMILY TREE, and Herb Lightman, Editor Emeritus of the noted American Cinematographer Magazine


FAMILY TREE (Closing Night Film)
Family Tree is a heartwarming story about a young boy fighting to save the soul of an at - risk tree. Director: Duane Clark; Screenwriter: Paul Canterna; Cast: Robert Forster, Naomi Judd, Andy Lawrence, Matt Lawrence, Cliff Robertson.
---------------------------------------------------------------------------------------


Director / Screenwriter Yossi Somer and Director / Screenwriter Seth Liebman


THE DYBBUK OF THE HOLY APPLE FIELD (Israel)
From birth, Hanan and Lea were destined to be together, a promise made by their fathers and heard in Heaven. But Lea's father betrays this promise, kindling a conflict that will pit the modern against the secular and the devourer against the divine. Mystical visions of the Holy Apple Field convince Hanan that their love can be the perfect "spiritual match," and to achieve it he unleashes untold powers of the Kabbala.
Director: Yossi Somer; Screenwriters: Yossi Somer, Eyal Sher; Cast: Ayelet Z'urer, Yehezkel Lazarov, Orna Porat, Moshe Ivgy, Igal Naor.
Yossi Sommer from Israel: The film is THE DYBBUK OF THE HOLY APPLE FIELD (Israel). It won the Gold in Special Jury Award for feature film.
---------------------------------------------------------------------------------------
SHHH (12 min. Short Film, 16mm)
A short film about a man who kills people for talking in the movie theatres.
Director: Seth Liebman; Writer: Seth Liebman; Producer: Seth Liebman; Editor: Seth Liebman, Dianna Sirlin.
Seth Liebman: I won the Silver Award for a drama narrative. It's a short film called SHHHH. It's about a guy who kills people for talking in movie theatres.
---------------------------------------------------------------------------------------


(L-R) Mr. Ichiro Takase general manager of Shochiku Films and assistant to Mr. Abe Tsutomu, THE HAPPY FAMILY PLAN Director Abe Tsutomu, and HOME SWEET HOBOKEN Director Yoshifumi Hosoya who describes his film as "a screwball comedy."


THE HAPPY FAMILY PLAN (Japan)
This film is based on a TV game show called THE HAPPY FAMILY PLAN which centers on the activities of a family.
Director: Abe Tsutomu; Screenwriter: Yama Kota; Cast: Miura Tomokazu, Watanabe Eriko, Hirayama Aya, Kataoka Tsurutaro, Natori Yuko, Nogiwa Yoko, Ikariya Chosuke.
---------------------------------------------------------------------------------------
HOME SWEET HOBOKEN
Beth Flowers is a waitress in a Hoboken diner who raised two good - for - nothing grandsons, Brad and Gabe. When an appraiser offers her cash for some old jewelry, she discovers that a ring her husband had given her is oen of the rare diamonds from the crown of Louis XV, valued at approximately $10 million. When the news is broadcast on television, Beth becomes suddenly overwhelmed with reporters and TV crews. In the midst of the commotion, Beth is surrounded by several people who are only after the ring.
Director: Yoshifumi Hosoya; Screenwriter: Yoshifumi Hosoya; Cast: Ben Gazzara, Elizabeth Ashley, Jayce Bartok, Lee Holmes, Richard Kind.
---------------------------------------------------------------------------------------


(L-R) BEYOND THE PALE Stars Patrick Clarke and Beverly Elder


BEYOND THE PALE
BEYOND THE PALE is a contemporary working class drama based on the immigration experience of Patrick Shaw, a hard working Dublin stable hand who must keep his emotions at bay when his world is suddenly turned upside - down. BEYOND THE PALE won the Bronze Award in Drama. It was filmed in New York and Dublin, Ireland.
Director: George Bazala; Screenwriter: George Bazala, Patrick Clarke; Cast: Patrick Clarke, Conn Horgan, Beverley Elder.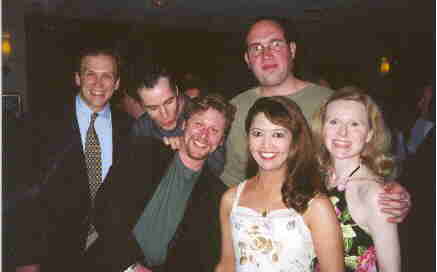 (Back) BEYOND THE PALE Producer Jack Alvino, Actor and Screenwriter Patrick Clarke, Director and Screenwriter George Bazala. (Front) SHHH Director Seth Liebman, Theresa Pisula , and Screenwriting Competition Winner Melinda Donahey


---------------------------------------------------------------------------------------


Melinda Donahey, Film Festival Silver Award Winner / Screenwriter

Interview with Melinda Donahey
Winner of Screenplay competition
Historical feature film category

THERESA: Tell us about your screenplay. Is it a documentary?
MELINDA: Not a documentary, but it's actually a fiction piece and it's also an original screenplay. The title is "Night, Peace, Paris" and it's set during the Vietnam War. It is set in the city of Paris (3/4 of it is in Paris), and it revolves around the Americans who were negotiating the Vietnamese War treaty in Paris. There were a number of young women in their twenties who were in very important positions at the Peace talks handling very sensitive information and they were doing very very stressful jobs and a very important cause. But they also had personal lives and they were often involved with the Marines who staff the embassy, often who are combat veterans, many of whom had some serious problems resulting from their combat experiences. So it's a drama about these people and their relationships and their work.

THERESA: You travelled to Houston for the Film Festival. Where are you from originally?
MELINDA: I'm originally from Ohio, lived in New Hampshire, now live in the outskirts of Washington, D.C. I have placed at the Finalist level in about 6 or 7 competitions. One of my scripts was a quarter finalist in the Nickel Fellowships, which is given by the Motion Picture Academy of Arts & Sciences, the people who give the OSCARS. It's a very prestigious competition with a very large number of entrants. There are about more than 4,000 entrants. So to make the quarter finals, which is just 100 or 200 out of that 4,000 is considered a real accomplishment. They publish the list after the competition, of any one who is a quarter-finalist, semi-finalist or finalist. So you get calls from producers after you place in that competition.

I was also a quarter-finalist in the Austin Film Festival and I've been a finalist in a couple of other major festivals, America's Best, Writer's Digest. I've actually gotten an award from this competition before, I got one last year from Houston, but I wasn't able to come to the festival to pick it up. This is the first time I've been able to come and get an award.

THERESA: How long have you been writing screenplays?
MELINDA: I started about 4 years ago, and I'm working on basically my fourth finished script, which will be finished about two weeks now. And I also have 3 or 4 more that are in various stages of being finished. They're every different genre, I have a contemporary drama, which is family-oriented. I have a drama that is science-fiction. This historical one (Night, Peace, Paris) is also a romantic drama. The one that I'm working on now is a mystery.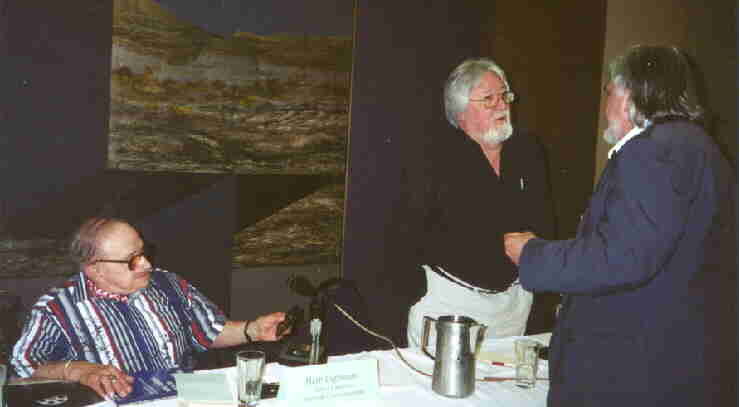 The Art of Cinematography Seminar: (L-R) Hosted by Herb Lightman, USA & British Academy Award winning Cinematographer Laszlo Kovacs, and Filmmaker Todor Blagoev from Bulgaria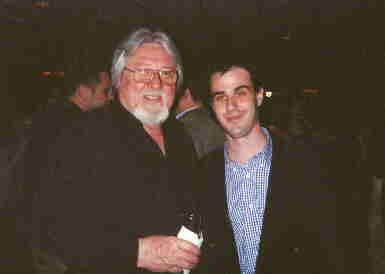 USA & British Academy Award Winning Cinematographer Laszlo Kovacs, and Brent Katz, Director of the Short Film THE FINAL RESOLUTION, which won the Finalist Award in Dramatic Original



---------------------------------------------------------------------------------------