Houston Ballet
Stanton Welch – Artistic Director
-0-0-0-0-0-0-0-0-0-0-0-0-0-0-0-0-0-0-0-0-0-0-0-0-0-0-0-0-0-0-0-0-0-0-0-0-0-0-0-0-
HOUSTON BALLET ANNOUNCES
THE 2010-2011 SEASON
RAISING THE BARRE
-0-0-0-0-0-0-0-0-0-0-0-0-0-0-0-0-0-0-0-0-0-0-0-0-0-0-0-0-0-0-0-0-0-0-0-0-0-0-0-0-

Kelly Myernick in The Houston Ballet's 2010 - 2011 Season Production of THE SLEEPING BEAUTY. Photo: Pam Francis

Company Moves into New Center for Dance, Largest Facility for Professional Dance in America, in 2011

Houston Ballet Premieres of George Balanchine's American Classic

Jewels and John Cranko's The Taming of the Shrew Highlight Season

Celebrated Finnish Choreographer Jorma Elo Creates New Work for the Company in May 2011

American Premiere of Christopher Bruce's

Grinning in Your Face in May 2011

Houston, Texas

– Houston Ballet Artistic Director Stanton Welch has announced the company's 2010-2011 season. The season marks a milestone in Houston Ballet's history as the company moves into its sleek new $53 million Center for Dance, the largest facility for professional dance in America, in the spring of 2011, propelling the company into the next phase of its development.

Seven news works enter Houston Ballet's repertoire during the 2010-2011 season, including the Balanchine evening-length

Jewels, featuring Emeralds, Rubies and Diamonds; the company premiere of John Cranko's lavish, comic staging of the Shakespearian classic The Taming of the Shrew; a world premiere by the much in-demand European dance maker Jorma Elo; the American premiere of Houston Ballet Associate Choreographer Christopher Bruce's Grinning in Your Face; and the company premiere of English choreographer Christopher Wheeldon's Rush in May 2010. "With our 2010-2011 season, Houston Ballet is ideally positioned to take a great leap forward. We have an exciting season full of many new works by the world's leading choreographers. The company's upcoming move into our new home in 2011 will provide us with a state-of-the-art facility across the street from Wortham Theater Center in the center of Houston's vibrant Theater District, also allowing us to greatly expand our education and outreach activities," remarks Mr. Welch. "This will be our last season in our current home of 25 years at 1916 West Gray, a renovated clothing factory featuring six studios with 52,000 square feet. As I look back over my last seven years with Houston Ballet, we can take pride that we have greatly expanded the repertory with new works, and increased our touring nationally and internationally."

-0-0-0-0-0-0-0-0-0-0-0-0-0-0-0-0-0-0-0-0-0-0-0-0-0-0-0-0-0-0-0-0-0-0-0-0-0-0-0-0-

Sara Webb and Connor Walsh in The Houston Ballet's TU TU. "A shimmering display of technical bravado." says the Culture Vulture. Photo: Amitava Sarkar

Body, Soul & Gershwin

Launches the 2010-2011 Season with a Sexy, Somber And Spirited Mixed Repertory Program

From September 9-19, 2010, Houston Ballet launches its 2010-2011 season with a mixed repertory program entitled

Body, Soul & Gershwin, featuring Stanton Welch's lively and colorful neo-classical work Tu Tu, Jirí Kylián's emotionally charged abstract ballet Forgotten Land, and The Core: Gershwin, the Heart of the Big Apple, Mr. Welch's Broadway-style ode to 1930s New York City glamour. Created in 1981 for Stuttgart Ballet, Jirí Kylián's Forgotten Land is a somber and soulful work for 12 dancers. In creating the piece, Mr. Kylián was inspired by a painting by Norwegian expressionist artist Edvard Munch and English composer Benjamin Britten's Sinfonia da Requiem, with its images of the sea engulfing the land. John Macfarlane's painterly scenic design and Mr. Kylian's movements suggest the rising waves of a grey sea, the ebb and flow of life, and themes of metamorphosis central to human existence.

In September 2006, Houston Ballet's company premiere of

Forgotten Land was cut short by the impending arrival of Hurricane Rita, and eerily the story behind the ballet paralleled this event: of a community under siege from nature. "Forgotten Land has great emotional resonance for Houston and other Gulf Coast cities that regularly face devastating storms," Mr. Welch points out.

A lavish, crowd-pleasing blockbuster inspired by the movie musicals of Hollywood's golden age, Mr. Welch's

The Core: Gershwin, the Heart of the Big Apple is a highly theatrical depiction of the Big Apple, incorporating archetypal New York characters with plenty of Broadway flash and dazzle in a work featuring the full company. The Core: Gershwin, the Heart of the Big Apple is set to George Gershwin's Piano Concerto in F, and was premiered by Houston Ballet in 2008. Houston Chronicle dance critic Molly Glentzer noted when reviewing the world premiere of The Core: Gershwin, the Heart of the Big Apple, "Welch's choreography – a hyper-driven blast of showbizzy arms, sweeping lunges and classic Broadways steps – moves deftly." (February 23, 2008) "Tu Tu is a large ensemble work in three movements featuring 22 dancers. Tu Tu reflects the different aspects of technique and what it means to be a dancer. The ballet moves through an adagio focusing on the dancers' balance and line, to powerful and energetic soubrette, to pas de deuxs highlighting each couple," explains Mr. Welch. "It is a playful, humorous look at classical ballet. Tu Tu is tart and very tongue-in-cheek."

Originally created for San Francisco Ballet in 2003 and set to Maurice Ravel's

Concerto for Piano in G major, the dancers are outfitted in brilliantly colored tutus and briefs. Designed by Holly Hynes, the stunning costumes were inspired by Gustav Klimt's gold-hued paintings. Austrian-born Klimt (1862-1918) was a well-known Art Nouveau painter who became famous for his sensual depictions of women. The tutus and briefs worn by the dancers feature a dazzling array of colors: gold, turquoise, red and orange. Bare midriffs and striped retro-fashioned shorts ramp up the sex appeal. "I tried to capture the luscious feeling of Klimt's work in the costume design and choreography," Mr. Welch notes. Arts Houston Magazine dance critic Nancy Wozny noted in April 2007 that "Tu Tu revealed the mighty talents and distinct personalities of its dancers in a shimmering display of technical bravado and gripping choreography." Houston Press critic Marene Gustin observed, "They knock out double fouettés en pointe and attack the floor with lightning steps while flexing supple backs and wafting arms in the most amazing port de bras to Ravel's lyrical Piano Concerto in G Major. Both women and men use their arms to sublime effect, with rippling back muscles and long limbs." (March 1, 2007)

Christopher Coomer and Jessica Collado in The Houston Ballet's FORGOTTEN LAND by Jirí Kylián. Photo: Amitava Sarkar

-0-0-0-0-0-0-0-0-0-0-0-0-0-0-0-0-0-0-0-0-0-0-0-0-0-0-0-0-0-0-0-0-0-0-0-0-0-0-0-0-

Balanchine's

Jewels Is A Multi-Faceted Look At Three Golden Ages Of Dance

From September 23 – October 3, 2010, Houston Ballet presents George Balanchine's

Jewels, three separate and distinct works creating a unified full evening work, premiered on April 13, 1967 by New York City Ballet. Jewels was hailed as the first plotless full-length ballet. The gems in Jewels pay tribute to three golden ages of dance and also to the beauty of the ballerinas Balanchine adored. Poetic and flowing, Emeralds evokes France, the birthplace of Romantic dance. Its ballerinas drift on stage in clouds of tulle, whispering of elegance, fashion and fragrance. Rubies mirrors the carefree spontaneity of America, a throwback to the musical comedies and films Balanchine created soon after he arrived in his beloved adopted country: a sassy, jazzy burst of sunshine. Diamonds dazzles as Balanchine's tribute to the work of Marius Petipa and evokes the grandeur and precision of the Imperial Ballet of St. Petersburg with each shimmering wave of classical elegance. "Balanchine's Jewels is a multi-faceted look at Romantic, classical and neo-classical ballet. The Emeralds section is soft and moody with fluid movements in the Romantic style. Rubies is sexy, cheeky and sleek in the neo-classical style, a style Balanchine personified. And Diamonds focuses on precision and cleanliness in the classical style. Technically Emeralds is the most difficult section because of the subtleness in the movements required to make it a success," remarks Mr. Welch.

"

Jewels will showcase the versatility and stylistic depth of our dancers. The audience will see the whole company on stage. This piece celebrates where Houston Ballet's dancers are today," Mr. Welch states. Balanchine was inspired to create Jewels by the jewelry collection of Van Cleef and Arpels in New York - a French jewelry company founded in 1896 in Paris renowned for their precious stones. In his article on Jewels in The International Dictionary of Ballet, noted critic Robert Greskovic quoted long-time Balanchine observer Professor Robert Garis who pronounced Jewels "a work of genius both as a work of art and as show-business." Set to sections of Gabriel Fauré's Pelléas et Mélisande and Shylock, Emeralds features two couples and a trio of two women and one man bordered by 10 corps de ballet women. The Emeralds section evokes nineteenth century Romantic ballets by giving the women an ethereal look, featuring long green tulle skirts. Set to the jazzy tune of Igor Stravinsky's Capriccio for Piano and Orchestra, Rubies epitomized the collaboration of Balanchine and Stravinsky, and the American style of ballet that Balanchine developed. The piece features a central couple, a female soloist and an ensemble of four men and eight women wearing short, seductive red flapper-like skirts. The dynamic neo-classical choreography is crisp and witty, a true game of wits and teasing.

Jaquel Andrews, Mireille Hassenboehler and Amy Fote in The Houston Ballet's 2010 - 2011 Season of JEWELS. Jewelry: I. W. Marks. Photo: Pam Francis

Diamonds

dazzles audiences with its classical Imperial Russian style, representing the refracted colors of a diamond. Set to the last four movements of Peter Tchaikovsky's Symphony No. 3 in D major, Op. 29, the piece features an intimate pas de deux, 14 corps de ballet women, four couples of demi soloists and a forceful polonaise finale of the entire cast. Adorned in white tutus, the ballerinas and their mates fill the stage as glittery diamonds. Russian/American designer Barbara Karinska created the Jewels costumes. Karinska began her career as the highly acclaimed interpreter of designs by such artists as Salvador Dalí, Henri Matisse, and Marc Chagall. However, it was as principal costumer of New York City Ballet that she made her name. Karinska's first costumes were made for nightclub performers, but in 1932 she received a commission to make the costumes for Balanchine's ballet Cotillon. After many more commissions for theater and ballet, she quickly became known as the only costumer able to translate an artist's sketches into fabric. In 1948, she won an Academy Award for her designs for Ingrid Bergman in Joan of Arc. In 1962, Karinska's achievements were publicly recognized when she received the Capezio Dance Award for costumes. Balanchine appointed Karinska as principal costumer of New York City Ballet in 1962. She died in New York in October 1983.

"We are very lucky to have Elyse Borne, one of the most respected

repetiteurs from the Balanchine Trust, and former New York City Ballet Principal Dancer Maria Calegari, who danced for Balanchine, staging Jewels. Each will focus on the different styles present in Jewels. For our dancers to work with coaches who have such firsthand knowledge will be indispensable," explains Mr. Welch. Born in St. Petersburg, Russia, Balanchine (1904-1983) is regarded as a major artistic figure of the twentieth century who revolutionized the look of classical ballet. Taking classicism as his base, he heightened, quickened, expanded, streamlined, and even inverted the fundamentals of the 400-year-old language of academic dance. This had an inestimable influence on the growth of dance in America. With Lincoln Kirstein, Balanchine founded New York City Ballet in 1948, and served as its ballet master and principal choreographer until his death in 1983. Balanchine's more than 400 dance works include Serenade (1934), Concerto Barocco (1941), Le Palais de Cristal, later renamed Symphony in C (1947), Orpheus (1948), The Nutcracker (1954), Agon (1957), Symphony in Three Movements (1972), Stravinsky Violin Concerto (1972), Vienna Waltzes (1977), Ballo della Regina (1978), and Mozartiana (1981). Houston Ballet has 11 Balanchine works in its repertory, including Apollo (1928), Symphony in C (1947), Serenade (1934), Western Symphony (1954), La Valse (1951), Theme and Variations (1947), The Four Temperaments (1946), Agon (1957), Tchaikovsky Pas de Deux (1960), Concerto Barocco (1941) and Pas de Dix (1955).

Melody Herrera and artists of The Houston Ballet in THE CORE

, Stanton Welch's fun and energetic tribute to the music of George Gershwin and Broadway movie musicals of the 1930s. Photo: Amitava Sarkar

-0-0-0-0-0-0-0-0-0-0-0-0-0-0-0-0-0-0-0-0-0-0-0-0-0-0-0-0-0-0-0-0-0-0-0-0-0-0-0-0-

Houston Ballet Lights Up The Holidays With

The Nutcracker

From November 26 – December 26, 2010, Houston Ballet will bring Texas its most joyous holiday gift with its beloved production of Ben Stevenson's

The Nutcracker, a Houston holiday tradition. A wonderful ballet for the entire family, The Nutcracker is the perfect way to introduce young children to the power and beauty of classical dance. Tchaikovsky's magical score, Desmond Heeley's fairytale scenery and Mr. Stevenson's vibrantly theatrical staging combine to create one of the most visually stunning productions of The Nutcracker in the world today.

The Nutcracker

tells the story of a little girl named Clara who is given a magical nutcracker doll on Christmas Eve. She encounters the frightful rat king before embarking on a journey through the Land of Snow and the Kingdom of Sweets. Young and old alike will experience the production's many special effects, including the Christmas tree that "grows" to 40 feet, 200 pounds of "snow" falling during the snow scene and the firing of a canon on stage. Molly Glentzer, dance critic for the Houston Chronicle, wrote, "You'd have to be a Scrooge not to surrender to the spirit."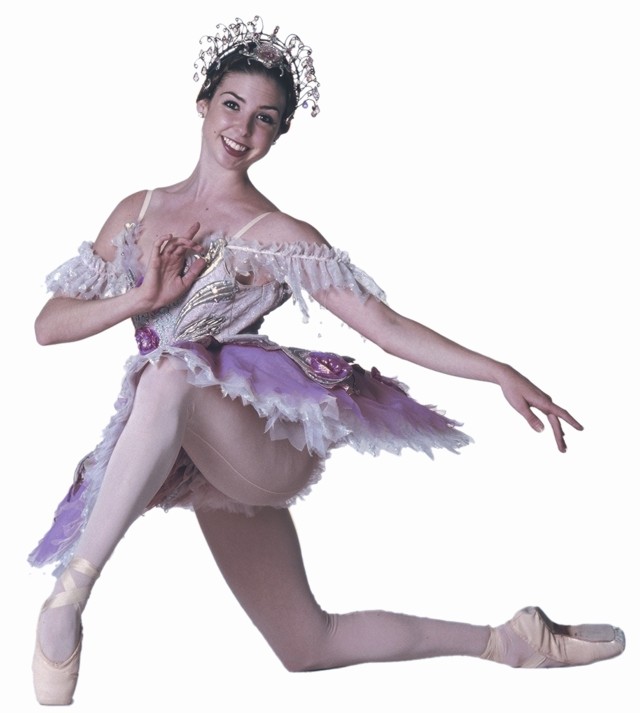 A Real Christmas Ballerina: Bridgett Zehr in the Houston Ballet's 2005 Production of The Nutcracker. Photo by Pam Francis.

-0-0-0-0-0-0-0-0-0-0-0-0-0-0-0-0-0-0-0-0-0-0-0-0-0-0-0-0-0-0-0-0-0-0-0-0-0-0-0-0-

Houston Ballet's One-Night-Only Extravaganza The

Jubilee of Dance

On Friday, December 3, 2010, Houston Ballet presents its seventh annual

Jubilee of Dance, a special one-night-only performance showcasing the talent and artistry of the company dancers in a program of high-energy excerpts from signature works and beloved classics. Houston Chronicle dance critic Molly Glentzer called the 2006 Jubilee of Dance "the event of the season," noting, "The audience gave it a rousing standing ovation."

-0-0-0-0-0-0-0-0-0-0-0-0-0-0-0-0-0-0-0-0-0-0-0-0-0-0-0-0-0-0-0-0-0-0-0-0-0-0-0-0-

Jessica Collado and Artists of The Houston Ballet in MARIE. Photo: Amitava Sarkar

Stanton Welch's

Marie Offers a Probing Psychological Portrait of Marie Antoinette in February 2011

From February 24 – March 6, 2011, Houston Ballet presents Stanton Welch's

Marie, a three-act narrative ballet inspired by the life of the legendary French queen, Marie Antoinette. Marie was born an Austrian arch duchess in 1755, married the future French King Louis XVI at the age of 15, and was executed by guillotine at the height of the French Revolution in 1793. Canadian designer Kandis Cook's scenery and costumes for the production create an eighteenth century essence, with an abstract and minimalist feel. Houston Ballet Music Director Ermanno Florio arranged the music of Russian composer Dmitri Shostakovich to create the dark and brooding score for the work.

"A story ballet is like a fine wine: it gets better with age. It is exciting to return to

Marie. The ballet will have a new sense of self, with each role maturing as dancers return to the roles I choreographed on them," comments Mr. Welch. "The more a story ballet is performed, the stronger it gets. The characters come full circle as the dancers understand the roles better." Famously known as the eighteenth century French queen whose excesses have become legend, Marie Antoinette was blamed for instigating the French Revolution. Thomas Jefferson wrote in his autobiography on Marie Antoinette, "I have ever believed that had there been no queen there would have been no revolution."

"I was intrigued to learn that Marie Antoinette wasn't as superficial as she is often portrayed and found a true character arc in her transition from young princess to spoiled queen to mother to Revolutionary victim," says Mr. Welch. "All the intense gossip and scrutiny of the queen's life mirrors our society: how we become fixated on some pretty girl and how through gossip and tabloids, we create a distorted image of someone." As a 15 year old girl, Marie Antoinette was sent from Vienna to marry the future King Louis XVI. The youngest daughter of Austrian empress Maria Teresa and Francis I, she was sent on a journey by her mother from Vienna to Versailles with the expectation that she would further Austrian interests. Sacrificed to eighteenth century power politics, she arrived in France, a foreigner hardly prepared for the court at Versailles and far from interested in state affairs.

Marie threw her energies into extravagant parties and patronizing the arts. The French accused her of political interference and wrote scandalous tracts against her, mocking her lack of sophistication. Longing for a family and a birth of an heir to secure the French-Austrian alliance, Marie's marriage remained unconsummated for seven years, and she had to endure more than eight years of public humiliation for her barren marriage before the delivery of her first of four children. The revolutionaries who stormed the Bastille found the queen a ready target for all that was wrong with France. Torn from her 100 room palace when a mob of some 7,000 women marched on Versailles and her thrust into jail, she was plunged into despair, only to be transformed by her suffering. She defied her enemies at her trial with intelligence, arousing the admiration of even the most hostile revolutionaries. With new awareness and regal dignity, she mounted the steps of the scaffold to the guillotine, conscious of her failures, doomed by her own tragic flaws, a young woman trapped in a tumultuous moment of history.

Melody Herrera and Christopher Coomer in Houston Ballet's 2010 - 2011 Season of MARIE. Hair: Ceron. Makeup: Cynthia Christ and Melissa Sellers. Jewelry: De Beers. Photo: Pam Francis

Scenic and costume designer Kandis Cook began her research for

Marie by visiting Versailles and studying portraits from the time period. "It was important to research eighteenth century Austria, eventually exploring the features of the Hofburg Imperial Palace where Marie and her family frequently lived, but one of many palaces in the city. Its Baroque weight contrasted that of the Rococo lavishness of Versailles, and very quickly clarified the difference in temperament between the two people. Marie was raised in a relaxed and loving family environment and found the court life of France strict in comparison," states Ms. Cook. She created 150 costumes for the ballet based on the style and designs from 1770-1795 Austria and France with powdered wigs and perukes, corsets, panniers, silks, lace, jewels, braided waistcoats and jackets, jabeuxs (the strict formal dress of the ancient regime of France), and the rags of the public. Ms. Cook has designed narrative ballets for London's Royal Ballet, Les Grands Ballets Canadiens de Montreal, Royal Danish Ballet and San Francisco Ballet. She has created the costumes for six of Mr. Welch's works: The Four Seasons (2007) and Marie (2009) for Houston Ballet; Velocity (2003) for The Australian Ballet, Taiko (1999) for San Francisco Ballet, Powder (1998) for Birmingham Royal Ballet, and Fingerprints (2000) for Cincinnati Ballet. She has also designed scenery and costumes for prestigious theaters, including the Royal Shakespeare Company, The Abbey Theatre in Dublin, The Royal Court, and The Donmar Warehouse.

The score for

Marie features Dmitri Shostakovich's solo piano and chamber music, and excerpts from such compositions as Symphony No. 10, Piano Concerto No. 2, Ballet Suite No. 2 and Jazz Suite No. 2. "We felt Shostakovich would be a wonderful composer for Marie. He was one of the greatest composers of the twentieth century for both the stage and concert hall," comments Mr. Florio. "Stanton made the selection of the music and explained the synopsis of the ballet. I felt the music he had chosen worked extremely well in telling the dramatic and tragic story he has in mind." Houston Ballet presented the world premiere of Marie on February 26, 2009 at Wortham Theater Center and toured the work to New Orleans March 28-29, 2009.

Melody Herrera and Artists of The Houston Ballet in MARIE. Photo: Amitava Sarkar

-0-0-0-0-0-0-0-0-0-0-0-0-0-0-0-0-0-0-0-0-0-0-0-0-0-0-0-0-0-0-0-0-0-0-0-0-0-0-0-0-

Houston Ballet Revives The Magical Fairytale

The Sleeping Beauty in March 2011

From March 10–20, 2011, Houston Ballet will revive Ben Stevenson's staging of

The Sleeping Beauty, a flagship work for the company and a piece that is recognized as one of the supreme achievements of classical ballet. The ballet is based on the classic French fairytale by Charles Perrault: a beautiful princess is cursed by an evil fairy and doomed to sleep for 100 years – only to be awakened by the kiss of the handsome prince who loves her. Desmond Heeley's spectacular designs beautifully evoke the magic, drama and whimsy of this great work. Mr. Welch describes performing The Sleeping Beauty as "the pinnacle of a dancer's career and a monumental performance to undertake. There are so many great roles and we have scores of talented dancers. The piece has always been an audience favorite, but it is also a technically challenging work for the dancers."

Houston Chronicle

arts critic Molly Glentzer noted "The Sleeping Beauty isn't just the Godiva of eye candy. It's technically demanding, combining precise, pricking footwork with difficult balances, speedy turns and those testy little leaps known as cabrioles, in which the dancer's feet beat in the air at an angle." (September 20, 2003) The ballet version of The Sleeping Beauty, like the fairytale, tells the story of the beautiful Princess Aurora. During the prologue, the court of King Florestan is celebrating the christening of Princess Aurora. Six fairies dance and bring gifts to the infant princess. The wicked fairy Carabosse interrupts the ceremony. She is angry because she has not been invited and delivers a curse upon the tiny princess: she will grow up to be beautiful, but will one day prick her finger and die. The Lilac Fairy changes the curse so that the Princess will not die, but sleep until she is awakened by the kiss of a prince.

Act I contains the famous

Rose Adagio, one of the greatest challenges of nineteenth century choreography because of its demands of stamina, technical skill, and mastery of classical style. In this sequence, during the celebration of her sixteenth birthday, Princess Aurora dances with four visiting princes, each of whom, desiring to be her husband, offers her a rose and declares his love. As the celebration continues, the disguised Carabosse hands Aurora a bouquet in which a spindle is concealed. Aurora pricks her finger, and as she falls asleep, the Lilac Fairy appears and casts her spell, putting the entire court to sleep. In Act II, a century has passed, and the handsome Prince Florimund is revealed with his hunting party at a lake. The Lilac Fairy leads him to the castle where Aurora has been asleep for 100 years. Act II climaxes in a moment of unforgettable grandeur and romantic spectacle as the prince gently kisses Aurora, awakening her from her slumber. Act III is devoted to the celebration of the nuptials of Princess Aurora and Prince Florimund. Characters from other fairytales – Puss n' Boots, the Bluebird and the White Cat – dance divertissements for the pleasure of the assembled courtiers. Aurora and Florimund perform the stunning grand pas de deux and the celebration closes with the entire court joining in the finale.

"The Kiss that woke a Kingdom" Sara Webb and Ian Casady in Houston Ballet's 2010 - 2011 Season of THE SLEEPING BEAUTY. Photo: Pam Francis

-0-0-0-0-0-0-0-0-0-0-0-0-0-0-0-0-0-0-0-0-0-0-0-0-0-0-0-0-0-0-0-0-0-0-0-0-0-0-0-0-

Finnish Choreographer Jorma Elo Creates His First Work for the Company in

Raising the Barre in May 2011

From May 26 – June 5, 2011, Houston Ballet presents a powerhouse of twenty-first century ballet in its spring mixed repertory program entitled

Raising the Barre. The program features a world premiere by the celebrated Finnish choreographer Jorma Elo, an American premiere by Christopher Bruce and a company premiere by Christopher Wheeldon. "Raising the Barre is a fresh look at contemporary ballet over the past decade in America. The pieces are a reflection of America with Bruce's Grinning in Your Face, which is a portrait of American life in the 1930s, Elo's new work being choreographed in America and Wheeldon's Rush also choreographed in America," states Mr. Welch.

"I am excited for Houston Ballet to have a new work by Jorma. Houston audiences have loved the Kylián ballets and Jorma is a product of Kylián's company. His choreographic style is unique, mixing Kylián's influence into classical ballet," notes Mr. Welch. "I first saw Jorma choreographing at San Francisco Ballet and I instantly loved his style. The way he worked in the studio with the dancers, demonstrating his choreography, made me think Houston Ballet needs him in our studios." Mr. Elo, who has created pieces for American Ballet Theatre, Boston Ballet, and New York City Ballet, among others, is currently the resident choreographer at Boston Ballet. He trained at the Finnish National Ballet School and The Kirov Ballet School. From 1978-1984 he danced with Finnish National Ballet, with Cullberg Ballet from 1984-1990, and in 1990 he joined Netherlands Dance Theatre. Mr. Elo worked with renowned choreographers such as Hans van Manen, Mats Ek, Ohad Naharin, Ji

rí Kylián and William Forsythe. In 2005 he was awarded the choreographic prize at the Helsinki International Ballet Competition.

Hailed by

The New York Times as "one of the most vividly satisfying constructions by him or any other ballet choreographer in this decade," Christopher Wheeldon's Rush is anchored around a dazzling pas de deux and features two principals, four soloists, and a corps de ballet of 10 dancers. The work is set to Bohuslav Martinu's Sinfonietta La Jolla for chamber orchestra and piano. Writing in Dance View Times, critic Rita Felciano described Rush's choreography: "The choreography plays with off-kilter balances and segments the upper body and the arms. There is a robust quality to the dancers, in part emphasized by the strong colors in both costumes (Jon Morrell) and lighting design (Mark Stanley). The choreography has a windswept, pushing ahead quality to it." (March 1, 2004)

"This is not modern dance and ballet. It is modern ballet."-----The New York Times on Jorma Elo's Plan B. Pictured: Artists of the Houston Ballet in 2010 - 2011 Season of RAISING THE BARRE. Photo: Pam Francis

Born in Somerset, England, Mr. Wheeldon began his ballet training when he was eight years old, and later trained at The Royal Ballet School. In 1991 he joined The Royal Ballet and also won the gold medal at the Prix de Lausanne competition. In 1993, Mr. Wheeldon was invited to become a member of New York City Ballet, where he rose to the rank of soloist in 1998. He began choreographing for New York City Ballet with

Slavonic Dances for the 1997 Diamond Project. After creating Mercurial Manoeuvers (2000), he retired from dancing to concentrate on his choreographic work. During New York City Ballet's 2000-2001 season, Mr. Wheeldon served as the company's first-ever artist in residence, creating two ballets: Polyphonia and Variations Sérieuses. In July 2001 he was named New York City Ballet's first resident choreographer. Since that time, Mr. Wheeldon has choreographed several ballets for the company, including Morphoses (2002), Liturgy (2003) and After the Rain (2005). He has also created ballets for such companies as The Royal Ballet, San Francisco Ballet, Pennsylvania Ballet and Boston Ballet. In November 2006, Mr. Wheeldon announced the formation of his own dance company, Morphoses. In its first season, the company performed in Vail, London and New York. Houston Ballet has two works by Mr. Wheeldon in its repertory, Carnival of the Animals, which entered the company's repertory in 2007, and Carousel (A Dance), which entered the repertory in 2009.

Set to music of the same name by the blues guitarist Martin Simpson, Mr. Bruce's

Grinning in Your Face evokes a Midwest American community in the 1930s and features many of the hallmarks of Mr. Bruce's work: conflict, love and rejection, and folksy humor. The work was originally created for Rambert Dance Company in 2001. "Grinning in Your Face is a ballet about America. Christopher choreographed the piece on Rambert, but requested it be brought to Houston in order for Americans to dance a work that is deeply rooted here," remarks Mr. Welch. Hailed by London's The Daily Telegraph as "the Nureyev of contemporary ballet," Mr. Bruce was appointed Houston Ballet associate choreographer in 1989 and has staged nine acclaimed works for the company including Ghost Dances (1981), Land (1985) and Swansong (1987). He has created four works especially for Houston Ballet: Gautama Buddha (1989), Journey (1990), Nature Dances (1992) and Hush (2006). Over the last 18 years, Houston Ballet has emerged as Mr. Bruce's artistic home in America.

-0-0-0-0-0-0-0-0-0-0-0-0-0-0-0-0-0-0-0-0-0-0-0-0-0-0-0-0-0-0-0-0-0-0-0-0-0-0-0-0-

Houston Ballet Premieres John Cranko's

The Taming of the Shrew: Bringing Shakespeare's Wit To The Stage

From June 9-19, 2011, Houston Ballet will present John Cranko's staging of

The Taming of the Shrew. A masterful choreographic depiction of Shakespeare's perpetually battling lovers, Petruchio and Katherina, and of Petruchio's determination to bend the feisty, independent-spirited and tempestuous Katherina to his will. Incorporating a stunning array of dramatic moods, virtuoso dancing and vivid characterization, The Taming of the Shrew conveys like no other ballet Shakespeare's wit, brilliant comic invention and sharp understanding of human character. Originally created for Stuttgart Ballet in 1969, the two-act work has become a staple of the international repertoire, danced by companies across the globe, including American Ballet Theatre, The Royal Ballet, The National Ballet of Canada, The Australian Ballet and The Joffrey Ballet.

Mr. Welch says, "

The Taming of the Shrew helped me fall in love with dance at 16. I was an audience member and thought the piece was hilarious. I was cast in Cranko's The Taming of the Shrew, and I learned a lot from the experience. The characters are well defined and require intelligent acting. I am glad we can bring the ballet to Houston." Mr. Welch fell in love with what many critics have praised: Cranko's ability to create a full-length ballet full of emotion and comedy, while making the story accessible to today's audiences. In the opening scene, three suitors, Hortensio, Lucentio and Gremio, arrive at Baptista's house to serenade Baptista's younger daughter Bianca. Her older sister Katherina interrupts the scene. Baptista declares that Bianca shall not marry until Katherina is wed. The rumpus awakens a crowd of neighbors, whom Katherina sends packing. In the tavern, Petruchio arrives tipsy and is robbed of his last penny by two ladies of the street. Hortensio, Lucentio, and Gremio offer to introduce him to an heiress. To their delight, he accepts. Back at Baptista's house, Petruchio arrives and asks for Katherina's hand. After a stormy courtship, she agrees. Meanwhile Bianca's suitors, in disguise, press their claims under the pretense of giving singing, dancing and music lessons. Bianca favors Lucentio. The first act culminates at Katherina and Petruchio's wedding, where Petruchio arrives late and behaves outrageously. He carries off the bride without waiting for the wedding festivities to begin.

Act II begins at Petruchio's home, where Petruchio does not allow Katherina to eat, protesting that the food is not good enough. She then refuses to consummate the marriage and spends the night on the kitchen floor. The next scene takes place at a carnival where Lucentio, bribing two ladies of the street to wear cloaks and masks like Bianca, tricks Hortensio and Gremio into marrying them. Back at Petruchio's home, Petruchio's mocking and trickery provoke Katherina. Eventually she surrenders, and they admit they love each other. On the way to Bianca's wedding, Petruchio indulges in some whims, but Katherina has learned to humor him. At the wedding, Bianca treats her husband scornfully, but Katherina shows her how a wife is expected to behave. Left alone, she and Petruchio revel in their new-found love.

Born in South Africa in 1927, Cranko was one of the most successful choreographers of full-length story ballets in the twentieth century. He studied dance mainly at the University of Cape Town and at the Sadler's Wells School in London. He joined the Sadler's Wells Ballet (later The Royal Ballet) in 1946 and in a few years began his choreographic career. In 1957, he created his first full-length ballet,

The Prince of the Pagodas, for The Royal Ballet. He was appointed director of Stuttgart Ballet in 1961, and in 1962, he premiered his breakthrough staging of Romeo and Juliet to great critical acclaim. His productions of Onegin (1965), The Taming of the Shrew (1969) and Carmen (1971) are now part of the international repertoire. Some other works he created in Stuttgart include Swan Lake (1963), Opus I (1965) and Initials R.B.M.E. (1972). In addition, he encouraged young dancers in his company, including Jirí Kylián and John Neumeier, to try their hand at choreography. The untimely death of Cranko in 1973, at the age of 45, deprived the ballet world of one of its most talented choreographers of story ballets. Houston Ballet has two other works by Cranko in its repertoire: Onegin, which the company first performed in 2005; and The Lady and the Fool (1954), which the company first performed in 1978.

LOVE. HONOR. OBEY? Melody Herrera and Connor Walsh of the Houston Ballet in 2010 - 2011 Season of THE TAMING OF THE SHREW. "Funny, touching, breathtakingly physical...."-----Dance Magazine. Photo: Pam Francis

-0-0-0-0-0-0-0-0-0-0-0-0-0-0-0-0-0-0-0-0-0-0-0-0-0-0-0-0-0-0-0-0-0-0-0-0-0-0-0-0-

Houston Ballet's New $53 Million Center for Dance Opening in 2011

In a move designed to propel Houston Ballet to the next phase of its development, the company broke ground on July 15, 2009 on its new Center for Dance, a 115,000 square-foot facility located in downtown Houston at the intersection of Smith and Preston Streets. The building, which is budgeted at $53 million, is set for completion in 2011. The six-story building will boast nine dance studios, a black box dance laboratory that seats 200 for presentations as well as rehearsals, and artistic, administrative and support facilities for Houston Ballet and its Ben Stevenson Academy. The new facility will more than double the space that Houston Ballet has at its current home, located at 1916 West Gray in the River Oaks section of Houston, which the company renovated in 1984 and features six dance studios.

The new structure, designed by globally-recognized architecture firm Gensler, will be the largest professional dance company facility of its kind constructed in the United States.

The Houston Chronicle has observed that the building "could be the most exciting new architecture Houston has seen in decades." (July 31, 2009) Art Gensler, chairman and founder of Gensler, acknowledged the importance of the project, commenting: "What a privilege it's been to create the new home for Houston Ballet, literally opening a window through the building's design that lets all of Houston see the beauty, talent and passion of Houston Ballet. We are thrilled to be part of this wonderful addition to downtown Houston and its Theatre District."

Richard Maxwell is the project principal. The project manager is Lorrie Foreman. The general contractor managing the construction is W.S. Bellows Construction Corporation. The co-chairs of the ongoing capital campaign are John C. Bass, Jesse H. Jones II and Anita B. Stude. (Stude served as co-chairman of the campaign until her death in July 2009.) A live web feed of the current construction progress can be found at: www.oxblue.com/pro/open/houstonballet/centerfordance.

About Houston Ballet

On February 17, 1969 a troupe of 15 young dancers made its stage debut at Sam Houston State Teacher's College in Huntsville, Texas. Since that time, Houston Ballet has evolved into a company of 53 dancers with a budget of $17.7 million, a state-of-the-art performance space built especially for the company, Wortham Theater Center, and an endowment of just over $50.7 million (as of December 31, 2009), making it the United States fourth largest ballet company by number of dancers. Under the administrative leadership of managing director C.C. Conner since 1995, the company has maintained a strong financial position. Houston Ballet has toured extensively both nationally and internationally. Over the last decade, the company has appeared in London at Sadler's Wells, at the Bolshoi Theater in Moscow, in six cities in Spain, in Montréal, at The Kennedy Center in Washington, D.C., in New York at City Center, and in cities large and small across the United States.

Houston Ballet has emerged as a leader in the expensive, labor-intensive task of nurturing the creation and development of new full-length narrative ballets. The company has also commissioned new one-act ballets from some of the world's most respected choreographers, including Julia Adam, Christopher Bruce, James Kudelka, Trey McIntyre, Paul Taylor, Glen Tetley, Natalie Weir and Lila York. Writing in

The Financial Times on March 6, 2006, dance critic Hilary Ostlere praised Houston Ballet as "a strong, reinvigorated company whose male contingent is particularly impressive, a well-drilled corps and an enviable selection of soloists and principals." Dance Europe editor Emma Manning observed of the company in November 2004, "One of the first things that hits you about this company is the technical strengths not just of the principals, but throughout the ranks. Watching artistic director Stanton Welch take class on a Sunday morning before a matinee, one could not help but marvel at the multiple turns tossed off by the young women in the corps....The three new works shown in this program will be followed by no fewer than four more Houston premieres. Can any other major ballet company in the world match that?"

-0-0-0-0-0-0-0-0-0-0-0-0-0-0-0-0-0-0-0-0-0-0-0-0-0-0-0-0-0-0-0-0-0-0-0-0-0-0-0-0-

HOUSTON BALLET 2010-2011 SEASON OVERVIEW

All performances listed here are in Wortham Theater Center.

I. BODY, SOUL & GERSHWIN

FALL MIXED REPERTORY PROGRAM

TU TU

(2003)

Music by Maurice Ravel (1875-1937),

Piano concerto in G major

Choreography by Stanton Welch

Costume Designs by Holly Hynes

Lighting by Lisa J. Pinkham

FORGOTTEN LAND

(1981)

Music by Benjamin Britten (1913-1976),

Sinfonia da Requiem, Opus 20

Choreography by Ji

rí Kylián

Scenic and Costume Designs by John F. Macfarlane

Lighting by Joop Caboort

THE CORE: GERSHWIN, THE HEART OF THE BIG APPLE

(2008)

Music by George Gershwin (1898-1937),

Concerto in F for piano and orchestra

Choreography by Stanton Welch

Scenic Designs by Thomas Boyd

Costume Designs by Holly Hynes

Lighting by David Grill

Inspired by a painting by Norwegian expressionist painter Edvard Munch and English composer Benjamin Britten's

Sinfonia da Requiem with its images of the sea engulfing the land, Jirí Kylián's Forgotten Land suggests the rising waves of a grey sea, the ebb and flow of life, and themes of metamorphosis central to human existence. A lavish, crowd-pleasing blockbuster inspired by the movie musicals of Hollywood's golden age, Mr. Welch's The Core is a highly theatrical depiction of the Big Apple, incorporating archetypal New York characters with plenty of Broadway flash and dazzle.

At 7:30 pm on September 9, 11, 17, 18, 2010

At 2:00 pm on September 12, 19, 2010

II. JEWELS

(1967)

Houston Ballet Premiere

Choreography by George Balanchine

Costume Designs by Karinska

Lighting Recreated by Christina R. Giannelli

EMERALDS

Music by Gabriel Fauré (1845-1924), from

Pelléas et Mélisande, 1898, and Shylock,1889

RUBIES

Music by Igor Stravinsky (1882-1971),

Capriccio for piano and orchestra, 1929

DIAMONDS

Music by Peter I. Tchaikovsky (1840-1893),

Symphony No. 3 in D major, Op. 29, first movement omitted

A ballet in three parts, George Balanchine's

Jewels was hailed as the first plot-less, full-length ballet. The gems in Jewels pay tribute to three golden ages of dance and also to the beauty of the ballerinas Balanchine adored. Poetic and flowing, Emeralds evokes France, the birthplace of Romantic dance. Its ballerinas drift on stage in clouds of tulle, whispering of elegance, fashion and fragrance. Rubies mirrors the carefree spontaneity of America, a throwback to the musical comedies and films Balanchine created soon after he arrived in his beloved adopted country: a sassy, jazzy burst of sunshine. Diamonds dazzles as Balanchine's tribute to the work of Marius Petipa and evokes the grandeur and precision of the Imperial Ballet of St. Petersburg with each shimmering wave of classical elegance.

At 7:30 pm on September 23, 25, and October 1, 2, 2010

At 2:00 pm on September 26 and October 2, 3, 2010

THE NUTCRACKER

(1987)

Music by Peter I. Tchaikovsky (1840-1893)

Choreography by Ben Stevenson, O.B.E.

Scenic and Costume Designs by Desmond Heeley

Original Lighting Design by Duane Schuler

Lighting Recreated by Christina R. Giannelli

Featuring glorious scenery and costumes by Tony Award-winning designer Desmond Heeley, Ben Stevenson's breathtaking production of

The Nutcracker is, in the words of the Houston Chronicle, "the crown jewel of holiday entertainment." Set in nineteenth century Germany, the ballet opens at a charming Christmas party at which the mysterious Dr. Drosselmeyer gives his little niece Clara a magical toy that takes her on an unforgettable journey. From the Christmas tree that grows to a towering 40 feet in the first act to the cooks who fly magically through the air in the second act, The Nutcracker is sure to enchant audiences of all ages.

November 26 – December 26, 2010

At 7:30 pm on

November 26*, 27*, 28*, and December 4, 5*, 10*, 11, 12*, 14*, 16*, 17, 18, 19, 20, 21, 22, 23, 26, 2010

At 2:00 pm on

November 27*, 28*, and December 4, 5, 11, 12, 18, 19, 20, 21, 22, 23, 24, 26, 2010

* Indicates discounted performance.

JUBILEE OF DANCE

A stellar one-night-only program featuring highlights of the company repertoire and audience favorites, previews of upcoming productions, and works created especially for the occasion.

At 7:30 pm on Friday, December 3, 2010

III. MARIE

(2009)

Inspired by the life of Marie Antoinette

Music by Dmitri Shostakovich (1906-1975), arranged by Ermanno Florio

Choreography by Stanton Welch

Scenic and Costume Designs by Kandis Cook

Lighting Design by Lisa J. Pinkham

Stanton Welch's

Marie, a three-act narrative ballet inspired by the life of the legendary French queen, Marie Antoinette. Marie was born an Austrian arch duchess in 1755, married the future French King Louis XVI at the age of 15, and was executed by guillotine at the height of the French Revolution in 1793. London-based Canadian designer Kandis Cook's scenery and costumes for the production create an 18th century essence, with an abstract and minimalist feel. Houston Ballet Music Director Ermanno Florio's score features dark and brooding music by Russian composer Dmitri Shostakovich.

At 7:30 pm on February 24, 26, and March 4, 5, 2011

At 2:00 pm on February 27, and March 6, 2011

IV. THE SLEEPING BEAUTY

(1990)

Music by Peter I. Tchaikovsky (1840-1893)

Choreography by Ben Stevenson, O.B.E., after Marius Petipa

Scenic and Costume Designs by Desmond Heeley

Lighting by Duane Schuler

A flagship work for Houston Ballet,

The Sleeping Beauty is recognized as one of the supreme achievements of classical ballet. The ballet is based on the classic French fairytale by Charles Perrault: a beautiful princess is cursed by an evil fairy, and doomed to sleep for a hundred years -- only to be awakened by the kiss of the handsome prince who loves her. Desmond Heeley's spectacular designs beautifully evoke the magic, drama and whimsy of this great work.

At 7:30 PM on March 10, 12, 18, 19, 2011

At 2:00 PM on March 13, 20, 2011

At 1:30 pm on March 12, 19, 2011

ACADEMY SPRING SHOWCASE

The gifted young artists of Houston Ballet's Ben Stevenson Academy cap their studies with two performances of a program featuring works tailor-made to show them at their best.

At 7:00 pm on Friday, April 29, 2011

At 1:30 pm on Saturday, April 30, 2011

V. RAISING THE BARRE

SPRING MIXED REPERTORY PROGRAM

WORLD PREMIERE BY JORMA ELO

Costume Designs by Holly Hynes

GRINNING IN YOUR FACE

(2001)

American Premiere

Music by Martin Simpson

Choreography by Christopher Bruce

Costume Designs by Marian Bruce

Lighting by John B. Read, recreated by Christina R. Giannelli

RUSH

(2003)

Houston Ballet Premiere

Music by Bohuslav Martinu (1890-1959),

Sinfonietta La Jolla for chamber orchestra and piano

Choreography by Christopher Wheeldon

Costume Designs by Jon Morrell

Houston Ballet's spring repertory program will feature a powerhouse of 21

st century ballet, including a world premiere by the celebrated Finnish choreographer Jorma Elo, an American premiere by Christopher Bruce and a company premiere by Christopher Wheeldon. Hailed by The New York Times as "one of the most vividly satisfying constructions by him or any other ballet choreographer in this decade," Christopher Wheeldon's Rush is anchored around a dazzling pas de deux, and features two principals, four soloists, and a corps de ballet of ten dancers. Set to music of the same name by the blues guitarist Martin Simpson, Christopher Bruce's Grinning in Your Face evokes a Midwest American community in the 1930s, and features many of the hallmarks of Mr. Bruce's work: conflict, love and rejection, and folksy humor. Also on the program is Houston Ballet's first commissioned work by one of Europe's most in-demand dance makers, Jorma Elo.

At 7:30 PM on May 26, 28, and June 3, 4, 2011

At 2:00 PM on May 29, and June 5, 2011

VI. THE TAMING OF THE SHREW

(1969)

Music by Kurt-Heinz Stolze (1926-1970), after Domenico Scarlatti (1685-1757)

Choreography by John Cranko

Scenic and Costume Designs by Susan Benson

Lighting by Steen Bjarke

Featuring lavish scenery and costumes, John Cranko's staging of

The Taming of the Shrew is a masterful choreographic depiction of Shakespeare's perpetually battling lovers, Petruchio and Katherina, and of Petruchio's determination to bend the feisty, independent-spirited and tempestuous Katherina to his will. Incorporating a stunning array of dramatic moods, virtuoso dancing and vivid characterization, The Taming of the Shrew conveys like no other ballet Shakespeare's wit, brilliant comic invention and sharp understanding of human character.

At 7:30 PM on June 9, 11, 17, 18, 2011

At 2:00 PM on June 12, 18, 19, 2011

-0-0-0-0-0-0-0-0-0-0-0-0-0-0-0-0-0-0-0-0-0-0-0-0-0-0-0-0-0-0-0-0-0-0-0-0-0-0-0-0-

SUBSCRIPTIONS

Full season subscriptions, with tickets to six productions, range in price from $78 to $996, depending on seat location and date of performances. To subscribe, call (713) 5-BALLET (713-522-5538)

or purchase online at www.houstonballet.org

SINGLE TICKETS

Single tickets go on sale Monday, August 2, 2010 and may be purchased by calling 713-227-ARTS (713-227-2787)

or purchased online at www.houstonballet.org

# # #



Dancers: Sara Webb and Ian Casady in LA FILLE MAL GARDEE (THE WAYWARD DAUGHTER) is presented by the Houston Ballet from June 10 - 20, 2010. Photo: Pam Francis.

Love and Laughter. Flirtation and Farce. This is the charm of LA FILLE MAL GARDEE. Long regarded as one of Dance's Greatest Comedies, THE WAYWARD DAUGHTER delights with colorful characters and witty choreography by Sir Frederick Ashton. "The most enchanting ballet in existence." -- The New York Times. If you liked The Nutcracker, you'll love LA FILLE MAL GARDEE. For Tickets and information, call ph. 713-227-2787 or log onto www.HoustonBallet.org