Presents
CATCH ME IF YOU CAN
February 5 - 10 , 2013
At the Hobby Center for the Performing Arts
Catch Me if You Can
Catch Me If You Can is a Broadway Musical written by Marc Shaiman and Scott Whittman, featuring a book by Terrence McNally. The show is based on the 2002 film of the same name which starred Leonardo DiCaprio and follows the story of con man Frank Abagnale Junior. Mc Nally's libretto is also based on Abagnale's 1980 autobiography and is a musical comedy drawing
The musical was initially presented in Seattle Washington for a tryout period in July 2009. Jack O'Brian directed the production, which featured choreography by Jerry Mitchell. A similar tryout method was used with the composers first successful musical Hairspray which went on to become a worldwide hit, before becoming a Hollywood musical starring Zac Effron and John Travolta. on the popular tradition of screen-to-stage musicals.
The show premièred on Broadway at the Neil Simon Theatre on April 10th 2011 following previews from March. The show received mixed reviews, and managed to stay throughout the Tony Awards and summer season, closing after only 170 regular performances on September 4th 2011.
The musical is currently enjoying a US National Tour that is taking in cities such as Detroit, Las Vegas, Los Angeles, Dallas and Chicago. The tour will finish in June 2013 at the Sergerstrom Hall in Costa Mesa California. This production features a cast led by Stephen Anthony as Frank Abagnale Jr. and Merritt Davis Janes as Hanratty.
The first international production of Catch Me If You Can the Musical opened at the Blue Square, Samsung Card Hall in South Korea in March 2012 where it played to packed houses until June 2012. The production starred Um Ki Joon, Kim Jeong-hoon, Park Kwang-hyun and Sunny of 'Girls Generation'. Although no London production has been announced, it is hoped that the musical will transfer to the West End at some point in the near future, following in the success of other transfers such as 'The Book of Mormon' and 'Once the Musical'.
Original Creative Team
Music and Lyrics – Marc Shaiman and Scott Wittman
Shaiman and Wittman are two American composers who are responsible for creating some of the most impressive musicals of the past ten years. Television credits include the opening and closing songs for The Tony Awards Ceremonies which were performed by Neil Patrick Harris; The Academy Awards Ceremonies, Saturday Night Live and the Rosie O'Donnell Show. This past year they have written the soundtrack to hit NBC show 'Smash' starring Angelica Hudson and Megan Hilty, which has been commissioned for a second series. On stage they are best known for writing the hit musical 'Hairspray' which won the Tony Award for Best Musical, along with numerous performance awards. The show successfully transferred to London, and then became a blockbuster film starring John Travolta. After working on their next musical 'Catch Me if You Can', the pair were approached to work on the brand new stage production of Roald Dahl's 'Charlie and the Chocolate Factory the Musical' which is set to open in London's West End at Theatre Royal Drury Lane in June 2013, starring Douglas Hodge as Willy Wonka.
Book – Terrence McNally
McNally is an American playwright who is no strange to large scale musicals. He is the winner of two Tony Awards and an Emmy Award, along with numerous fellowships. His career has spanned a number of genres including plays, musicals opera and television. His early musicals were in collaboration with composers Kander and Ebb, and include 'Kiss of the Spiderwoman' and 'The Rink'. He is perhaps most well known for writing the book of 'Ragtime' with Stephen Flaherty and Lynn Ahrens, who he went on to work with again on 'A Man of No Importance'. His 1995 play 'Master Class' has been revived numerous times in both London and New York.
Directed by – Jack O'Brien
O'Brien is the winner of three Tony Awards, along with another seven nominations. His career spans musicals, plays and operas and he is well known on Broadway for his involvement with many high profile productions. His most recent production was the ill-fated Andrew Lloyd Webber musical 'Love Never Dies' which premièred at the Adelphi Theatre in 2010. Having previously worked with McNally on 'The Full Monty', he also directed the original production of 'Hairspray' in both New York and London. One of his biggest projects included 'The Coast of Utopia' at the Lincoln Center for which he won the 2007 Drama Desk Award for Outstanding Director.
Choreographed by – Jerry Mitchell
Jerry Mitchell has worked with O'Brien on a number of shows including 'The Full Monty' and 'Hairspray'. He is perhaps best known for his work on the original production of 'Legally Blonde' which opened on Broadway in 2007. In 2005 he won both the Drama Desk Award and Tony Award for 'La Cage aux Folles'.
Synopsis and Songs
Act I
The musical opens In the heart of 1960s America as young con man Frank Abagnale Jr is stopped at Miami Airport by chief FBI Agent Carl Hanratty. Instead of running, he pleads with them to let him tell his story and explain how he had managed to get away with so many disguises. Frank promises to let them know all of his secrets, which Hanratty agrees, "Live in Living Color".
The story goes back to Frank's childhood growing up in New Rochelle New York where Frank lived with his parents Frank Snr and Paula Abagnale. His parents met during the Second World War in Paris, after Paula was a performer and noticed Frank Snr in the audience ("The Pinstripes are all That I See"). The couple got married and had Frank Jnr, but struggle financially to bring him up, sending him to public school rather than private school. Frank Jr wears a school jacket to public school and is taunted for looking like a substitute teacher. This inspires him to begin his life of disguises, and within days he is teaching French classes whilst the teacher is absent. After school, Frank gets home to see his mother with one of his father's friends and is distraught. Although she begs him not to tell Frank Sr, they are later in court fighting over custody of him. He decides to run away ("Someone Else's Skin") and learns to fend for himself. His first trick to to create fake checks, which he then cashes in banks all over the country.
Frank travels to New York and is overwhelmed at the attractive women, all of whom are stewardesses. He decides his next step will be to become a pilot, and creates a fake ID card, getting a job with Pan American Airlines. He sings with his new co-workers about the joy of life in the sky ("Jet Set"). Meanwhile in Washington D.C, Hanratty becomes aware of a number of fake cheques and warns whoever has written them that he is coming to get them "Don't Break the Rules".
Frank quickly begins to realise the perks of being a pilot, remembering his father's words that women cannot resist men in uniform: "The Pinstripes Are All That They See". He begins thinking about home and travels to see his father who has lost so much money his business is in ruins. Despite Frank Jr offering to help him out, Frank Sr refuses his cheques, refusing the charity ("Butter Outta Cream"). Hanratty tracks Frank to a hotel room, looking for "The Man Inside the Clues", but Frank manages to escape once again by disguising himself as a Secret Service Agent.
As Christmas approaches the airport staff host a holiday party ("Christmas Is My Favourite Time of Year") but Frank feels lonely and calls Hanratty on a pay phone for some comfort. They mutually realise they have no one to spend Christmas with.
Act II
The act opens with Frank at a hospital staff party. He lies and tells the staff that he is Dr. Connors, a paediatrician from Death Valley Children's Hospital. He gets a job ni Atlanta General Hospital, and is overcome by the amount of nurses who are ready to take the "Doctor's Orders". Hanratty continues his search ("Live in Living Color Reprise") and ends up in Paula's house where she now lives with her new husband. Paula and Frank Sr. both plead with Frank, "Don't Be a Stranger". Hanratty comes across Frank Sr in a bar and the who realize they both had overbearing fathers ("Little Boy Be a Man").
Over in hospital Frank has falled in love with Brenda Strong, one of the nurses. He woos her, and Brenda takes him to meet her family in New Orleans. He lies about his past to her family and they sing together ("Our Family Tree"), before Frank proposes to Brenda and she accepts. Before the wedding Frank realises that Hanratty is on his tail and admits the truth about his past to Brenda. He tells her he will come back for her after he has shaken off the law, and when Hanratty arrives she refuses to tell where he has gone ("Fly, Fly Away").
We return to the opening scene at the airport. Frank threatens to run as the passengers are taken away from the area. Hanratty tells Frank that his father died in a drunken accident. He realises that now he has no one and gives in to Hanratty ("Goodbye"). He is given 15 years in prison, but is released after 7 to help the FBI find criminals like himself. The pair now function as a team, singing "Strange But True".
Song List
Act I
· "Live in Living Color" – Frank Jr. and Company
· "The Pinstripes Are All That They See" – Frank Sr., Frank Jr, and Ladies
· "Someone Else's Skin" – Frank Jr. and Company
· "Jet Set" – Frank Jr. and Company
· "Live in Living Color (Reprise)" – Frank Jr.
· "Don't Break the Rules" – Hanratty and Company
· "The Pinstripes Are All That They See (Reprise)" – The Ladies
· "Butter Outta Cream" – Frank Jr. and Frank Sr.
· "The Man inside the Clues" – Hanratty
· "My Favorite Time of Year" – Hanratty, Frank Jr., Frank Sr., and Paula
Act II
· "Doctor's Orders" – Nurses
· "Live in Living Color (Reprise)"- Frank Jr.
· "Don't Be a Stranger" – Paula
· "Little Boy Be a Man" – Frank Sr. and Hanratty
· "Seven Wonders" – Frank Jr. and Brenda
· "(Our) Family Tree" – Carol, Roger, Brenda, Frank Jr., and Strong Family Singers
· "Fly, Fly Away" – Brenda
· "Goodbye" – Frank Jr.
· "Strange But True"– Frank Jr. and Hanratty

Merritt David Jones in the national tour of CATCH ME IF YOU CAN which runs February 3rd through the 10th, 2013 at the Hobby Center for the Performing Arts. For more information visit www.broadwayacrossamerica.com
Catch Me If You Can Tour Star Merritt David Janes Conquers Road Life By Bribing Thai Policemen
By Jesse North January 19, 2013 - 11:58AM
In Catch Me If You Can, Merritt David Janes chases con man Frank Abagnale, Jr. all over the globe as FBI agent Carl Hanratty. In real life, Janes has racked up plenty of his own frequent flyer miles, not only on tour with Catch Me, but also in the international tour of Shrek and national tours of Sweeney Todd, Beauty and the Beast and The Wedding Singer. Broadway.com picked this road pro's brain about what he has learned hitting the road in a big Broadway show.

The most efficient packing lesson I've learned is:
Don't forget your garment bag in the closet of your hotel room. That gets expensive. Always do a final walk through to make sure you have everything.

The fantasy vehicle I wish I could travel from city to city in:
Austin Powers' jumbo jet. Grrr, baby! Very Grrr!

My favorite roadside stop is:
Not a shopping mall. I feel like I've been to every mall in America. If you ever want to know how it feels to be in another state, just go to the mall and you will know. It's the closest thing to time travel, only it's not much fun.

My favorite castmate to travel with:
Nadia Vynnytsky and I travelled around the world in Shrek, and I'm so happy we are still touring together in Catch Me. We climbed up the Great Wall of China together! She is always a smiling ray of sunshine and such a positive part of the group.

When arriving in a new city, the most important thing to do is:
Avoid the places where one is most likely to die. They are usually pretty obvious. Also, avoid places that are boring and commercial. Adventure is about discovering new places and experiences. Don't waste your travels by confining yourself to a bubble of chain restaurants and tourist traps. Get a good view and some local flavor. Starbucks, McDonald's, Hard Rock Cafe and Gap are doing just fine. You can do better.

My most unexpected travel experience happened in:
I bribed a Thai policeman in Phuket on my way to join Shrek in Shanghai. He pulled me over for not wearing a helmet on my scooter and wanted to arrest me when I didn't have a Thai driver's license. The Thai equivalent to $20 fixed everything.

See Merritt David Janes in Catch Me If You Can when it lands at Sarofim Hall at The Hobby Center from February 5 through February 10, 2013.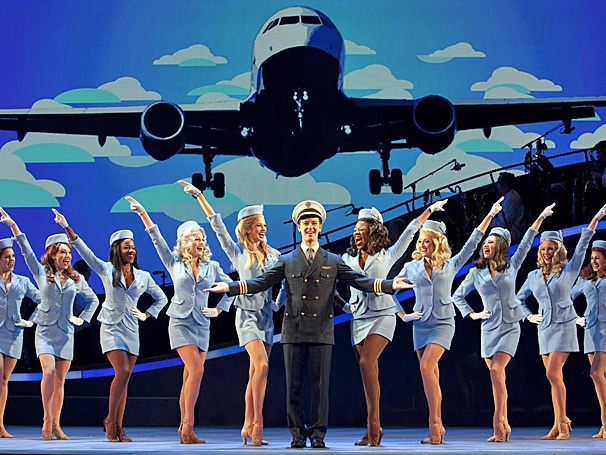 Stephen Anthony & the cast of the national tour of 'Catch Me If You Can' which runs February 3rd through the 10th, 2013 at the Hobby Center for the Performing Arts. For more information visit www.broadwayacrossamerica.com
Now Boarding! Tickets Now on Sale For National Tour of Catch Me If You Can in Houston
Please have your boarding passes ready. Tickets are now on sale for the national tour of Catch Me If You Can in Houston. The musical from the Tony Award-winning creators of Hairspray will open on February 5 at Sarofim Hall at the Hobby Center and close on February 10.

Written by Scott Witman and Marc Shaiman, Catch Me If You Can follows the true story of Frank Abagnale, Jr. a world-class con artist who passed himself off as a doctor, lawyer and jet pilot all before the age of 21. With straight-arrow FBI agent Carl Hanratty on Frank's trail, the story takes off on a jet-setting, cat-and-mouse chase fueled by a jazzy '60s score that keeps the adventure in constant motion. The musical is based on the 2002 film, which was directed by Steven Spielberg and starred Leonardo DiCaprio, Tom Hanks and Christopher Walken.

The musical, which was a Tony nominee for Best Musical in 2010, stars Stephen Anthony as Frank Abagnale, Jr. and Merritt David Janes as Carl Hanratty. The cast also features Aubrey Mae Davis as Brenda Strong, Caitlin Maloney as Paula Abagnale, Amy Burgmaier as Carol Strong and D. Scott Withers as Roger Strong.

Don't get conned; get your tickets to Catch Me If You Can today!

Frank Abagnale Jr. & Stephen Anthony . CATCH ME IF YOU CAN runs February 3rd through the 10th, 2013 at the Hobby Center for the Performing Arts. For more information visit www.broadwayacrossamerica.com
Strange but True! Frank Abagnale Jr. Visits the National Tour Cast of Catch Me If You Can
Will the real Frank Abagnale Jr. please stand up? The real-life man, on whom the musical is based, visited the cast of the national tour of Catch Me If You Can in Providence, Rhode Island. Abagnale, who worked for the FBI for decades after serving time for fraud and check forgery, posed with the cast and participated in a Q&A session with the audience after the October 13, 2012 performance. Check out this Hot Shot featuring the real-life Abagnale and Stephen Anthony, the actor who plays him on stage as a young man. The Tony-nominated musical will play San Antonio's Majestic Theatre from October 23 through October 28, 2012 and will go on to stops in Minneapolis, Appleton, Houston, Milwaukee and Costa Mesa.