Broadway Across America Houston
www.broadwayacrossamerica.com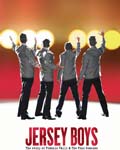 2006 TONY® AWARD-WINNING BEST MUSICAL
JERSEY BOYS
The Story of Frankie Valli & The Four Seasons
MARCH 19 – 31, 2013
DIRECTED BY DES McANUFF
HOUSTON 'S HOBBY CENTER FOR THE PERFORMING ARTS

FINALE. (L-R) Miles Jacoby, Nick Cosgrove, John Gardiner, Michael Lomenda and the Company of JERSEY BOYS
Photo: Jeremy Daniel


RECORDING STUDIO (l to r) Michael Lomenda, Nick Cosgrove, Miles Jacoby and John Gardiner
Photo: Jeremy Daniel



THE ORIGINAL JERSEY BOYS
CREATIVE TEAM
Marshall Brickman
Book
Films (author or co-author): Sleeper, Annie Hall (AA), Manhattan (AA nomination), Manhattan Murder Mystery; (writer/director): Simon, Lovesick, The Manhattan Project, Sister Mary Explains It All. Television: The Tonight Show with Johnny Carson (head writer), The Dick Cavett ABC late night show (head writer/producer, two Emmys). Mr. Brickman entered show business as a musician, first as a member of the folk group the Tarriers and then, along with John and Michelle Phillips, as one of the New Journeymen, which re-emerged a year later (Brickman having moved onto saner pursuits) as The Mamas and the Papas. Brickman's recording (with Eric Weissberg) of the soundtrack of Deliverance achieved gold status twice and remains a healthy seller around the world 40 years later. Mr. Brickman has published in The New York Times, The New Yorker, Playboy and other periodicals. Jersey Boys is his first venture into the musical theater.
Rick Elice
Book
Jersey Boys, Rick's first Broadway credit, won the Tony, Olivier, Outer Critics Circle, Drama League, and Grammy awards for Best Musical. From 1982-1999, as creative director at Serino Coyne Inc., he produced ad campaigns for some 300 Broadway shows, from A Chorus Line to The Lion King. From 1999-2009, he served as creative consultant for The Walt Disney Studio. Also on Broadway, a new play that's a prequel to Peter Pan, called Peter and the Starcatcher, directed by Roger Rees and Alex Timbers. With Marshall Brickman and Andrew Lippa, he wrote The Addams Family, now on National Tour. Rick saw his first Broadway show when he was three. His mother said he was very well-behaved. From that day, he dreamed of working in the theatre. From the age of 19, he has. Heartfelt thanks to those he's been lucky enough to know, whose work makes him grateful for the day he was born: Sondheim, Stoppard, Bennett, Prince, Fosse, Robbins, Nichols, Tune, Nunn, Laurents, Stone, Kushner, Taymor, Papp, Schumacher, Schneider, Coyne, Brickman and Rees. Rick thinks about them a lot. He never thought about Jersey much. He does now.
Bob Gaudio
Composer
Bob Gaudio wrote his first hit, "Who Wears Short Shorts," at 15, for the Royal Teens, and then went on to become a founding member of the Four Seasons and the band's principal songwriter. He also produced the hit "You Don't Bring Me Flowers" for Neil Diamond and Barbra Streisand (Grammy nomination, Record of the Year) as well as six albums for Diamond, including The Jazz Singer. Other producing credits include albums for Frank Sinatra, Marvin Gaye, Diana Ross, Michael Jackson and the soundtrack for the film of Little Shop of Horrors. Several songs co-written with Bob Crewe have been cover hits for such artists as the Tremeloes ("Silence Is Golden"), the Walker Brothers ("The Sun Ain't Gonna Shine Anymore") and Lauren Hill ("Can't Take My Eyes Off You"). With his wife, Judy Parker, Gaudio produced and co-wrote the Who Loves You album for the Four Seasons and one of Billboard's longestcharted singles (54 weeks), "Oh, What a Night." A high point in his career came in 1990 when, as a member of the original Four Seasons, Gaudio was inducted into the Rock and Roll Hall of Fame. In 1995, he was inducted into the Songwriters Hall of Fame, which hailed him as "a quintessential musicmaker." To this day, Bob Gaudio and Frankie Valli still maintain their partnership...on a handshake.
Bob Crewe
Lyricist
"New York was pregnant in the fifties," says Bob Crewe, "gestating with possibilities." Crewe and music partner Frank Slay became independent writer-producers when the category hadn't yet been invented. In 1957 they wrote and produced "Silhouettes" for The Rays, skyrocketing to #1. Suddenly, producers in demand, they launched Freddie Cannon's "Tallahassee Lassie" and Billy & Lillie's "Lah Dee Da." Crewe's 1960's solo unprecedented producing success with The Four Seasons birthed a new sound, striking a major chord in American Pop. "Sherry," "Big Girls Don't Cry," "Walk Like a Man," "Candy Girl," "Ronnie" - all smashes! When lead Frankie Valli demanded a solo turn, Crewe & Bob Gaudio wrote and Crewe produced "Can't Take My Eyes Off Of You," which eventually became the century's fifth most-played song. Crewe ran hot with artists from Vicki Carr, Oliver, Lesley Gore to Mitch Ryder, cowriting with Charles Fox the soundtrack for Jane Fonda's film, Barbarella. Then his own Bob Crewe Generation exploded with Music To Watch Girls By. In 1972 Bob was in L.A., where he revived Frankie Valli with "My Eyes Adored You" by Crewe & Kenny Nolan. They also co-wrote Patti LaBelle's "Lady Marmalade" (#1, July '75) - to re-hit again from the soundtrack of Moulin Rouge (#1, June '01)...David Ritz.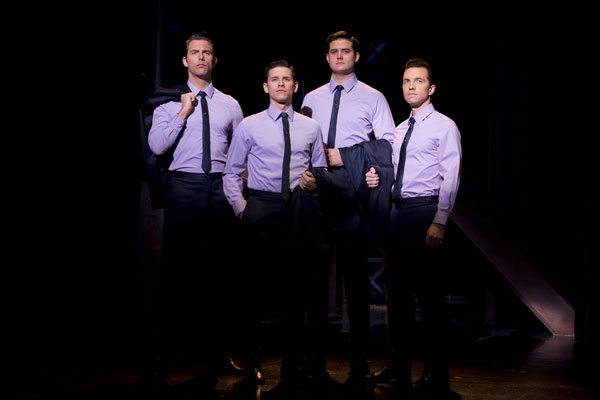 (l to r) Michael Lomenda, Nick Cosgrove, Miles Jacoby and John Gardiner
Photo: Jeremy Daniel

Directed by two-time Tony® Award-winner Des McAnuff, JERSEY BOYS won four 2006 Tony® Awards including Best Musical and continues to break box office records at the August Wilson Theatre since opening in November 2005. JERSEY BOYS is written by Academy Award-winner Marshall Brickman and Rick Elice, with music by Bob Gaudio, lyrics by Bob Crewe and choreography by Sergio Trujillo.
Des McAnuff
Director
Des McAnuff is a two-time Tony Award-winning director and writer and the Artistic Director of La Jolla Playhouse. Under his leadership, La Jolla Playhouse has won more than 300 theatre awards including the 1993 Tony Award as America's Outstanding Regional Theatre. Recent productions directed at the Playhouse include The Wiz (2006); Zhivago (2005); Palm Beach, The Screwball Musical (2005); Private Fittings (2005); Tom Donaghy's Eden Lane (2003); Moliere's Tartuffe (2002); and The Collected Works of Billy the Kid (2001). Playhouse to Broadway credits: Jersey Boys (Playhouse 2004; Broadway 2005); Billy Crystal's 700 Sundays (Playhouse 2004; Broadway 2004, Tony Award for Special Theatrical Event); Dracula, The Musical (Playhouse 2001; Broadway 2004); How to Succeed in Business Without Really Trying (Playhouse 1994, Broadway 1995); The Who's Tommy (director/co-author with Pete Townshend; Playhouse 1992, Broadway 1993, Tony Award Best Director of a Musical, London Olivier Award Best Director 1994); A Walk in the Woods (Playhouse 1987, Broadway 1988, Moscow and Lithuania 1989-90) and Big River (Playhouse 1984, Broadway 1985, seven Tony Awards including Best Director of a Musical and Best Musical). Film credits include Cousin Bette (director), Iron Giant (Producer), The Adventures of Rocky and Bullwinkle (director), Quills (Executive Producer).
Sergio Trujillo
Choreographer
Broadway: Hands on a Hardbody, Tony Award winning Best Musical Memphis, Leap of Faith, The Addams Family, Next to Normal, All Shook Up, Guys and Dolls. Director/Choreographer: Flashdance. Off-Broadway: Saved, The Capeman, Romeo & Juliet (Public), A Tree Grows in Brooklyn, Kismet (Encores!), Salome (NYC Opera). Regional: White Noise (director/choreographer), The Wiz, Zhivago (La Jolla), Mambo Kings, The Marriage of Figaro (L.A. Opera), Chita and All That Jazz. International: Disney's Tarzan; West Side Story; The Sound of Music (Stratford); Peggy Sue Got Married (West End); Kiss Me, Kate (Japan). TV: Judging/choreographing on "So You Think You Can Dance: Canada," "Broadway: The American Musical" (PBS).
Ron Melrose
Music Direction, Vocal Arrangements & Incidental Music
Music Direction: Jersey Boys, Imaginary Friends, Scarlet Pimpernel, Radio City Sinatra, upcoming Caraboo and Waiting for the Moon. Dance/Vocal Arranging: Sweet Smell of Success, Jekyll & Hyde, Perfectly Frank, The Act, Marilyn: An American Fable, Woman of the Year, Cabaret. Composing: Superdimensional Microbabes (upcoming anime-based musical), Fourtune (Off- Broadway), The Silver Swan (NEA Fellowship), three theatrical CDs (The Missing Peace, Early One Morning, Songs I Won't Be Singing), two Harvard Hasty Pudding shows (Tots in Tinseltown, Bewitched Bayou), a gospel-based Requiem, and songs for church, choir, cabaret, and "Saturday Night Live." Harvard (philosophy), Westminster (choral conducting). Thanks and love to Alexandra.
Klara Zieglerova
Set Designer
Broadway: Jersey Boys; The Search for Signs of Intelligent Life in the Universe. Off-Broadway: Wrecks, Controversy (Public Theater), Yellowman (MTC), First Love (New York Theater Workshop) and many others. Regional: La Jolla Playhouse, Cincinnati Playhouse, Dallas Theater Center, Portland Center Stage, Seattle Rep, Florida Stage, McCarter Theater, Wilma Theatre, Williamstown, Old Globe Theatre and others. International: Saturday Night Fever (Holland), Wrecks, Eden (Cork, Ireland). Awards: 2006 Tony nom. (Jersey Boys); 2006 Lumen Award (Dodger Stages); 2003 Drammy Award for Best Set Design; 2000 Carbonell Award for Best Set Design; sets for the best touring production, 2003 L.A. Ovation Award. Graduate of Yale School of Drama.

FRANKIE VALLI
JERSEY BOYS is the story of Frankie Valli and The Four Seasons: Frankie Valli, Bob Gaudio, Tommy DeVito and Nick Massi. This is the story of how a group of blue-collar boys from the wrong side of the tracks became one of the biggest American pop music sensations of all time. They wrote their own songs, invented their own sounds and sold 175 million records worldwide - all before they were thirty.

SHERRY. (l to r) Miles Jacoby, John Gardiner, Nick Cosgrove and Michael Lomenda
Photo: Jeremy Daniel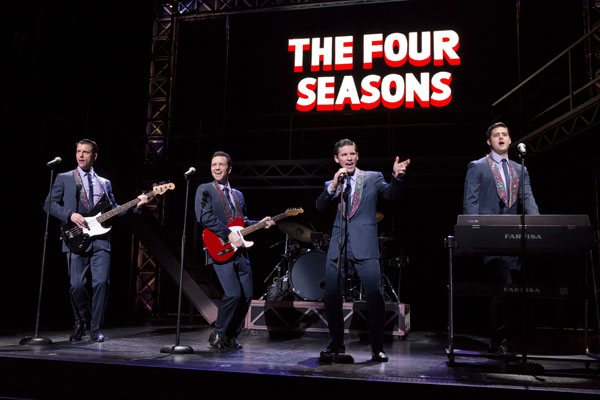 (l to r) Michael Lomenda, John Gardiner, Nick Cosgrove and Miles Jacoby
Photo: Jeremy Daniel


Jess Goldstein
Costume Designer
Jess Goldstein received the 2005 Tony Award for Lincoln Center's The Rivals. Other selected New York credits include Martin Short: Fame Becomes Me; Roundabout's The Apple Tree with Kristin Chenoweth; Julius Caesar with Denzel Washington; Henry IV; Take Me Out; Enchanted April; Proof; Love! Valour! Compassion!; The Most Happy Fella; Dinner With Friends; How I Learned To Drive; NYSF's Much Ado About Nothing; Buried Child and The Mineola Twins (Lortel and Hewes Awards). He will make his Met debut with Jack O'Brien's 2007 production of Il Trittico. Designs for film include A Walk on the Moon; Love! Valour! Compassion! and The Substance of Fire. He is an Associate Professor at the Yale School of Drama.
Howell Binkley
Lighting Designer
B'way: Bridge & Tunnel, Avenue Q, Steel Magnolias, Dracula, Golda's Balcony, Hollywood Arms, Look of Love, Gore Vidal's The Best Man, Minnelli on Minnelli, Full Monty, Parade, Kiss of the Spider Woman, Sacrilege, Taking Sides, How To Succeed..., High Society, Grease. Off-B'way: Landscape of the Body, Sinatra, Bat Boy, Radiant Baby, Playwrights Horizons, MTC. Regional: Shakespeare Theatre DC, Alley, La Jolla, Old Globe, Guthrie, Goodman, Hartford Stage, Seattle Rep, Kennedy Center's Sondheim Celebration, Metropolitan Opera. Dance: Parsons Dance Company (co-founder), Alvin Ailey, ABT, Joffrey Ballet (Billboards). Received the 2006 Tony Award for Jersey Boys. Five time Helen Hayes Award recipient, 1993 Sir Laurence Olivier Award and Canadian Dora for Spider Woman.
Steve Canyon Kennedy
Sound Designer
Steve Canyon Kennedy was the production engineer on such Broadway shows as Cats, Starlight Express, Song & Dance, The Phantom of the Opera, Carrie and Aspects of Love. His Broadway sound design credits include Jesus Christ Superstar, Catch Me If You Can, Guys and Dolls, Mary Poppins, The Lion King, Jersey Boys (Drama Desk Award), Billy Crystal's 700 Sundays, Hairspray, The Producers, Aida, Titanic, Big, How to Succeed in Business Without Really Trying, Carousel and The Who's Tommy (Drama Desk Award). Steve is married to actress Loni Ackerman and together they have two sons, Jack and George.
Michael Clark
Projection Designer
Michael Clark designs film and video for live events. Credits include The Wiz (La Jolla Playhouse), Blast II (Japan Tour), For The Glory (Gettysburg, PA), Burliegh Grimes (Off-Broadway), The Persians (National Shakespeare Theater), Ring of Fire (Broadway and Studio Arena Theater), 700 Sundays (National Tour, Broadway and La Jolla), Dracula The Musical (Broadway and La Jolla), The Elephant Man (Broadway), Manon Lescaut (Washington Opera), Allegro, One Red Flower and Hedwig (Signature Theater), The Last Five Years (Philadelphia Theater Company), Company, Sunday in the Park With George and Merrily We Roll Along (Kennedy Center Sondheim Celebration), Spider-Man Live (national tour), Music From a Sparkling Planet (Drama Dept), Aeros (national tour) and Dinner with Friends (ACT).

WALK LIKE A MAN. (l to r) Nick Cosgrove, Miles Jacoby, John Gardiner and Michael Lomenda
Photo: Jeremy Daniel


Charles LaPointe
Wig/Hair Designer
B'way: A Raisin in the Sun, Good Vibrations, Henry IV, The Rivals, Julius Caesar, The Color Purple, Martin Short: Fame Becomes Me, High Fidelity. Assisted Tom Watson on Into the Woods and Wicked. Numerous regional and operatic credits including McCarter, Alliance, American Repertory Theater, Huntington Theater, Williamstown Theater Festival, Hartford Stage and original Jersey Boys production at the La Jolla Playhouse. Opera credits include Opera Theater of St. Louis, Santa Fe Opera, Minnesota Opera, Opera Omaha and Philadelphia Opera Company. Love to James.
Steve Rankin
Fight director and actor
Steve Rankin received wide critical praise, as both fight director and actor, in the Tony Award-winning Lincoln Center Theatre's Henry IV directed by Jack O'Brien. Other Broadway: Dracula The Musical (Des McAnuff, director), Twelfth Night, Two Shakespearean Actors (LCT), Anna Christie, The Real Inspector Hound (Roundabout), Getting Away With Murder, The Who's Tommy. Off-Broadway: The Night Hank Williams Died, Below The Belt. New York audiences last saw Mr. Rankin's work in the Metropolitan Opera Company's production of Handel's Rodelinda starring Renee Fleming.
Richard Hester
Production Supervisor
Supervisor for all productions of Jersey Boys internationally (New York, both US Tours, Las Vegas, London, Australia and South Africa/Asia.) Broadway: Gypsy, Sweet Smell of Success, Cabaret, Annie Get Your Gun, Patti LuPone's Matters of the Heart, A Delicate Balance, The Old Neighborhood, Titanic, The Phantom of the Opera, The Red Shoes, The Secret Garden. US National tours: Wicked, The Phantom of the Opera, West Side Story. US Regional: Jersey Boys (La Jolla Playhouse). Ten years with Patti LuPone on the road. Cofounder/ producer with Bernadette Peters and Mary Tyler Moore of Broadway Barks! an annual animal adoption event in NY since 1999.
Steve Orich
Orchestrations
Steve Orich has worked as a successful composer, orchestrator, musical director and conductor in NY and LA for over 25 years, with numerous credits in film, television and theatre. He's written orchestrations for many shows, including Paint Your Wagon, 110 in the Shade and Cole Porter's You Never Know, and received a Tony nomination for his work on Jersey Boys. He has orchestrated and conducted albums for artists including Helen Reddy, Judy Kaye, Debbie Gravitte, Petula Clark and Deborah Gibson, and his orchestrations have been performed by the Boston Pops, at Carnegie Hall, the Kennedy Center, the White House and around the world.
For more information, please visit www.JerseyBoysTour.com or www.BroadwayAcrossAmerica.com.

FRANKIE VALLI
Can't Take My Eyes Off You Lyrics
» Frankie Valli
You're just too good to be true.
Can't take my eyes off you.
You'd be like Heaven to touch.
I wanna hold you so much.
At long last love has arrived
And I thank God I'm alive.
You're just too good to be true.
Can't take my eyes off you.

Pardon the way that I stare.
There's nothing else to compare.
The sight of you leaves me weak.
There are no words left to speak,
But if you feel like I feel,
Please let me know that it's real.
You're just too good to be true.
Can't take my eyes off you.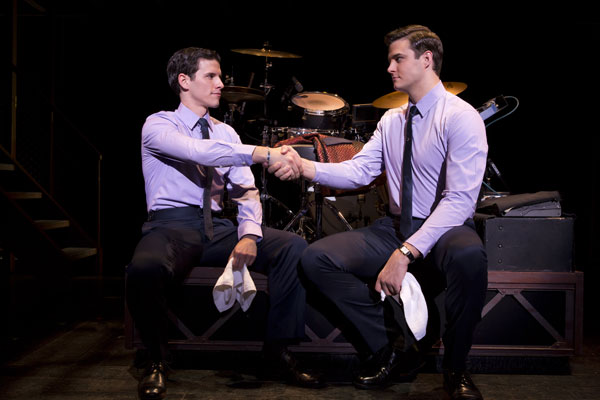 (l to r) Nick Cosgrove and Miles Jacoby. Photo: Jeremy Daniel


I love you, baby,
And if it's quite alright,
I need you, baby,
To warm a lonely night.
I love you, baby.
Trust in me when I say:
Oh, pretty baby,
Don't bring me down, I pray.
Oh, pretty baby, now that I found you, stay
And let me love you, baby.
Let me love you.

You're just too good to be true.
Can't take my eyes off you.
You'd be like Heaven to touch.
I wanna hold you so much.
At long last love has arrived
And I thank God I'm alive.
You're just too good to be true.
Can't take my eyes off you.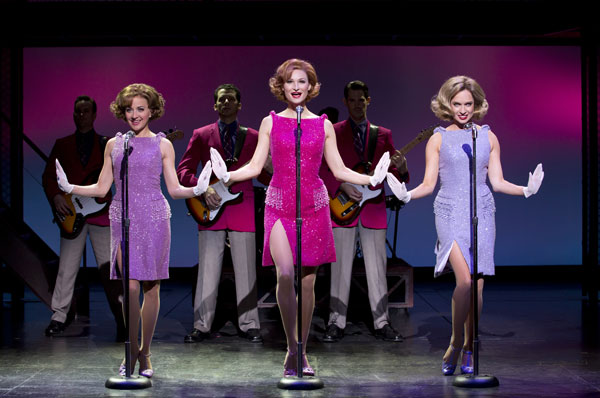 MY BOYFRIEND'S BACK. (l to r) Kara Tremel, Lauren Decierdo and Leslie Taylor. Photo: Jeremy Daniel



I love you, baby,
And if it's quite alright,
I need you, baby,
To warm a lonely night.
I love you, baby.
Trust in me when I say:
Oh, pretty baby,
Don't bring me down, I pray.
Oh, pretty baby, now that I found you, stay....

Kara Tremel and Nick Cosgrove. Photo: Jeremy Daniel



Nick Cosgrove. Photo: Jeremy Daniel

John Miller
Music Coordinator
Recent Broadway: Lennon, Sweeney Todd, The Producers, Beauty & the Beast, Hairspray, Movin' Out, Sweet Charity, Good Vibrations, Dracula, Caroline or Change, Little Shop..., Thoroughly Modern Millie, 42nd Street, Urinetown, Nine, La Boheme, Big River, Boys From Syracuse, Look of Love, Urban Cowboy, Never Gonna Dance, Thou Shalt Not, By Jeeves, Follies, Oklahoma!, Jekyll and Hyde, Civil War, Rocky Horror Show, Seussical, The Music Man, Fosse, Swing!, Parade, Footloose, Kat and the Kings, Civil War, Triumph of Love. Studio Musician (bass): Michael Jackson, Madonna, Portishead, Eric Clapton, BB King, Sinatra, Carly Simon, Celine Dion, Smashing Pumpkins, Pete Seeger, NY Philharmonic.
Peter Fulbright/Tech Production Services
Technical Supervisor
Recent Broadway productions and National Tours include Jersey Boys, Hairspray, Curtains, Bombay Dreams, 42nd Street, Urinetown, Into the Woods, Vampires, On Golden Pond tour, Dame Edna, 16 Wounded, Anna…Tropics, Enchanted April, Frog & Toad, Life (x) 3, Ma Rainey's, Elephant Man, Top Dog, and Blast!. Peter has supervised over 70 Broadway productions and National Tours. Favorites include Aspects of Love, Rocky Horror, Real Thing, Swing!, Amadeus, Sound of Music, On the Town, Scarlet Pimpernel, Triumph of Love, Footloose, Mattress, Forum, Smokey Joe's, Moon Over Buffalo, Crazy for You, Guys & Dolls, Joseph..., Secret Garden, Starlight Express, Drood, Singin' in the Rain, and Foxfire.

Kara Tremel. Photo: Joan Marcus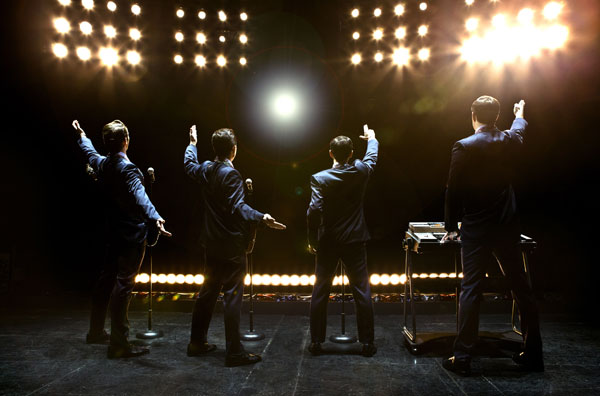 (l to r) Michael Lomenda, John Gardiner, Nick Cosgrove and Miles Jacoby. Photo: Jeremy Daniel


About Broadway Across America
Broadway Across America presents first-rate touring Broadway shows, family productions and other live theatrical events throughout a network of over 40 North American cities. A leader in subscription series programs and group ticketing, Broadway Across America is dedicated to creating memorable and accessible experiences for all guests, selling over 5 million tickets to over 3,000 performances each year. As a producer, current and recent Broadway productions include: Hairspray, Chicago , Monty Python's Spamalot and The Producers. It also manages, operates or consults in the operation of 13 theatres across North America . For more information or to purchase tickets through an authorized agent go to BroadwayAcrossAmerica.com.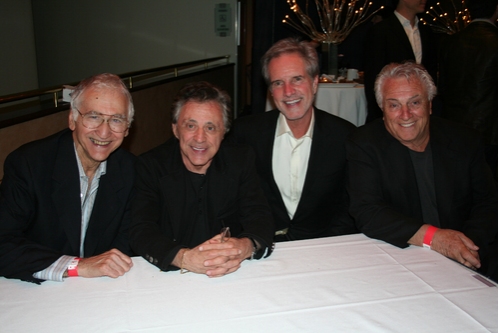 THE JERSEY BOYS IN 2007. (L-R) LONG, VALLI, GAUDIO & DEVITO

THE JERSEY BOYS WAY BACK IN 1967. (L-R) LONG, VALLI, GAUDIO & DEVITO