ENSEMBLE THEATRE
www.ensemblehouston.com
3535 Main Street, Houston, Texas 77002
Phone: 713-520-0055



The Ensemble Theatre Artistic Director EILEEN J. MORRIS

Presents

The 2009 Season

-0-0-0-0-0-



CONSTANT STAR

(L-R) Cynthia Brown, Jo Anne Davis-Jones, Detria Marie Ward, Shaunyce Omar and Roenia Thompson. Photo courtesy of Ensemble Theatre.
By Tazewell Thompson
Directed by Ron Jones

Runs: March 14 - April 12, 2009

This powerful bio-drama is a bold look at the life of civil rights pioneer, suffragette and outspoken activist Ida B. Wells, a passionate fiery champion of equality for women and black Americans. The daughter of freed slaves, Wells was a newspaper editor and publisher, co-founder of the NAACP, mother, wife, and the single most powerful leader in the anti-lynching campaign in America. Her outspoken nature, tenacious spirit and refusal to assimilate are portrayed in the life of this often overlooked African American leader in this production interspersed with classic Negro spirituals.

IDA B. WELLS. Photo courtesy of www.flickr.com
-0-0-0-0-0-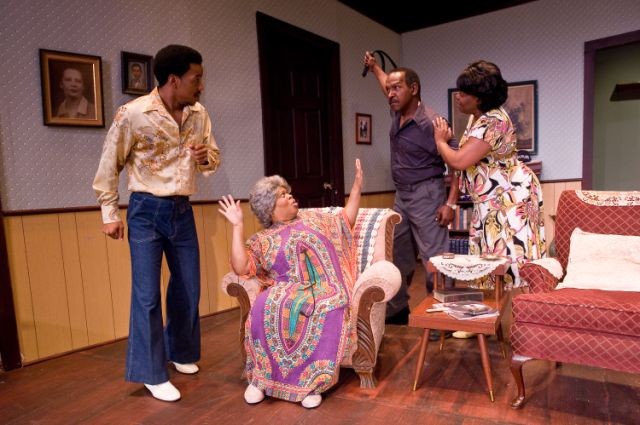 (L-R) Kendrick "Kay" Brown, Joyce Anastasia Murray (seated), Byron Jacquet and Bebe Wilson star in Livin' Fat Now Showing at the Ensemble Theatre through May 24th, 2009. Photo by David Bray Photography.


LIVIN' FAT
By Judi Ann Mason
Directed by Eileen J. Morris

Runs: April 25 - May 24, 2009

Times are tough for the Cooper family. Although money is tight, their affection for each other is limitless. Everything changes, however, when son David Lee, a college graduate forced by the economy to work as a bank janitor, interrupts a robbery. In their haste to get away the thieves drop a bundle of money, which David Lee picks up - it's $50,000. When the family finds out where the money came from, their scruples are tested, but they finally agree that the Lord works in mysterious ways and this time he's working for them. Join the fun in this witty, incisive and downright hilarious comedy.
Rating: PG / Comedy

-0-0-0-0-0-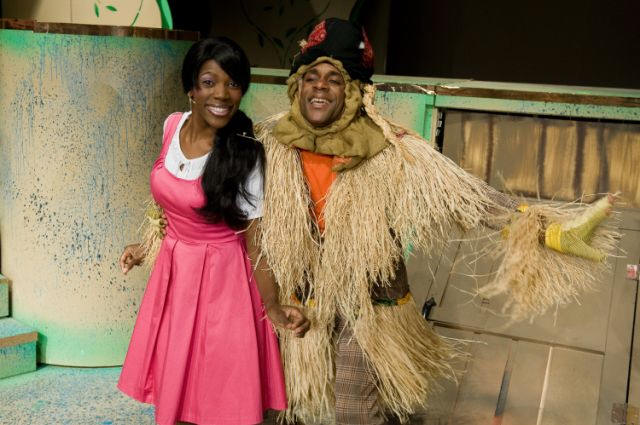 (L-R) Melanie Finley as Dorothy and Gary E. Vincent as the Scarecrow in THE WIZ Now Showing at the Ensemble Theatre through July 26th, 2009. Photo by David Bray Photography.
Book by William F. Brown
Music and Lyrics by Charlie Smalls
Directed and Choreographed by Patdro Harris
Musical Direction by Carlton Leake

Runs: June 20 - July 19, 2009

1975 TONY AWARD for Best Musical and Best Musical Score.
Welcome to the magical wonderland of Oz where adventure is infused with a musical mixture of Rock, Gospel and Soul music. Come join Dorothy and her amazing friends - the Scarecrow, the Tin Man and the cowardly Lion - as they ease on down the yellow brick road. All of them looking, reaching and searching with all of their hearts for a place called "home."
Rating: G / Musical
-0-0-0-0-0-


Join us for the 2009 Season!

For information regarding subscriber opportunities, tickets and group sales, call The Ensemble Theatre Box Office at ph.713-520-0055 x306. Ride the Metro Rail to your stop for culture -- The Ensemble!



PERFORMANCE TIMES

Previews: 8:00pm Saturday; 3:00pm Sunday; 7:30pm Wednesday
Thursdays: 7:30pm
Fridays: 8:00pm
Saturdays: Matinee 2:00pm; 8:00pm
Sundays: Matinee 3:00pm