The Ensemble Theatre Kicks off the New Year with
August Wilson's
FENCES

A Continuation of the 2015-2016 Follow the Dream Season
Who/What: The Ensemble Theatre continues its 2015-2016 Follow the Dream Season by kicking off the new year with Fences by August Wilson. Artistic Director Eileen J. Morris is directing the show and is the only female director in the country to have directed eight of the 10 plays in August Wilson's American Century Cycle.
In this powerful and dramatically compelling work that won August Wilson the 1987 Pulitzer Prize and Tony Award, Troy Maxson is a trash-collector and former baseball athlete who is struggling to provide for his family. He has been hardened by life in an America where to be proud and black was to face pressures that could crush a man, body and soul. But the grit of 1950s are yielding to this new spirit of liberation ushered in by the 1960s. It's a spirit that is changing the world Troy Maxson has learned to deal with the only way he can…a spirit that is making him stranger, angry, and afraid in a world he never knew and to a wife and son he understands less and less.
Cast members include:
Former Alley Theatre Company member Alex Morris makes his return to Houston after performing in The Ensemble Theatre's production of Two Old Black Guys Just Sitting Around Talking; Kendrick "KayB" Brown recently seen in the theatre's production of Fly and What I Learned in Paris; Jannah Bryant, an Ensemble Theatre Young Performer last seen in the 2014 performance of Stepp Stewart's A Soulful Christmas; Jason Carmichael, who was most recently in Fly and Women in the Pit; Nia Johnson, one of The Ensemble Theatre's Young Performers makes her debut on the theatre's main stage; Gabriel Monroe, also making his debut at The Ensemble Theatre; Detria Ward, who was recognized for her leading role in What I Learned in Paris; and James West, whose most recent performance was Women in the Pit.

Father and sons (L - R) Gabriel Monroe (as Cory), Alex Morris (as Troy Maxson) and Kendrick Brown (as Lyons). FENCES is showing through February 28, 2016 at the Ensemble Theatre located at 3535 Main Street, Houston Texas 77002 USA. Photo courtesy of the Ensemble Theatre. For more information, click on www.EnsembleHouston.com

FENCES is showing through February 28, 2016 at the Ensemble Theatre located at 3535 Main Street, Houston Texas 77002 USA. Photo courtesy of the Ensemble Theatre. For more information, click on www.EnsembleHouston.com.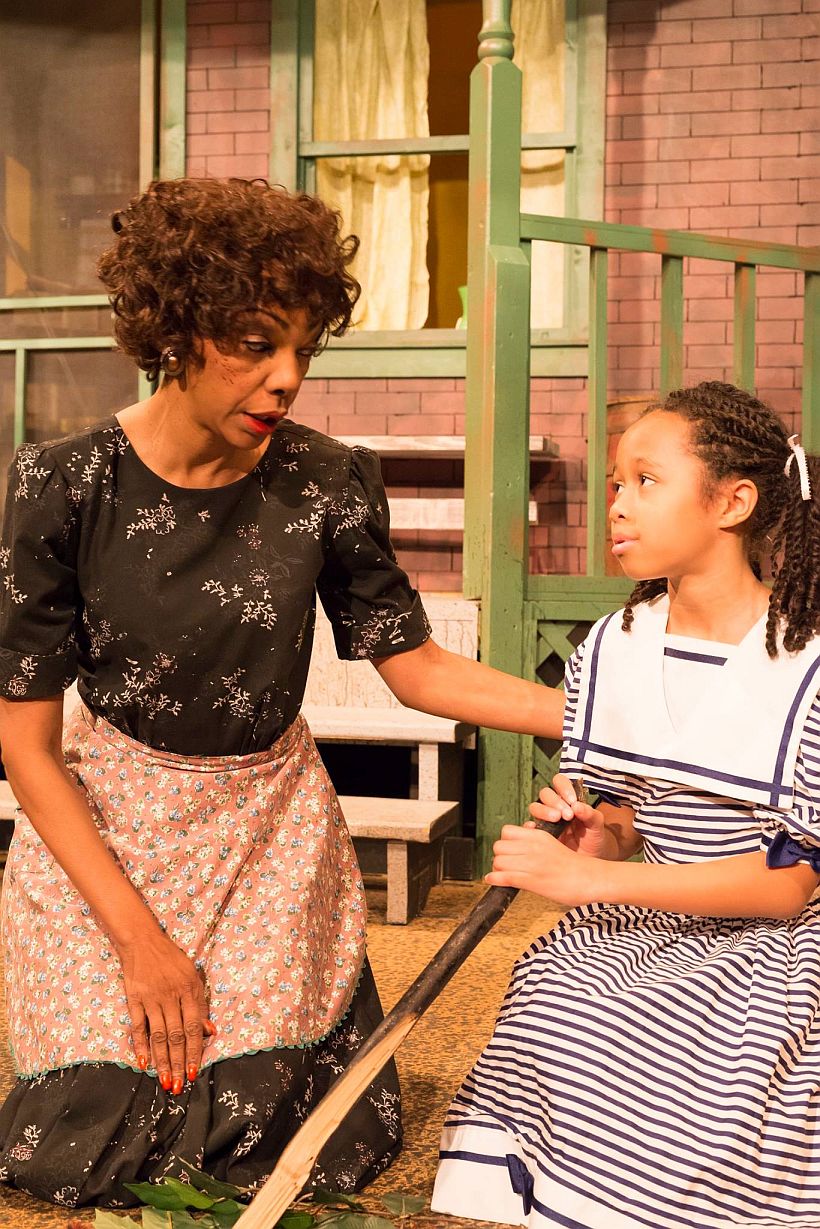 FENCES is showing through February 28, 2016 at the Ensemble Theatre located at 3535 Main Street, Houston Texas 77002 USA. Photo courtesy of the Ensemble Theatre. For more information, click on www.EnsembleHouston.com.
Fences: A Protection or A Divide
The Ensemble Theatre is preparing to kick off 2016 with August Wilson's Fences, and we wanted to pause to think about metaphorical fences in our lives. In the play, the main character Troy is building a fence. It appears the fence is taking a long time to complete and the condition of the fence is somehow tied to the changing circumstances in his life.
Think of the intent in each of the following phrases:
Jesus be a fence (protection)
Wrong side of the fence (separation)
Straddle the fence (indecision or dilemma)
Falling off the fence (failure)
Don't fence me in (barrier or boarder)
The fences in our lives are always there, and the purpose for them changes with the conditions that affect our perception:
That emotional fence you put up as a stronghold of protection against perceived harm or threat; the territorial ego hoarding a space or task from others; the separation and longing for someone or something you miss; that barrier or hurdle limiting your ability to advance; the idea that something you want or feel you deserve is off limits or inappropriate; or the feeling of constraint by boarders, boundaries, or rules.
Whether your fence is to hold something in or to block something out, it's there. How did it get there? When did you begin working on your fence? Is it warm and inviting like a picket fence or cold as a chain link?
www.EnsembleHouston.com
Show Runs: January 28 – February 28, 2016
Performance Days and Times:
Thursdays: 7:30 p.m;
Fridays: 8:00 p.m;
Saturdays: 2:00 p.m. and 8:00 p.m; and
Sundays: 3:00 p.m.
Tickets Available Online: www.EnsembleHouston.com
Where: 3535 Main St, Houston, TX 77002
For Information Call: 713-520-0055
The theatre is currently celebrating August Wilson's 70th birthday and commemorating the 10th anniversary of his passing with monthly staged readings of all 10 plays of his American Century Cycle. The celebration began October 19, 2015 and will run until July 18, 2016. The Piano Lesson is the next reading scheduled for January 25, 2016.
The Ensemble Theatre's 2015-2016 Season is sponsored in part by grants from the City of Houston through the Houston Arts Alliance, Texas Commission on the Arts, and the National Endowment for the Arts. United Airlines is the official airline sponsor for The Ensemble Theatre. Fences is generously underwritten by Spectra Energy and the Humphreys Foundation.
The Ensemble Theatre was founded in 1976 by the late George Hawkins to preserve African American artistic expression and to enlighten, entertain, and enrich a diverse community. Thirty-nine years later, the theatre has evolved from a touring company operating from the trunk of Mr. Hawkins' car to being one of Houston's finest historical cultural institutions. The Ensemble is one of a few professional theatres in the region dedicated to the production of works portraying the African American experience. The oldest and largest professional African American theatre in the Southwest, it holds the distinction of being one of the nation's largest African American theatres owning and operating its facility and producing in-house. Board President Emeritus Audrey Lawson led the capital campaign for The Ensemble's $4.5 million building renovations that concluded in 1997. The Ensemble Theatre has fulfilled and surpassed the vision of its founder and continues to expand and create innovative programs to bring African American theatre to myriad audiences.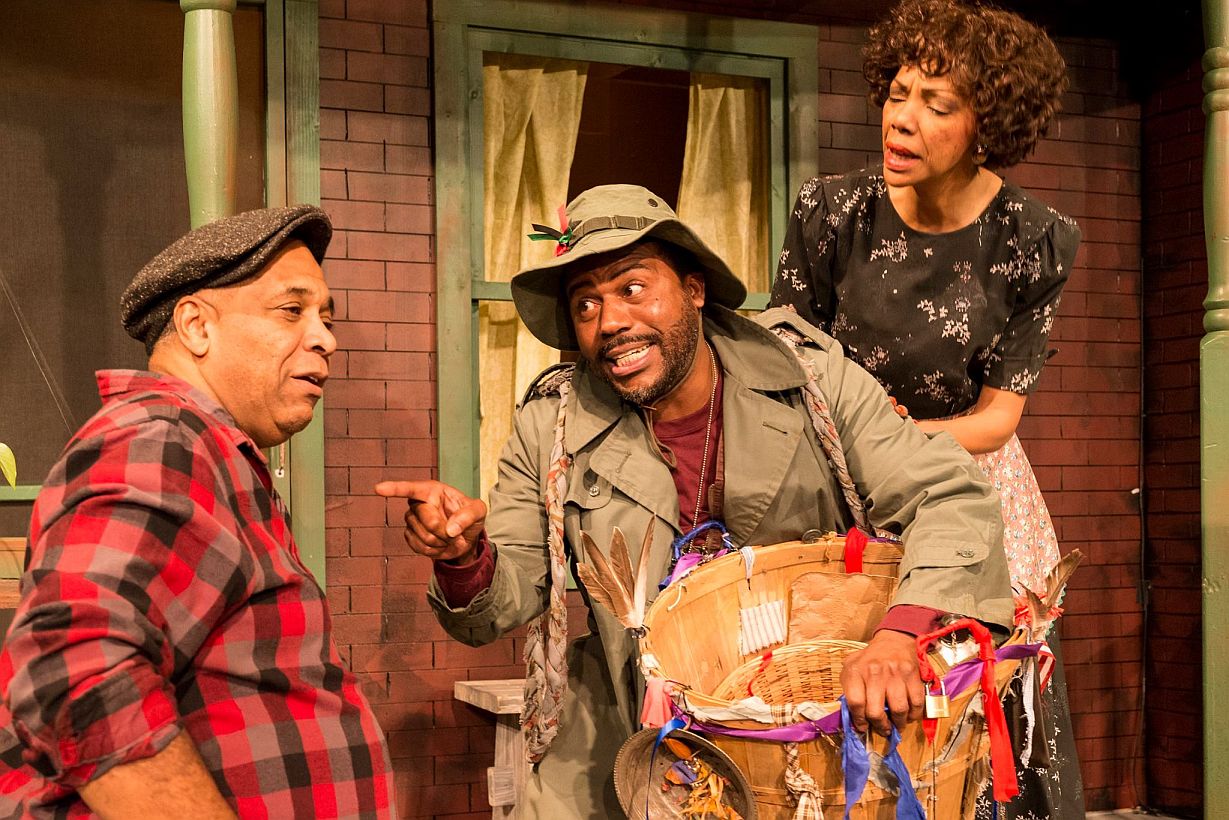 FENCES is showing through February 28, 2016 at the Ensemble Theatre located at 3535 Main Street, Houston Texas 77002 USA. Photo courtesy of the Ensemble Theatre. For more information, click on www.EnsembleHouston.com
ABOUT THE DIRECTOR Eileen J. Morris
Eileen J. Morris is a director, actress and educator. She worked closely with the founder of The Ensemble Theatre George W. Hawkins from 1982 until his death in 1990. Since her tenure as Artistic Director of The Ensemble Theatre, she has produced over 80 productions, which include four world premieres and 59 regional premieres. Under her artistic leadership, The Ensemble Theatre received the 2013 Best Season Theatre Award from the Houston Press and 2007 Best Showcase for African American Actors by the Ultimate Section of the Houston Chronicle. The Ensemble Theatre also presented 2 out of the 10 best plays named by the Houston Chronicle as the Best of Houston Theatre 2008.
She holds the distinct privilege of being the only female director in the country that has directed 8 of the August Wilson 10 Play Cycle. Her August Wilson directing credits include:
Two Trains Running
Joe Turner's Come and Gone
Radio Golf
Seven Guitars
Jitney
King Hedley II
Ma Rainey's Black Bottom
Fences
In Houston, her selected directing credits in addition to the Ensemble Theatre include The Alley Theatre Education Department and the Houston Grand Opera Education Department. She is a board member, secretary and Cultural Arts Committee Chair of the Midtown Management District and a board member of the national organization, The Black Theatre Network. Eileen finds great inspiration in this August Wilson quote: "All you need in the world is love and laughter. That's all anybody needs. To have love in one hand and laughter in the other."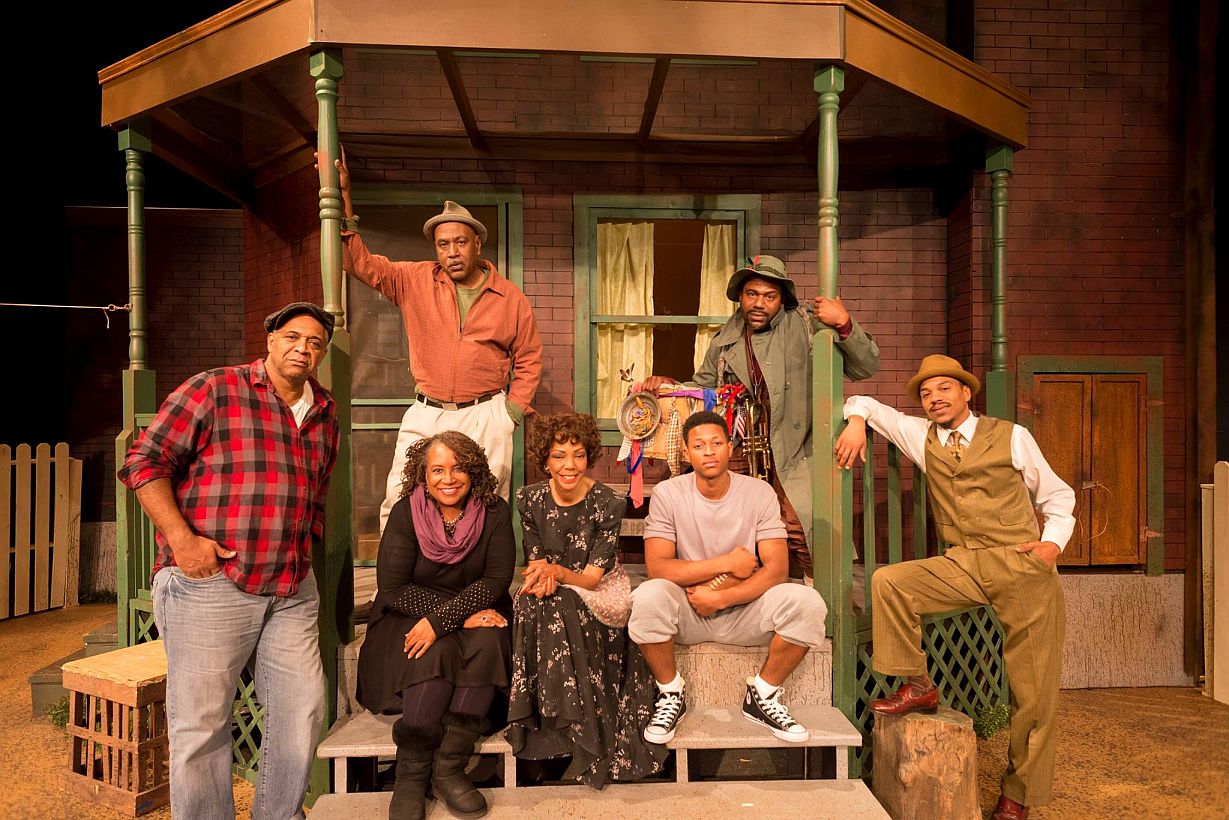 Eileen J. Morris (Director) with the Cast of FENCES. August Wilson's FENCES is showing through February 28, 2016 at the Ensemble Theatre located at 3535 Main Street, Houston Texas 77002 USA. Photo courtesy of the Ensemble Theatre. For more information, click on www.EnsembleHouston.com
Eileen J. Morris, Director's Notes
A Pulitzer Prize winning drama, FENCES is arguably August Wilson's finest masterpiece, and considered to be his most critically acclaimed play. As in each of Wilson's plays, the characters in FENCES are representatives of a rich history, indicative of the period (1950s Pittsburgh) and its surrounding (pre-Civil Rights America). In FENCES, one man's story teaches us Universal lessons about life's journey – one where destiny, death, family, loyalty and betrayal all figure prominently. Set in 1957, FENCES is the sixth of Wilson's ten play "Pittsburgh Cycle".
FENCES tells the story of the family of Troy Maxson, a legendary baseball player and ex-convict whose dreams and legacy died with the Negro Leagues. The Negro Leagues tell the story of American segregation through the lens of the country's most cherished pastime: baseball. The Negro Leagues emerged during an era in which black Americans daily faced the injustice and humiliation of sanctioned racism.
However, if you peel away the layers of racism and injustice, you will uncover the story of a family that has dynamics much like you or I, one that faces the same challenges that need to be overcome in order to move forward. One that places the long-suffering matriarch Rose, at the center. Rose is a woman to pay close attention to, as she plants the seeds of stability within the Maxson family, and represents the emotional "glue" that keeps the family together.
As in many families, a strong female presence ensures that each family member is able to stand their ground. Despite overwhelming circumstances, we witness Rose providing a vehicle for her family to stay united, from her brother-in-law Gabe, and her attentiveness to his innocence; to her step-son Lyons, who she supports his weekly ten dollar loan request when needed; to her blood son Cory who when looking at him she sees a mirror of her husband Troy, from his athleticism to his internal rage; Raynell who she comes to love as if she was born from her loins and Troy-the man she loves unconditionally despite his temper, his Uncle Remus stories and his wandering eye. She saw in him what he was, and what he could be and she supported him.
While the protagonist of this play is undoubtedly Troy Maxson, I urge you to experience this production through the lens of Rose. To truly understand the depth of her character, I point to one of the most prolific lines in the play, which comes from Bono – "Some people build fences to keep people out…and some people build fences to keep people in. Rose wants to hold on to you all. She loves you." Rose urges Troy to build a fence, in order to hold on to what was hers, and cast away that which would seek to undo her family.
What fences have we built in our own lives? What do we want to hold onto? And what do we cast out? Through FENCES, August Wilson urges you to answer the question for ourselves, our families and our nation.
Dedicated in Memory of
Audrey Ann Hoffman Lawson 1932-2015
Wife of Reverend William A. "Bill" Lawson and co-founder of Wheeler Avenue Baptist Church (WABC), the mother of Melanie, Cheryl, Eric, and Roxanne Lawson, and "Maka" to granddaughters Robyn and Raven. This stalwart, courageous and innovative First Lady could very well be described as a mastermind or architect, who continually examined ways to explore new avenues or uncharted territory.
To The Ensemble Theatre, she was President Emeritus of the Board of Directors, but more than that, she was the passion and light that kept the doors of the Ensemble Theatre open for many years. Mrs. Lawson's longstanding and steadfast support of and commitment to The Ensemble Theatre is why the theater's mission of preserving African American artistic expression and enlightening, entertaining and enriching this diverse community continues nearly 40 years after it was founded in 1916.
The Ensemble Theatre will forever be grateful for the contributions of Mrs. Audrey Hoffman Lawson and she will surely be missed.
Audrey Lawson 1932 - 2015
Lawsons Honoring 62nd Wedding Anniversary
January 28, 2016
Reverend William A. Lawson along with a crowd of family and friends hosted a beautiful prelude to The Ensemble Theatre's Opening Night performance of Fences. He and late wife Audrey Ann Hoffman Lawson would have celebrated their 62nd wedding anniversary this weekend. Remarks from The Ensemble Theatre's Board President Alaina Benford and a prayer led by Reverend Lawson preceded an invitation for guests to join the family outside the theatre for the release of an array of red balloons, Mrs. Lawson's favorite color.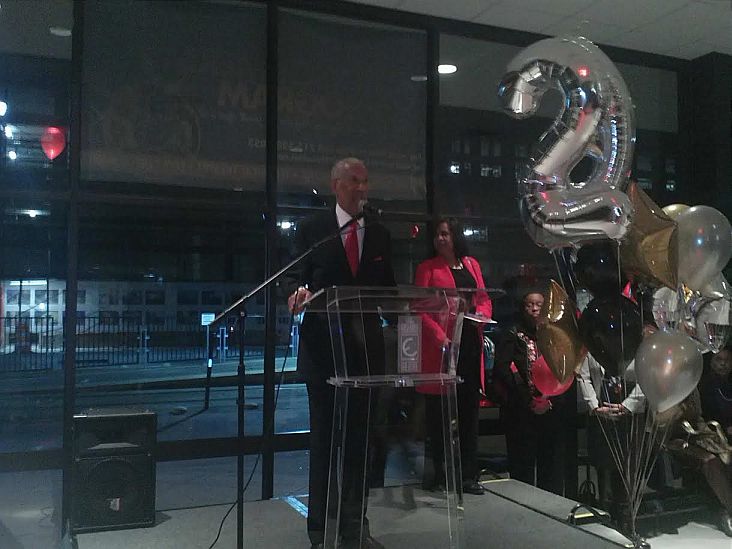 Reverend William A. "Bill" Lawson and daughter Melanie Lawson ABC13's award-winning journalist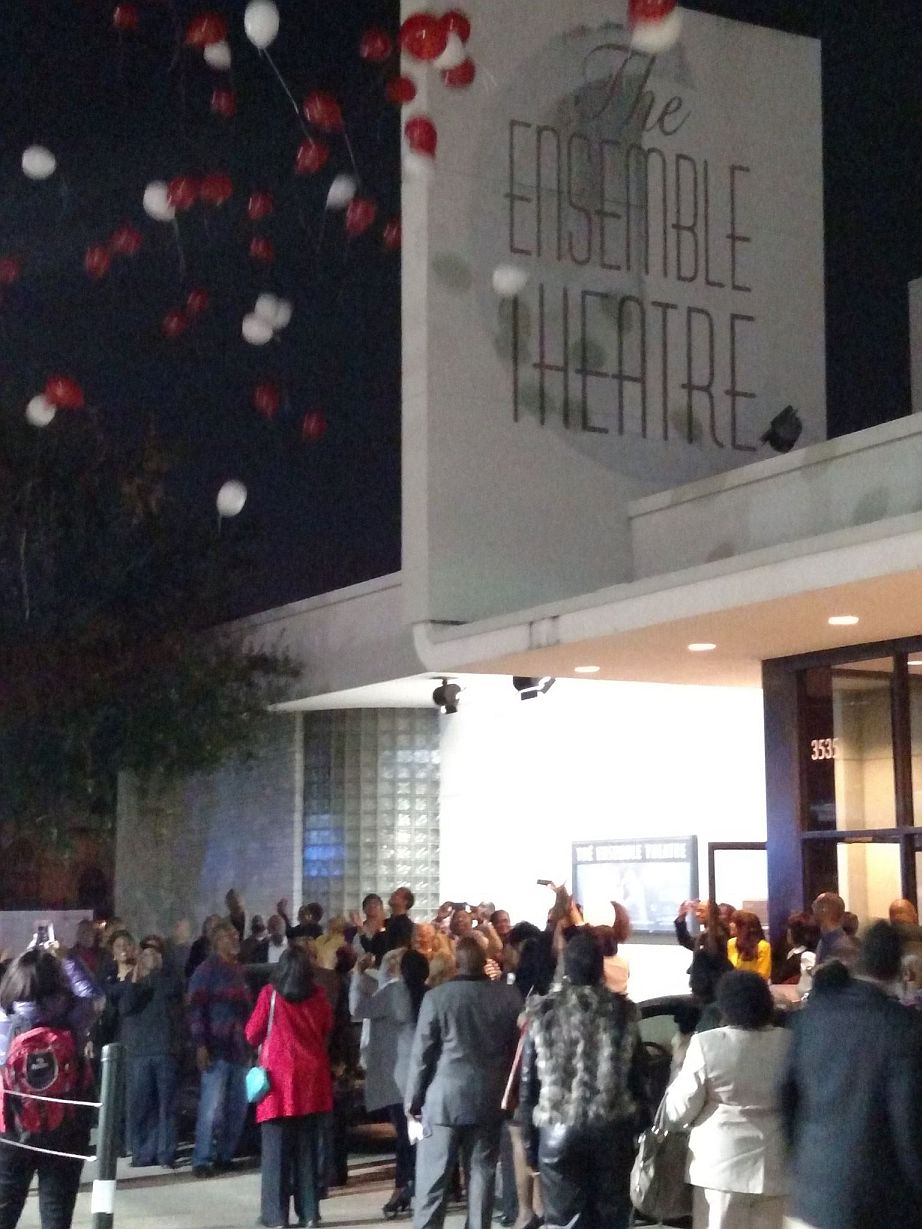 In honor of the 62nd Anniversary of Bill and Audrey Lawson, an array of red balloons were released. Red was Mrs. Lawson's favorite color. Photo courtesy of The Ensemble Theatre

Melanie Lawson ABC13's award-winning journalist, daughter of Bill and Audrey Lawson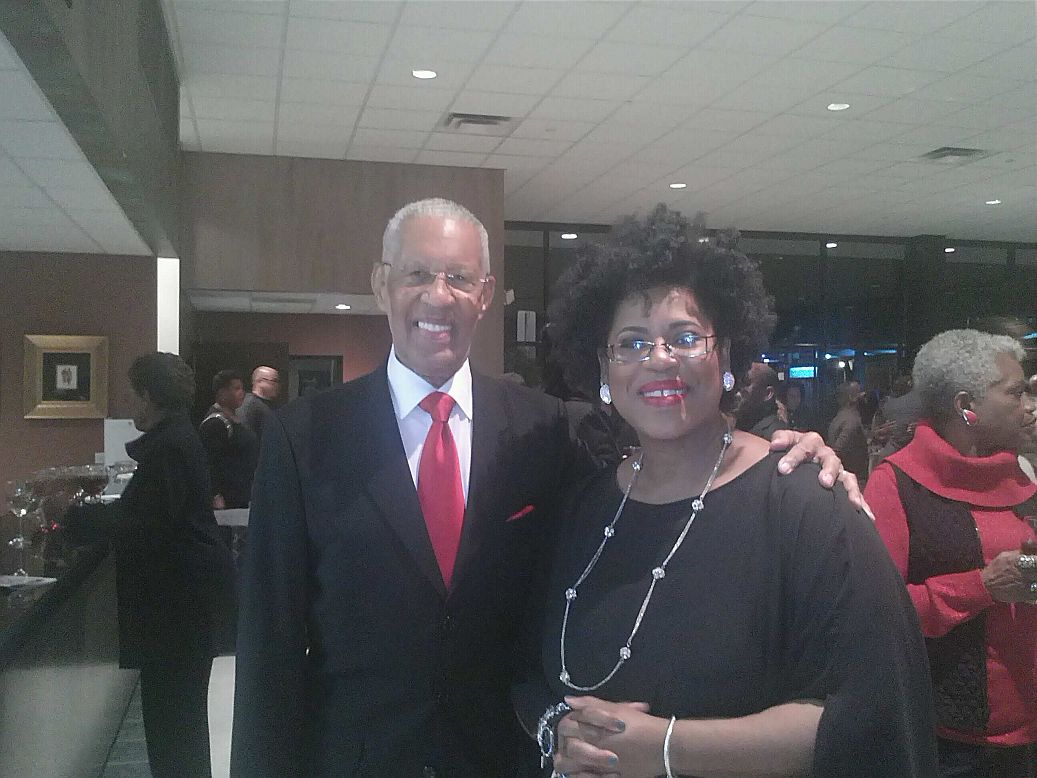 William A. "Bill" Lawson and Mogul Life's Chairidee Smith

(L-R) Theresa Pisula, William A. "Bill" Lawson and Mogul Life's Chairidee Smith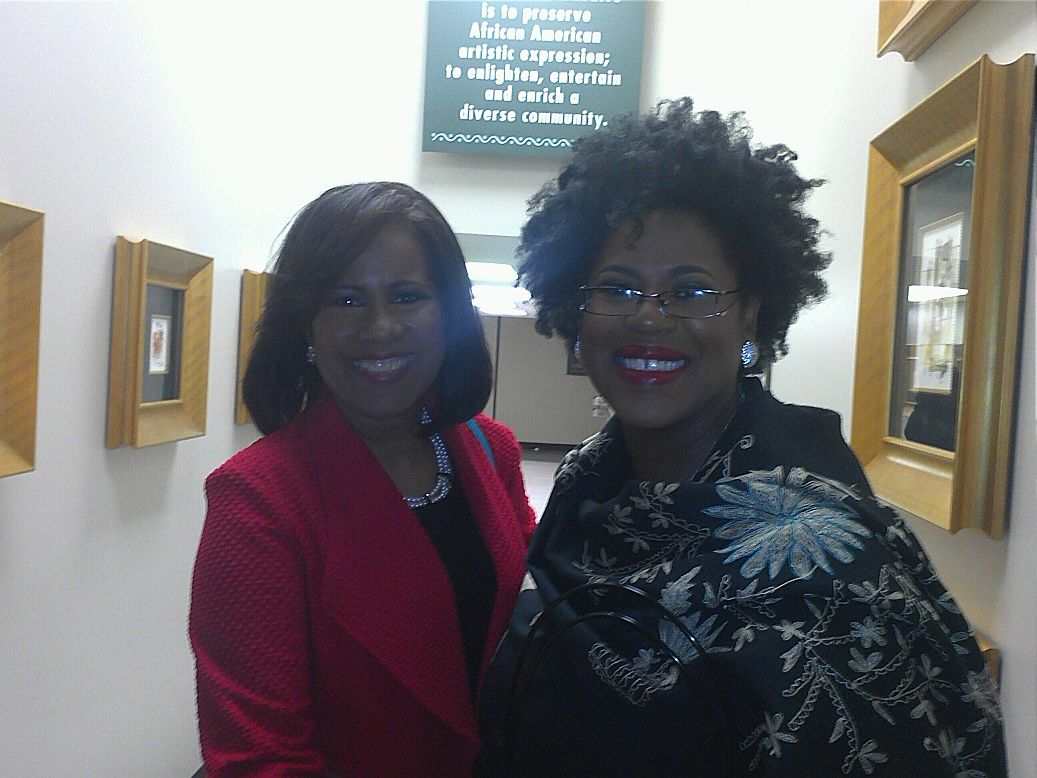 Melanie Lawson ABC13's award-winning journalist and Mogul Life's Chairidee Smith