THE ENSEMBLE THEATRE
www.ensemblehouston.com



Artistic Director of The Ensemble Theatre EILEEN J. MORRIS
Presents
I WISH YOU LOVE
Written By Dominic Taylor
Directed By Lou Bellamy
June 26 - July 27, 2014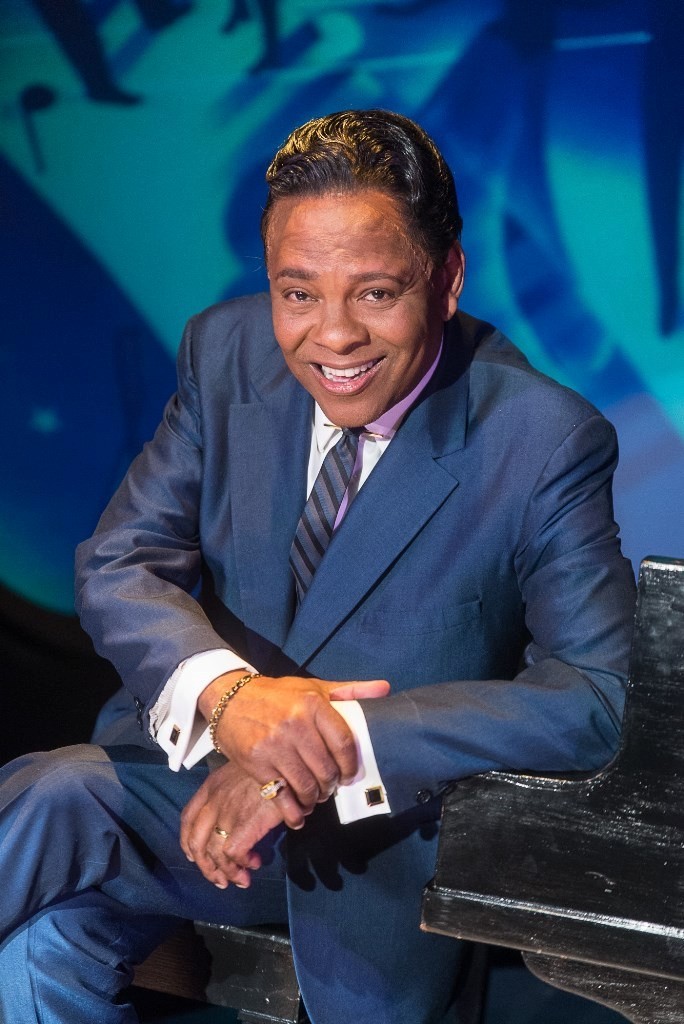 Dennis Spears as Nat King Cole in I WISH YOU LOVE. Written by Dominic Taylor and Directed by Lou Bellamy, I WISH YOU LOVE is showing through July 27, 2014 at the Ensemble Theatre located at 3535 Main Street, Houston Texas 77002 USA. Photo courtesy of The Ensemble Theatre. For more information, click on www.EnsembleHouston.com
The Ensemble Theatre Kicks Off Season Finale Musical I Wish You Love
An Intimate Portrait of Nat "King" Cole and His Music
HOUSTON (June 12, 2014) –- The Ensemble Theatre kicks off its season finale musical and regional premiere of I Wish You Love, written by Dominic Taylor and directed by Lou Bellamy with Opening Night and Media reception Thursday, June 26, 2014, 6:30 p.m.
"We've been looking forward to bringing this play in collaboration with Penumbra Theatre Company to Houston with great anticipation," says Eileen J. Morris, The Ensemble Theatre Artistic Director. "In the wake of losing Dr. Maya Angelou whose words continue to teach and inspire, we have an pportunity to bear witness to the journey that Nat "King" Cole and his music made on the world."
I Wish You Love is an intimate portrait of Nat "King Cole and his impact on the nation through music. In 1957, Americans were falling in love to the sweet sounds of Nat "King" Cole. His carefully manicured image distracted an entire generation of white viewers from the reality of racial violence raging in the streets. Still, Cole believed that with enough talent and persistence he would be judged on the content of his character as opposed to the color of his skin. This is the story of one man, his music, and the dreams of a nation.
Two guests are joining The Ensemble Theatre as it prepares for the finale of its 2013-2014 Season of Creating Magical Moments. Guest director Lou Bellamy is national recognized as the producer/ director/ and founder of Penumbra Theatre in Minneapolis, Minnesota. Joining the cast as Nat "King" Cole is Minnesota music hall of famer and jazz vocalist Dennis Spears.
Playwright Dominic Taylor is also part of The Ensemble's Minnesota connection. He was the director of Penumbra theatre's new play development program where he was able to develop I Wish You Love into what has become a well-received work.

<![if !supportLineBreakNewLine]>
<![endif]>
"As part of the national theatre community, it's always great to have an opportunity to work with colleagues from other cities and states," says Morris. "It enhances the artistic product when we are able to share ideas and bring fresh perspectives that we in turn share with our audiences and other stakeholders."
Featured Cast members include: Derrick Brent II, Jason E. Carmichael, Ron Jones, Jack William Rogers, and Dennis W. Spears.
Show Runs: June 26 – July 27, 2014
Performance Days and Times: Thursdays: 7:30 p.m; Fridays: 8:00 p.m; Saturdays: 2:00 p.m. and 8:00 p.m; and Sundays: 3:00 p.m.
Tickets Available Online: www.EnsembleHouston.com For Information Call: 713-520-0055
Ticket Prices: $28 - $55
I WISH YOU LOVE
CAST
Derrick Brent II
Jason E. Carmichael
Ron Jones
Jack William Rogers
and starring Dennis W. Spears as Nat King Cole

The creative team of I WISH YOU LOVE starring Dennis Spears as Nat King Cole. Written by Dominic Taylor and Directed by Lou Bellamy, I WISH YOU LOVE is showing through July 27, 2014 at the Ensemble Theatre located at 3535 Main Street, Houston Texas 77002 USA. Photo courtesy of The Ensemble Theatre. For more information, click on www.EnsembleHouston.com
-0-0-0-0-0-
The Ensemble Theatre Presents I WISH YOU LOVE
Who/What: The Ensemble Theatre presents I WISH YOU LOVE, written by Dominic Taylor.
Show Run: June 26 - July 27, 2014
Thursdays: 7:30 p.m.
Fridays: 8:00 p.m.
Saturdays: 2:00 p.m. and 8:00 p.m.
Sundays: 3:00 p.m.
Where: The Ensemble Theatre
3535 Main St.
Houston, TX 77002
713-520-0055
The Ensemble Theatre's 2013-2014 Season is sponsored in part by grants from the City of Houston through the Houston Arts Alliance, Texas Commission on the Arts, and the National Endowment for the Arts.
The Ensemble Theatre was founded in 1976 by the late George Hawkins to preserve African American artistic expression and to enlighten, entertain, and enrich a diverse community. Thirty-six years later, the theatre has evolved from a touring company operating from the trunk of Mr. Hawkins' car to being one of Houston's finest historical cultural institutions. The Ensemble is one of a few professional theatres in the region dedicated to the production of works portraying the African American experience. The oldest and largest professional African American theatre in the Southwest, it holds the distinction of being one of the nation's largest African American theatres owning and operating its facility and producing in-house. Board President Emeritus Audrey Lawson led the capital campaign for The Ensemble's $4.5 million building renovations that concluded in 1997. The Ensemble Theatre has fulfilled and surpassed the vision of its founder and continues to expand and create innovative programs to bring African American theatre to myriad audiences.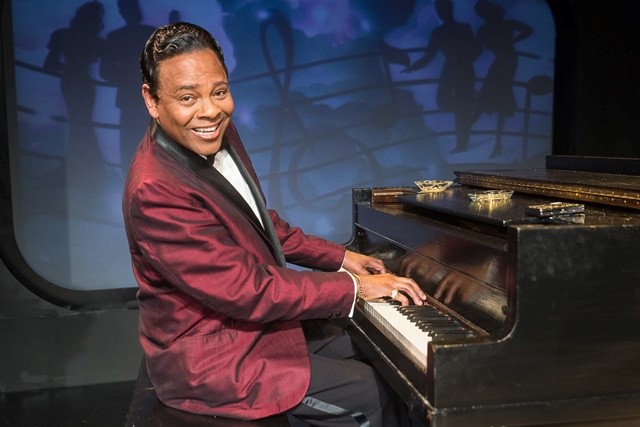 Dennis Spears as Nat King Cole in I WISH YOU LOVE. Written by Dominic Taylor and Directed by Lou Bellamy, I WISH YOU LOVE is showing through July 27, 2014 at the Ensemble Theatre located at 3535 Main Street, Houston Texas 77002 USA. Photo courtesy of The Ensemble Theatre. For more information, click on www.EnsembleHouston.com
A SOLD OUT PERFORMANCE
An Interview with Jazz Vocalist Dennis Spears
Starring as Nat King Cole in I WISH YOU LOVE
By Theresa Pisula
June 26, 2014
Houston, Texas
Theresa@HoustonTheatre.com
Some of the most prolifically lauded and outstandingly jarring performances in Hollywood have been of artists or actors playing historical figures. For instance, Daniel Day-Lewis who won the Oscar for Abraham Lincoln; the late, great Philip Seymour Hoffman who also won the Oscar for playing Truman Capote; Jennifer Lopez or J. Lo as she is famously called as Selena; Michelle Williams as Marilyn Monroe; Joaquin Phoenix and Reese Witherspoon (who incidentally also won the Oscar) for playing June and Johnny Cash. Jamie Foxx won the Academy Award as Ray Charles as well as Forest Whitaker as Idi Amin in The Last King of Scotland. And who can forget Meryl Streep's Oscar winning performance as UK's Prime Minister Margaret Thatcher in The Iron Lady?
Wanting to know what happened to these legendary historical figures piques people's interest. Theretofore, it is not a mystery that Nat King Cole's I WISH YOU LOVE has been a theatrical and musical success. Written by Dominic Taylor and directed by Lou Bellamy, the Ensemble Theatre production in collaboration with Penumbra Theatre Company proudly presents the regional premiere of I WISH YOU LOVE as its season finale musical.
Dennis Spears grew up in Louisiana, not far from Baton Rouge. He is very well known in his old stomping grounds as he went to college there as well. He says of his performance as Nat King Cole, that in Louisiana "They've known me for years. They know me well. The common comment was how it was scary I transformed into Nat King Cole." During our interview, I found Mr. Spears funny, even hilarious at times, and his demeanor as sweet and endearing.
Theresa: How do you like Houston so far?
Dennis: I love Houston. I'm still adjusting to the heat.
Theresa: (Laughs) I know, it's hot as hell down here, triple digit heat plus the humidity.
Dennis: Well, it's interesting to me everybody is saying, "It's fixin' to get hot." And I ask, what do you mean, "It's fixin' to get hot"?? (Laughs)
Theresa: That's a Texas expression by the way, "it's fixin' to" (laughs)
Dennis: Well, you see I'm from Louisiana. I was born in Ohio and was raised by my grandparents in North Louisiana. I went to college in Southern University of Baton Rouge. I majored in preventive medicine. And then I moved to Minnesota and started working. My first job was as a waiter in a restaurant. And then I became an underwriter for a Life Insurance company. I was pretty much on the fast track to moving up in upper management. But I started singing jazz and that life kind of took over for me. I was playing clubs almost every night. And then have to go to work the next morning and be Clark Kent, basically. I'll have to get out of my club wear and put on a suit and carry my briefcase and go to the office.
It got to the point where I had to be honest with myself. I realize that this voice I've been listening to, ever since I was a kid was telling me, "You belong onstage. You have to be onstage. That is what's going to give you your Life. That is going to be your Life Force."
So I had to be honest with myself and just follow the voice and here I am now. After Kennedy Center, not many boys from Mangham Louisiana could say that they sold out Kennedy Center for two weeks.
Theresa: (whispers) But you'll sell out anywhere!
Dennis: If you just say Nat King Cole. People go, "Where?" That's all you have to say.
Theresa: (Laughs) Exactly! That's what I said! Where do I go? I'm there!
Dennis: The other part about it too is, when you take on a role like this, you have to be true and honest to whom Nat King Cole is. His fans know him. And he's been gone now since what, 1965? But the fans can still hear his voice resonating in their ears.
Theresa: And quite an irresistible and distinctive voice it is! In your own words, can you please describe to us the role that you're playing?
Dennis: First of all, Nat King Cole is my idol. He has been since I was like 5 or 6 years old. The first time I heard him was during Christmas time. My grandparents were Southern Baptists who didn't allow us to listen to secular music in the house. But one Christmas, I think I was probably six years old, my aunt played Nat King Cole's The Christmas Song. And I remember being so taken by his voice. Without ever having to have seen his face, I knew at that point that there was a seed (or a voice) planted in me. I knew that this man's music would affect the rest of my life. Here I am now, actually onstage living his life.
Theresa: Does the story begin from when people discovered his talent? Or was it prior to that, depicting his challenges before he became famous?
Dennis: This story is about him trying to keep his television show on the air. It's interesting that it is set in 1957, on his television set, on his actual studio set. While he's on the air, you get to see through the lens of the camera what America wanted everybody to see. But then juxtapose with that, we also have images of the racist South and how society deals with that at the time. It is a beautiful blending of those two images.
It is very sad and tragic by the end that Nat King Cole has to go to a place and come to the realization that in this country at this time, he is still considered a second rate citizen.
Even with all of his money, with all of his talent and with all of his gifts, he is still. Last night when the audience sees me go into that broken place, I heard some people say, "Oh my God!!!" He is so full of life and filled with joy in Act I, but then by the end of Act II he is so beaten by all of this ugly stuff that is happening in the country.
Theresa: So, it is not only a musical, it's historical and educational as well. That's what's going to draw the crowds…..
Dennis: That is what catches the audience. I think that most people who come to the show though, initially come because of the music. And then the history is just an extra bonus.
Theresa: And the Band! I personally come to hear the band play. Because I know that when Ensemble Theatre Artistic Director Eileen J. Morris puts on a musical, especially one that pays a soulful tribute to a legendary figure such as Nat King Cole, she will not hold back. Only the best musicians and artists go on her stage. And with you at the helm, I think you've accomplished a successful mission.

(L-R) Ron Jones, Derrick Brent II, Dennis Spears as Nat King Cole and Jason E. Carmichael star in I WISH YOU LOVE. Written by Dominic Taylor and Directed by Lou Bellamy, I WISH YOU LOVE is showing through July 27, 2014 at the Ensemble Theatre located at 3535 Main Street, Houston Texas 77002 USA. Photo courtesy of The Ensemble Theatre. For more information, click on www.EnsembleHouston.com
Dennis: I think at this time in our history, there is a very strong need for someone like Nat King Cole and his music to be reincarnated. I do believe that.
Theresa: In 2011, you won an Ivey Award for this role at the Penumbra Theatre. What was it like to get this type of recognition of your peers?
Dennis: It was mind-blowing because for so many years, people perceive me just as a jazz singer and not a serious actor. I have to thank Lou Bellamy because Lou gave me some advice. About 10 years ago when I approached him about wanting to, at some day play Nat King Cole. One of the things he told me was that I have to really work on building my acting chops. Because to do that role, and be true to it, you have to have strong acting chops. Lou, not only gave me the advice but he also provided me with the work. He specifically cast me in shows where he directed me, as he directed me in this piece. It was surprising to me and it surprised a lot of people, I think, when my name is called for that award for which I am so grateful. And then in November 2013, I was just inducted into the Minnesota Music Hall of Fame, alongside Prince and Bob Dylan and Judy Garland…..
Theresa: (laughs) because of your role as Nat King Cole?
Dennis: because of my body of work
Theresa: as a Jazz Musician. Do you consider yourself a jazz musician first?
Dennis: I consider myself an entertainer.
Theresa: Do you play any musical instruments?
Dennis: None. I dabble in percussion. But in here I have to play air piano.
Theresa: This show was also presented during the summer of 2011 at Kennedy Center in Washington DC. Did you have an opportunity to meet President Obama?
Dennis: No. I was sad.
Theresa: But you sold it out!
Dennis: The rest of the cast got to go visit the White House. But I didn't have an understudy so all my days was spent basically in my apartment resting, you know. But I'd like to meet him someday.
Theresa: What are the biggest challenges in playing the role of the great Nat King Cole?
Dennis: Being true to his vocal styling without trying to mimic him. I think that he is such an influence in my life. You'll find that there's a very, very strong connection musically with him. So there are a lot of similarities to our singing style. The one thing I did want to do was that I did not want to make him a caricature. I didn't want to mimic him to a point where it didn't make sense. I'm just being very honest in bringing him from the inside out.
Theresa: As a jazz singer, you are very accomplished musically. How about the acting?
Dennis: Surprisingly, it came fairly natural for me. The hard part for me was, having to go to that dark place in Act II. That's the hardest part of the show. I have to smoke like, six cigarettes during the run of the show.
Theresa: (Laughs) I'm sure it was hard for him too!
Dennis: Yeah, yeah (smiles).
Theresa: At what point in your life did you decide to become a musician?
Dennis: Growing up Southern Baptist, I had to sing in a choir from age 5. I've always been a musician. I've lived and breathed it since I was very young. So I can't remember not ever being a musician.
Theresa: Who do you consider is the most influential in your success?
Dennis: Lou Bellamy has really been a mentor for me. As a jazz vocalist, I have so many influences such as Nat King Cole, Joe Williams was a big influence; I like a lot of female jazz singers too, Carmen McRae, Billie Holiday, Sarah Vaughan and Ella Fitzgerald. I actually got to open for Ella Fitzgerald and I got to meet Carmen McRae and open for Joe Williams. So I got to meet my idols. I've worked with Captain Jack (band). I've had a lot of influences.
Theresa: Where did you have the opportunity to meet these great Jazz artists?
Dennis: We opened for Ella Fitzgerald in Minneapolis. For Joe Williams, we opened for him in Italy at the Umbria Jazz Festival.
Theresa: Have you performed here in Texas before?
Dennis: Yeah, being from Louisiana, yeah back in the day. I came here and sang gospel. I have some friends who have gospel roots. But this is my first time actually performing as Nat King Cole. The dangerous thing about Houston for me is I've been eating my way through Houston.
Theresa: (laughs)
Dennis: You know I have to stop……and tell myself that salads are good. I have to keep telling myself, "Dennis, you're playing Nat King Cole, not Fat King Cole." I have to be able to get into my costume, so……you know?
Theresa: You are hilarious!!! I love your sense of humor (laughing hysterically). You know just how to make me laugh!
Dennis: I've learned that in life you have to have a good sense of humor (laughs).
Theresa: What would you like the audience to gain from watching this musical?
Dennis: I would love for the audience to continue and be encouraged in having dialogues about racism. Because racism still exists in this country and in the world. I think the one thing that we can take away from this musical is to take Nat King Cole's path. He chose Love. That's why the show is called I Wish You Love. Even with all the stuff that has happened to him. His last song is, I Wish You Love. That's the most important thing, that we gotta love each other, no matter what.
Theresa: What would you like to say to the Houston theatre-going audience?
Dennis: Thank you so much. I love ya'll!!! Next time you bring me here. Did you notice, I did say ya'll (laughs). The next time you want me to come to Houston to perform, please get me out of Minnesota during the winter months. Do not bring me here in June or July.
Theresa: (laughs).
Dennis: No, seriously though. I'd like to thank the Houston audience for receiving me the way they've received me so far, very warm and hospitable. And ya'll come and enjoy the show!
-0-0-0-0-0-

(L-R) Derrick Brent II, Jason E. Carmichael and Dennis Spears as Nat King Cole star in I WISH YOU LOVE. Written by Dominic Taylor and Directed by Lou Bellamy, I WISH YOU LOVE is showing through July 27, 2014 at the Ensemble Theatre located at 3535 Main Street, Houston Texas 77002 USA. Photo courtesy of The Ensemble Theatre. For more information, click on www.EnsembleHouston.com