THE ENSEMBLE THEATRE
www.ensemblehouston.com


Artistic Director of The Ensemble Theatre EILEEN J. MORRIS
Presents
JOSEPHINE TONIGHT
Book and Lyrics by Sherman Yellen
Music by Wally Harper
Directed and Choreographed by Patdro Harris
Musical Direction by Chika Kaba Ma'atunde
June 27 - July 28, 2019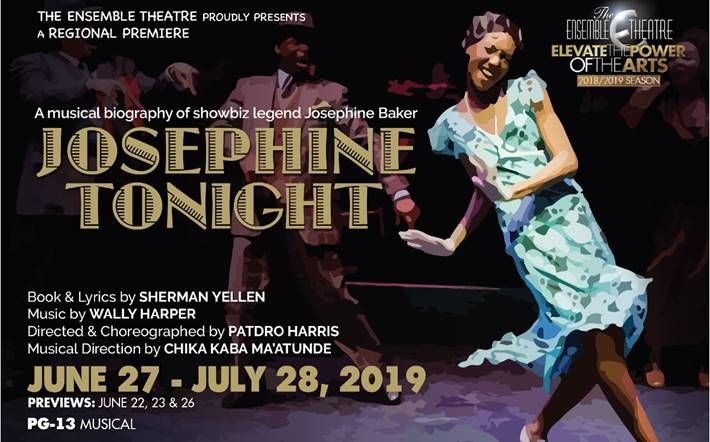 For more information, click on www.EnsembleHouston.com
The Ensemble Theatre Elevates the Life of Josephine Baker
in the Season Finale Musical
"Josephine Tonight"
Houston Native and Broadway Actress DeQuina Moore stars in Title Role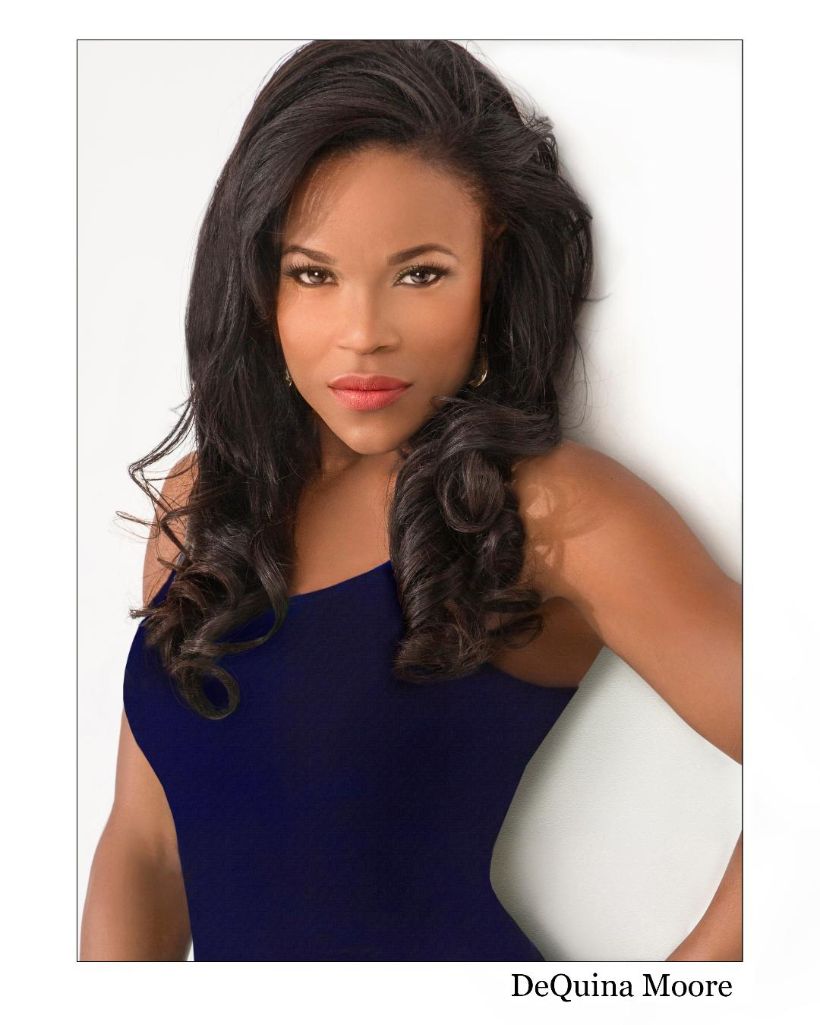 HOUSTON (June, 2019) – The Ensemble Theatre elevates the life of Josephine Baker in season finale biographic musical Josephine Tonight, starring actress DeQuina Moore, with opening night and media reception, Thursday, June 27, 2019, 6:30 p.m. 3535 Main Street, Houston, TX 77002.
Actress DeQuina Moore is a Houston native who discovered her passion for the arts at an early age. She began honing her skills at The Ensemble Theatre where she discovered she held a multitude of talents that later landed her on Broadway, and into television and film.
"This is truly a full-circle moment for me to return to The Ensemble Theatre where I started as a youth," says Moore. "The icing on the cake is also having the incredible opportunity to embrace the role of entertainment icon Josephine Baker!"
Josephine Tonight book and lyrics were written by Sherman Yellen with music by Wally Harper. The Ensemble Theatre's musical duo, director & choreographer Patdro Harris, and musical director Chika Kaba Ma'atunde, have returned to Houston bringing their flare to another story.
"We are both very excited to join The Ensemble Theatre in celebrating the life of Josephine Baker through this work," says Harris. "DeQuina is a perfect choice to demonstrate Ms. Baker's talent and her strength as an activist."
Previews: June 22, 23, and 26 2019
Show Runs: June 27– July 28, 2019
Performance Days and Times: Thursdays: 7:30 p.m; Fridays: 8:00 p.m; Saturdays: 2:00 p.m. and 8:00 p.m; and Sundays: 3:00 p.m.
Tickets Available Online: www.EnsembleHouston.com
For Information Call: 713-520-0055
Ticket Prices: $30- $61
A musical biography of showbiz legend Josephine Baker. Josephine Tonight draws on the early life of the internationally known singer, actress and nightclub sensation who wowed audiences in America and Europe in the first quarter of the 20th century, and reveals the relationship of the young Josephine and her laundress mother who steers her toward success and then guides her to remember her roots.
Featured Cast members include: DeQuina Moore (JOSEPHINE); Regina Hearne (CARRIE MCDONALD/BIG BERTHA); Andre' Neal (EDDIE BAKER/MISS CORA); and Jason E Carmichael (REVEREND LOOMIS/MRS. REECTOR)
About DeQuina Moore
DeQuina Moore is an accomplished actress, singer-songwriter, performer, producer, entrepreneur and now author. Truly a southern belle, born and raised in Houston, TX-DeQuina had to master many voice-and-diction classes in order to lose her accent when needed, further upgrading her acting chops. This scholarly Thespian started her career at The Ensemble Theatre in the Young Performers Program, trained at the High School for the Performing and Visual Arts (HSPVA), and furthered her rewarding education at the prestigious New York University's Tisch School of the Arts, where she was readily discovered by agencies/management and began working immediately!
Moore's elephantine passion for theatre, film, and television was inspired by an array of moments. For one, from the first to the eighth grade she used to sneak out of class, tip-toe to the bathroom and put on a little scene, song and dance! Her favorite teacher from the second grade, Mrs. Wilson, still tells this story to date. Later, in the eighth grade she began interning at the local radio stations, 97.9 The Box and Majic 102 Jams, where her musical flame was further sparked. And then, while training in the Young Performers Program at The Ensemble Theatre, she identified her multi-talented abilities, how they could all work together for a stronger career; and from there, focused on ways to showcase her many gifts.
She has landed numerous national/international commercials, voice-overs, and print ads with such companies as Coca-Cola, Payless, Bank of America and many more. On the small screen, she has secured starring roles on majors like Law & Order: SVU, Lifetime's Racing For Time, NBC's Third Watch, and more. On the big screen, she most recently enjoyed her leading role as Devonne in Joyful Noise, sharing the screen with superstars such as Queen Latifah and Dolly Parton; and, her film career goes on to include such movies as Tyler Perry's Madea's Big Happy Family, The Last New Yorker, Ghost Town, Rachel Getting Married, Camp, and more. Additionally, DeQuina's stage life has soared with starring roles like originating Little Shop of Horrors' Chiffon on Broadway, and also originating in Broadway's Legally Blonde the Musical as Pilar! She's played in several other shows such as Shakespeare in the Park's Two Gentlemen of Verona, Hair (AFC), Happy Days the Musical, Beehive, The Wiz, and starred in the Broadway National Tour of Flashdance the Musical, as Kiki: "…the sassy, sexy, savvy waitress by day/"flashdancer" by night!"
Further, DeQuina Moore is heavily featured on major Broadway cast recordings and was blessed to have the opportunity to open concerts for various artists like Eric Benet and Destiny's Child. She has also graced the stage and/or screen with such notables as N'sync's Joey Fatone, Bill Cosby, Keke Palmer, Charles S. Dutton, Nia Long, Courtney B. Vance, Tyler Perry, Chris Christopherson, and more. DeQuina has performed as a background singer for a few artists-some of which were overseas recordings-having to take on the challenge of singing in various Asian languages which was hilariously loads of fun for her. Other special guest spots include singing the National Anthem for multiple professional NBA, NHL, and MLB games; and opening The Tony Awards with the awesome Hugh Jackman performing the top number: "One Night Only". Plus, DeQuina has performed on popular television spots, as well, namely The View, The David Letterman Show, and The Today Show. Despite one theatre's requests for the audience to hold their applause during her performance of Tina Turner and Diana Ross in "Beehive" the Musical, DeQuina received multiple standing ovations and applause further proving what a thunderous, well-rounded entertainer she is.
In addition to most recently lighting up the stage as Rachel Marron (lead u/s), Nickie Marron (principle alt.), & Featured Ensemble/Karaoke Girl -YES, three separate roles in ONE show- in The Bodyguard the Musical, DeQuina is also now working toward the release of her debut R&B/Hip-Hop-Soul album! Additionally, she is excited about recently booking a dream role of hers, playing Josephine Baker in the new bio-musical entitled Josephine Tonight taking place at Houston's own The Ensemble Theatre! Simultaneously, DeQuina is set to also begin filming a recurring role she just landed on Houston's own latest TV show: "5th Ward", a Greg Carter hit!
This proud AEA/AFTRA/SAG member is on fire! She has the dreams of a mastermind and will to continue to reach even higher, for her ultimate life mission is to eventually help others effectively attain their goals-whatever those aspirations may be. In fact, DeQuina has already begun this feat. She currently sits on the board of Bridge Da Gap, an organization centered around utilizing a new, creative curriculum and music to rebuild the interconnected social foundation of our youth, in turn uplifting their chances of grasping a better education. Due to her mantra that she lives by -remain humble, grateful, and teachable- this septuple-threat has been able to accomplish more than she ever imagined, and is nowhere near finished; therefore, she wishes to instill this work ethic and train-of-thought in many artists/citizens/dreamers to come.
The Ensemble Theatre's 2018-2019 Season is sponsored in part by grants from the City of Houston through the Houston Arts Alliance, Texas Commission on the Arts, and the National Endowment for the Arts. United Airlines is the official airline sponsor for The Ensemble Theatre.
The Ensemble Theatre was founded in 1976 by the late George Hawkins to preserve African American artistic expression and enlighten, entertain and enrich a diverse community. In addition to being held as the oldest and largest professional African American theatre in the Southwest, it also holds the distinction of being one of the nation's largest African American theatres that owns and operates its facility with an in-house production team.
The Ensemble Theatre produces a main stage season of six contemporary and classic works devoted to the portrayal of the African American experience by local and national playwrights and artists. The theatre's Performing Arts Education program provides educational workshops, Artist-in-Residence experiences and live performances for students both off-site and at the Theatre. The Young Performers Program offers intensive summer training for children ages 6 to 17 encompassing instruction in all disciplines of the theatre arts.
###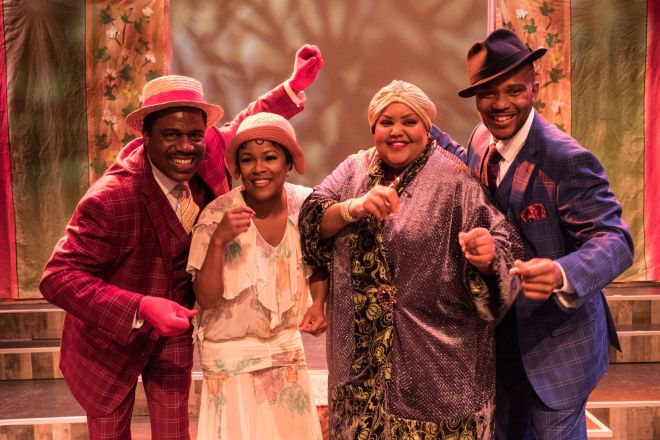 JOSEPHINE TONIGHT starring (L-R) Jason Carmichael, DeQuina Moore, Regina Hearne and Andre' Neal. JOSEPHINE TONIGHT is showing through July 28, 2019 at the Ensemble Theatre located at 3535 Main Street, Houston Texas 77002 USA. Photo credit: David Bray. For more information, click on www.EnsembleHouston.com
ABOUT JOSEPHINE BAKER
Interviews with the creative team of Josephine Tonight
By Theresa Pisula
Theresa@HoustonTheatre.com
Theresa@HoustonTheatre.com
June 27, 2019

Director and Choreographer Patdro Harris, Owner of Music Allan Gruet and Producer John Sparks. JOSEPHINE TONIGHT is showing through July 28, 2019 at the Ensemble Theatre located at 3535 Main Street, Houston Texas 77002 USA. Photo credit: Theresa Pisula. For more information, click on www.EnsembleHouston.com
Interview with Director and Choreographer Patdro Harris
Director's Notes: "from 1919 to 1925, six years of Josephine Baker's courageous, dynamic and beautiful life. What a privilege and an honor to dance this dance with such an icon as Josephine Baker. Prepare to be educated, informed and inspired with Josephine Tonight!"
Patdro Harris has combined his directing, choreography and writing skills to become one of the most innovative and creative talents of our time. Voted as "Best Director" by the Star Tribune in Minneapolis, he is nationally and internationally recognized and respected by colleagues, critics and fans. He holds to his credit the 1996 Helen Hayes Award for Outstanding Choreography and has been honored with a nomination for the same award for Best Supporting Actor. He also received a 2002 Drammy Award for Best Choreography and the 2007 Dance Ministry Magazine's Trailblazer Award for Dance Choreographer of the Year. In 2009, he received the Suzi Award for Outstanding Choreography and Best Ensemble Musical. He has received a 2009, 2010, 2011, 2016 and 2017 Giorgee Award for Best Director and Best Show.
Patdro has traveled the world as choreographer and lead dancer for the incomparable Stevie Wonder and has worked with such artists as The SOS band, TC Carson, Daryl Coley, Yolanda Adams and India Arie. He choreographed the Tony Award-winning Broadway hit A RAISIN IN THE SUN starring Sean Combs and Phylicia Rashad. Mr. Harris earned a Bachelor of Arts degree from Alabama State University.
Patdro: This is my 20th show with Chika Kaba Ma'atunde (Musical Director)
Theresa: how long was the period of time from the moment you knew you were going to be directing the Josephine Baker musical up until today?
Patdro: a year and a half. I heard about it kinda but if I just hear about it, I don't pay attention. Until they say my name. "Say my name, say my name…" (sings Beyonce song).
Theresa: (laughs). You worked with Sean Combs and Phylicia Rashad
Patdro: Absolutely.
Theresa: have you ever worked with Beyonce? You know she's born in Houston.
Patdro: I have not worked with Beyonce. I met her on Broadway while I was doing Raisin in the Sun. I also met Oprah….
Theresa: Wow! That would be a dream come true for me. What was that like?
Patdro: it was great! (whispers) she had on a bad coat.
Theresa: what kind of coat?
Patdro: a very nice jacket. I was using one of those African American colloquialism where you make a negative a positive
Theresa: (laughs)
Patdro: you know where bad means good, yeah (laughs).
Theresa: I only see four people in the cast. You usually work with a whole bunch of singers and dancers. Why do you only have four?
Patdro: Only because that's what the script called for. The script is like the bible. And some things you have to adjust because of the space. Even though Josephine Baker is a historical figure, we can't play history. We have to play what these pages tell us what to do. The last time this musical was done, they had 12 people, but this time, we did it with four people. Transforming the play into the different characters is a character in the play itself. You see the men playing women and it comes out super funny. So, you really had to have some really talented 4 who could do the work of 12 people.
Theresa: what were the challenges in preparing for the show?
Patdro: it's always interesting when you do history. I had to research information about that time period, what was happening socially and economically. Why she's saying what she's saying, what's going on in the environment. Because that affects who we are. So that was my encyclopedia that I put in the back of my head. The script is like our day book, and we begin to understand why these things were happening at that time. But it's important to not get caught up in the history. Because we're not doing history. We're doing this play. So that was difficult to decipher.
Theresa: what would you like to say to the Houston theatre going audience?
Patdro: first of all, just to honor Josephine Baker. She's wonderful, just the iconic thing that she stands for. Her style and swagger are still influencing people right now. Just to see her commitment and tenacity, no matter what somebody says, I'm going to keep going forward. Even if you're embarrassing me to the utmost, I'm going to use that for my good. To see how she struggled, that takes some really powerful stuff.
Theresa: what were the major things you learned from Josephine Baker?
Patdro: Freedom, just to be free. Live your own truth. Everybody else is taken so you might as well be you. That's something that I learned from her.
JOSEPHINE TONIGHT starring (L-R) DeQuina Moore and Andre' Neal. JOSEPHINE TONIGHT is showing through July 28, 2019 at the Ensemble Theatre located at 3535 Main Street, Houston Texas 77002 USA. Photo credit: David Bray. For more information, click on www.EnsembleHouston.com
Interview with Producer John Sparks
Not only is John Sparks the Founding Director of the Academy for New Musical Theatre, Greater Los Angeles Area, he is a book writer, composer, lyricist and librettist.
Allan Gruet: This gentleman (referring to John Sparks) has produced this play in Chicago and he was the original person who put the show on from a stage reading to the studio production. And he has been to every single time that we have done it. He has a vested interest. First of all, he loves the play. That's the number one thing. And we're all very good friends. We all love the piece. We love the fact that it's transformed into this four-character all African American play and it works! That's what we saw last night (previews). It really works.
Theresa: you were there from the very beginning
John: I am the director of two writer's workshops. One in Los Angeles and one in Chicago for the last 40 years for composers, lyricists and playwrights. And one of the things we do is seek out new works that are needing process. And that's how I came across Josephine Tonight. I had previously known the author Sherman Yellen in Los Angeles. He was a very successful screen and television writer. And also, he had written for Broadway. He brought this piece to me in Chicago. I liked it very much and that's how I became involved.
Theresa: so, the first showing was in Chicago.
John: it was in Chicago. It was a script in hand reading, a concert reading with Lillias White playing the role of Josephine Baker's mother. And a marvelous young actress in Chicago was playing the Josephine Baker role. But at that point the show was written for twelve actors. Two years after that reading, we also produced a developmental production in Chicago and that helped further define the show and then it went onto other productions in other cities.
Theresa: do you play any musical instruments?
John: yes, in my misspent youth, I played stand up base and travel with a night club act and sang tenor. And as a composer, I work at the piano. I don't play the piano. I never play it in public. I would never let anybody hear me play the piano. But I work on the keyboard.
Theresa: are there any plans to bring it to Broadway?
John: Well, there are some plans but to create an Off-Broadway version. Because of this four-character version of the show, it could play off-Broadway commercially successfully. It's really too small for Broadway unless it was in a very small theater. There's a five hundred seat Broadway theater that might be able to handle this.
But generally, a Broadway show is bigger. These days because the ticket prices being what they are, audiences want to see more actors, more dancing, more sequins or more chandeliers. But there is one theater interested in having a run in New York and on an off -Broadway contract. We're looking into the possibility of doing that.
Theresa: what would you like to say to the Houston theatre-going audience?
John: I would like to say, come and see this show! It's like any show. Without an audience, it doesn't really exist. This is a show that covers the early part of Josephine Baker's career. This is the part of her life that nobody really knows about. People know what happened to her after she became famous in Paris. And they know about her work with orphans, animals and the resistance during World War II. They know about this. But they don't know how she got from dancing for pennies in the street of East St. Louis to triumph in Paris.
Theresa: What would you like the audience to gain from watching this musical?
John: I would like them to gain some respect for a young woman, any young woman who has six strikes against her. For whatever reason, she's impoverished, she is black in a very unfriendly society, and finds her way to not only a successful life and career, but to many good works. She became an extraordinary person, out of all that difficulty. And I think that's a tremendous role model, for all audiences.

JOSEPHINE TONIGHT starring (L-R) DeQuina Moore and Andre' Neal. JOSEPHINE TONIGHT is showing through July 28, 2019 at the Ensemble Theatre located at 3535 Main Street, Houston Texas 77002 USA. Photo credit: David Bray. For more information, click on www.EnsembleHouston.com

ABOUT THE PLAYWRIGHT

Sherman Yellen (bookwriter and lyricist), Playwright, Librettist, Screenwriter and Memoirist: his Broadway credits include the book for The Rothschilds (Tony Award Nomination) and Rex (with Sheldon Harnick and Richard Rodgers), and the play Strangers. His Off-Broadway plays include the play December Fools and the book and lyrics for Treasure Island, winner of the 2014 Broadway World Award for the Best Regional Theatre Musical. Sherman's plays and musicals have also been staged regionally by Goodspeed Musicals and the Berkshire Music Festival. Yellen's television and screen credits include The Adams Chronicles and An Early Frost (Emmy Award for both). His book of new plays, December Fools and Other Plays (Budapest, Gin Lane) is published by Moreclacke Publishing.


ABOUT THE COMPOSER

Wally Harper (1941 – 2004) was a Broadway director, arranger and composer. His Broadway credits included musical direction and arranging for over twenty productions including A Day in Hollywood / A Night in the Ukraine, Irene, The Grand Tour, My One and Only, The Best Little Whorehouse in Texas, and the original production of Nine which won the 1982 Tony Award for Best Musical. He also composed the Off-Broadway musical Sensations. Wally is perhaps best known for his 30-year collaboration as musical director for Broadway star Barbara Cook (Candide, The Music Man) throughout her cabaret and concert appearances which began in 1974 and continued until his death in 2004.

Interview with Allan Gruet (Owner of the Music)

Allan: I'm just the owner of the music. When the composer, my partner Wally Harper died in 2004, he willed his music to me. So, I own the music rights. And I have a vested interest in the show like John does. I love the score. I was there when they were creating it. I was the public relations director of the Westchester Broadway Theatre for 22 years.

And they would write a song and call me up on the phone and have one of the singers like Lillias White sing the song to me to let me know. So, I was there from the get go. I knew Wally since 1959, we were roommates. We had a huge friendship prior to our living together and being partners. The last ten years of his life was when we lived together.

I knew Sherman (Yellen, the playwright for Josephine Tonight) because I was an actor for 22 years prior to my doing public relations. I was a professional actor and I was on Broadway when he was the book writer for The Rothschilds. I was also in Fiddler on the Roof. I met Sherman almost 50 years ago. So, I had known him ever since. There was a huge gap because he went to California to make the television shows and movies. But when he came back to New York, someone recommended Wally as a composer. He was a book writer but he was looking to do lyrics and book.

He got hooked up with Wally and he walked into our living room in 1994 and the last ten years until 2004, they were partners. They wrote two shows together, plus they did some other work.

But the main one that they wrote is the story of Josephine Baker. This was their baby. I just want his music to be heard. And I want Sherman's script to be heard also.

I really don't have aspirations for it to go to Broadway or even off-Broadway. What I want is to play cities around the country. And I think that's where the appeal is. And I'm hoping that from the Houston production, is that we get multiple productions out to different cities around. And I think we're going to get good reviews here. I'm very happy with what I saw.

Theresa: Where were you born and where did you grow up?

Allan: I was born in Patterson, New Jersey but I grew up in Africa. I moved to Kenya, Nairobi. I was in an English-speaking school from 5 until I was 13 years old. The first seven years of my education were in a Nairobi primary.

Theresa: Do you play any musical instruments?

Allan: No, when I was young, I played the piano. I'm a performer, you know. I was an actor for 22 years, a professional actor and singer. I call myself a general mover, I wasn't really a dancer. But in every show that I was in, I had to do some sort of dance movement.

Theresa: What was Wally Harper like?

Allan: since he died, people have touted him as being a genius. He was an incredible musician. I mean, he wrote music, he arranged music, he conducted orchestras, and he made programs for Barbara Cook. 31 years, he was with Barbara Cook. On Broadway, he worked with Tommy Tune, he did eight shows with Tommy. He was a well-known musician very respected. He was a wonderful pianist. There was nobody like him as an accompanist.

Everybody wanted to work with him. But Barbara Cook got him (laughs).

Theresa: where was this, when you lived together?

Allan: we lived on 79th Street, behind the Museum of Natural History, between Amsterdam and Columbus in New York City. We had a lovely penthouse, two-bedroom.

Theresa: where do you live now?

Allan: I live in Sunnyside, Queens.

Theresa: what are your musical influences?

Allan: I love musical theatre. I spent 50 years working in the theatre. I never got out of it. I just got into the other end of it. You know, like public relations and casting. I loved working with actors. I really like actors. They're great people.

Theresa: I agree

Allan: being an actor myself, I understand what they go through. And so, I empathize with actors. I don't think people who don't know about acting, really understand what they do. It's a lot of hard work, a lot of energy. It's a difficult life to live.

Theresa: to have the courage to even get up on that stage

Allan: the fact that people go on, no matter what. Because there's a lot of rejection in theatre. You know? There's very little work for a bunch of people. If you get to work as a working actor, you're doing a great job. And I don't mean Broadway, necessarily. People who work constantly, who go from theatre to theatre? There are people who work in regional theatre, you know, they just keep working. I have a lot of respect for those people.

Theresa: what would you like to say to the Houston Theatre going audience?

Allan: what I want to say is, this version really works. The audience really liked it last night (preview). They understood the concede of four African American actors playing multiple roles. And there was a lot of humor that I found on a show that I never thought was there! They brought a lot of humor to it. The two men play five different parts each. Josephine only plays Josephine. And the mother plays double parts.

Theresa: what would you like the audience to gain from watching this play?

Allan: like John said, Josephine is a great role model for people. She pulled herself up from nothing. And she became this huge success.

After the interviews, the cast and creative team of the Ensemble Theatre took us through the world of Josephine Baker during the 1920's in her journey from America to France. The music was intoxicating and exhilarating at the same time. At the end of the show, the entire audience stood up on its feet clapping and cheering. Josephine Tonight got a well-deserved rousing standing ovation. And in the words of Patdro Harris, "Thank you Sherman Yellen and Wally Harper for this jam-packed journey with Josephine Baker." Don't miss Josephine Tonight showing through July 28, 2019 at the Ensemble Theatre at 3535 Main Street, Houston Texas 77002.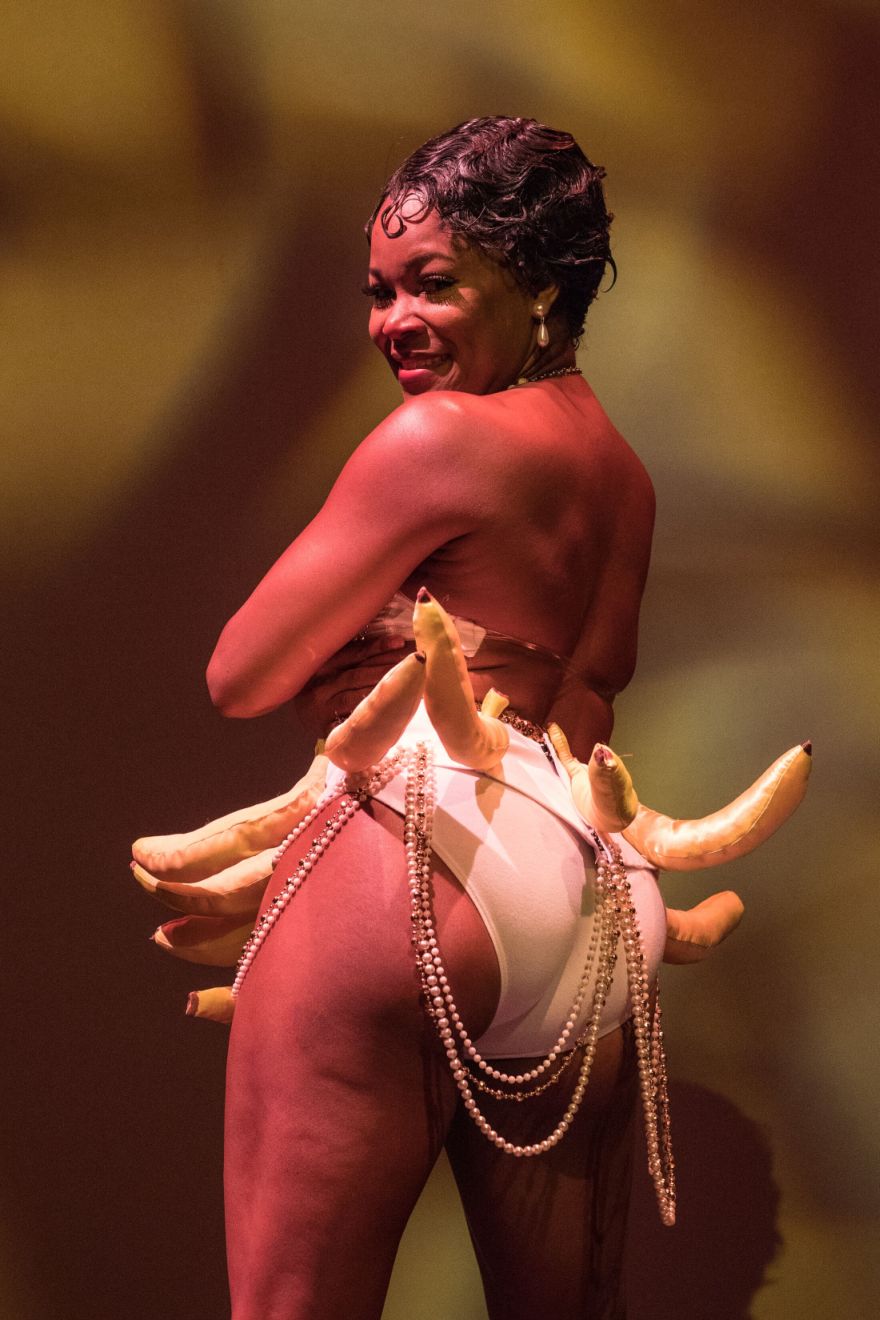 JOSEPHINE TONIGHT starring DeQuina Moore as Josephine Baker. JOSEPHINE TONIGHT is showing through July 28, 2019 at the Ensemble Theatre located at 3535 Main Street, Houston Texas 77002 USA. Photo credit: David Bray. For more information, click on www.EnsembleHouston.com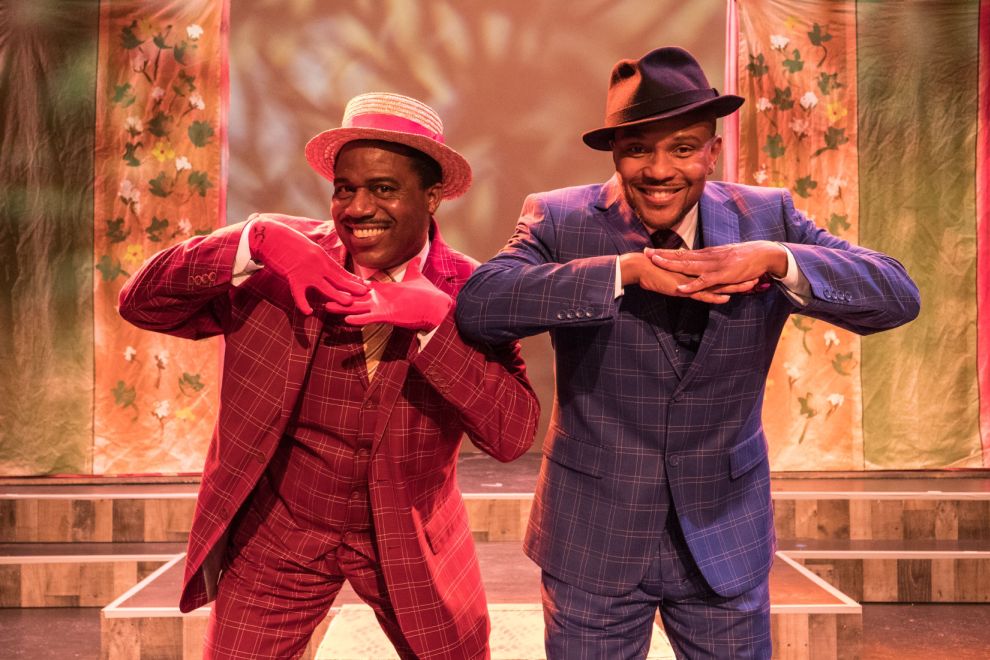 JOSEPHINE TONIGHT starring (L-R) Jason Carmichael and Andre' Neal. JOSEPHINE TONIGHT is showing through July 28, 2019 at the Ensemble Theatre located at 3535 Main Street, Houston Texas 77002 USA. Photo credit: David Bray. For more information, click on www.EnsembleHouston.com

Director and Choreographer Patdro Harris, Owner of Music Allan Gruet and Producer John Sparks. JOSEPHINE TONIGHT is showing through July 28, 2019 at the Ensemble Theatre located at 3535 Main Street, Houston Texas 77002 USA. Photo credit: Theresa Pisula. For more information, click on www.EnsembleHouston.com