THE ENSEMBLE THEATRE
www.ensemblehouston.com


Artistic Director of The Ensemble Theatre EILEEN J. MORRIS
Presents
SASSY MAMAS
<![if !supportLineBreakNewLine]>
<![endif]>
A Romantic Comedy by Houston Playwright Celeste Bedford Walker
Directed by Eileen J. Morris
September 22 thru October 16, 2016
<![if !supportLineBreakNewLine]>
<![endif]>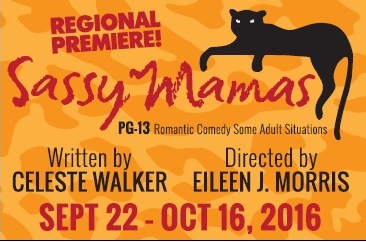 The Ensemble Theatre Presents
Sassy Mamas
<![if !supportLineBreakNewLine]>
<![endif]>
by Celeste Bedford Walker
Who/What: The Ensemble Theatre kicks of its 40th anniversary season celebration with Sassy Mamas, by Celeste Bedford Walker and directed by Eileen J. Morris, Opening Night and Media Reception Thursday, September 22, 2016, 6:30p.m.
NAACP Image Award-winning playwright Celeste Bedford Walker brings a delicate touch to her depiction of women of a certain age in her romantic comedy, Sassy Mamas. A story about three women-yes, "cougars"-who confidently pursue younger men. These three friends, women of substance and life achievement, each finding herself in a uniquely single situation and decidedly takes a proactive approach to love. The younger men they've set their sights on come with their own unique situations that only add to the humor and antics!
Cast members include:
Cast members include: Detria Ward, Alice M. Gatling, Michele Harrell, Kedrick Brown, Roc Living, and Steve Scott.
When:
Previews: Saturday, September 17, 2016: 8:00 p.m.
Sunday, September 18, 2016: 3:00 p.m.
Wednesday, September 21, 2016: 7:30 p.m.
Show Run: September 22 - October 16, 2016
Thursdays: 7:30 p.m.
Fridays: 8:00 p.m.
Saturdays: 2:00 p.m. and 8:00 p.m.
Sundays: 3:00 p.m.
****Opening Night and Media Reception is Thursday, September 22, 2016****
Where: The Ensemble Theatre/span>
3535 Main St, Houston, TX 77002
713-520-0055
(L-R) Detria Ward, Alice M. Gatling and Michele Harrell. Photo by David Bray
Daring to Explore
Interview with Michele Harrell starring as Mary in SASSY MAMAS at the Ensemble Theatre
By Theresa Pisula
Theresa@HoustonTheatre.com
September 23, 2016
Director Eileen J. Morris describes Celeste Bedford Walkerís hilarious comedy Sassy Mamas as a jewel of a play that addresses the dynamics of human beings. ďShe dares to explore their emotional, physical and sexual needs while Truth lays prevalent. Psalm 37: 4-5 bible verse says, Ďdelight thyself in the Lord: and He shall give thee the desires of thine heart.íĒ
SASSY MAMAS is the story of 3 friends, women of a certain age who confidently pursue younger men. The career-minded Wilhelmina Sorenson played by Detria Ward; the recently widowed Jo Billie Massey played by Alice M. Gatling. Last but not least is the most conservative of the three, Mary Wooten played by Michele Harrell who is going through a difficult divorce.
Michele Harrell began her acting career in New York. Michele later relocated to Los Angeles where she appeared in TV, film and theater. She enjoys travel and exploring world cultures. She is a graduate of Brown University, the University of Southern California and Loyola Marymount University.
Theresa: Are you originally from Houston?
Michele: Yes, born and raised here and when I graduated from High School I went to the East coast and I havenít really been back since. So itís been many, many, many, many years.
I went to college on the East coast at Brown University. That was a lot of fun. I majored in Dramatic Literature and Theatre. I always knew I wanted to be an actor. But I think I chose the University because it had an open curriculum.
(L-R) Alice M. Gatling and Michele Harrell. Photo by David Bray
Theresa: Were you involved at the Ensemble Theatre before you left Houston?
Michele: Unfortunately, this theatre wasnít here. I had left Houston already before the Ensemble Theatre started. When I was younger, my mother saw an ad in the paper about the Alley Theatre. They were starting a childrenís theatre back then. This was so far back it was when the Alley Theatre was on Berry Street. I was charter member of the Childrenís Merry-Go-Round at the Alley Theatre.
My mother Jean Harrell unfortunately passed away last year. She was my inspiration, she was always into the Arts. She was in education but a great patron of the Arts. When I was young, I took piano lessons and dance. I was at the Alley, so I was exposed to a lot. It was wonderful.
Theresa: Who influenced you as an artist?
Michele: I had a crazy, wonderful drama coach in high school. Sally Barbay, who in fact suggested that I go to Brown University as opposed to a conservatory. What I like about Sally is that she really stood up for us. We had a one-act play competition. We had a wonderful production, it was fabulous. And then we didnít get it, they gave it to another school. But she knew that it wasnít right. So we walked out.
Theresa: What? She did?
Michele: Yeah (laughs). She said, letís go.
Theresa: It was a protest.
Michele: Exactly. She taught us that lesson. Stand up for what you believe in.
Theresa: How would you describe your theatre experience after you left Houston?
Michele: I did a lot of stage plays in New York. After my stint in New York, I relocated to Los Angeles. I did some TV and film. Most of the people in theatre, they usually end up in Los Angeles. Because they realize that even though you love theatre, itís a passion, you need to also make a living.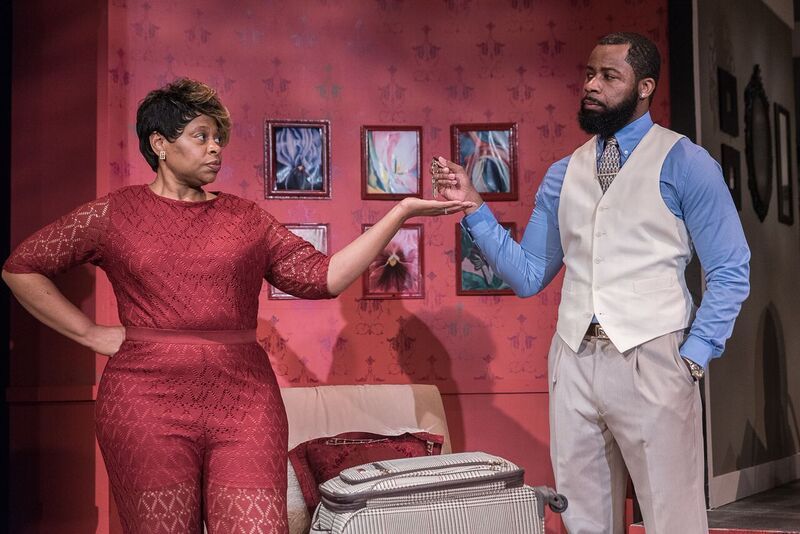 Alice M. Gatling and Kedrick Brown. Photo by David Bray
Theresa: About SASSY MAMAS, tell us about the part that youíre playingÖ
Michele: I play Mary who is a bit conservative compared to the other two Sassy Mamas. Iím a nice Catholic girl. I devoted my time to my family, my husband. Put everybody before myself, put my aspirations on the back burner. It really is a journey to play this character because even though itís a comedy and the situations are very funny, I think underneath it all itís really about self-discovery. Itís really exciting to play the character Mary.
Theresa: Isnít she the one thatís divorced?
Michele: Mary is divorced. Sheís just received her final papers. Itís like, you know itís coming but when it does come finally, itís still a shock.
Theresa: which for a nice Catholic girlÖ..
Michele: Married 30 years, so thatís a lot.
Theresa: (laughs)
Michele: So Mary is thinking, what would a young guy want with her? You know, sheís a woman of a certain age. She feels like, maybe, itís past her time. Even though her husband has connected with a younger woman.
Theresa: How does she happen to meet this younger man?
Michele: She loves flowers and plants. And having lived in Africa because her husband is an ambassador, she kind of misses all of those beautiful flowers of Africa. Sheís trying to re-create it on her balcony. So she meets this gardener. And they get to know each other. And itís a lot of fun.
Theresa: Oooohhh, tell me more (laughs).
Michele: She gets to know him better and better. They kind of have a little bit in common in that they do both love flowers. Sheís going through something with her husband and heís going through something with his girlfriend. Heís kind of a country boy. SheĎs very upscale, elegant, of a certain socio-economic level. But thereís something about him thatís sweet and innocent. Sheís kind of innocent as well. Because sheís basically been with her husband for 30 years.
Theresa: How does Mary compare to the other two characters?
Michele: Alice M. Gatling who plays Jo Billie Massey is the one grieving her husband.
Theresa: a widowÖ.
Michele: A widow, exactly. She just kinda goes crazy. So sheís the total opposite of Mary.

Steve Scott and Detria Ward. Photo by David Bray
The other character played by Detria Ward is Wilhelmina Sorenson who is the National Security Advisor for the President. She is more career minded. She hasnít had time for a man. Sheís been focused solely on her career. So, you have the career oriented person. And then you have the one who has a career but has kind of gone crazy because her husband passed away. And then you have Mary whoís the divorcee.
Theresa: And then they meet these younger menÖ.
Michele: Yes and then the games begin (laughs)Ö..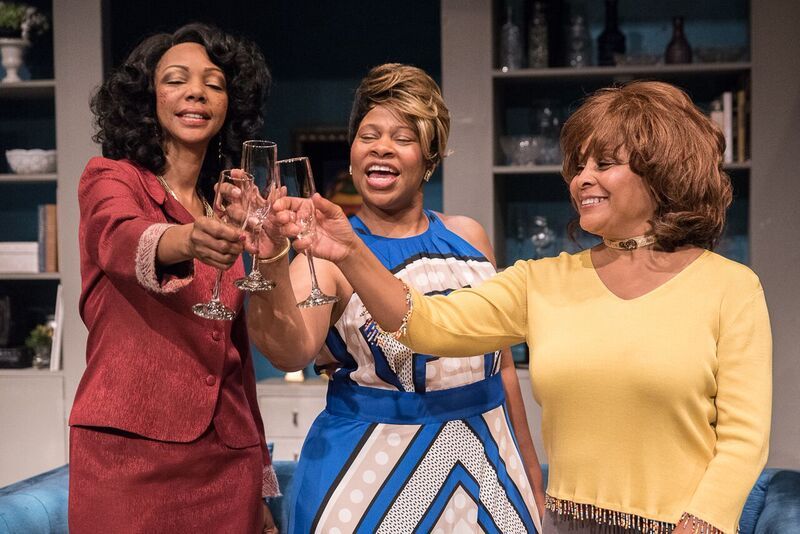 Detria Ward, Alice M. Gatling and Michele Harrell. Photo by David Bray
Theresa: How did you become a part of this play?
Michele: A friend of mine Alex Morris came here and did a production of Fences. I had done a show with him back in L. A.
Theresa: Yes, I interviewed him when he did a play called Two Old Black Guys Just Sitting around Talking. He is hilarious!
Michele: Iíve done a couple of shows with Alex in Los Angeles. My cousin, who sometimes plays in the musicals here at the Ensemble Theatre, invited me to a reading here. When I came, I saw Alex who was directing the reading. And Alex introduced me to Eileen (Morris, Artistic Director of the Ensemble Theatre).
Theresa: How do you like working with Eileen?
Michele: Eileen is fabulous. This is the first time Iím working with her. I think one thing thatís great about her is that she really allows the actors to discover things themselves. Even though youíre going to what she thinks is the wrong direction, she can pull you back. She says ďGo crazy, go wild. And then I can always pull it in.Ē You know? She just gives you that sense of freedom, so you can create. I love working with her.
Theresa: Of all the roles you have played, which one is your favorite?
Michele: This one is really funny, itís fun to play. One that I really enjoyed though is playing MíLynn in a version of Steel Magnolias. MíLynn is the mother to Shelby played by Sally Fields in the movie.
Theresa: Wow. Thatís a very emotional roleÖ..
Michele: especially near the end where she breaks down in the salon.
Theresa: That had to be emotionally exhaustingÖ.
Michele: Yeah, but thatís what an actor does, you know? That was in Los Angeles as well. It was really interesting.

Michele Harrell as Mary and Roc Living as her gardener Colby. Photo by David Bray
Theresa: You knew this was the opening production for the Ensemble Theatreís 40th Season.
Michele: Right, which is so exciting. I mean, just coming back to Houston, getting with this Theatre and itís also their 40th Anniversary. Iím really appreciative. Iím happy to be in this production.
Theresa: What would you like the audience to gain from watching this play?
Michele: Sometimes in society, there are stereotypes. For example, older men can date younger women. Nobody really thinks about it. But if you see an older woman with a younger man, people say ďOh, sheís robbing the cradle.Ē So, you have to decide who you want to be. You have to decide who you want to love. You canít really worry about what other people are thinking. Because itís you, itís your life. And just have some fun!
Theresa: Itís okay to date younger men?
Michele: Itís okay! Be who you want to be. Donít let society or your family or other people dictate who you love. Itís really interesting because Mary does want to actually marry a guy whoís more in her circle, so to speak. And after the gardener challenges her, he asks her ďWhat do you want?Ē Youíll just have to see the play to see how she decides.
Theresa: Would you like to add any comments?
Michele: I just want everybody to come out. See the play, it is so much fun. You will laugh, you will cry. You will have an enjoyable evening. Bring all of your girlfriends but the guys too. Because thereís something in there for them to learn as well.
Theresa: What would you like to say to the Houston Theatre-going audience?
Michele: Come out and support! Iím so happy that thereís so much theatre here in Houston now, especially since Iíve been back. Weíd love to see you here at the Ensemble.

Kedrick Brown and Alice M. Gatling. Photo by David Bray
-0-0-0-0-0-
The Ensemble Theatre's 2016-2017 Season is sponsored in part by grants from the City of Houston through the Houston Arts Alliance, Texas Commission on the Arts, and the National Endowment for the Arts. United Airlines is the official airline sponsor for The Ensemble Theatre.
The Ensemble Theatre was founded in 1976 by the late George Hawkins to preserve African American artistic expression and to enlighten, entertain, and enrich a diverse community. Thirty-nine years later, the theatre has evolved from a touring company operating from the trunk of Mr. Hawkinsí car to being one of Houstonís finest historical cultural institutions. The Ensemble is one of a few professional theatres in the region dedicated to the production of works portraying the African American experience. The oldest and largest professional African American theatre in the Southwest, it holds the distinction of being one of the nationís largest African American theatres owning and operating its facility and producing in-house. Board President Emeritus Audrey Lawson led the capital campaign for The Ensembleís $4.5 million building renovations that concluded in 1997. The Ensemble Theatre has fulfilled and surpassed the vision of its founder and continues to expand and create innovative programs to bring African American theatre to myriad audiences.