THE ENSEMBLE THEATRE
www.ensemblehouston.com

Presents
THE WAITING ROOM
By Samm-Art Williams
Directed by Eileen J. Morris
September 18 through October 17, 2010
A DISCOVERY IN WAITING
Interview with Broderick "Brod J" Jones
Who Stars as Riley Innes in THE WAITING ROOM
September, 2010
By Theresa Pisula
Houston, Texas USA
Theresa@HoustonTheatre.com
Broderick Jones is a native Houstonian and long-time member of the Houston theatre community. Brod J. was last seen in The Ensemble's production of August Wilson's Seven Guitars. He has performed in several of The Ensemble Theatre main stage shows including Radio Golf; Joe Turner's Come and Gone and That Serious He-Man Ball. He was a principal character in several touring gospel productions by the Master Theatre Company. In addition, he performed in the Alley Theatre's production of A Christmas Carol and in their touring production of I, Barbara Jordan. He is an Encore Theatre Hall of Fame member, where he's portrayed diverse characters such as Shakespeare's Othello, and Romeo in Romeo and Juliet.
He received his initial training from Madison Senior High School. He furthered his education, first, at Sam Houston State University, and later at Prairie View A&M University.

Broderick Jones discusses his deep interest in "Goth" chicks. He stars as Sky in THAT SERIOUS HE-MAN BALL written by Alonzo D. La Mont, Jr. and directed by Marsha Jackson. THAT SERIOUS HE-MAN BALL was shown through October 17th, 2004. Photo by Anthony Hall.

THAT SERIOUS HE-MAN BALL (2004)
Theresa: Do you know I was here when you did THAT SERIOUS HE-MAN BALL in 2004? You played a very different character then, his name was Sky and he was outrageous. You looked a lot different back then than you do now. I didn't even recognize you.
Broderick: We spend most of our time in rehearsals and on Saturdays we have 12-hour days so (laughs) you become that person.
Theresa: When you take on a character, you become that person totally, huh? (Laughs)
Broderick: Yeah, at least here (laughs).
Theresa: I was trying to research you last night.
Broderick: Oh Lord! If you Googled me, you probably found out about some guy who has the same name as mine, he was a cop or something. And then he went to jail.
Theresa: Yeah, I saw that (laughs). But I wanted to find out about you. You played Jeremy Furlow in JOE TURNER'S COME AND GONE back in 2007. You've done a few August Wilson plays here at the Ensemble Theatre. But as Jeremy Furlow, I remember you sang and played the guitar…
Broderick: (Laughs). In that particular play, I played a little guitar. But in SEVEN GUITARS, which was the last show I was in here, I played and sang, so yeah (laughs).

(L-R) Jamie Geiger as Casey MacInnes and Broderick Jones as Riley Innes in THE WAITING ROOM. Directed by Eileen J. Morris and written by Samm-Art Williams, THE WAITING ROOM is showing through October 17th, 2010. Photo courtesy of The Ensemble Theatre.

Theresa: Do you dance too?
Broderick: If the contract calls me (laughs).
Theresa: Have you done musicals?
Broderick: Yeah, I've done quite a few musicals. I've done a few here like BLACK NATIVITY. I've done quite a few. I wouldn't consider myself a singer but I can hold a tune.
Theresa: Well, some people can't, you know. And when I see you onstage playing the guitar and singing, I'm like "Wow, he can sing…" (Laughs)
Broderick: Thank you so kindly. You're so kind.
Theresa: Do you remember THAT SERIOUS HE-MAN BALL? You had that red bandana…
Broderick: Uh-huh….I had the do-rag. That required some work because I was never an athlete in high school. It just so happens that maybe a year or so before that I started working out. So my body was in a better place. But basketball takes a lot of coordination and jumping around and trying to dump the ball. It took a lot; that took a lot. Depending on what the role is, you spend more time doing what you need to do. Like, I know my weaknesses. I know I'm not a strong singer; I can play a little guitar. Some things come naturally and some things are harder for you. A lot of the times, I don't have to spend as much time on dialogue because I've been doing that so long. But if it's singing and dancing, instruments and especially HE-MAN BALL trying to act like you could play basketball, yeah, I spent every second that I wasn't onstage working on that to try to get it right.
Theresa: (Laughs)….trying to remember your lines at the same time that you are shooting the hoops.
Broderick: Right. That was actually a fun play. It was actually very fun (laughs).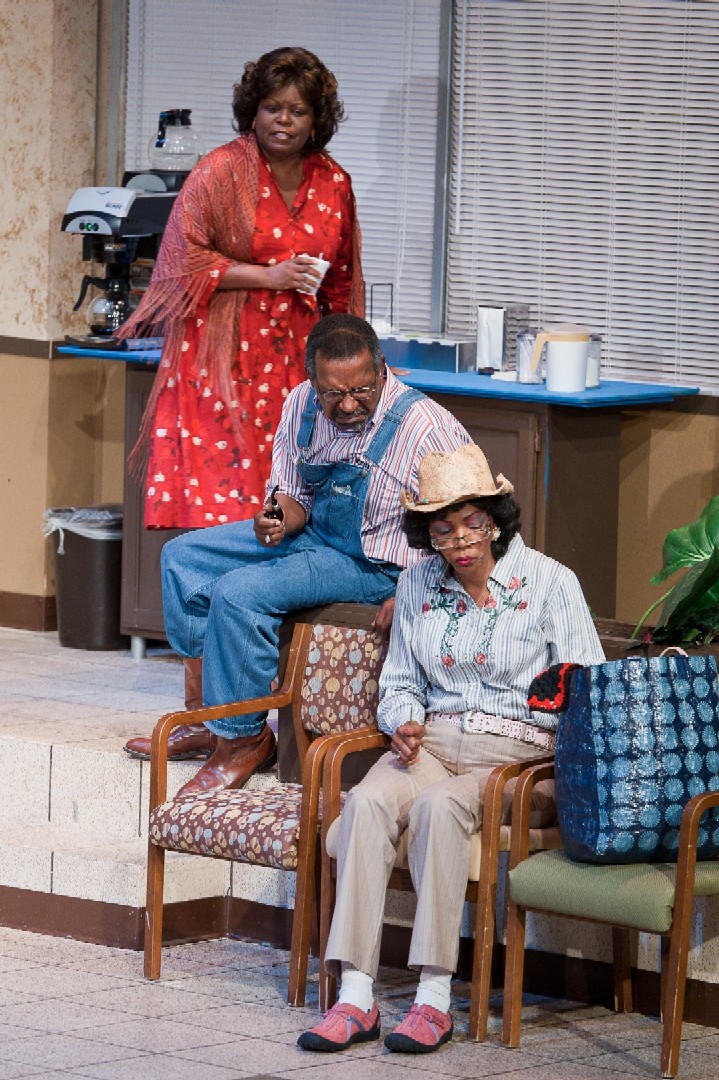 (L-R) Bebe Wilson plays Jesse Innes James, Byron Jacquet plays Uncle Big Mouth and Detria Marie Ward plays Cookie Whitaker in THE WAITING ROOM. Directed by Eileen J. Morris and written by Samm-Art Williams THE WAITING ROOM is showing through October 17th, 2010. Photo courtesy of The Ensemble Theatre.
Theresa: Tell us about THE WAITING ROOM….
Broderick: This play is a comedy. It takes place in the waiting room of a hospital. Now, it's strange because I talk about how my father is in the hospital. We don't know if he's going to make it, a very serious situation.
Theresa: Are you his eldest son in the family?
Broderick: I'm his only son
Theresa: Oh…
Broderick: I have my other family members. My aunt and uncle….
Theresa: Your father's brother and sister.
Broderick: Yeah, they're all around and they're already there. I don't live in the town and it's a small town called Bend River, North Carolina. I haven't been there so I'm the one who visits over the years. So when I get there…..it's strange because the situation can be very hard and difficult but it's actually a comedy. It's really not what you might think it's about also, because the whole play is more about Discovery. And in that Discovery, you find the humor. So that's what it's all about, mainly.
Theresa: That's the main reason I wanted to come see the show because of the comedy part. Everybody would love to have a good laugh. Another reason is because I was just in the hospital waiting room recently. And I hate waiting…..
Broderick: (Laughs)
"Oh God, God, please take care of my daddy……he's sick and he needs You right now. Please, please make my daddy well…..Amen."
Theresa: So, seeing a play called THE WAITING ROOM, it piqued my interest. I said to myself, "Hey, let me see what that's all about."
Broderick: We actually went to a hospital with the cast and everything.
Theresa: You did?
Broderick: Our director (Ensemble Theatre Artistic Director Eileen J. Morris) has a cousin who is a doctor. She talked to him and he gave us a tour where we asked questions about, "Is this real? Can this actually happen in this instance?" And he gave us some insight on what's going on.
Theresa: As part of your research…..
Broderick: One of the things you start thinking about is…..we're sitting, when you have something like, it's just a Waiting Room. What are you going to do for two hours? What business can you do to keep, you know, the audience occupied? You're in the waiting room, you're just pretty much watching TV. But a lot of the times, when somebody is about to die or someone is thinking is about to die, that's when you find out all the family secrets and all the history. And all the history isn't good so…..(laughs). It's about the Discovery and how we react to that Discovery is when the comedy comes out.
"There's just not enough letters in the word 'Great' to describe my daddy."
Theresa: Do you know about the playwright?
Broderick: Samm-Art Williams, yes. Actually he's written for many things including the Martin Lawrence show and The Fresh Prince of Bel-Air. We see that in some of his writing, you could almost see this play as a sitcom. Some of the comedy, as you can see it lends its way for some physical attributes like Martin might have. You can see different parts of that in the actual writing of the show.
Theresa: Did you know Samm-Art Williams used to spar with Muhammad Ali?
Broderick: Yes, yes, he's a large man.
Theresa: He's 6 foot 8 (laughs).
Broderick: Yeah, he's a big guy and I saw that on his bio also.
Theresa: That's amazing. He is from North Carolina where all of his plays are set. Tell us about the part that you're playing….
Broderick: I play the part of Riley Innes. The whole play is pretty much my Discovery.
"I don't know what I'd do without my father."
Theresa: So, it's all about you and your father and your family, of course.
Broderick: It picks up where I receive a phone call, don't know what happened. So, I'm rushing from Greensborough to Bend River which is two and a half hours away. And all the things that go through my mind once I get there. And then I get there, waiting in the Waiting Room and I find out the Discovery. My father's in the ICU (Intensive Care Unit) in the hospital, we're in the emergency room. My Aunt Jessie and Uncle Pat Innes (played by Bebe Wilson and Byron Jacquet) are there and they're the ones that are keeping me abreast of everything that are going on. While I'm there, there are some other people that live in the town that I haven't seen in awhile. And that's when I find out all the Discovery about who's kin to who and things like that….that's where it picks up.
THE CAST
Rachel Johnson Lewis ………..…….Tisha Conswella Dorn
Hannah Blake…………Rachel Hemphill Dickson
Casey McInnes………………....……Jaime Geiger
Patrick Innes……………….Byron Jacquet
Riley Innes……………….Broderick "Brod J" Jones
Gordon McInnes……………….John Stevens
Cookie Whitaker……………….Detria Ward
Jessie Innes James……………….Bebe Wilson
Theresa: For the most part, are you onstage the whole time?
Broderick: There are some parts where I step out but for the most part, I'm onstage. My character and Byron Jacquet's character, we're pretty much onstage the majority of the time. Byron plays my Uncle Pat Innes, he's the one that actually gives me the Discovery. We call him Uncle Big Mouth because, after all these years, right now he's choosing this opportunity out of all opportunities to tell us all about the family secrets. It's a matter of Fear. Some of these real-life instances…..
Theresa: (Laughs)…..Fear?
Broderick: When people are in a Waiting Room and someone's gonna die. Some people like my Uncle Innes are scared that this person is gonna die without letting their children know. It's something that my father should have told me, but he's holding on. Now my Uncle Big Mouth is gonna tell me because he's afraid that my father is gonna die.
Theresa: Now your uncle is talking out of fear, and the Waiting Room is a great opportunity to tell you.
Broderick: One of my lines is, "When he gets to running his mouth, DUCK!"
"Do you believe that God is a fair and just God?"
Theresa: How did you become a part of this play?
Broderick: I've been affiliated with the Ensemble Theatre since THAT SERIOUS HE-MAN BALL. Probably the year before that play was when I first came here to this theatre. This particular theatre has seasonal auditions. Director Eileen J. Morris held auditions depending on the particular role that she has.
Theresa: What did you have to do to prepare for this role?
Broderick: This role is kind of trying because initially I didn't think it was as humorous as we thought it could be so it took more creativity. Just trying to do different things like the Southern Twangs and trying to pick up the pacing. The line load is quite huge, just learning all the lines. So, it was just a matter of pacing, the comedic timing and trying to stay true to what the character is about.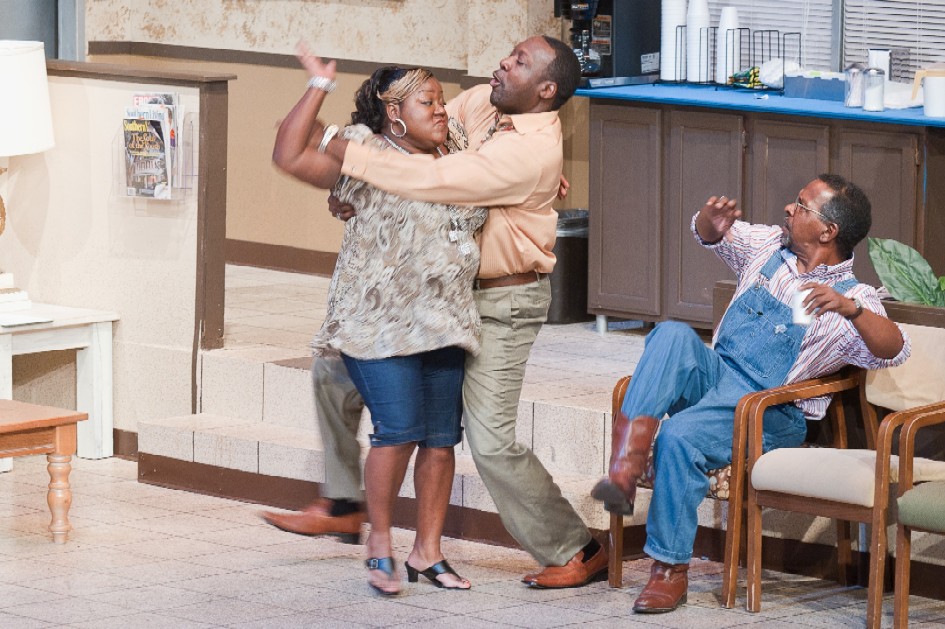 Broderick Jones as Riley Innes is trying to keep Rachel Lewis (played by Tisha Conswella Dorn) from killing Uncle Big Mouth (Byron Jacquet) in THE WAITING ROOM. Directed by Eileen J. Morris and written by Samm-Art Williams, THE WAITING ROOM is showing through October 17th, 2010. Photo courtesy of The Ensemble Theatre.
Theresa: What was it like when you found out that you were going to play the lead character?
Broderick: Honestly, I didn't know that much about this particular play. I take every production with a…..I go in with an open mind and see what I can create. The ultimate job of the actor is to create something out of that character. It was a matter of saying it's one of the lead roles and everybody has a task of what they must do. One of my tasks is to drive the play along. I've been doing it for awhile (laughs).
Theresa: Are you born in Houston?
Broderick: Yes, born and raised in Houston, went to Madison High School. I went on to Sam Houston State University and then Prairie View A&M University. I've been doing Theatre and Communications for quite some time. I teach Theatre also. I also direct and do Lights, everything I can do for the Theatre, I do. I stage manage a lot of shows that I was not in around here.
Theresa: You're the stage manager for the other Ensemble Theatre productions also.
Broderick: Yes. My daddy told me to learn as much of the business as you can. No matter what business that is, so that's what I did.
Theresa: What did your dad say, when you chose the profession of being an actor?
Broderick: You know, I never really chose it. I guess it chose me (laughs). I mean, they always come to see my shows.
Theresa: Your parents are supportive.
"If I don't go to Hell, I'd be really disappointed."
Broderick: Right. I started off early. In high school, my drama teacher had his own production company so my second play was being out on the road and making money from it.
Theresa: Oh wow. How old were you then?
Broderick: I was 15 or 17. I was a junior in high school. So I've been doing it ever since then so everything that's come for me is a result of that. Sometimes, you get burned out and tired and you try to pull away. But then, here comes another opportunity when someone's asking you, "Can you do this?" or "Can you direct this children's play?" It's just been going so some things I believe you're just actually called for. And this is kind of my Calling.
Theresa: Do you have any brothers or sisters?
Broderick: Yeah, I have an older brother and we're 8 years apart.
Theresa: Is he an actor also?
Broderick: No. Nooo-ho (laughs).
Theresa: Does he live here in Houston?
Broderick: Yes, he lives here in Houston as well. It's ironic because no one in my family is an actor. But I was named after Broderick Crawford who is a very well known actor. I think I've seen only one of his movies and he was my mother's favorite actor. Hmm, that's interesting, huh?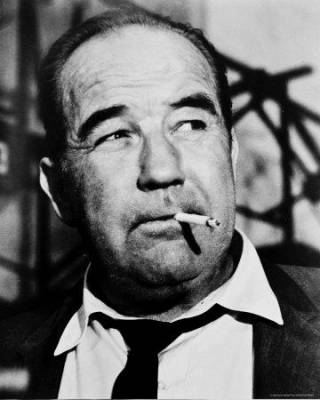 Broderick Crawford
Theresa: Wow, that's amazing. Broderick Crawford won an Oscar for ALL THE KINGS MEN (1949). He was named after his father Lester Crawford and his mom, Helen Broderick who are both vaudeville performers. That is really interesting. Who are your most favorite actors?
Broderick: Carrol O'Connor and I like Tommy Lee Jones (laughs). No one would ever think that, but yeah.
Theresa: Really? That is surprising. You know I've seen Jean Stapleton in a local play here in Houston and watching her, it's hard to separate her from the Edith Bunker character she played in ALL IN THE FAMILY. Carrol O'Connor and Jean Stapleton as Archie Bunker and his wife Edith are almost inseparable.

Carrol O'Connor and Jean Stapleton as Archie Bunker and wife Edith in ALL IN THE FAMILY.

THE CARPET BAGGER'S CHILDREN Starring Jean Stapleton (2001)
Broderick: Well, I like Carrol O'Connor because I believe that true actors should be able to play comedy as well as hard drama. To see him go from Archie Bunker to IN THE HEAT OF THE NIGHT, I just love the characters. You can tell if you really love someone's character because Archie Bunker was pretty wild. But we still loved his character. That's one of the reasons I like him.
Theresa: I know what you mean. I saw Jean Stapleton in an Alley Theatre play called THE CARPETBAGGER'S CHILDREN by Horton Foote. It was almost as if I was waiting for her to start screaming "Aaaaaaarchieeeee!" because it was hard to separate her from the Edith Bunker character. But of course, she played her dramatic part very well. And that's a complete understatement considering she and Carrol O'Connor are veterans of this industry.
Broderick: I like Tommy Lee Jones because he just captivates. He's got his little southern twang, that's how he does it. I've seen him in some very nice roles and that's why those are my two favorites.
Theresa: As an artist, who is the one that most influenced you?
Broderick: Hmmm, that's a good question. My first director, his name is Professor Robert Simms, that's where I got the basis of everything. It wasn't just being an actor. I began to see how he directs. I started kinda doing both (acting and directing), everything all at once. He used to teach at Madison High School and he had his production company called The Master Theatre Company. I was doing a lot. I think I got the most out of working with him and his productions.
"If you see a 3-legged hound dog on the street, don't you kick him! He might be a relative."
Theresa: What would you like the audience to gain from watching this play?
Broderick: At a serious time in life, there is still humor. No matter how bad a situation might be, there is humor in it. And humor is very important especially at a time right now. The most important thing for the audience to remember is, there is always humor in life.
Theresa: What would you like to say to the Houston-theatre going audience?
Broderick: Come see our show (laughs). We need all the support we can get. I mean, just the ARTS, period. Because it's a very trying time right now and we need people to come out and support the theatre. And you can always get something out of what you have come to see. Everybody needs some humor right now and now is the time to come get it.
Theresa: After seeing the show, I was surprised at how major Broderick Jones' role really is. As he pointed out, his character Riley Innes is going through a difficult time, but there was no shortage of laughter.
I hope Director Eileen J. Morris would take it as a compliment if I compared her show THE WAITING ROOM to a Martin TV episode. Martin Lawrence happens to be one of the funniest people on this planet right now. One of my favorite characters in the show is Gordon McInnes played by John Stevens, a white redneck who always proudly wears the Confederate flag across his chest. The funny scenes just escalated more and more as Uncle Innes or Uncle Big Mouth revealed to Riley details of their family's secret past. Byron Jacquet, who played the part of Uncle Big Mouth to the hilt, is over-the-top hilarious!!!
Don't miss THE WAITING ROOM written by the big man Samm-Art Williams, currently playing through October 17th, 2010 at the Ensemble Theatre at 3535 Main Street, Houston Texas 77002. Enjoy the Laughter and get it while you can!!!
"Oh, Hell No!!! Somebody Lie to me please!"
-0-0-0-0-0-
THE WAITING ROOM
By Samm – Art Williams
Laughs fly fast and furiously in the most unlikely setting: a hospital waiting room where friends and family gather to learn the fate of patriarch Pullen Innes, who has just fallen ill. Facing mortality has compelled many to "get right" with God, yet the temptation to "backslide" is omnipresent. The Innes family struggles to maintain their decorum and the sanctity of their family when a shocking secret is revealed. This funny and ironic test of faith almost makes them forget their reason for being at the hospital in the first place. Their lives will never be the same!

Broderick Jones as Riley Innes tells Hannah Blake (played by Rachel Hemphill Dickson), "You people in this town are the boldest damn folk I have ever met!" in THE WAITING ROOM. Directed by Eileen J. Morris and written by Samm-Art Williams, THE WAITING ROOM is showing through October 17th, 2010. Photo courtesy of The Ensemble Theatre.