THE ENSEMBLE THEATRE
www.ensemblehouston.com

Presents the Musical
CHRISTMAS WITH GREAT AUNT
Written by Thomas Meloncon
Directed and Choreographed by Patdro Harris
Musical Direction by Carlton Leake
November 21 - December 27, 2009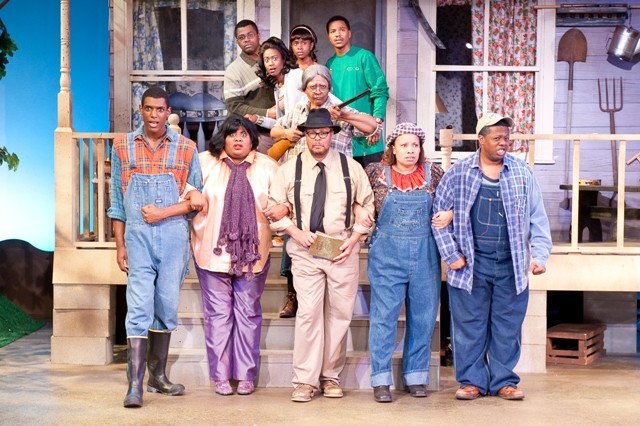 CHRISTMAS WITH GREAT AUNT is Showing at the Ensemble Theatre all through Christmas through December 27, 2009. Photo courtesy of the Ensemble Theatre.
THE CAST
Andrea Boronell……………...…….Farmer 2
Cynthia Brown………………….......…..Casey
Kendrick Brown………………....……Cecil Jr.
Jo Anne Davis-Jones……………….Great Aunt
Marcus Freeman……..................………..Cecil
Shemica Hill……………………....….Farmer 3
Alex Kennedy……………………....…Farmer 4
G. Allen Mack………………..Reverend Jenkins
Rodrick Randall…………….......………Farmer 1
Kacie Rogers…………………......…………Dana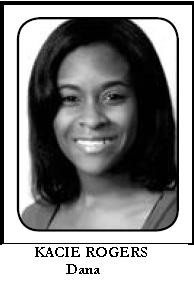 JOY TO THE WORLD!!!
Interviews with the Director and Playwright of
Christmas with Great Aunt
The 2009 Christmas Production of The Ensemble Theatre
By Theresa Pisula
November 27, 2009
Houston, Texas
Theresa@HoustonTheatre.com
For this year's Christmas production entitled Christmas with Great Aunt, the Ensemble Theatre has chosen Patdro Harris to be the Director and Choreographer. Besides being a director, Mr. Harris is a Broadway choreographer and writer, and has combined his directing, chorographical and writing skills to become one of the most innovative and creative talents of our time. He directed the Ensemble's Award winning summer production of THE WIZ. He is nationally and internationally recognized and respected by fans, colleagues and critics. He was voted "Best Director" by the Star Tribune-Minneapolis. He has directed at distinguished theaters such as The Alliance Theatre, Sacramento Theatre Company, Round House Theater, Liberty Theater Cultural Center, San Diego Repertory Theater Company, Syracuse Stage, Penumbra Theater, Tuskegee Repertory Theater, The Ensemble Theatre, True Colors Theater Company, and the Tribeca Performing Arts Center.
He also served as choreographer, artistic consultant and movement director with the Oregon Shakespeare Festival, The Kennedy Center, Studio Theatre D.C., City Theatre of Pittsburgh, Indiana Repertory Theatre, Connecticut Repertory Theatre, The National Black Theatre Festival, The National Black Arts Festival and Broadway's Royal Theatre. Patdro has traveled the world as choreographer, lead dancer for the incomparable Stevie Wonder. He has worked with such artists as the SOS Band, T. C. Carson, Daryl Coley, Yolanda Adams, and India Arie. His talents were also showcased as choreographer and movement specialist in Tony Morrison's world premiere opera, Margaret Garner.
He choreographed the Tony Award-winning Broadway hit A Raisin in the Sun starring Sean Combs and Phylicia Rashad. In TV, his credits include TNN, BET, MTV, Soul Train, the PBS documentary, Dance Black America, and Time Warner's pay-per-view special Nitro Girls. Patdro has also appeared in the movie The Gospel, and has choreographed the television movie adaptation of A Raisin in the Sun. Patdro has successfully written and produced a book and DVD series The Moving Word: Ministry of Dance. Mr. Harris earned a Bachelor of Arts degree from Alabama State University.
In his current home of Atlanta, he serves on many arts committees including the Georgia Council for the Arts, and the Advisory Dance Panel for the Bureau of Cultural Affairs. He holds to his credit the 1996 Helen Hayes Award for Outstanding Choreography and has been honored with a nomination for the same award for Best Supporting Actor: and also received the 2007 Dance Ministry Magazine's Trailblazer Award for Dance Choreographer of the Year.
Theresa: Tell us about Christmas with Great Aunt…
Patdro: It is set in Bethlehem, Texas. It's about 141 miles from Houston, North of Houston. So I wanted to get a rural kind of feel. It won't be your typical sound. You'll hear some banjos playing and some guitar and some hand boning and jiving.
Theresa: I read in the story here that the Gilliam family lived in the Woodlands. So, do the scenes go from the Woodlands and then to Bethlehem, Texas?
Patdro: No, we just reference the Woodlands. You see that the family comes from the Woodlands where they are very proper. And then they visit Great Aunt for Christmas who lives in Bethlehem, Texas.
Theresa: What are your responsibilities as the director and choreographer?
Patdro: Everything (laughs).
Theresa: Well, you better start from the beginning. I want to hear it all.
Patdro: First, we get the script. We read the script and make sure that what's saying on the pages is what we want it to say. Then we take the pages and try to bring it to life. As the director, I meet with the dramaturg Paul Carter Harrison and with Mr. Meloncon (playwright) and talk about what is needed for the play. When we got the script, there was no car. I thought as the director, I want to have a car. So we added a car to it.
Theresa: You did?
Patdro: So we added some other little things to it…
Theresa: You got your car?
Patdro: I got the car.
Theresa: How did you do that?
Patdro: I said, "I think I want a car over there…let's try that." And they said, "You want a what? How do we do it?" So we're still working through all those things in making the car work. As the director, I see it off the pages and it excites my imagination. So I try to pull it from that way. I make sure that the story is being told. It is a musical and it has a great book, so actually we call it a play with music.
Theresa: Did the playwright Thomas Meloncon write the music as well?
Patdro: No, he did not write the music. Carlton Leake (Musical Director) wrote the music. Mr. Meloncon wrote some of the music. He gave us some leeway too like, "This doesn't quite fit…" you know. If it doesn't quite fit, we would go back and adjust and change and shape. Reverend Carlton Leake did a wonderful job. He also did the music for The Wiz.
Theresa: I saw The Wiz, that's why I wanted to interview you today. I thought it was simply magnificent. But the music for The Wiz was written by Charlie Smalls.
Patdro: But we still had to have arrangements. For The Wiz, we had a big orchestra. For Christmas with Great Aunt, we only have six pieces. We have to arrange for different instruments like trombones.
Theresa: So you had instruments in The Wiz. But we didn't see that onstage.
Patdro: No, they're offstage. You won't see them.
Theresa: But the instruments for Christmas with Great Aunt….
Patdro: will be offstage.
Theresa: So I don't get to see them either?
Patdro: All the instruments you see are the people playing hand boning and washboards and spoons.
Theresa: You have something backstage to accompany that to make it more magical.
Patdro: Yeah, most definitely.
Theresa: Wow. That's brilliant. Pretty sneaky, but brilliant; so what we see onstage may not be much. But the beautiful music comes from the instruments backstage which we don't see. So do we have a car for tonight? (Laughs)
Patdro: We will (laughs). Things that you didn't think about on these pages, but he (Thomas Meloncon) referenced. I said, "I think it would be great to have a car." I needed a place for the people from the Woodlands to have a safe haven to go to. So then when they go to this foreign place in Bethlehem, Texas I said, "Let's make them a safe place." And then that would be the car.
Theresa: Have you worked with the playwright Thomas Meloncon before?
Patdro: This is my first time, actually. This is my first time working with Mr. Meloncon.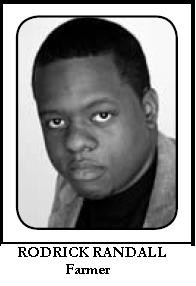 Theresa: How do you like working with him?
Patdro: I love it. I think it's a beautiful story to be told. And that's what definitely captured me first about him. He likes writing about places especially in Texas like Bethlehem. I mean, who could resist that? So that part was really great and just the process of pulling it all together. I'm a director, I love the process. Not just the final result but to pull it all together and research Bethlehem. And go back and shape it with the actors, figuring out the things that we don't know. The farmers had no names. So, we had to name them through the process. Farmer 1, 2, 3, 4, we had them pick out their own names. And make up their names, their occupations…
Theresa: You made them pick out their own names?
Patdro: Oh yeah, of course.
Theresa: Why would you do that?
Patdro: Because it makes them all what they are. I asked them, "What are you saying? What is Mr. Meloncon giving you to say?" That tells you what kind of person you are, because of what you're saying.
Theresa: This is a cast of…how many?
Patdro: Ten, a cast of ten.
Theresa: Did you cast this play? How long ago?
Patdro: Yes, I cast the play. Some people were cast last summer. So we auditioned them in July and August. And we lost a couple of people so we ended up changing some people in the process. After we work it all out, you end up with the right people.
Theresa: Do you have somebody behind the scenes ready to come on just in case something happens to the actors?
Patdro: Do we have understudies? Yes, we have understudies. Yes, we do. I always got to have a plan A then a plan B, C, D through F.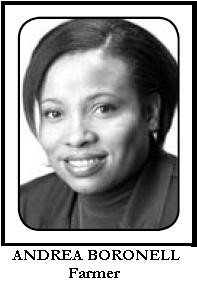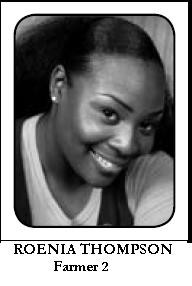 Theresa: How did you become part of Ensemble Theatre?
Patdro: I worked here before. Eileen Morris used to be here, she went away. I came back once, like in '91 or something. She came looking for me to work on something but I didn't have the time. She couldn't find me but I was working at the Penumbra Theater in Minneapolis which is where one of our mentors Lou Bellamy operates that theater. So, he says "He's up here working on Ain't Misbehavin' let me put him on the phone." And we talked about coming back, and I thought about it and it was just a good match. You know, she wanted me back.
Theresa: Who did you work with at Ensemble Theatre prior to Eileen Morris?
Patdro: Marsha Jackson Randolph. She was actually from Atlanta, actually a native Houstonian. But I knew her from Atlanta, that's where I'm from. That's how I got to know her.
Theresa: What did you work on with Ms. Randolph?
Patdro: Black Nativity.
Theresa: And that's also a Christmas Musical?
Patdro: Right, which I'm directing right now in Atlanta. I go for rehearsal there by tomorrow.
Theresa: Okay (laughs). So you're also bi-coastal?
Patdro: Oh yeah, definitely. I spend a couple of my off days from here to Atlanta. My assistant takes over and I fly back there tomorrow for rehearsal.
Theresa: Then, you must have an assistant there as well.
Patdro: Yes.
Theresa: You're very good.
Patdro: I figured out something: No Work, No Eat (laughs).
Theresa: That's right (laughs). So you've done a lot of these things. Every Christmas, you got two at a time?
Patdro: Not usually, not two at a time. But the last couple of years, I had two at a time. I directed the Twelve Ways of Christmas which was before this one.
Theresa: Right. The Twelve Ways of Christmas was Ensemble Theatre's Christmas production in 2008.
Patdro: Carlton Leake also did the book, the music and lyrics for that one. It was his play.


Artistic Director of The Ensemble Theatre EILEEN J. MORRIS
Theresa: So you worked on Black Nativity with Marsha Jackson Randolph here at the Ensemble Theatre. But this time around, how did you come to work with Eileen Morris?
Patdro: Eileen called me up. She knew of my work and I came in and did a little work with her for a Xmas show called Christmas Coming Uptown. I did a little choreographic work for that. And she says, "Well I'm looking for a new Xmas play." Well I said, "This friend of mine, Reverend Carlton Leake has this great play called The Twelve Ways of Christmas." She asked me, "Would you like to direct?" So we got to do it that way. I also did Ain't Misbehavin' so I've done two plays here in the last three seasons.
Theresa: What is it like to work with Stevie Wonder?
Patdro: Oh great! I learned a lot. He's really great, very gracious. I still have relationships from that time. He taught me a very valuable lesson in that no matter where you are, always put on the best show. He's very gracious, very kind, definitely a genius, a wonderful man to work with. He's definitely a good person to work for.
Theresa: How long did you work with him?
Patdro: About three years. I did a national tour and I got to choreograph his world tour.
Theresa: Does he still tour?
Patdro: Yeah he still tours all around the world, a lot in Europe, a lot in Japan. I got a chance to do all of Japan with him, the Far East and all of Canada.
Theresa: So you traveled with the touring company. Wow.
Patdro: Yeah. I was a choreographer and lead dancer for the tour. I worked with the band, him as well, the singers, everybody.
Theresa: So basically, he sat on the piano while all the dancers….
Patdro: Oh no. He got up. He got up and danced as well…
Theresa: No…(laughs)
Patdro: Yeah (smiles).
Theresa: (Laughs) you taught Stevie Wonder how to dance?
Patdro: I taught him the steps. I said, "Let me show you these sixteen counts." And I taught him like stop, go over here. I said, "Do it like an African King would do it." Like see how he thinks about it. Or do it like a Harlem person, a real hard person in Harlem and try to see where his thoughts were.
Theresa: He did it? He danced while he's onstage?
Patdro: He did it. I could see him. I said, "Well now let's do this." After I saw him do it, I had a reference point of what he sees. Then, I can see what he sees. I showed him how to do it in the same space.
Theresa: What is it like to work with P. Diddy?
Patdro: Great. I call him a pastor. He's always very giving and very loyal. I did the Broadway show with him. He's very gracious, a super, great work ethic.
Theresa: Right. Well, he started off from the streets as well.
Patdro: But some part of TV is persona. You know, but when you work with him the working thing is always Sean Combs, always great. He's always giving us dinners, always giving us food and a real hard worker.
Theresa: He's very generous.
Patdro: Very generous, very kind.
Theresa: What did you do for him?
Patdro: I choreographed A Raisin in the Sun.
Theresa: Is that a musical?
Patdro: No it's not a musical. It's a play that has musical elements. A lot of times when I work with Kenny Leon as the director, I come in and stage the shape of the movement like if it's a particular period. This was set in the '50s, so we move in the '50s different than we move in the new millennium.
Theresa: Sure, slower.
Patdro: Slower and more cordial versus sixteen notes. "Yo what's up everybody? Yo what's up?" As opposed to, "How ya'll doin'? What's going on?"
Theresa: (Laughs) well I've seen the play on TV.
Patdro: I did that as well.
Theresa: You did A Raisin in the Sun for the TV version.
Patdro: Yes.
Theresa: What was that like?
Patdro: That was great. It was cold in Canada, extremely cold (laughs).
Theresa: It was filmed in Canada.
Patdro: Yeah. Because Canada has Thanksgiving in October and we were there through November. So, while we were there for our Thanksgiving in November, they gave us a homeless American Thanksgiving.
Theresa: (Laughs)
Patdro: Funny, funny, funny.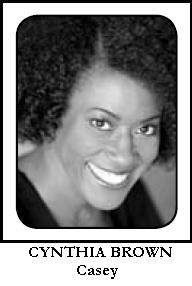 Theresa: How is it like to work with Phylicia Rashad?
Patdro: She was an actual dream. She'll let you know….if you have money or class and style, she will show you how to use that. She's very accommodating, very giving. Giving is just how you change the world. And she sets a great example of how to do that.
Theresa: She's amazing.
Patdro: Ahh-mazing and such a sweetheart.
Theresa: What would you like to say to the Houston Theatre-going audience about Christmas with Great Aunt?
Patdro: A wonderful play if you like a good time. I like it when you go see a play and it holds up a mirror so you can see yourself. Not only to adjust yourself but also for correction and reflection; especially for correction, to come and see yourself and laugh at yourself. On our previews, people have come and said, "How did you get that subject matter where people can see themselves?" I like doing theatre pieces where you walk in and it's just where you are. Sometimes, it's back in the '30s, back in the '40s but this piece is at right now. So, when you come in, there will be some elements you're gonna recognize especially Houstonians. Its set in Bethlehem, Texas and the family's from Houston. And some good music, good ol' country singing and all that, it's just a great heart warming story. Love doesn't always feel good and it's still right.
-0-0-0-0-0-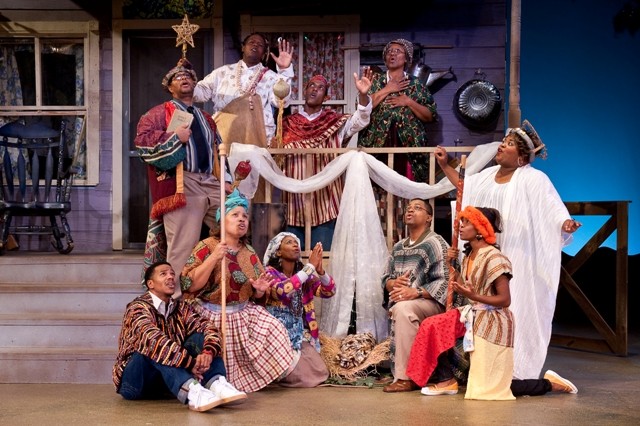 CHRISTMAS WITH GREAT AUNT is Showing at the Ensemble Theatre all through Christmas through December 27, 2009. Photo courtesy of the Ensemble Theatre.
Joy to the World, the Lord is come!
Let earth receive her King
Let every heart prepare Him room,
And Heaven and nature sing,
And Heaven and nature sing,
And Heaven, and Heaven, and nature sing.

Joy to the World, the Savior reigns!
Let men their songs employ
While fields and floods, rocks, hills and plains
Repeat the sounding joy,
Repeat the sounding joy,
Repeat, repeat, the sounding joy.
-0-0-0-0-0-
The Lord God Almighty has truly blessed the City of Houston with such enormous talent. Thomas Meloncon, a nationally known playwright and poet, is a native of Houston's Fifth Ward. Meloncon began writing plays and performing poetry and civil rights folk songs in the early 1970s. For over 25 years, he toured his original poetry in elementary schools with The Jazz and Poetry Program created by Emmy Award winning jazz drummer, Bubba Thomas. He is the author of many plays that have toured nationally, including The Diary of Black Men, Whatever Happened to Black Love, If Beds Could Talk and Jump the Broom.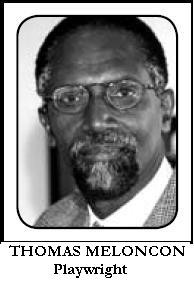 His previous productions at The Ensemble Theatre were The Drums of Sweetwater, Johnny B. Goode and The Man Who Saved New Orleans. He has received numerous awards including two Congressional Recognition Awards. The Salute to Texas Playwrights Award from The Ensemble Theatre, Distinguished Alumnus Award 2006 from Texas Southern University, The Houston Area Women's Center Community Service Award, The Julia C. Hester Trailblazer Award, Outstanding Texan Award from the Texas Legislative Black Caucus, The Excellence in Community Health Education Award from the Dan L. Duncan Cancer Center at Baylor College of Medicine, and The Creative Writing Award from The Houston Chapter of the National Association of Black Journalists.
Mr. Meloncon is also the author and director of the Radio Drama Series, The Robeson Family Chronicles, which airs weekly on KTSU Radio 90.9 FM and host and co-producer of Expressions which airs weekly on HCC-TV. He also writes and directs plays for the Harris County Precinct One Seniors Drama Program. Mr. Meloncon is an assistant professor in the Fine Arts department of his Alma Matter, Texas Southern University, where he earned both his bachelor and masters degree.
Theresa: Mr. Meloncon, please tell us about your radio show.
Thomas: I have a radio show on KTSU. Actually, it's a radio drama series. I think this is my forty-seventh episode, so as a playwright I developed a radio drama.
Theresa: How many people are in the cast?
Thomas: It's a cast of about 7 people and it's a family. They just go from episode to episode with special effects, the whole works. It's based upon the old radio drama series. And it deals with issues with a little feel of humor. With the series, the type of issues we deal with everything from teenage pregnancies to Obama. So we follow this family as anybody else would follow a family. And they just talk about the issues.
Theresa: How often does this radio show come on?
Thomas: It runs on KTSU on Mondays and Wednesdays weekly. It's a weekly episode. On Mondays it airs at 6:30am and Wednesdays. Sometimes we do reruns also, but the next one will be my forty-eighth episode. I've been doing it for about two years now. Of course we record it at another place.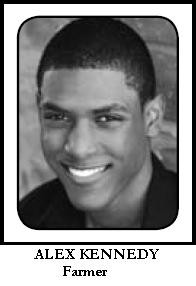 Theresa: I was just gonna ask you that: is it not live?
Thomas: No, it's not live. It's all recorded and we put the special effects, the cups and glasses and spoons and call horns, everything.
Theresa: Wow. Now you write every episode?
Thomas: I write and direct every episode.
Theresa: Wow.
Thomas: It's not easy but it's something I've always wanted to do.
Theresa: Now let's talk about Christmas with Great Aunt. What inspired you to write this play?
Thomas: I've been writing for over 30 years. As a playwright, we're always thinking of different things. I wrote this particular piece last year. It was performed in this large church, this particular play…
Theresa: Here in Houston?
Thomas: It's the Lilly Grove Baptist Church. I had a separate cast. It was very successful. We performed 3 shows in a huge gym with a set, the whole works so the church really did a good job.
Theresa: Was it a musical then?
Thomas: Yeah, it was a musical then but not as many songs and not as much dance. Now this is, of course, the professional production of it. Meaning that, they were able to build a set and the actors have more experience. We had professional actors then, but we also combined it with church people, church members. And it did very well.
Theresa: Since, there is such beautiful gospel music on this show - shall I coin the term gospel musical?
Thomas: Yeah. I don't like the term but it's what people are familiar with. But it's not in the sense of gospel musical because the term puts the play in a box. If you say you're going to a gospel musical or a gospel play, then they base the play not upon your own merit, but on the criteria of what other playwrights have done. So they come expecting what other playwrights have done as opposed to looking at you as an individual playwright with your own signature. So for you to say it's a gospel musical, it's okay but it's not exactly a gospel drama.
Theresa: So it's more like a Christmas musical.
Thomas: I like Christmas musical as opposed to gospel drama. Because "gospel" gives certain kind of connotations, you expect it to be religiously driven. Now, although it is based upon teachings from the bible…
Theresa: And it has gospel music….
Thomas: It has contemporary music. Some of the music is original. That's why I don't like the word "gospel" because I don't want people to expect to hear "The Lord delivered Daniel…" Well, this is not what it is. And it's not driven by gospel; it's driven by a story. Some of these plays, you wait for the song to come. I want them to wait for the story to unfold, not the song. The song becomes a complement.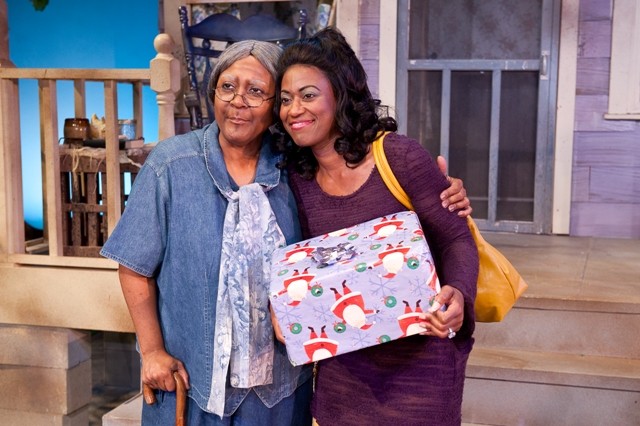 Jo Anne Davis as Great Aunt and Cynthia Brown as Casey star in CHRISTMAS WITH GREAT AUNT now Showing at the Ensemble Theatre all through Christmas through December 27, 2009. Photo courtesy of the Ensemble Theatre.
Theresa: How did you come to work with Ensemble Theatre?
Thomas: I've been around the Ensemble since it was founded by the late great George Hawkins. He is the founder of the Ensemble Theatre
Theresa: You worked with him?
Thomas: Yeah, we worked and directed together in terms of supporting each other in the mid-'70s. Being a Houstonian, I was here when he got here. So we were both involved in the art movement. So I've been around Ensemble since its inception. And that's been close to almost 30-something years. We've grown up together, if you will. I'm very familiar with the Ensemble and I have had some great productions here. I've worked with Eileen Morris who is a wonderful director. We've had a good relationship.
Theresa: The city of Houston has seen some devastating natural disasters such as Hurricane Ike last year. From your point of view, how has this affected our community?
Thomas: Well, I mean it touched all of us. It brought a lot of Louisiana people who sought refuge from these terrible storms. I think Houston did a great job in reaching out its arms. It was a wonderful reception, if you will, and brotherhood and sisterhood. A lot of us African Americans, we have some relatives in Louisiana, it's not like it's a foreign country. As a result of that, I wrote The Man Who Saved New Orleans, which is the result of me experiencing that event in terms of people coming together.
Theresa: The Man Who Saved New Orleans is about Hurricane Katrina, another huge disaster of our community. For those who have not seen the play, can you please tell us what it is about?
Thomas: The Man Who Saved New Orleans centers on a grandfather and a grandson. In essence, what happens is that the grandfather tries to save his son. When he comes here (Houston), of course, him and his family have been uprooted so his son really wants to go back home. His son has his girlfriend missing and so he's in love with his girlfriend. He tries to go back to New Orleans to find his girlfriend. But what happens symbolically is that the grandfather sees his son is attempting to save New Orleans. The idea is that if you can save the young people and get their heads on straight, then you will save the future of New Orleans. So he was trying to save his grandson.
Theresa: What would you like the Houston theatre-going audience to gain from watching this play Christmas with Great Aunt?
Thomas: It's a play about how we relate to Christmas and how it has, in a sense, slipped from its true definition. Our consumption and materialism and all these things have turned Christmas into a Black Friday, if you will, in terms of people running out to the malls. I'm not a Scrooge, I have children. My children, of course are grown.
Theresa: How many children do you have?
Thomas: Two adult girls. So, the thing of course, is that people can remember the true meaning of Christmas in terms of the birth of Christ and how that transferred into human beings having more humility and compassion with one another. I mean, this is the time of year where economic times are hard. And Christmas is the time where people should gather together and be thankful for what they have. So I'm hoping this play will allow people to re-evaluate the true meaning of Christmas, which is about family and spirituality and brotherhood.
Theresa: What would you like to say to everyone out there about this musical Christmas with Great Aunt?
Thomas: I hope that they would come out to see the play. It was very well directed by Patdro Harris and of course, the music is by Carlton Leake. These are very talented individuals. The dance, the music, the spectacle and the costumes especially the set, is just amazing. And I think that there are not a lot of Christmas plays in terms of the African American theatrical community. We don't have a truckload of Christmas plays so I'm hoping that this is the thing that will bring people out. And it's a family drama so I would like to encourage the Houston community to bring their family members out, their children. It's PG (pause) no, no I mean it's not PG….
Theresa: It's rated G for General Audiences.
Thomas: It's G for General Audiences (laughs).
Theresa: Personally, I love the Ensemble Theatre. I firmly believe that the Ensemble puts on one of the best Christmas shows in Houston. And I want everybody to know that if you don't see the Ensemble Theatre's Christmas show, you are missing quite a rare jewel of a show.
I've been to Christmas plays here before where I was feeling at the lowest point of my life. And I come here to 3535 Main Street by myself, not really expecting much because my head is all preoccupied with all these personal problems. And after you hear the artistic and cultural influence, the gospel music, Xmas songs and dance, I came out feeling so uplifted by the show.
After watching the Xmas show, I came out realizing that my problems that I thought were huge and overwhelming, these things are really very insignificant. You know, I worry about the stress of putting together a Xmas party, how big the turkey will be and all that. But you know what? Great Aunt served possum stew and she's so proud of it. And then I realize that it's not about grand-standing. It's about family togetherness and the memories you create during this time of year.
I guarantee that the music and the songs will fill you up with great happiness. And then the story of Christmas with Great Aunt which is filled with morality, laughter, humor and the inherent values of the true meaning of Christmas will totally relieve you of all the stress about this season. It will put you in a good mood.
Thomas: Absolutely. Good.