Houston Grand Opera

Presents

THE BAD BOYS OF OPERA IN

WOLFGANG AMADEUS MOZART'S

THE MARRIAGE OF FIGARO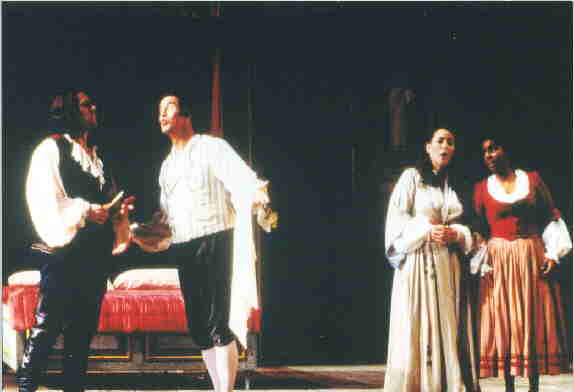 (L-R) Count Almaviva (Jean-Luc Chaignaud), Figaro (Dean Peterson), Countess Almaviva (Pamela Armstrong), and Susanna (Nicole Heaston)



The maid locked in the dressing room? A man jumps from the balcony? And my wife is all aflutter? The Count Almaviva wonders what the hell is going on as Figaro tries to explain that it was he who jumped from the balcony, not Cherubino. And The Countess and Susanna wonders when all this insanity is going to end.

Houston, Texas, May, 1998
by Theresa Hyde
TheresaHyd@aol.com

Houston Grand Opera's Production of The Marriage of Figaro Presents The Bad Boys of Opera: David Gockley (HGO General Director), Lawrence Renes (Conductor), Goran Jarvefelt (Production), Harry Silverstein (Director), Carl Friedrich Oberle (Set and Costume Designer), Tony Award Winner Ken Billington (Lighting Designer), and the Baddest Bad Boy of them all, Wolfgang Amadeus Mozart (Composer).

HGO concluded its mainstage season with its critically acclaimed production of Mozart's The Marriage of Figaro, originally directed by the late Goran Jarvefelt in 1988. The Houston Grand Opera's production of The Marriage of Figaro opened Friday, April 24 at the Wortham Center's Brown Theater with additional performances on April 26m, April 29, May 2, May 5, May 8, May 9, and May 10, 1998. The Marriage of Figaro was sung in Italian with English surtitles.


THE COMPOSER, WOLFGANG AMADEUS MOZART
An opera in four acts, The marriage of Figaro was composed by Wolfgang Amadeus Mozart with libretto in Italian by Lorenzo Da Ponte, based on the French comedy of the same name Beaumarchais. The Marriage of Figaro was first performed in Vienna on May 1, 1786. The Marriage of Figaro centers upon the injustice of the class system in Mozart's time as the very married Count Almaviva attempts to invoke his "droit de seigneur" (right of nobility) with the servant Susanna on the day of her wedding to Figaro. The servants outwit their master with the help of the Countess and force the Count to behave better towards his wife.




David Gockley




HGO GENERAL DIRECTOR, DAVID GOCKLEY
In a letter to all Operagoers, HGO General Director David Gockley explains that both The Arabella and The Marriage of Figaro Operas share a theme: that human relationships survive through the partners' capacity to forgive each other. However, he poses an interesting query: "Why is it always the men who commit the offenses and the women who do the forgiving? How about some balance here!" he demands.




Lawrence Renes




THE ORCHESTRA: Ten first violins, eight second violins, six violas, four cellos, three basses, two flutes, two oboes, two clarinets, two bassoons, two horns, two trumpets, timpani and harpsichord.


THE CONDUCTOR, LAWRENCE RENES
Twenty-seven year old Danish Maestro Lawrence Renes made his American and HGO debut conducting the Houston Symphony with this production of The Marriage of Figaro. Maestro Renes made his professional debut in 1992 with the Philharmonic Orchestra of Gran Canaria and since 1996 has been the Principal Guest Conductor of the Netherlands Radio Philharmonic. At the International Conductors Masterclass of the Netherlands Radio in August 1992, he was awarded First Prize for conducting the Dutch Radio Symphony Orchestra. He has appeared with the Dutch Touring Opera, the Zagreb Philharmonic, Oosta Orchestra, Netherlands Radio Philharmonic, Brabant Orchestra, the Sydney Symphony Orhcestra, the Loire Philharmonic and the Rotterdam Philharmonic. Maestro Renes has recorded on Sony with the Royal Philharmonic Orchestra and has conducted operatic works by Rossini, Walton, Mozart and Britten. He will return to HGO in a future season for Don Giovanni.



PUFF DADDY COMBS, you had your try at Side One of Led Zeppelin 4 (Four) with Jimmy Page. But, these guys can show you how to Conduct a Real Opera!!!



Jarvefelt's production of The Marriage of Figaro was first presented in 1988 and then again in 1991 during HGO's Mozart Festival commemorating the 200th anniversary of the composer's death. A comic and musical masterpiece, The Marriage of Figaro was considered revolutionary when it was first performed for its clever portrayal of servants outwitting their aristocratic masters. This quintessential comedy of manners is a timeless look at the relationships of husbands and wives, masters and servants with hearts both fickle and true. Director Harry Silverstein and the production team (set and costume designer Carl Friedrich Oberle and lighting designer Ken Billington) has brought the beauty of Javerfelt's production to the Brown Theater.




Goran Jarvefelt




THE PRODUCTION, GORAN JARVEFELT
Goran Jarvefelt was one of Sweden's most successful directors before his death in 1989 from cancer. Already acclaimed for his Mozart productions at the Royal Theatre Drottningholm in Sweden, in which he collaborated with the Swedish conductor Arnold Ostman, Houston Grand Opera commissioned Mr. Jarvefelt to create new productions for the trilogy of Mozart-da Ponte operas. Working with German designer Carl Friedrich Oberle, the director created a unit set, patterned after the Drottningholm Court Theater, that was capable of serving all three productions with a minimal number of changes. The first of these productions to reach HGO was Don Giovanni in 1986, followed by Cosi fan tutte in the spring of 1988 and The Marriage of Figaro in the fall of 1988. All three were revived for HGO's Mozart Festival in the spring of 1991; the festival was dedicated to Mr. Jarvefelt. The director worked for many companies around the world, including Welsh National Opera, Komische Oper Berlin, Grand Theatre de Geneve, Santa Fe Opera, Stockholm Opera, Vancouver Opera, Stuttgart Opera, Australian Opera and the Royal Opera of Sweden.




Harry Silverstein




THE DIRECTOR, HARRY SILVERSTEIN
Director Harry Silverstein is an Assistant Professor of Music and Director of the De Paul Opera Theatre at DePaul University School of Music in Chicago. He has worked frequently with HGO, most recently directing Verdi's Rigoletto in 1994. Mr. Silverstein has directed for Wolf Trap Opera, the Chautauqua Opera, the Victorian State Opera, the Dallas Opera, the Ravinia Festival, the Michigan Opera Theater and the Lyric Opera of Chicago. Known for his work on contemporary operas, Mr. Silverstein's collaborations with Philip Glass include the world premiere of The Making of the Representative for Planet 8 at HGO (Assistant Director) and the European premiere at English National Opera and New York City Opera and the South American premiere of The Fall of the House of Usher for Sao Paulo, Brazil.




Carl Friedrich Oberle



SET AND COSTUME DESIGNER, CARL FREIDRICH OBERLE
German born designer Carl Friedrich Oberle was the principal set and costume designer for the late Goran Jarvefelt. For HGO he designed Don Giovanni in 1986 and Cosi fan tutte in 1988 and this production of The Marriage of Figaro which premiered 1988. Mr. Oberle has designed Don Carlos (Copenhagen), Lohengrin (Geneva), Parsifal (Amsterdam), The Magic Flute, The Masked Ball, The Ring Cycle, Der Rosenkavalier and La Traviata (Welsh National Opera), The Dialogues of the Carmelites, Tannhauser, Salome and The Masked Ball (Royal Opera, Stockholm), Elektra, Intermezzo, Die Schweigsame Frau, The Marriage of Figaro and Daphne (Santa Fe Opera), the world premiere of Vincent (Finnish National Opera), The Magic Flute, L'incoronazione di Poppea, La Clemenza di Tito, Cosi fan tutte, Don Giovanni, Der Rosenkavalier, Idomeneo, The Makrapulos Case (Australian Opera).




Ken Billington




LIGHTING DESIGNER, KEN BILLINGTON
Lighting designer Ken Billington, co-creator of HGO's revolutionary Multi-media Modular stage, recently won a Tony award for the Broadway revival of Chicago. The sixteen productions he has lit for HGO include last season's Faust and Salome and recent productions of Madame Butterfly and Don Giovanni. Billington has over 70 Broadway productions t his credit including Annie, Candide, Inherit the Wind and Hello Dolly! His opera credits include Madame Butterfly for the Teatro Colon in Buenos Aires, Candide for the New York City Opera, Harold Prince's productions of The Girl of the Golden West, Madame Butterfly for the Lyric Opera of Chicago and Turandot for the Vienna State Opera. Mr. Billington has been nominated for six Tony Awards, received two Los Angeles Drama Critics awards and has won an Ace award for television design.


PUFFY COMBS, your gig on Saturday Night Live with Jimmy Page was great and all.......But, can you like, sing it in Italian?




Figaro reasons with Susanna: "If his Lordship wants some fun, he'll get it. If my dear Count feels like dancing, I'll call the tune....."




French Baritone Jean-Luc Chaignaud made his American and HGO debut as Count Almaviva. Also making their HGO debuts are American soprano Pamela Armstrong as the Countess and American bass Dean Peterson as Figaro. Former Houston Opera Studio members soprano Nicole Heaston and soprano Beth Clayton are Susanna and Cherubino. Houston-based mezzo-soprano Katherine Ciesinski and Hungarian bass Jozsef Gregor moonlight from their Arabella roles (Adelaide and Count Waldner) to play Marcellina and Dr. Bartolo. Rounding out the cast are former HOS member tenor Jon Kolbet as Don Basilo, American tenor Mark Swindler as Don Curzio, American bass Harrison Moore as Antonio and current HOS member Jennifer Aylmer as Barbarina.

The alternate cast features current HOS members baritone Edward Scott Hendricks and soprano Tiffany Jackson as the Count and Countess. Bass Christopher Scott Feigum is Figaro, while soprano Jennifer Aylmer sings Susanna. Mezzo-soprano Joyce Didonato rounds out the alternate cast as Cherubino.

Jean-Luc Chaignaud as Count Almaviva
Mr. Chaignaud has studied at the Conservatoire de Paris and the Ecole d'Art Lyricque de l'Opera de Paris. Since making his professional debut in 1988 as Belcore in Elisir D'Amore in Bordeaux, Mr. Chaignaud has become a frequent performer with Europe's leading opera houses, festivals and symphonies including the Vienna State Opera, Deutsche Oper Berlin, the Opera Bastille, La Scala, the Festival Provence, Bregenz Festival in Venice and the BBC Symphony Orchestra.




Pamela Armstrong as Countess Almaviva sings, "Where are those happy moments of sweetness and pleasure? Where have they gone, the vows made by those lying lips?"



American Soprano Pamela Armstrong makes her HGO debut as Countess Almaviva. Ms. Armstrong is a graduate of the Manhattan School of Music and spent three years at the Stadttheater Giessen in Germany where she appeared as Donna Anna in Don Giovanni, Agathe in Der Freischutz and Ilia in Idomeno. Ms. Armstrong made her New York City Opera debut as Mimi in La Boheme and has performed at the Opera Bastille, Michigan Opera Theatre, the Grand Theatre de Bordeaux and the Vienna State Opera tour in Beijing.

American bass-baritone Dean Peterson makes his HGO debut as Figaro. Mr. Peterson has performed Figaro for New York City Opera, (telecast on PBS' Great Performances), Netherlands Opera, Santa Fe Opera, Cleveland Opera, Connecticut Grand Opera, Calgary Opera and Edmonton Opera. Recently Mr. Peterson has appeared at La Scala in the title role in Boito's Mefistofele, Colline in La Boheme, Raimondo in Lucia di Lammermoor, and as Don Fernando in Fidelio; Teatro Carlo Felice in Genoa as Rodolfo in Bellini's La Sonnambula; and Palma de Mallorca as Mephistopheles in Faust and the Four Villains in The Tales of Hoffmann. He will return to HGO next season as the Four Villains in the Tales of Hoffmann.




Beth Clayton (behind chair - Cherubino), Jean-Luc Chaignaud (Count Almaviva), and Nicole Heaston (Susanna)





SUSANNA: Let me go, my lord
THE COUNT: You know how much I love you, Basilio has already told you.

Later, upon finding out that CHERUBINO has been eavesdropping behind the chair.....

THE COUNT (to Susanna): So, did he hear everything I said to you?
CHERUBINO: I tried my best not to listen!

Former Houston Opera Studio member Nicole Heaston returns as Susanna, Figaro's betrothed and the object of the Count's lust. Ms. Heaston created the title role of Jackie O in the world premiere last season (CD available on the Argo label) and appeared as Pamina in The Magic Flute. She sang her first Susanna last summer with the Wolf Trap Opera and later in the year was Pamina again with the Washington Opera. This season she made her European operatic stage debut in Montpellier as Anne Trulove in The Rake's Progress. Ms. Heaston made her HGO debut as Juliette in the alternate cast of Gounoud's Romeo et Juliette and was Saint Settlement in Virgil Thomson's Four Saints in Three Acts, which she sang at the Lincoln Center Festival in 1996 and at the Edinburgh Festival. On the concert stage, she has performed the soprano solos in The Messiah, Bach's B Minor Mass and St. Matthew Passion, Neue Libeslieder Waltzes, A Song of Thanksgiving, and Dona Nobis Pacem by Vaughan Williams.

And finally, Houston Grand Opera General Director David Gockley urges you not to miss Carmen at the Cynthia Woods Mitchell Pavilion in The Woodlands on May 30, or at the newly refurbished Miller Outdoor Theatre, the following weekend, June 5th and 6th. He also cordially invites you to join The Houston Grand Opera this October, 1998 for The Flying Dutchman.

The Wortham Center featured easy wheelchair access to both theaters. An infrared listening system, generously underwritten by Pennzoil Company, was available free of charge at all performances. For future Houston Grand Opera productions, please call the subscription office at 713-546-0246 or 1-800-346-4462. Descriptive services for visually impaired persons are also available with 48-hour advance reservations. Please call the Education and Outreach Department at 713-546-0232 for information or to make a reservation.