CLOSE ENCOUNTERS OF THE ALBEE KIND

ALL OVER by Edward Albee was performed at Stages Repertory Theatre from March 5th thru the 29th, 1998. I met Phil Fisher on April 27th, the evening of the Ntozake Shange Interview at The Ensemble Theatre. Over an ice-cream-brownie dessert at the IHOP, we discussed our favorite topic, Theatre, of course. And I laughed over the best quote on Theatre I ever heard.

I was commenting on the terrible plight of Theatre, and how the biggest problem is that people just don't appreciate and support live Theatre. I mentioned a particular case wherein there was a stage performance located inside a very popular Mall, where there were actually more people onstage than there were in the audience.

"There were only 3 people in the audience, you know?" I shouted in despair. "Oh, but the Mall was packed!" I continued to rail, "everybody was out.....buying Sneakers!"

"Well, they shoulda been Sneaking By!!!" was Phil Fisher's quick-witted response.

"QUOTE!!!" I laughed. We continued to discuss the great EDWARD ALBEE and what he really meant to us. He mentioned his mother, ROSE FISHER and how much she loved Theatre. That's where I got the idea for him to write about his experiences with Theatre and Edward Albee.




Phil Fisher



Phil Fisher played The Doctor in Edward Albee's ALL OVER. He has performed 44 roles with the Alley Theatre and has been a guest artist with Theatre Under The Stars, Houston Grand Opera, Strand Street Theatre and the Jewish Community Center Theatre. Last year, he performed in Stages' production of Tango. Mr Fisher also has 20 TV shows to his credit. His formal training was with the American Academy of Dramatic Arts in New York City. He received a B.A. in English from the University of Massachusetts and an M.F.A. in Theatre from Boston University. Mr. Fisher has lived in Houston for close to 30 years. He has been a speech teacher with several area colleges, serving on the staff of San Jacinto College for the past seven years. Among two-year colleges, his speech team is among the top five in Parliamentary Debate.

---Theresa Hyde
theresa@houstontheatre.com





Phil Fisher and Richard A. Levy, Executive Director of Inprint, Inc.




----------------------------------------------------------------
CLOSE ENCOUNTERS

OF THE COINCIDENTAL KIND


by Phil Fisher

When I first shook hands with playwright Edward Albee (why not playwrite?), I knew that I was twenty-two. I did not know that Edward was thirty-four and that "Who's Afraid of Virginia Woolf?" was about to open on Broadway in a few months. I certainly did not know that I was shaking hands and looking into the eyes of ONE of the most gifted writers and thinkers of, yes, ALL TIME!

Now, as a full time speech teacher, (San Jacinto Community College), and sometimes professional actor (Stages and Alley Theatre), I am happy to admit to being fifty-seven as I write this on May 24th, 1998. So after 36 years, I leave it to the readers to figure out Edward's age as of March 1988! Edward, in addition to several one-act plays, has written 26 full-evening plays, directed about 15 openings and is still writing perhaps two more as I struggle to record these memories. His works have earned him three official Pulitzer Prize recognitions ("Virginia Woolf" was an unofficial Prize holder for a matter of days or weeks). He has been honored by several professional societies, as well as receiving national honors. Now 36 years after the summer of 1962, I have had the joy of meeting Mr. Albee again. This time around I have enjoyed more of his time and attention during a professional relationship.

Please know that while I clearly knew my age in 1962, Mr. Albee might still have been checking out his official age. However, his age being 34 in 1962 was well accepted. Neither of us could predict that we would have three additional encounters together: one more during 1962; another in 1989; a 4th in September of 1997 with that connection extending through March of 1998. So let us return to the summer of 1962 and continue chronologically.

My wonderful, beautiful and smart mother, ROSE FISHER, died a few years ago. She was barely 84. She was involved very much with Community Theater in Worcester, Massachusetts for perhaps over 50 years. She acted, directed and wrote for hometown theater productions. Rose wanted to be as professional as possible, so she enrolled in writing courses not only at her alma mater of Clark University, but she would travel far and wide to find the best teachers possible. In the summer of 1962, she found the author of "Zoo Story" and "The American Dream" teaching playwriting at Wagner College on Staten Island, New York. Robert Lowell, Phillip Roth and others were there as well. Edward loved Rose Fisher (back then at least). He even phoned her in Worcester one day to inform her that she would have great seats for the opening night of "Who's Afraid of Virginia Woolf?"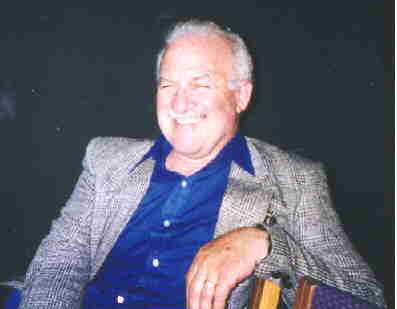 Phil Fisher



I am not aware of any future encounters that my mother had with Edward for the remainder of her life. Curiously, when I graduated from an acting school in New York City, an admiring teacher of mine arranged for an audition for me to read for "Mrs. Dally Has a Lover," by William Hanley. When I arrived at the audition, my teacher-director friend introduced me to those artists who were present. He said, "Phil, this is Edward Albee and Clinton Wilder (one of Albee's early producers), and this is Rip Torn and Geraldine Page, etc." It was ever so brief, and I was not considered "right" for the part. So ends the 1962 experiences of close encounters of the coincidental kind.

Then, from 1962 until 1989, LIFE HAPPENED: Some wonderful life happenings and some not so wonderful life happenings. Point: in 1989 ALBEE HAPPENED! He "happened" upon the University of Houston as a playwrigiht instructor, and upon Houston as a lecturer and involved citizen where human rights have been of concern. He was speaking at the Houston Medical Center one noontime in either late January or early February of 1989: Specifically, in an auditorium at the University of Texas Medical School. Happily, I learned of his talk-to-be and I showed up! When he finished informing the health professionals and health professionals-to-be about his unique life to that point, I walked to the podium where Edward was still wittily and wisely and warmly present.

I introduced myself, "Mr. Albee, I am Phil Fisher, an active Houston actor and teacher. More importantly, I am the son of a former playwriting student of yours."

Edward was courteously curious and inquired, "Who might that be?"

"Rose Fisher," I stated. "1962, Wagner College."

"Of course! How is she?" Edward sincerely asked. Well, he asked for my mother's current address at the time. I thought he was being polite momentarily, as so many of us can be. Quickly, however, I provided my mom's address. Perhaps it was but two to three weeks later when I phoned my aging mom in Connecticut. My mother was in one of her happiest moods ever when she essentially sang out, "Oh, dear, you'll never guess who sent a note to me out of the blue!?"

"Who?" I asked. "Edward Albee," she answered simply. Her day was "made" by that mailbox magnificent moment!

As an interested theater person, I followed news about Edward Albee over the next 8 years. More closely, of course, I followed my mom and dad and family and speech teaching career and starting a second marriage in 1990. However, I believe it was in the fall of 1996 that I had the exciting opportunity of performing with a professional company again. The play was "Tango," and the theater was (is still) STAGES on Allen Parkway. That production was a magnificent artistic success. My associating with some of Houston's best theater professionals was a triumphant return for me to such artistic circles.

Then, in May of 1997, readings were held for a little known and little done Edward Albee play, "All Over" written around 1969-70. I did not do very well at that audition. I just could not identify with any of the characters I could possibly play. My initial reading clearly reflected my lack of understanding of the play and its people. Still, with the continued support of one of Houston's greatest stage directors and casting directors, Beth Sanford, I was given another reading opportunity to audition for Dr. Sidney Berger (The head of the University of Houston School of Theater). Sidney recognized what Beth Sanford had recognized (that with a beard and a bleach I could very likely play an 86 year old doctor). What was of enormous surprise to me was that the entire cast, after being selected by Sidney and Beth, was to audition for the author, EDWARD ALBEE!

The last Saturday of September, 1997, I eventually had my turn (along with some of Houston's most superb actors / actresses) to audition for Mr. Albee and thus to have a 4th Close Encounter of a tremendously coincidental kind! I once again mentioned that I am the son of Rose Fisher, and I thanked him for the note he sent to my mother in February of 1989. "Even if I'm not chosen to perform in "All Over," I quickly uttered, "I cannot leave the audition without letting you know how much your note meant to my mother."

Well, I read the best I could; there was a 3 to 4 second silence. Who would speak next? The director, Dr. Berger? The casting director, Beth Sanford? No, it was Edward! His words, perhaps even exactly, were: "I had forgotten how beautiful that speech was." That was his response to my reading a long speech of the doctor's.

"All Over" truly struggled to reach its triumphant opening night and ultimate 4-week run at STAGES REPERTORY THEATRE. The play demands masterful directing and masterful acting for it is a masterful piece of writing. Edward worked with us as Artist-In-Residence. He was encouraging all the way. He is a man I found and find to be warm and witty and wise and wonderful. No one could predict from that first handshake I had with him in 1962 that I would have the joy, if not privilege, of 36 years later and 4 encounters later calling Edward Albee a new friend in my life. I am not sure however that Edward will remember my name as Phil, but one day in Houston we may bump into each other, coincidentally, and very likely he will shout out: "Hello Doctor!"
----------------------------------------------------------------




Phil Fisher and Richard A. Levy



Inprint Inc. presented The Play's The Thing, which featured 3 evenings with three of America's leading playwrights from March thru April, 1998.

----------------------------------------------------------------

Please send comments or messages to Theresa Hyde at theresa@houstontheatre.com.

Another article that depicts the great influence that Edward Albee has had on Houston Theatre, Click on the interview with Steve Spurgat, Producing Director for Absolute Theatre.