STAGES REPERTORY THEATRE

3201 Allen Parkway at Waugh

713-52-STAGES

Presents
NICKY SILVER'S



Nessa (Deborah Hope) demands a refill from Arloc (Dominique Gerard) in FIT TO BE TIED by Nicky Silver. Photo: J. Draut




FIT TO BE TIED

Directed by Michael Scheman

Featuring

ARLOC.........................Dominique Gerard
NESSA..........................Deborah Hope
CARL............................James Huston
BOYD............................Hal Core

June 4th - June 28th, 1998 Thrust Theater

ACT ONE
"Mistakes & Amends"
Thanksgiving week in New York City

ACT TWO
"The New Year"
Three Weeks Later

------------------------------------------------------------



ABOUT THE PLAYWRIGHT: NICKY SILVER

Nicky Silver is a graduate of New York University's Experimental Theatre Wing and a resident of New York City. His plays include Liars, Pinheads, and Geeks; Free Will and Wanton Lust; Siblings in Paradise; Artists and Concubines; My Marriate to Ernest Borgnine; Cats and Dogs; The Nasty Bits; Scopophilia; The Food Chain;
Fetid Itch; Fat Men in Skirts; Pterodactyls; Fit To Be Tied; and The Maiden's Prayer - as well as two one-act plays, The Effect of Jewish Intellectual Filmmakers and The End of Humanity as We Know It.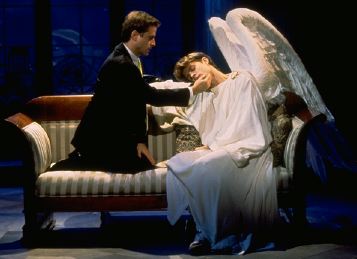 T. Scott Cunningham, Matt Keeslar in the New York production of FIT TO BE TIED




Free Will and Wanton Lust, which was produced by Woolly Mammoth Theatre in Washington D.C. won the Helen Hayes Award for best new play. Far Men In Skirts, which was also originally produced at The Woolly Mammoth, has been produced in St. Louis, Seattle, San Francisco, Chicago, Minneapolis, and at Naked Angels in New York.

Pterodactyls, produced last year at the Vineyard Theatre in New York, won an Oppenheimer Award and a Kesserling Award and was nominated for a Drama Desk Award. The Vineyard-produced Raised In Captivity was nominated for an Outer Critics Circle Award and a Drama Desk Award. The Food Chain was produced off-Broadway at the Westside Theatre and was originally produced at the Woolly Mammoth where Mr. Silver directed the production.

Screenplay credits include The Flipside, for Alec Keshishian and Propaganda; Shockproof, for Goldie Hawn, Teri Schwartz and Disney; and adaptations of Raised in Captivity and The Food Chain. He is currently writing Darkness of Night for Disney and The Mary Kay Project for Warner Brothers. Mr. Silver is a member of Drama Department, Inc.

------------------------------------------------------------




(L-R) Carl (James Huston), Nessa (Deborah Hope) and Arloc (Dominique Gerard). Photo: J. Draut



Stages Repertory Theatre presents the Southwest premiere of Fit To Be Tied by Nicky Silver. In this critically-acclaimed off-Broadway comedy, an unusual menage et trois leads to an outrageous look at contemporary family values. Directed by Michael Scheman, Fit To Be Tied opens Friday, June 5. Performances run through Sunday, June 28.

When Arloc meets the love of his life - an angel at Radio City Music Hall's Christmas Spectacular - he can't help but tie him up and demand his love. When his zany mother moves in with them, a bizarre love triangle ignites. It's more over-the-top hysteria from the reigning king of pop-absurdist comedies.

------------------------------------------------------------

THE CAST



Hal Core



HAL CORE

Hard Core Hal Core does it again!!! His character Boyd, is tied up in a chair and gagged, and was breathing scotch tape for possibly, a little over 15 minutes. Dressed up in an angel suit with an incredible wing span, he agrees to a $500 five-minute deal with the rich and insecure Arloc. This is Hal Core's Stages debut. At Theater LaB, he did Bang The Drum Slowly and Silence Cunning Exile. At New Heights Theatre, Good Night Desdemona (Good Morning Juliet). At Actors Theatre of Houston, Durang Durang.




Dominique Gerard


DOMINIQUE GERARD

What do you do if your dad passes away, and leaves you all the money? What would you do if your beautiful
and crazy mother feels that she deserves part of the money and wants to move in with you? This is the dilemma that Arloc is in, played by Dominique Gerard. Fresh from his performance in MST's The Witlings as Beaufort, Dominique does a convincing performance as the perplexed son Arloc. At Stages Repertory Theatre, he played Bob Adams in The Coconuts. At the Houston Shaekspeare Festival, he performed in the Comedy of Errors and The Tempest. He was in Vieux Carre at New Heights Theatre. He has a Bachelor of Arts from the University of Houston.






Deborah Hope


DEBORAH HOPE

This angelic-faced, chain-smoking, ashtray-carrying Momma is played by the beautiful Deborah Hope. According to the Houston Press, "Deborah Hope makes Nessa one of the most appealing screwed-up mamas ever to grace a Houston stage." At a restaurant dinner table scene, it was comforting to hear her voice her concerns over her son's welfare, and at the same time liberating as she turns around and impatiently demands at the top of her voice,

WHERE THE F---'S THE WAITER!!!

After all, she was running low on wine. Deborah Hope was Jill in Stages' production of Jack and Jill, and Mac in Three Viewings. At Theater LaB, she was in Dark Rapture, Catholic School Girls, and The Kathy and Mo Show. At Main Street Theater, she appeared in Marisol, A Piece of My Heart and Catholic School Girls. At New Heights Theatre, she was in Me and Jezebel, The Glass Mendacity, and The Kathy and Mo Show. At The Actors Workshop, she appeared in Rumors, A Girl's Guide to Chaos and Eastern Standard. Feature films include Rocket Man, Leap of Faith, Without Warning: The James Brady Story, Altered Love and Rings: An Olympic Story.






James Huston


JAMES HUSTON

James Huston plays Carl, Nessa's boyfriend. He recently played The Son in Edward Albee's All Over. Other Stages performances are A Cheever Evening where he played multiple roles; as Austin in Later Life; and The Doctor and Billy in Wings. For the Houston Grand Opera, he was in Street Scene. For Theater LaB. The Sum of Us. He was in the film, About Laughter that was presented at the 1998 Sundance Film Festival. Off Broadway, he performed in Moonchildren and Year of The Duck.


Deborah Hope, Hal Core and Dominique Gerard in Stages Production of FIT TO BE TIED by the brilliant Nickey Silver. Photo: J. Draut