32nd ANNUAL WORLDFEST-HOUSTON INTERNATIONAL FILM FESTIVAL
GRAND AWARDS GALA, Saturday April 17th, 1999
Held at the Red Lion Hotel (Loop 610 West at Westheimer)

WWW.WORLDFEST.ORG



THE OPENING NIGHT GALA, Friday April 9th, 1999
THE GRAND AWARDS GALA, Saturday April 17th, 1999
.....And The Winner Is.....





Stan (Rick Stear) confronts the Skee-ball Weasel (Frank Whaley) in WENT TO CONEY ISLAND ON A MISSION FROM GOD.



The 32nd Annual Worldfest-Houston, WORLDFEST.ORG, Opened on April 9th with THREE SEASONS starring Harvey Keitel. The Houston International Film Festival FEATURE FILMS include Stars such as James Belushi in ANGEL DANCE, John Hurt in THE CLIMB.

with Pulitzer Prize Winner CHARLES FULLER for LOVE SONGS, Interview with Actress Zoe Bui for THREE SEASONS. Interview with Producer KARCHI PERLMANN for the movie ROSES. Interview with PURE KILLJOY Writer / Director Aaron Downing and Producers Scott Downing and LC Soelberg at The Opening Night Gala. Director Benoit Jacquot presents SEVENTH HEAVEN, a film about a Sexual and Identity Crisis from ZEITGEIST FILMS. A truly Texas Tale, SNAKE TALES is about a young woman arrested for running over an endangered snake. And WENT TO CONEY ISLAND ON A MISSION FROM GOD from EVEN MORE FILMS stars Jon Cryer, Rick Stear, and Ione Skye.






Benoit Jacquot, Director of Seventh Heaven

SEVENTH HEAVEN
from ZEITGEIST FILMS
Mathilde, a pretty, young woman married to a successful surgeon, is undergoing a crisis. She steals toys in department stores, faints for no apparent reason, goes AWOL from her job and is unable to let her husband, Nico, satisfy her sexually. One day, after one of her stealing and fainting spells, Mathilde is approached by a mysterious man who offers hypnosis and feng shui as a solution to her problems. Through hypnosis, he enables Mathilde to open the door to her "seventh heaven." However, once Mathilde's husband, who is used to dealing with illness in a clinically rational and logical manner, realizes that she has achieved this metamorphosis, he becomes jealous and begins to experience an identity crisis of his own. Note: This film is in French with English subtitles.



(R-L) Derrick R. E. Doba, Chairman of the Worldfest-Flagstaff International Film Festival, local News personality Bob Boudreaux with the KTRK News (ABC-Disney Station in Houston), (top) Tom McGillis – Producer of BOB & MARGARET from Nelvana Canada, (bottom) Theresa Hyde, and James Hirse from London.

(L-R) Nancye Ferguson, Executive Producer, Creator and Starring in the short film "What's in Heidi's Head?" winning an award in the Animation/ Live Action Television Production and her friend Susan Andrews, whose husband is Supervising Producer of the same project.
(R-L) Carl Robinson whose screenplay entitled ME262 won a bronze award in the Screenplay Competition and Norma Gleason who describes herself as a 'would-be' screenwriter (choker pearl necklace and long black gloves accentuated her formal evening gown).
GRAND AWARDS GALA, Saturday April 17th, 1999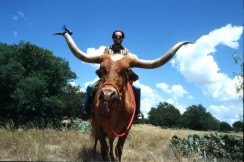 Snake Tales

SNAKE TALES
SNAKE TALES Screenwriter / Producer / Director: Francesca Talenti

Award-winning filmmaker Francesca Talenti is a professor in the Department of Radio-TV-Film at the University of Texas at Austin. Francesca attended Brown University, where she studied French and Italian Comparative Literature. She holds a Master of Fine Arts in film production from the University of Southern California. She has screened her films at numerous festivals including Sundance, the Canadian Art Film Festival, the Santa Fe Expo and the Odense Film Festival in Denmark. A tenacious independent filmmaker Francesca is credited with establishing the animation program at the University of Texas. She began her professional career writing, producing and directing educational films, some of which have been distributed internationally.



Catherine Deneuve in the French Riviera, Cannes 1964

THE UMBRELLAS OF CHERBOURG
(Retrospective)

This restored classic musical, winner of the Grand Prize at the Cannes Festival and nominated for five Academy Awards, portrays the unforgettable Genevive, a passionate young girl living with her mother, who owns an umbrella shop in Cherbourg. Genevieve and Guy, an auto mechanic, are in love, but are told they are too young to get married. Guy leaves to serve in the army unaware Genevieve is pregnant. Genevieve, at first shocked by the idea, believes Guy has forgotten her since he has not written. She decides to marry Roland Cassard, a rich gem dealer, so that her son may have a father. Note: This film is in French with English subtitles.



Catherine Deneuve in Vanity Fair, 1999

Barbara Hindley, Top Finalist in the Original Drama Screenwriting Category at Worlfest-Houston 1999

ROOM AT THE INN
Screenplay by Barbara Hindley
A contemporary Christmas Tale about a street-wise African American girl and a pregnant homeless woman who find shelter in an inn run by two gay men, near Harvard Square in Cambridge.