FORT BEND THEATER

PRESENTS

ABRACADABRA, ALADDIN

By



Tim Kelly

July 12 - August 10, 1997
Inside Westwood Mall (Bissonnet at SW Freeway)
(713) 981-1866
=========================================================

THE CAST

JAMMAL............................Ryan Heitzman
HALIMA...............................Adrian Wyatt
GENIE OF THE RING...............Laura Ray
SCHEHERAZADE..............Abigail Winard
NEELA..............................Janet Edmundson
MOTHER............................Theresa O'Brien
MERCHANT WOMAN........Andrea Newsome
NEIGHBOR..........................Marquise Cortez
ALAKAZAM.........................Sterling Knight
ALADDIN.............................Alan Danna
CHOP-CHOP.........................Greg Morrison
PRINCESS JASMINE............Jemma Evans
ZARA.....................................Sarah Slamen
SHEBA...................................Unique Cortez
QUEEN SULTANA................Janna Chesser
SULTAN.................................Robert Cortez
ALI BUBBA............................Jeffrey Harris
DRAGON................................Jason Slamen
GEENIE OF THE JEWELS.....Jenney Penland
GEENIE OF THE LAMP.........Bridget Stein
EXTRAS...........Meghan McCabe, Rick McCarter, Greg Lancaster

=========================================================

PRODUCTION CREW AND TECHNICAL SUPPORT

Co-Director...............................Lisa Schlitt
Co-Director...............................Beverly Edmundson
Student Assistant Director.........Jennifer Schlitt
Stage Manager..........................Laura Edmundson
Light Technician........................Kate Olden
Sound Technician......................Jason Kemp
Tech Assistant...........................Ben Mota
Costumes...................................Jeanean Slamen
Set Designer..............................Jerry Edmundson





FORT BEND THEATER
ANNOUNCES OUR 1998 SEASON!

CHILDREN'S SHOWS
Saturdays & Sundays at 2pm


The Glass Slipper January 10 - February 08
Alice In Wonderland March 21 - April 19
Two Summer Shows (Titles to be Announced) One in June - One in July
East of the Sun, West of the Moon September 19 - October 18
Christmas Show (Title to be Announced) November 29 - December 20, 1998

FAMILY SHOWS
Fridays & Saturdays at 7:30pm

ANGEL STREET February 13 - March 14
GOD'S FAVORITE April 24 - May 23
Melodrama Classic (Title to be Announced) May 29 - June 27
Member's Choice (Title to be Announced) July 10 - August 8
THE IMPORTANCE OF BEING EARNEST August 14 - September 12
DRACULA October 16 - November 14



=========================================================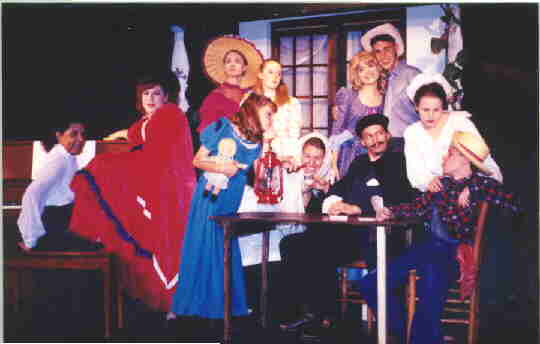 GREAT CONCEPT: THEATER INSIDE THE MALL!

Interview with Fort Bent Theater founders Frank and Karen Letts

by Theresa Hyde
TheresaHyd@aol.com

As I walked through Westwood Mall looking for this Children's Theater, I wasn't sure what to expect. The directions were: Enter through the back door of the Mall, through the back entrance of Sears, go up to the second level, and the theater is on the right. As I entered the front entrance, I was greeted by Karen Letts and was given a tour. I couldn't believe how neat and clean it was, they have just finished renovation of the theater, the seats are red in color against gray and black background. The wall murals are newly painted in red and gray.

THYDE: How long has this theater been in existence?
KAREN LETTS: For 8 years, since 1989. We spent 2 years in First Colony Christian Church, and we moved into Westwood Mal in 1991. We do family and adult shows, children's shows.

THYDE: Who owns this theatre?
FRANK LETTS: Public Trust.
KAREN LETTS: Frank and I are the two founders.

THYDE: What is your theatrical background?
KAREN LETTS: I don't have a theater background. I have a degree in Math and Physics. My husband and my daughter had an interest in acting and I work behind the scenes. I soon found out that there was not enough opportunity in the Houston area, especially out in the Fort Bend County, Southwest Houston area. This is the reason why we started.
FRANK LETTS: My acting and theatrical background, I started out in Corpus Christi, Victoria, and Galveston. That was all in elementary, and Junior High, College, in Houston, and I've been here ever since.
KAREN LETTS: I direct some of the shows, usually I do one or two shows during the year.

THYDE: What plays have you staged in the past?
KAREN LETTS: We've done Oliver, Little Women. Our Oliver was played by a 9- year old girl. We do 14 shows a year, and about 9 of those are children's shows. We do 5 shows that we call our "family series". Basically, they are adult shows that are clean enough, that if the parents want to bring their kids, they can. They don't have to worry about sexual content, language, and violence, those are the 3 things that we see enough on television.

You know, I have 3 children myself, and the theater has grown along with my kids. The main purpose of this theater is that families that are out there with kids that want to have something good and wholesome to take their family to, or take their parents to, or to go out on a date with their husband or wife, this theater offers them that capability.

THYDE: What do you want the audience to gain from visiting your theater?
KAREN LETTS: Appreciation of the Arts. I wish everybody could see the amount of work that goes into every production. I mean, you see the people that come through here, you hear the comments. It's all very positive, and there isn't room for negative in theater. Everybody works together, they have a job. I mean, look at this, a little 8-year old, she knows what she's doing...

THYDE: And they love it, they come in here, and they look forward to it. It's a really really nice theater, the seats are nice, I love the murals.

KAREN LETTS: Steel Magnolias is coming up in August 1997, Poe's Midnight Dreary in October. The theater community knows Steel Magnolias. It's performed probably in every theater at one time or another because it's such a heart warming story.

THYDE: Fort Bend Theater is the best kept secret in Children's Houston Theater. It is highly recommended due to the cleanliness and the optimum location. If you ever want to leave your television set, or the rental movies on your VCR, and watch good, wholesome quality theater, you will not be disappointed with Fort Bend Theater with their presentations and dignified professionalism.