Fort Bend Theater

Presents

GOD'S FAVORITE

By Neil Simon

Directed by Lindi Yeni

April 24 - May 23
Fridays and Saturdays at 8pm
Plus Sundays, May 10th & May 17th at 2pm

Fort Bend Theater
(713) 981-1866
Inside Westwood Mall (Upstairs by Sears)
9700 Bissonnet at SW Freeway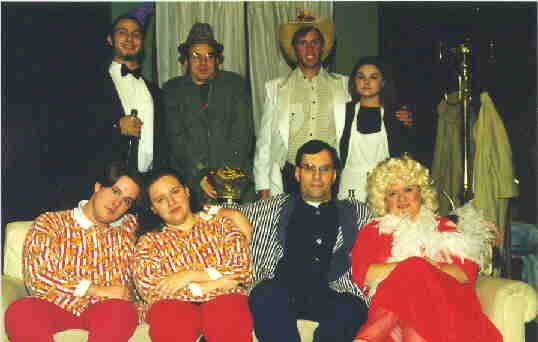 (Front L-R) Jason Howard (Ben), Angelica Aguirre (Sarah), Arnold Polanco (Joe Benjamin), Theresa Aguirre (Rose); (Back L-R) Robert Lambert (David), Julio Parpacen (Sidney Lipton), John Miller (Morris), and Ellen Dyer.



-----------------------------------------------------------

THE CAST

JOE BENJAMIN..........................ARNOLD POLANCO
ROSE BENJAMIN......................THERESA AGUIRRE
BEN BENJAMIN.........................JASON HOWARD
SARAH BENJAMIN....................ANGELICA AGUIRRE
DAVID BENJAMIN......................ROBERT LAMBERT
SIDNEY LIPTON............................JULIO PARPACEN
MADY.............................................TIFFANY GUISE or JEMMA EVANS
MORRIS...........................................JOHN MILLER or FRANK LETTS

-----------------------------------------------------------

The Action takes place in the Benjamin Mansion on the North Shore of Long Island

Act I - Scene 1............................................Midnight
Act I - Scene 2................................Two weeks later

Intermission...........................While The House Burns

Act II.................................The Holocaust Afterward



-----------------------------------------------------------

GOD'S FAVORITE BY NEIL SIMON.....Burning the house down

ROSE BENJAMIN (Mother):

I've always wanted to have a big home with a little fireplace. Now, I have a big fireplace with a little home.

It was such a beautiful house. We were so happy here.
Why couldn't have God tested a young couple with a small apartment?

-----------------------------------------------------------

Interview with Lindi Yeni
Director for FBT's Production of GOD'S FAVORITE

by Theresa Hyde
TheresaHyd@aol.com

Making her debut with FBT, Lindi is certainly no newcomer to the Houston arts scene! One of the nicest people around, Lindi is Founder and Artistic Director of Kuumba House - an arts center that produces and presents African centered culture. She has performed in over thirty shows and has directed numerous productions for Kuumba House, Texas Southern University, and other theatres. Her African dance company tours all over Texas and the U.S.! Ms. Yeni is a firm believer that Houston arts organizations should work together.

THYDE: Why did you choose to direct this play?
LYENI: Well, I think the play chose me (laughs). Really, it's an introduction for me to Fort Bend Theater. This is my first time working with this theater. I am the Artistic Director of my own Theater, Kuumba House, which has been around since 1982. It was a great project, to collaborate with another theater on a different side of town from mine. Cause, I am in the downtown, Third Ward area. Just collaborating with other theaters is a good idea.

And also, working with a new group of artists, you know, just challenges you a little bit more. You approach things in a different way than you usually do. And of course, Neil Simon is an all-time favorite. And the message is very good. And it's presented in a very humorous manner.

THYDE: How do you find it different, working here at Fort Bend Theater, as opposed to the Kuumba House?
LYENI: Kuumba House, of course now, no longer focuses on theater as much as we used to. Some fifteen years ago, when we were really heavy in theater. Now, we are focusing on African Dance. Now, that's a major change.

When Kuumba House first started, we were strictly community theater. And it took me back to those days when theater was done for the love of theater, and it reminds you of why you do it. So, it's really good to see the cooperation of all of the individuals involved in the production. Saying, "here's a prop, here's a costume....."
Versus having a production manager who goes and does all of that, coordinates all of that....it's really good. The spirit of community is still there.

THYDE: Tell us about your past background? How did you get so heavily involved in the Arts? Are you originally from Houston?
LYENI: No, I'm not originally from Houston. I was born in South Africa, and as a child, I really loved Theater. As you get older, and it's time for you to go to College and the University, you are advised to take on a career that could pay the bills, you know? to make you independent financially.

When I came here, I kept up on my theatrical and dancing activities. So, when I came to Houston, the cultural scene, as far as Black Theater, and African Dance was lacking. And at that time, there was only one other really active theater, but the director of that theater was losing steam. You know how things are? 10 years, 15 years of doing the same thing. So, she was losing steam, and then there was another theater coming up right about that time, and it was like, 1or 2 productions a year. So, there was always room for something else. So I came in because I was trying to fill in a niche, and I was working in the community. I first worked with the youth, teaching dance classes. And then, went onto directing plays. Eventually, I outgrew that, and there was a need for a separate space from the community center.

So, that's how, in 1982, Kuumba House was founded. So, all along, I've really been interested in theater, and I've been doing it since my college days. And I found that you can make it yourself, cause you can't wait for
somebody else to do it. So, I do it all, sing, dance and act. What needs to be done in the theater, I also sweep really well (laughs).

THYDE: Who influenced you as an artist?
LYENI: From my country, for example, Miriam Makeba. I had an aunt, Doris Khumalo, who in fact travelled with a Victorian company. She is an actress, a singer, and a dancer. My father is a musician, as well as a singer, my brothers as well. So, it was always around in the family and in my community, and as I got older, there were other role models such as Billie Holliday, all those great artists out there.

THYDE: Out of all the roles that you play, which one do you like best?
LYENI: I find dancing and choreographing to be very cathartic. It's a great creative outlet. Because you can get to a realm of beyond reality, you know? Surpass the reality, and really, just go out there. You know, it's like an artist who does realistic art, versus one who does, abstract art. The sky is the limit.

THYDE: What would you like the audience to gain from watching this play?
LYENI: Being here at Fort Bend, first of all, I'd like for them to just appreciate the work of the actors. A lot of them are not professionals, but they do it from the heart. They reach deep down into their souls to bring the production to the level that it is. And that's very much appreciated by any director.

And then secondly, the message of Faith. And Hope. Especially in the times that we live in, it is always good to know that there's somebody who's always strong in their faith in God.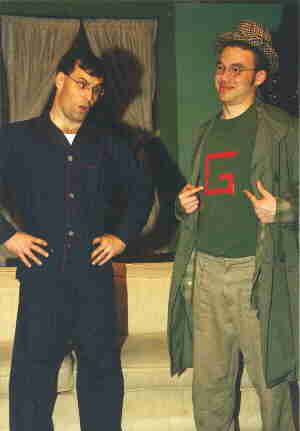 And that, my friend, is the honest to God's truth!!



-----------------------------------------------------------

GOD'S FAVORITE BY NEIL SIMON...........Testing your Faith

DAVID (son): Did he have some sort of identification?
JOE BENJAMIN (father): He had a big G on his sweatshirt.....
DAVID (son): A Big G? Are you sure he's not from Georgia Tech?

Some nut with a G on his shirt says he's a messenger from God and you believe him?

-----------------------------------------------------------
Interview with John Miller
MORRIS in GOD'S FAVORITE

By Theresa Hyde
TheresaHyd@aol.com

22-year old John Miller is another newcomer to FBT. He is a student at Houston Baptist University majoring in Pre-med. A member of the BUX (Brotherhood Under Christ Fraternity), John is heavily into wake boarding - a form of surfing. John is tall, handsome, and blonde.

Theresa: Tell us about the part that you're playing......
John: I am Morris. And Morris is a.....well (laughs), he's just kinda there. He's a servant guy, and he's faithful to the family, and he's sticking with them, even though he's not getting paid. He came up from Georgia with his wife, Mady. Just came to New York, and the family took them in. He's kind of a dumb guy, you know? He's not the most.....he's kinda dense.......

Theresa: Why did you choose to become a part of this play?
John: Well, Angelica (Aguirre) from Houston Baptist University. I read the script, and it was the story of Job (the story is based on the Biblical story of Job), and I thought it was a great opportunity to be able to minister to
other people and really spread the name of God. So that's my reason.

Theresa: You're a Pre-Med student, and an actor. Why did you choose to become an actor?
John: I've just been doing that all throughout high school......I enjoy it. So, really, that's the only reason, I do it, I don't ever plan on going professional or anything. I like it. And especially, if it gives me a chance to do it for God, it's even better. I enjoy being in school, because I really haven't done much acting outside of this. I've done Centre Stage in Kingwood.

Theresa: Do you have a heavy class schedule?
John: (smiles) Yes.....this has been the most challenging quarter I've ever had, because of this play stuck in the middle of it.

Theresa: Who are your most favorite actors?
John: I like Dustin Hoffman a lot. Jodie Foster.
Theresa: What kind of movies do you watch?
John: I like science fiction movies. Weird ones.

Theresa: What would you like the audience to gain from watching this play?
John: I would like them to maybe, ask questions about God and really get inspired by that. That's my purpose.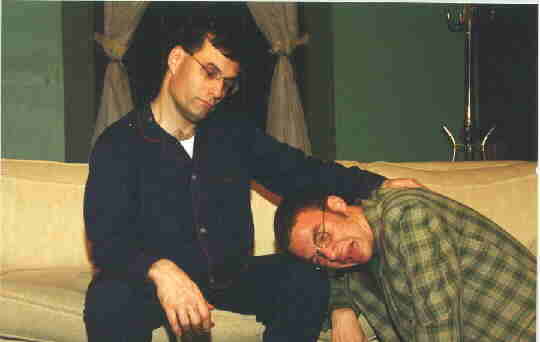 God's messenger: Do you have some valium, acupuncture, anything? Tylenol?



-----------------------------------------------------------

GOD'S FAVORITE BY NEIL SIMON

JOE BENJAMIN (Father): How we live and how we die is in the hands of our Maker! I love my God!
ROSE BENJAMIN (Mother): Why can't you just have a mistress like any other man?

-----------------------------------------------------------

Interview with Arnold Polanco
JOE BENJAMIN in GOD'S FAVORITE

By Theresa Hyde
TheresaHyd@aol.com

An attorney by day, this is Arnold's second production at FBT. He was seen earlier this year in "The Glass Slipper". He performed years ago in the Galveston County Bar Association's Legal Follies, where he sang and acted. Arnold dedicates his performance as Joe Benjamin to his loving and very understanding wife, whose patience gave him the time and energy to "be Joe!"

THYDE: Tell us about the part that you're playing......
APOLANCO: I'm playing Joe Benjamin. Joe's the protagonist, if you will, of the show. Joe, basically, is put through the ultimate test. He is a God-fearing, God-loving man, and he is put to the ultimate test, and that is, Will he renounce God?

In the face of the most extreme adversity. As it turns out, he does not. He holds true to his faith. And that's the lesson to the story. It's essentially a modern-day story of the Biblical of Job, the Old Testament Book. And he remains true to the character of Job, in that he in the end, is rewarded for his persistence and his strength and his courage by having all of his problems eliminated and his worldly goods and his health restored.

THYDE: And it's a Neil Simon play
APOLANCO: Yes it is.
THYDE: He's the best.....
APOLANCO: He is.
THYDE: Why did you choose to become a part of this?
APOLANCO: I had done a small role for this theatre back in January, was called in at the last minute to do it......
THYDE: The Glass Slipper?
APOLANCO: Exactly.
THYDE: You were there as the.....footman?
APOLANCO: I was there as the caller of the queen's court.
THYDE: Oh, that's right. I saw that. And you stood out (laughs).
APOLANCO: And it was a great experience. And it led me to try for this.
THYDE: Tell us about your past acting background.......
APOLANCO: Little or none. (laughs). I had done some bit parts every year when I worked down in Galveston. I practiced Law there before I moved up to Houston.

THYDE: Tell us about your role as a lawyer......
APOLANCO: Yes. I've been one for about twelve years. When I was starting out as a lawyer in Galveston, I got involved almost every year in a follies that was put on by the local bar association. And it was just basic little
skits, real campy singing and acting skits. And I did that a couple of years ago. Other than that, and The Glass Slipper, I have no acting experience. Other than being in the courtroom, of course (laughs).

THYDE: What's the difference between being an Actor and being a Lawyer?
APOLANCO: Well, I draw a lot from my public speaking and the ability the memorize a lot of what I've got to recite once I get to Court. So, that helped in terms of learning my lines. What I draw from the legal field is the ability to persuade strangers of the sincerity of what I'm saying. And the passion of the role that I'm having to fulfill, whether it be in the courtroom for someone's legal interests or here on stage.

THYDE: What kind of an attorney are you?
APOLANCO: Basically, commercial litigation. I do business type legal work. What I tell people is, I do everything except criminal work and tax work (laughs).
THYDE: That's amazing. Where'd you go to school?
APOLANCO: I went to law school at The University of Texas.
THYDE: Wow! That's an awesome school!
APOLANCO: I enjoyed going to Texas, I didn't see much of Austin while I was in Law School. But it was okay.

THYDE: Why influenced you into becoming this role, Joe Benjamin?
APOLANCO: I find my role to be a little bit cynical and a little bit stern, as well. I draw from a number of different people.
THYDE: Who are your favorite actors?
APOLANCO: I think Harrison Ford is talented. Tommy Lee Jones is very talented. I would use those as models.

THYDE: What would you like the audience to gain from watching this play?
APOLANCO: For those that are religious and God-fearing, I would hope that they would come away with a renewed sense of commitment to their Faith, if nothing else.




"You know what I'm praying for? I'm praying that I get all my money back so I can cut you off without a cent!" says father to son



-----------------------------------------------------------

GOD'S FAVORITE BY NEIL SIMON

DAVID BENJAMIN, the son, comes home drunk as usual.

JOE BENJAMIN (father): David, you bum! You drunken bum! You bum! You bum! You bum!
DAVID (son): Oh good! I thought I was in the wrong house.

Later that evening, the father calms down, and attempts to have a heart to heart talk with his son.

JOE BENJAMIN (father): Go ahead, David. Have a drink. It's a special occasion.
DAVID (son): I can't. I can't do it................It's only fun when you're aggravated.

-----------------------------------------------------------
Interview with Robert Lambert
DAVID BENJAMIN in GOD'S FAVORITE

by Theresa Hyde
TheresaHyd@aol.com

A graphic designer by day, Robert has appeared at several local theatres around Houston including Theatre Southwest ("Forty Carats" and "Two by Two") and the Jewish Community Center ("Rahab"). This is his second production at FBT. He was seen last year playing Edgar Allan Poe in "Poe's Midnight Dreary", earning FBT's Best Actor Award for his outstanding performance. Watch for him playing the villain in our upcoming summer melodrama, "Face on the Barroom Floor".

Theresa: Tell us about the part that you're playing.......
David: I'm playing the part of David Benjamin, the eldest son of Joe Benjamin. I'm the outcast of the family. The smart one that just doesn't want anything to do with anybody else, really. The alcoholic, who was in honors in high school and college, but never graduated. Just didn't show up for graduation, you know, just an outcast. So while Joe Benjamin was going through his trials and tribulations, I left the house. Just gone. And show up in the end and turn myself around.

Theresa: Why did you choose to become a part of this play?
David: Because I liked the script. And it's a good role. I was friends with people here at the theatre.

Theresa: You won Best Actor for Edgar Allan Poe in Poe's Midnight Dreary. Tell us about that experience.
David: Oh geez. That was my first show here, actually. I got cast as the lead role, Edgar Allan Poe. That was very draining, to say the least. It was hard to do. I had about a thousand lines. And I had to know the stories, know the poems. And everything that was written for the script was verbatum to what he wrote.

And I had to know it verbatum, you know? Plays like this, most family shows, you miss something, if you forget a line, or it slips by you, you can adlib it, and just get the point across. But with that, I had to be right on target. And actually did it, for you know, five weekends. Yeah, that was a good experience.

Theresa: Did you go to school for Acting?
David: No, I haven't taken drama classes.
Theresa: You're a graphic artist!
David: Yes, that is my day job.
Theresa: Who is your most favorite actor?
David: Jack Nicholson would have to be my favorite. Between him and Sean Connery.

Theresa: What would you like the audience to gain from watching this play?
David: There's a definite meaning behind it. It's a Biblical story, it's just modernized. So, the underlying parable, or lesson there is to not take anything for granted.




Arnold Polanco as Joe Benjamin and Julio Parpacen as Sidney Lipton



-----------------------------------------------------------

GOD'S FAVORITE BY NEIL SIMON.........Meeting God's messenger

JOE BENJAMIN (father): But you said you met God?
SIDNEY LIPTON (God's messenger): Not face to face, there's always this Big Bright Light over Him.

JOE BENJAMIN (father): I'm not sure about this........
SIDNEY LIPTON (God's messenger): Hey, I'm not some lousy kid from Western Union. I work for God!

-----------------------------------------------------------

Interview with Julio Parpacen
SIDNEY LIPTON in GOD'S FAVORITE

by Theresa Hyde
TheresaHyd@aol.com

Okay, here's our 5-Star Discovery of the Month! Julio Parpacen is a 17-year old junior in High School, a brooding young actor who plays an older Jewish man, married to a wife, named Sylvia. And he does it rather convincingly. I think I might have asked the question a couple of times, "Are you really 17 years old?" In God's Favorite, he plays Sidney Lipton, a very comical Messenger of God, an absolute Must-See. Even after you see him perform, you'll probably be tempted to ask the same question.

Julio is very active in the Drama Department of Stratford Senior High School. He's performed in such plays as "Westside Story", "Mousetrap", "Assassins", and "Amadeus" there (to name a few). His dream in life is to become an actor, writer, and poet.....and to continue to dream.

Theresa: Tell us about the part that you're playing......
Julio: He's in his middle 40's, he's 44 actually. Jewish man living in New York City. Not exactly the best economic conditions. Apparently one day, somehow, his job-finding agency sent him to get a job with God. And so he works as God's messenger, basically. "Important documents, no packages" - direct quote from the play.

He's a very whiny, nasal man. Always has headaches. Because he is connected with God, he's more than what he seems. I don't wanna give away......(pause).....I'm gonna change the show every single night (laughs). But, he's a very comedic character.

Theresa: It says here, you're an actor, writer, poet. Tell us about your poetry.
Julio: I've had works appear in National high school anthologies, magazines. The most recent poem I wrote last night was called The Suicide King. It's not about suicide, though.

Theresa: Tell us about your past Acting background......
Julio: I've performed in school, Stratford Senior High School. I think, the last time they took a rating, they're the third best production company in the city, behind The Alley and Theatre Under The Stars. We were the first school to do Tommy in High School, the first non-professional group.

Theresa: Why did you choose to become a part of this play?
Julio: I didn't so much choose, as Be Chosen, I guess'll be the Biblical term for it. The man originally playing the part dropped out, and I'm friends with Angelica (Aguirre) who plays Sarah. And they needed someone who can memorize lines quick. And since I played in Amadeus in my sophomore year, that had about a good 1,500 to 2,000 lines that I memorized in like, two weeks. So, they figured 500 - 600 lines, I should be able to do it. I came in, and did the job.

Theresa: Are you sure you're 17? You look so much older......
Julio: It's a curse.
Theresa: (laughs) I wonder what you're gonna look like when you're like 30......
Julio: It's gonna be terrible.

Theresa: Who influenced you as an artist? I mean, you are an artist......
Julio: Yeah, I'm a student of the Arts. I wouldn't consider myself an Artist quite yet. Influenced me? Poetry-wise, Robert Frost, definitely is a big influence on me. Edgar Allan Poe, he's my man. Writing-wise, Isaac Asimov, Lloyd Alexander, J.R. Toklin, Tom Clancy. Big mix, I read all kinds of books, John Grisham, John Steinbeck, he's brilliant. Ernest Hemingway. Acting-wise, Christopher Walken, Anthony Hopkins, Kevin Spacey, one of my big guys. John Malkovich, I've been compared to John Malkovich in most of my career. 'Cause, psycho's basically what I've played up to this point. Complete, Utter Psychos.

Theresa: In your career? Man, you're only 17!! You're gonna be great, though, I can just tell.
Julio: I'm gonna give it the ol' college try.

Theresa: Where do you plan to go to college?
Julio: I plan to attend UH, first, second year possibly. And then try to transfer out to NYU. And my dream would be to get a grant to the Royal Arts Academy in London.......

Theresa: And then, the tape recorder stopped. And I didn't notice it. Because we continued the interview where he revealed to me that he plays the violin, (I am so impressed), speaks fluent Spanish (he gave me a few lines), and that he was born in Venezuela, and has travelled all over the world, has seen the greatest theatrical presentations, and has met the most famous people and avant-garde artists.

But the tape recorded stopped. And I didn't notice it. And I don't know why. Maybe it was the will of God. Sometimes, things like that happen. As much as I want them to, some interviews just never gets published. But I have a distinct feeling that because of this young man's enormous talent, I shall meet him again.

Wait, let me re-phrase that. And as God is my witness, I firmly believe that I will have a chance to meet this talented young man again. Have Faith. And see God's Favorite at Fort Bend Theater. Call 713-981-1866.