ALLEY THEATRE
Gregory Boyd, Artistic Director
Paul R. Tetreault, Managing Director

Presents

GROSS INDECENCY:
THE THREE TRIALS OF OSCAR WILDE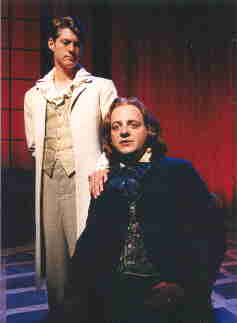 (L-R) Gregory Wooddell as Lord Alfred Douglas and Jeffrey Bean as Oscar Wilde. GROSS INDECENCY: The Three Trials of Oscar Wilde begins performances on April 7 and runs through May 1, 1999. Tickets on Sale Now at the Alley Theatre Box Office, 615 Texas Avenue or call 713-228-8421. Photo by Bruce Bennett


By Moises Kaufman
Dramaturg to the Author Stephen Wangh

Directed by John Feltch

April 2 - May 1, 1999
Large Stage
www.alleytheatre.com



CAST

Oscar Wilde........................Jeffrey Bean
Lord Alfred Douglas................Gregory Wooddell
Sir Edward Clarke, others..........Paul Hope
Queensberry, Gill, Lockwood........Charles Krohn
Edward Carson, Narrator............John Tyson
Narrator, Atkins, Wright, others.....Curtis Billings
Narrator, Wood, Shaw, others.......Kevin Waldron
Narrator, Parker, Harris, others....Luis Galindo
Narrator, Mavor, Taylor, others.....Matthew Schneck



"The truth is rarely pure and never simple."-----Oscar Wilde


HOUSTON, Texas--Oscar Wilde-the celebrated literary wit of Victorian
society-is the subject of the off-Broadway docu-drama sensation Gross
Indecency: The Three Trials of Oscar Wilde by Moises Kaufman. The
production, directed by Alley Theatre Resident Company Actor John Feltch
and featuring Alley Company Actor Jeffrey Bean as Wilde, chronicles the
artist's incendiary trial for "gross indecency" that captured the attention
of Victorian society.

Sponsored by The Cullen Trust for the Performing Arts and El Paso Energy
Corporation, Gross Indecency: The Three Trials of Oscar Wilde begins
preview performances Friday, April 2. The production opens Wednesday,
April 7 and runs through Saturday, May 1st.

"Oscar Wilde's trial was the original celebrity trial," said Gregory Boyd.
"Wilde braved a scandalous personal crisis that was made public. Kaufman
has crafted a collage of Wilde's life that uses writings, newspaper
accounts and correspondence of his time."

Gross Indecency chronicles the arrest, judgement and sentencing of Wilde.
This theatrical recreation of the trials features characters ranging from
Queen Victoria to George Bernard Shaw, played by an all-male cast. Modem
historians and journalists travel back and forth in time to comment on
Wilde and his contemporaries and raise the ever-controversial issues of
sexuality, censorship and the role of the artist in society.

"THERE IS ONLY ONE THING IN THE WORLD WORSE THAN BEING TALKED ABOUT, AND THAT IS NOT BEING TALKED ABOUT."----OSCAR WILDE


With his long locks and wisecracks, Wilde was among the most popular
Victorian entertainers of his day. At college in Oxford, he was a very good
student, versed in the classics and poetry. He first made his name in
society by submitting humorous journalistic works to London papers. He set
out on a lecture tour of America-without a planned lecture-where he
continued his reputation as a wit and discovered his skill as an
improviser. Adam Gopnik of The New Yorker wrote that, once, after
delivering boring lectures about the English Renaissance, he was able to
quickly switch topics and was a hit lecturing about "personal-shopper-style
advice" with a speech called "The House Beautiful." His lecture tour
brought him to Houston and Galveston in 1882.





(L-R) Jeffrey Bean as Oscar Wilde, Kevin Waldron as Alfred Wood, Matthew Schneck as Sidney Mavor, Luis Galindo as Charles Parker, Curtis Billings as Frederick Atkins, and Charles Krohn as Queensberry. Photo by Bruce Bennett



In writing Gross Indecency, playwright Mois6s Kaufman set out to research
the events of Wilde's life and "realized that there were as many versions
of the story as there were participants in the events." The basic elements
that lead up to Wilde's charges for "gross indecency" seem to be that in
1884, he married a beautiful girl named Constance Lloyd and had two
children, both boys. Then, in 1891, he met Lord Alfred ("Bosie") Douglas,
the beautiful son of the Marquis of Queensberry. When Queensberry learned
of their relationship, he began a campaign against Wilde that eventually
led to his leaving a card for him that read "For Oscar Wilde: posing
somdomite (sic)." In turn, Mr. Wilde sued the Marquis of Queensberry for
libel and thus set the scene for a frenzy from the press that not only
examined the details of Mr. Wilde's life, but also forced him to justify
his art in the court of law.

"What we came up with is a form, an event, where the audience ends up
watching a group of actors trying to figure out history," said Mr. Kaufman
about Gross Indecency. "We are not saying, 'This is what happened.' We are
saying, 'This is what we are trying to figure out, these are the different
accounts of what happened. You decide who's telling the truth."'

In 1891, the same year that he met Bosie, Wilde wrote the controversial
The Picture of Dorian Gray, a pastiche of late-Victorian styles that was
both sensational and beautifully written. The novel is about a love
triangle among three men: Dorian, the artist Basil Hallward and Lord Henry.

Dorian, the object of the others' affections, is given eternal life by the
picture painted of him by Basil; as Dorian ages and sins, the picture
becomes hideous and twisted though the face of the man remains unchanged.
Beginning that same year, he wrote four comedies: Lady Windermere's Fan,
A Woman of No Importance, An Ideal Husband and The Importance of Being
Earnest.

Director John Feltch is enjoying his tenth season as an Alley Theatre
Resident Company Actor. He has played countless roles including Lloyd
Dallas in Noises Off, Dr. Schadenfreude in Hydriotaphia, John and James
Jekyll in Love! Valour! Compassion!, Talthybius and others in The Greeks,
George Garga in In the Jungle of Cities, Brutus in Julius Caesar and Prior
Walter in Angels in America, among others. Prior to his career at the
Alley, Mr. Feltch performed in more than 30 roles at PlayMakers Repertory
Company. He has also performed and directed at the Berkeley Shakespeare
Festival. Mr. Feltch is a graduate of Williams College and received his
MFA from University of North Carolina, Chapel Hill, where he also directed
a number of works. This production marks his Alley directing debut.

Alley Theatre Company Actor Jeffrey Bean will play Oscar Wilde, his first
major role at the Alley Theatre since he moved to New York City from
Houston in 1997. An Alley Theatre Resident Company Actor ftom 1989 to
1997, Mr. Bean has played many roles at the Alley including Einstein in
Steve Martin's Picasso at the Lapin Agile, Menelaus in The Greeks,
Hornbeck in Inherit the Wind, Otto in The Food Chain, Steve Hubbel in A
Streetcar Named Desire, Casea in Julius Caesar, Mardian in Antony and
Cleopatra and Algernon Monerieff in The Importance of Being Earnest among
others.

A graduate of the Meadows School for the Arts at Southern Methodist
University, Mr. Bean was named the 1993 Princess Grace Foundation-USA
Emerging Theatre Artist.

Joining Mr. Bean in the cast of Gross Indecency are Curtis Billings
(Narrator, Atkins, Wright and others), Luis Galindo (Narrator, Parker,
Harris and others), Alley Theatre Resident Company Actor Paul Hope
(Sir Edward Clarke and others), Resident Company Actor Charles Krohn
(Queensberry, Gill, Lockwood), Matthew Schneck (Narrator, Mavor, Taylor
and others), John Tyson (Edward Carson, Narrator), Alley Theatre Company
Actor Kevin Waldron (Narrator, Wood, Shaw and others) and Gregory Wooddell
(Lord Alfred Douglas).

The design team for Gross Indecency includes Production Designer Kevin
Rigdon (set and lights), Sound Designer Joe Pino and Costume Designer
Esther Marquis.

The Alley Theatre, recipient of the 1996 Special Tony Award for outstanding
regional theatre, is a resident theatre company located in the heart of
downtown Houston. Alley productions have been seen throughout the United
States and abroad. In 1990, the Alley produced Jekyll & Hyde, which later
toured nationally and is now enjoying a successful Broadway run. In 1995,
the Alley brought an unprecedented two productions to the Venice Biennale:
Tony Kushner's two-part epic Angels in America and the world premiere of
Hamlet a monologue-written, directed and performed by Alley Associate
Artist Robert Wilson. The 1996 Shakespeare repertory of Antony and
Cleopatra-an international collaboration with Vanessa Redgrave and Corin
Redgrave's Moving Theatre of London-marked a bold new step forward for the
Alley Theatre that continued in March 1998 with the world premiere
production of Tennessee Williams' early play Not About Nightingales at the
Cottesioe Theatre in London. A collaboration with the Moving Theatre and
Royal National Theatre and directed by Trevor Nunn, Not About Nightingales
made its U.S. debut at the Alley Theatre in June 1998 and opened on Broadway
February 25, 1999 to great critical acclaim. The Alley began it 1998-99
season with the world premiere of an original and unique musical event
entitled The Civil War by Gregory Boyd, Jack Murphy and Frank Wildhorn
(composer of Jekyll & Hyde and The Scarlet Pimpernel). The Civil War will
debut at Broadway's St. James Theatre April 22, 1999, marking the third
Alley Theatre production on Broadway this spring.



TICKET INFORMATION

Tickets to Gross Indecency: The Three Trials of Oscar Wilde can be
purchased at the Alley Theatre Box Office, 615 Texas Ave., or by phone at
713/228-842 1. Tickets to preview performances are $19-$33; tickets to
performances on or after the April 7 opening range from $31-$46. Groups of
10 persons or more can purchase tickets at a discounted rate by calling
713/228-9341, ext. 350. Patrons with low hearing may call (TTY)
713/220-5710 for tickets.

SPECIAL PERFORMANCES AND EVENTS
The Alley Theatre continues its efforts to make its productions available
to broader audiences. Three Pay-What-You-Want performances-offered to
patrons who, for financial reasons, may not otherwise be able to attend
full-price performances at the Alley-are scheduled during this run:
7:30 p.m. Tuesday, April 6, 7:30 p.m. Thursday, April 8 and Saturday,
April 10 (Available for select seats, limit two per person--cash or check
only-with a $2 minimum for each ticket. Available in-person, the day of
the performance only.)

Gross Indecency: The Three Trials of Oscar Wilde will be translated into
Spanish for two performances: at 2:30 p.m. and 7:30 p.m. Sunday, April 11.
Sign language translation, open captioning and audio description will be
offered at 2:30 p.m. Sunday, April 25.



Alley patrons are also invited to attend two pre-show "informances" on
Tuesday, April 13 and Tuesday, April 20, 45 minutes prior to the 7:30 p.m.
curtain times for both performances. A post-show Talk-Back with the cast
is scheduled for Friday, April 16 (S p.m. curtain). Gross Indecency:
The Three Trials of Oscar Wilde is funded in part by a grant from the
Texas Commission on the Arts through the Cultural Arts Council of
Houston/Harris County.
~