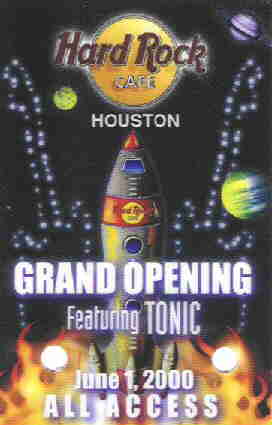 THE SUMMER OF 2000
THE HOTTEST ROCKIN' PARTY OF THE SUMMER
THE GRAND OPENING OF THE HARD ROCK CAFE IN DOWNTOWN HOUSTON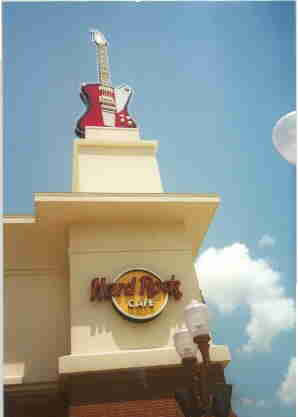 By Theresa Hyde
TheresaHyd@aol.com
June 1st, 2000

Smack Dab in the middle of Downtown Houston!!! Smack Dab in the middle of the Year 2000!!! June 1st, 2000 was the day the music came alive!!!

THAT'LL BE THE DAY
Well, that'll be the day, when you say good-bye,
Yes, that'll be the day, when you make me cry.
Ah, you say you're gonna leave, you know it's a lie,
'Cause that'll be the day when I die!




Maria Elena Holly and The Buddy Holly Sidewalk Star


What an awesome day! June 1st, 2000 11:00am, I went to the new Hard Rock at Bayou Place Downtown for an interview with Maria Elena Holly, Buddy Holly's widow. And as Don McLean sang, "I can't remember if I cried.....When I read about his widowed bride" - I got a chance to share a moment with THE widowed bride herself. I did learn a few things: she was pregnant when he died, and unfortunately, she lost the baby; she's never met Ritchie Valens, but she spoke to him on the phone; she's from Puerto Rico and could speak a little more Spanish than Ritchie Valens; and many other interesting facts about the legendary rocker's life. After that educational rock 'n roll experience, I decided to go back to The Hard Rock at 7:00 pm for The Official Opening.


La Mafia and their Hard Rock Sidewalk Star

MAYOR LEE BROWN



Scheduled for that evening was the unveiling of the Sidewalk Stars for the legendary Buddy Holly, the Tejano band La Mafia, and Tonic, who was also performing live. My thoughts were, "I couldn't miss this for the world!" I went back to the Hard Rock and took pictures of Maria Elena Holly with Buddy's Sidewalk Star, La Mafia and Tonic's respective concrete stars, that are now displayed at the Downtown Hard Rock Cafe's sidewalk at Bayou Place on Texas Avenue right across from The Wortham Center . It was definitely a Houston rock n' roll evening when Mayor Lee Brown showed up to do a "guitar smashing" ceremony as opposed to a ribbon cutting ceremony. A guy next to me, who was wearing a black shades, black on black long-sleeved shirt and blazer Prada-rip off outfit in the middle of 1000 degree weather in Houston, Texas caught a piece of the guitar wood, and mentioned that he wanted to keep it as a piece of Rock and Roll history.




Oscar De La Rosa and LA MAFIA


Finally, we were allowed to enter the swinging doors and begin the party. We were greeted by the Hard Rock waitresses adorned with commemorative Hard Rock Pins, handing us glasses of champagne as the party kicked off. As I surveyed the memorabilia on the wall, I also helped myself with a plate of crab legs and cocktail shrimp, and cheese from the appetizer table with the Houston Rocks guitar ice sculpture as the center piece. Not Bad: Free food, Free drinks all night long. Surprisingly, as the lone designated driver, I survived the evening even though I drove home on champagne. Tonic performed LIVE and the party was jammin'.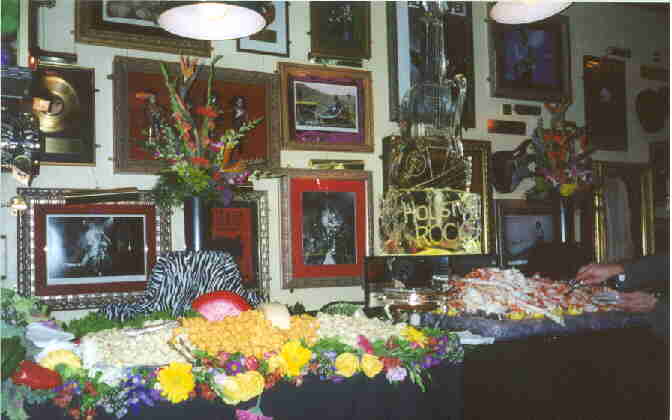 HOUSTON ROCKS!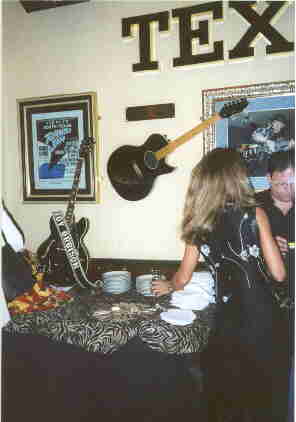 BUDDY HOLLY was there, partying with his wife Maria Elena. I swear, I saw Elvis!!! ELVIS PRESSLEY was there. Also, the guys that died in the plane crash the day the music died: RITCHIE "La Bamba" VALENS, J.P. "The Big Bopper" RICHARDSON were there. Roy Orbison was there. A couple of Johns were hanging out in the women's bathroom, John Denver was strumming an acoustic guitar in the corner. JOHN LENNON, the only one of the Beatles was present.
CAN I GET A WITNESS?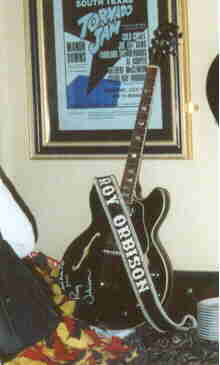 Roy Orbison takes 5 and puts his guitar down
Imagine
John Lennon
Imagine there's no heaven, It's easy if you try
No hell below us, Above us only sky
Imagine all the people, Living for today...
Imagine there's no countries, It isn't hard to do
Nothing to kill or die for, And no religion too
Imagine all the people, Living life in peace...
You may say I'm a dreamer, But I'm not the only one
I hope someday you'll join us, And the world will be as one
Imagine no possessions, I wonder if you can
No need for greed or hunger, A brotherhood of man
Imagine all the people, Sharing all the world...
You may say I'm a dreamer, But I'm not the only one
I hope someday you'll join us, And the world will live as one




LA MAFIA


I tried to take a picture of these legendary souls, but I only had a 35mm camera. If only I had a digital camera that could capture the spiritual essence of that rock and roll evening. It was the kind of night that gave us the re-assurance on why that plane had to crash that cold February evening. Well, not really explain it, but offer the fact that this tragic event that ROCK 'N ROLLLED HISTORY was part of human foible, an earthly flaw that was destined to happen, and it needed no explanation. That it was okay, sort of a consolation, because it's alright that it brought people together, it brought souls together whether in physical form or not. It brought us all to a common bond. Something we all shared, something we all understood. It's only rock N roll, but I like it.







Hey Hey My My
Rock & Roll will never die
There's more to the picture
Than meets the eye
Hey Hey My My
-----Neil Young

I was excited seeing all these rock n' roll souls, I wanted to call Neil Young and tell him about it, but I didn't have his phone number.

Smells Like Teen Spirit
Load up on guns and bring your friends / It's fun to lose and to pretend
She's over bored and self assured / Oh no, I know a dirty word
Hello, hello, hello, how low?
I'm worse at what I do best / And for this gift I feel blessed
Our little tribe has always been / And always will until the end
Hello, hello, hello, how low?
And I forget just why I taste / Oh yeah, I guess it makes me smile
I found it hard, it was hard to find / Oh well, whatever, nevermind
Hello, hello, hello, how low?
With the lights out, it's less dangerous / Here we are now, entertain us
I feel stupid and contagious / Here we are now entertain us
A mulatto / An albino / A mosquito / My libido / Yay, a denial

The patron saint of Grunge Rock Kurt Cobain was present, and so was the patron saint of Rap Tupac Shakur. Roy Orbison laid down his guitar, while he took a 5-minute break to get a drink at the bar before the next set.



TEXAS ROCKS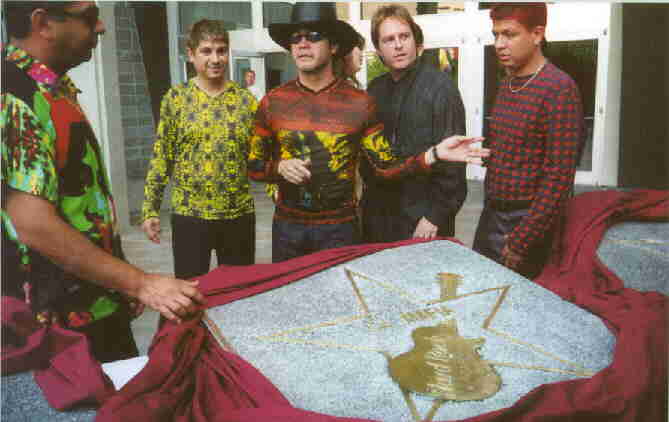 LA MAFIA
TO LIVE AND DIE IN LA
Performed By Tupac Shakur
To Live and Die in LA
when everyday we try a fatin' our pockets
Us niggas' hustle for the cash so it's hard to knock it
Everybody got their own thang currency chasin'
World wide thru the hard times worrying faces
Shed tears as we burry niggas' close to heart
Oh was a friend now a ghost in the dark
Cold hearted--my nigga got smoked by a feen
Trying to floss on em'
blind to a broken man's dream

a hard lesson--caught cases--keep who's guessin'
plea bargain aint an option now--so I'm stessin'
Cost me more to be free than a life in the penn
making money off of cuss words--writing again
Learn how to think ahead--so I fight with my pin
late night down Sunset like in a scene
What's the worst they could do to a nigga
got me lost in hell--To Live and Die in LA
on bail--my angels sing...

Chorus:
To live and Die in La, it's the place to be
you've got to be there to know it
where everybody wanna see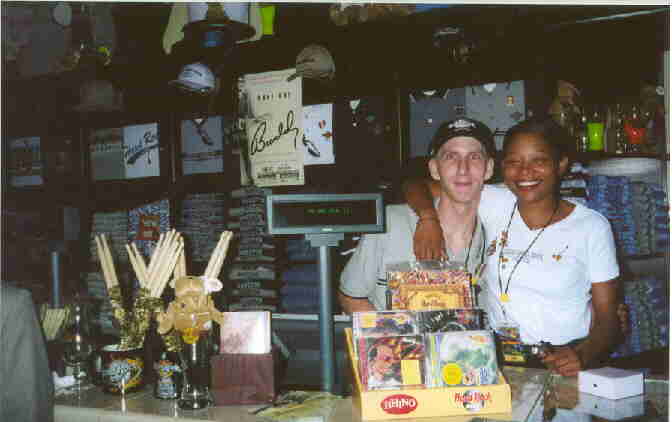 Hard Rock Party 2000



One of the waitresses mentioned that Lou Diamond Phillips (he played Ritchie Valens in the movie) was hanging out in the room by the Fajitas Mexican buffet table, but all I saw in there was Janis Joplin, the only female rocker present.

All Is Loneliness by Louis Hardin sang by Janis Joplin
All is loneliness / Loneliness here for me
Loneliness here for me / All is loneliness
Loneliness come on bother me / Want me 'round my door
I get loneliness / I get loneliness / I get loneliness / I get loneliness
Loneliness, heck I said loneliness / Lord, loneliness, yeah, I said loneliness
I said loneliness come on by my bed / Gonna worry me 'round on my door-mat
I said loneliness come and found me, I said you found me whole

Every day when I walk home / I see loneliness / When I waited for my baby
You know I open my front door, I said Mr. Loneliness is waiting for me at home
Lordy, Lord at home, Lord at home, Lo-o-o-rd at home
You know, I get home every day, Lord, There ain't nobody waiting there, man
And I ain't got no girlfriends, and I ain't got no boyfriends, man
I ain't got no any kind of friends, man, I ain't got no...
My TV set doesn't work, my radio doesn't work, man / I come home there's nothing
Nothing, man, there's no animals moving, There's nothing, man
Walk in that door seems like I'm sitting there every day, man
Lord, loneliness
Lord, loneliness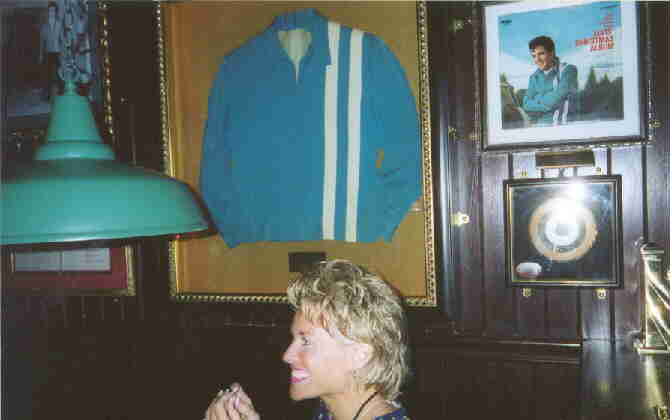 Elvis was wearing this shirt.


It was just like in the old days, but you know this time, Elvis hasn't left us. ELVIS IS STILL "IN THE BUILDING!"

That's All Right, Mama
words and music by Arthur ``Big Boy" Crudup
Well, that's all right, mama, That's all right for you
That's all right mama, just anyway you do
Well, that's all right, that's all right.
That's all right now mama, anyway you do
Mama she done told me, Papa done told me too
'Son, that gal your foolin' with, She ain't no good for you'
But, that's all right, that's all right.
That's all right now mama, anyway you do
I'm leaving town, baby, I'm leaving town for sure
Well, then you won't be bothered with Me hanging 'round your door
Well, that's all right, that's all right.
That's all right now mama, anyway you do




(L-R) Buddy Holly's widow Maria Elena Holly, Oscar De La Rosa of La Mafia, and Theresa Hyde


After having lived in Las Vegas for a couple of years and having spent some memorable evenings partying and sampling every casino on the strip, on every corner of that the non-stop 24-hour party town 'Vegas could offer, I came to the conclusion that the most exciting Rock 'N Roll Casino anywhere in 'Vegas would be The Hard Rock Casino.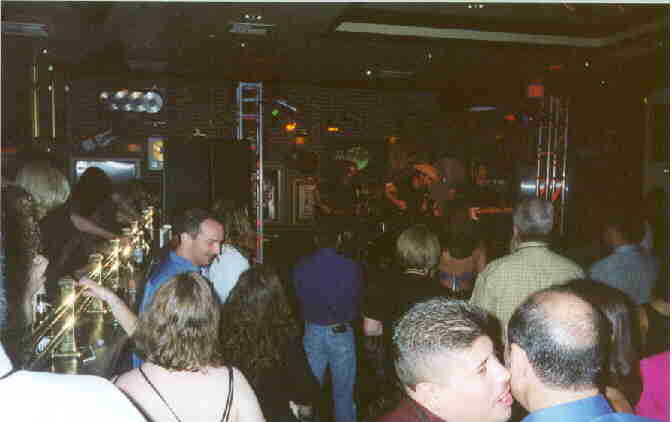 TONIC performed Live


After coming back to Houston, the old Hard Rock Cafe located on Kirby Drive seemed to pale in comparison to the kind of excitement the Hard Rock Casino offered. Equipped with slot machines with guitar handles, roulette tables shaped like baby grand pianos, a chandelier made up of saxophones in the lobby, and the gambling chips! Oh my gosh - the chips had the album cover pictures of legendary rock n' rollers Jimi Hendrix, Red Hot Chili Peppers, Tom Petty and the Heartbreakers. Now I can't think of one reason why Tom Petty and the HeartBreakers would have a coveted Hard Rock Casino Playing chip. Maybe if you think of one, you can send me an e-mail. But I'm not gonna wait for it, 'cause you know what they say, The Waiting is the Hardest Part.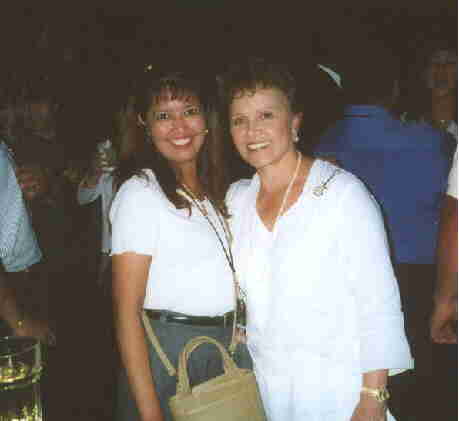 Theresa Hyde and Buddy Holly's widow Maria Elena Holly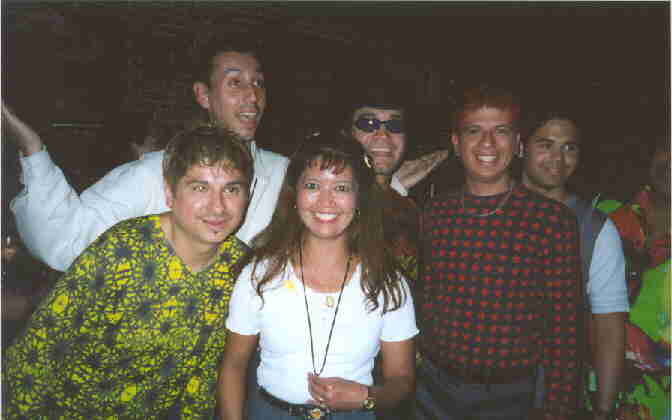 Partying with LA MAFIA


Now in these days, Everybody wants to talk
Like they got something to say and nothing comes out
When they move their lips
But it's a just a bunch of jibberrish.

-----Marshal Mathers Doesn't Matter

But that's usually the kind of excitement that The Hard Rock organization offers. True Rock n' Roll History is restored in their memorabilia and decor and that's what the new Hard Rock Cafe in Downtown Houston will give you once you walk through their glass revolving doors. The Summer of 2000 in Houston, Texas is filled with Rock n' Roll memories as Frank Young and Theatre Under The Stars, courtesy of Pearlvision brings The Buddy Holly Story to Houston. For a brief suspended moment in time, TUTS was able to re-create the Winter Dance Party, which was the concert right before the fatal airplane crash. Houstonians were able to re-live this historical moment and get transported back in time to experience TRUE ROCK N' ROLL HISTORY.


Patricia Olvera and Buddy Holly's widow Maria Elena Holly
THAT'LL BE THE DAY
Well, that'll be the day, when you say good-bye,
Yes, that'll be the day, when you make me cry.
Ah, you say you're gonna leave, you know it's a lie,
'Cause that'll be the day when I die!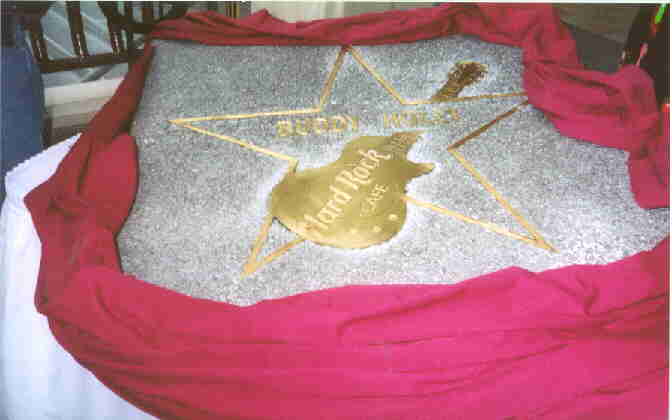 BUDDY HOLLY'S SIDEWALK STAR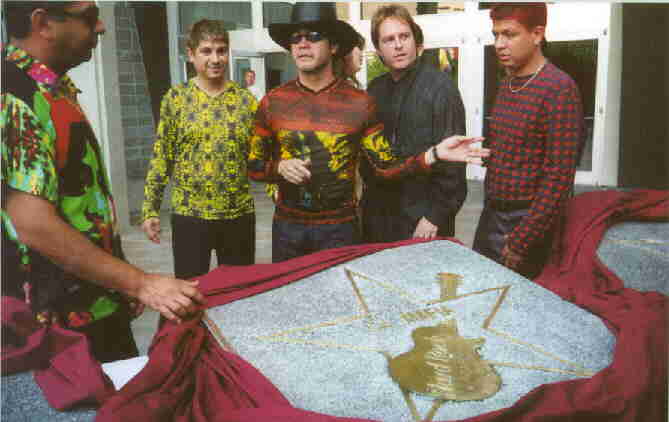 LA MAFIA