ALLEY THEATRE
Gregory Boyd, Artistic Director
Paul R. Tetreault, Managing Director

HENRIK IBSEN'S EXPLOSIVE DRAMA
HEDDA GABLER
Alley's Large Stage
The Alley Theatre stages a new production of Henrik Ibsen's explosive theatrical masterpiece of sex and power Hedda Gabler featuring Alley Resident Company Actor Annalee Jefferies. Pictured (L-R) Annalee Jefferies as Hedda Gabler (Kristina Short as the Woman, background). Photo by Bruce Bennett
HOUSTON, Texas--The Alley Theatre will stage a new production of Henrik Ibsen's
gripping psychological drarna Hedda Gabler--directed by renowned theatre director Gerald
Freedman (Hair, former artistic director of Great Lakes Theater Festival) and featuring Resident
Alley Company Actor Annalee Jefferies. This explosive theatrical masterpiece of sex and power
employs a new version by playwright Christopher Hampton (Total Eclipse, Les Liaisons
Dangereuses).
Co-sponsored by Precourt Foundation and Cooper Industries, Hedda Gabler begins
preview performances Friday, February 19. The production will open Wednesday, February 24
and run through Saturday, March 20. "Ibsen's investigations into the human situation and society in theatre prompted a change in the development of modem drama," said Gregory Boyd. "We're pleased that Gerald Freedman will direct Hedda Gabler. He, along with the design team, has come up with an exciting interpretation of this classic."

Pictured (L-R) Annalee Jefferies as Hedda Gabler and John LaGioia as Judge Brack. Photo by Bruce Bennett
Often called the "father of modem draina," Henrik Ibsen wrote Hedda Gabler in 1890,
40 years after composing his first play Catiline, and 10 years before his last, When We Dead
Awaken. Set after the return from a six-month honeymoon, Hedda Gabler tells the story of a
frustrated woman who marries a well-to-do, but boring scholar and secretly longs for distractions
from her new life as Mrs. Tesman. Hedda preoccupies herself in the lives of those surrounding
her- her husband's Aunt Julia, an affectionate family friend Judge Brack, the lonely Thea
Elvsted and passionate writer and Hedda's ex-suitor Eilert Uvborg. Hedda gains pleasure in
learning their secrets and desires to control their lives, only to discover the ultimate cost of her
own ruinous actions.

Hedda Gabler takes place in Norway during the mid-nineteenth century, when the
country was in the midst of great change brought about by the development of railroads, the
growth of cities and the increasing stratification of the classes. Within this societal framework,
Ibsen places the newly married Hedda-bound by the duties of marriage and the limits of being a
woman. Her desire to shape a human destiny seethes at the epicenter of Ibsen's theatrical
masterpiece.

The Alley's production of Hedda Gabler will use an adaptation by Christopher
Hampton, whose own plays include Total Eclipse, the stage adaptation of Laclos' Les Liaisons
Dangereuses and The Philanthropist. Mr. Hampton also wrote the book for Andrew Lloyd
Webber's musical Sunset Boulevard and translated into English the current Broadway and West
End hit Art, by Yasmina Reza.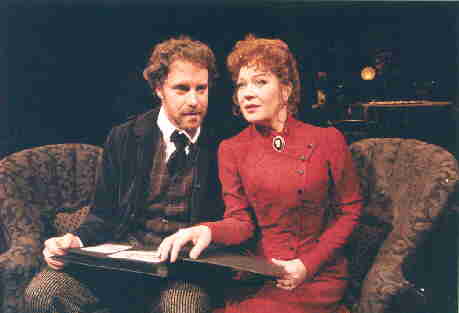 Pictured (L-R): Rufus Collins as Eilert Lovborg and Annalee Jefferies as Hedda Gabler. Photo by Bruce Bennett.
Hedda Gabler is one of Ibsen's most popular and often-produced play. Other plays by
Ibsen include Peer Gynt (1867), A Doll's House (1879), Ghosts (1881), The Wild Duck
(1884), Rosmersholm (1886), The Lady from the Sea (1888), The Master Builder (1892),
Little Eyolf (1894), John Gabriel Borkman (1896) and When We Dead Awaken (1899).

The Alley has staged three of Ibsen's plays including When We Dead Awaken (adapted
and directed by Robert Wilson, 1991), Arthur Miller's adaptation of An Enemy of the People
(1961) and Hedda Gabler (1956).

Director Gerald Freedman is an award-winning director and educator with a national
reputation for excellent productions of classic dramas, musicals, operas, new plays and television
specials. Mr. Freedman has staged more than 25 of Shakespeare's plays due in large part to his
tenures with the Joseph Papp's New York Shakespeare Festival (artistic director), American
Shakespeare Theatre (artistic director) and, most recently, the Great Lakes Theater Festival
(artistic director) in Cleveland. A director who has worked with celebrated actors including Hal
Holbrook, Colleen Dewhurst, James Earl Jones, Patti Lupone and Kevin Kline-to name only a
few-Mr. Freedman made theatre history with his off-Broadway premiere of the rock musical
Hair, which opened Mr. Papp's Public Theater. Mr. Freedman has a long, distinguished list of
directing credits including Broadway's School for Scandal with Tony Randall; the award-
winning Colette staning Zoe Caldwell with songs by Tom Jones and Harvey Schmidt; Much
Ado About Nothing with Kevin Kline and Blythe Danner. He has taught at Yale University and
The Juilliard School and lectures at colleges and universities around the United States.

Annalee Jefferies, celebrating her 13th season as an Alley Resident Company Actor, will
take on the challenging role of Hedda. Ms. Jefferies was last seen at the Alley as Dotty Otley in
the comedy Noises Off, and recently played Dona Estrelita in Hydriotaphia, or the Death of
Dr. Browne, a number of hilarious characters in Mere Mortals and Mae in In the Jungle of
Cities. Recently, she traveled to Hartford Stage at the request of new artistic director Michael
Wilson to reprise her role as Blanche Dubois in A Streetcar Named Desire, which was seen at
the Alley in 1996.

Joining Ms. Jefferies in Hedda Gabler are Marjorie Carroll as Berte, Rufus Collins as
Eilbert Lovberg, Lillian Evans as Aunt Julia, Alley Company Actor Elizabeth Heflin as Mrs.
Elvsted, John LaGioia as Judge Brack and Alley Company Actor Kevin Waldron as George
Tesman.

The design team for Hedda Gabler includes set designer Hugh Landwehr, lighting
designer Pat Collins, costume designer Jeanne Button and sound designer Tom Mardikes.


The Alley Theatre, recipient of the 1996 Special Tony Award for outstanding regional
theatre, is a resident theatre company located in the heart of downtown Houston. Alley
productions have been seen throughout the United States and abroad. In 1990, the Alley
produced Jekyll & Hyde, which later toured nationally and is now enjoying a successful
Broadway run. In 1995, the Alley brought an unprecedented two productions to the Venice
Biennale: Tony Kushner's two-part epic Angels in America and the world premiere of Hamlet
a monologue-written, directed and performed by Alley Associate Artist Robert Wilson. The
1996 Shakespeare repertory of Antony and Cleopatra-an international collaboration with
Vanessa Redgrave and Corin Redgrave's Moving Theatre of London-marked a bold new step
forward for the Alley Theatre that continued in March 1998 with the world premiere production
of Tennessee Williams' early play Not About Nightingales at the Cottesloe Theatre in London.
A collaboration with the Moving Theatre and Royal National Theatre and directed by Trevor
Nunn, Not About Nightingales made its U.S. debut at the Alley Theatre in June 1998 and will
premiere on Broadway in February 1999. The Alley began it 1998-99 season with the world
premiere of an original and unique musical event entitled The Civil War by Gregory Boyd, Jack
Murphy and Frank Wildhom (composer of Jekyll & Hyde and The Scarlet Pimpernel). The
Civil War will debut at Broadway's St. James Theatre in April 1999.

TICKET INFORMATION
Tickets for Hedda Gabler are on sale now at the Alley Theatre Box Office, 615 Texas Avenue, or by calling 713-228-8421. Single tickets to preview performances are $19 - $33; single tickets to performances on or after the February 24 opening range from $31 - $46. Groups of 10 persons or more can purchase tickets at a discounted rate by calling 713-228-9341, ext. 350. Patrons with low hearing may call (TTY) 713-220-5710 to purchase tickets.

SPECIAL PERFORMANCES AND EVENTS
The Alley Theatre continues its efforts to make its productions available to broader audiences. Hedda Gabler will be translated into Spanish for two performances: at 2:30pm and 7:30pm Sunday, February 28. Sign language translation, open captioning and audio description will be offered at 2:30pm Sunday March 14. Alley patrons are also invited to attend a pre-show "informance" on Friday, March 5, 45 minutes prior to the 8pm curtain, and post-show Talk Backs with the cast after each performance on Tuesday, March 2 (7:30pm curtain), Friday, march 5 (8pm curtain) and Tuesday, march 9 (7:30pm curtain).
This production is recommended for mature audiences.

WHAT: Hedda Gabler
By Henrik Ibsen
A New Version by Christopher Hampton
Directed by Gerald Freedman
Alley Resident Company Actor Annalee Jefferies is Hedda Gabler in
Ibsen's explosive theatrical masterpiece of sex and power-perhaps one of
theatre's most gripping psychological dramas and one of the most
intriguing roles ever written for a woman. When Hedda's icy sensuality
upsets the balance in her new marriage, she must take drastic measures to
prevent scandal and ridicule and remain in control.
Hedda Gabler is co-sponsored by Precourt Foundation and Cooper Industries.
This production is for mature audiences.

WHEN: Feb. 19-March 20,1999
TICKETS:
Single tickets to Hedda Gabler can be purchased at the Alley Theatre Box
Office, 615 Texas Ave., or by phone at 7131228-842 1. Tickets to preview
performances are $19-$33; tickets to performances on or after the Feb. 24 opening
range from $31-$46.

615 Texas Avenue Houston, Texas 77002-2795
Administrative Offices: 713-228-9341, Fax: 713-222-6542
Box Office: 713-228-8421 - TTY 713-220-5710
http:/ /wwwalleytheatre.com