Presents
As part of the 2019–2020 Season
AIDA
by Giuseppe Verdi
January 31 - February 16, 2020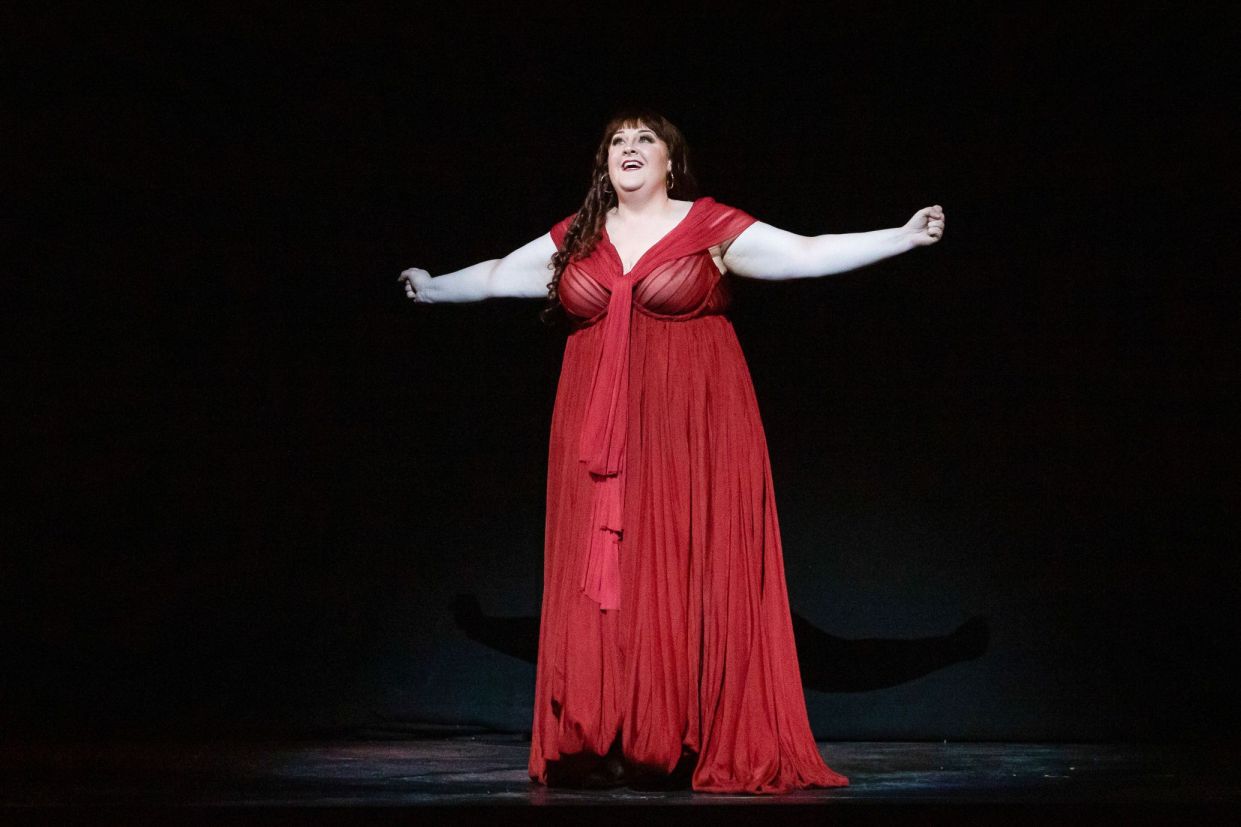 Houston Grand Opera's 2020 production of AIDA. Photo by Lynn Lane / Houston Grand Opera
AIDA, an Operatic Movement
Interview with Jorrell Lawyer - Jefferson, Choreographer for the Houston Grand Opera
By Theresa Pisula
Theresa@HoustonTheatre.com
January, 2020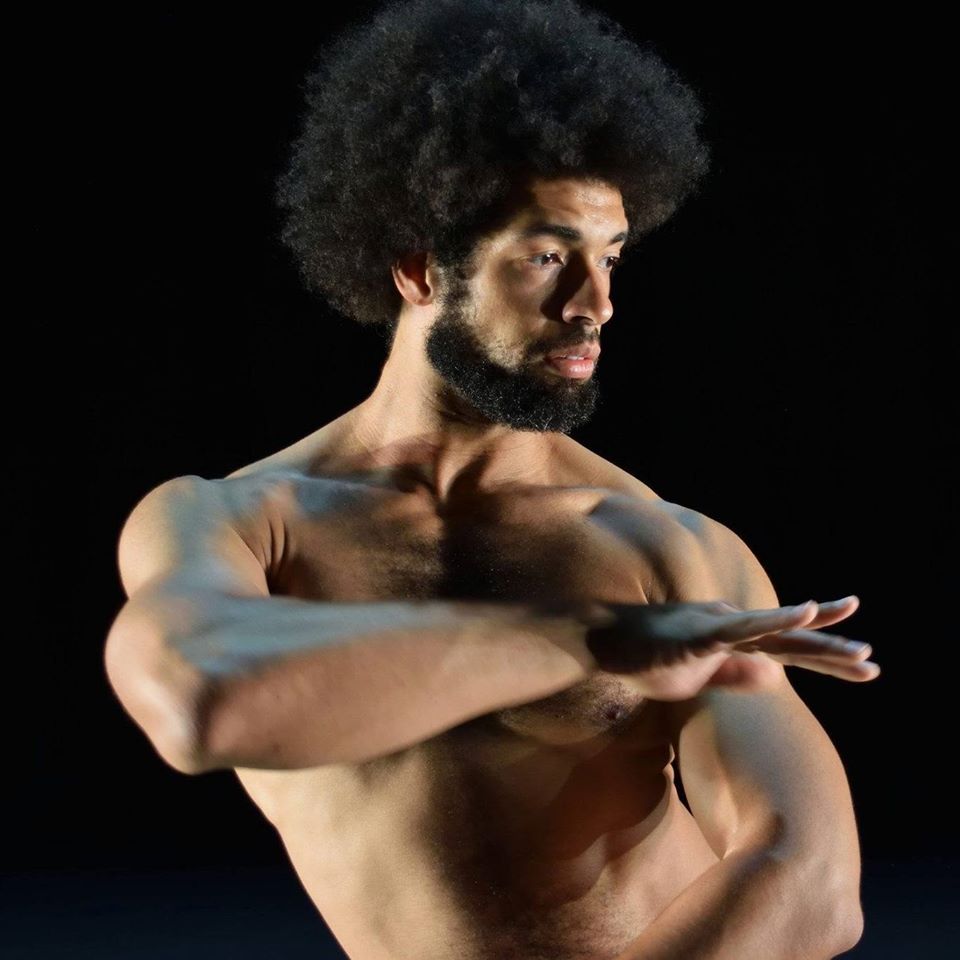 HGO Choreographer Jorrell Lawyer - Jefferson
Jorrell Lawyer – Jefferson was born in Landstuhl, Germany but grew up in Copperas Cove, Texas. Even though he didn't have formal training as a child, he was always dancing. When asked about his influences, "My interest was piqued when I started seeing music videos, specifically those from Missy Elliot and Beyoncé in the early 2000's."
He attained his B. A. degree in Music at Sam Houston State University where he found his passion for movement. He decided to return to his alma matter in pursuit of his MFA in Dance. He has worked with Eric Sean Fogel, Andrew and Dionne Noble of NobleMotion Dance, Brandon Whited, Joshua Manculich, Jennifer Mabus, Rohan Bhargava and Sidra Bell. Jorrell has performed at Alvin Ailey Theater, Gelsey Kirkland Arts Center, The Wortham Center, The Match, The Hobby Center, Jones Hall. With a rich background in somatics, Lawyer-Jefferson creates movement with depth, steeped in athleticism.

Houston Grand Opera's 2020 production of AIDA. Photo by Lynn Lane/Houston Grand Opera

-0-0-0-0-0-
Somatics is a field within bodywork and movement studies which emphasizes internal physical perception and experience. The term is used in movement therapy to signify approaches based on the soma, or "the body as perceived from within," including Alexander technique, the Feldenkrais Method, and Rolfing. In dance, the term refers to techniques based on the dancer's internal sensation, in contrast with "performative techniques," such as ballet or modern dance, which emphasize the external observation of movement by an audience. Somatic techniques may be used in bodywork, psychotherapy, dance, or spiritual practices.
-0-0-0-0-0-
Theresa: What are the challenges in the choreography of the Houston Grand Opera's 2020 production of Verdi's Aida?
Jorrell: Time! Allotting enough time to all aspects of the production really is the key to putting on a production this massive. Crafting wise, the story of Aida is very straight forward. While it is a contemporary production, I wanted to embody a more primal character within the character. I believe we were able to successfully meld the two worlds into one seamless setting.
Theresa: What is it that moves you to perform your best?
Jorrell: All things have the capacity to be inspiring. I think my driving force is my family. They've been so supportive of my artistic career thus far so that gives me the push that started me on track.
Theresa: Who influenced you as an artist?
Jorrell: Choreographer Joshua Manculich really facilitated my growth as a performer and a choreographer. He's been pushing me to really get out in the real world, set work and audition. Being in his streamlined and well-planned rehearsals gave me a scaffold to build my own process around.
Theresa: What is your earliest memory that made you want to aspire to where you are now?
Jorrell: The first time I heard of Alvin Ailey was when I thought, 'Hey, I can do this. It's totally possible.' Seeing a man of color at the helm of this intellectually compelling and artistic company impassioned me.

Alvin Ailey

-0-0-0-0-0-
Alvin Ailey (January 5, 1931 – December 1, 1989) was an African-American dancer, director, choreographer, and activist who founded the Alvin Ailey American Dance Theater, one of the most successful dance companies in the world. He created AAADT and its affiliated Ailey School as havens for nurturing black artists and expressing the universality of the African-American experience through dance. His work fused theatre, modern dance, ballet, and jazz with black vernacular, creating hope-fueled choreography that continues to spread global awareness of black life in America. Ailey's choreographic masterpiece Revelations is recognized as one of the most popular and most performed ballets in the world. On July 15, 2008, the United States Congress passed a resolution designating AAADT a "vital American Cultural Ambassador to the World." That same year, in recognition of AAADT's 50th anniversary, then Mayor Michael Bloomberg declared December 4 "Alvin Ailey Day" in New York City while then Governor David Paterson honored the organization on behalf of New York State.
-0-0-0-0-0-
Theresa: What qualities are needed in order to prepare and accomplish your goals as Choreographer of this Houston Grand Opera production?
Jorrell: As a dance maker in general, being well researched in the subject of your work is absolutely necessary. Finding those resources to inform and add depth to work takes initiative. Also being open to collaboration is a necessity. Pinging ideas off of other artists in the process makes for more effective results. Results you might now have come up with on your own.
Theresa: Can you please describe to us your day-to-day responsibilities as the Choreographer of this HGO production?
Jorrell: After the movement is taught to the dancers. I am tasked with cleaning the phrases they have been given and staging them with the world that has been created. I help the supers and some leads with movement as well.
Theresa: How were you able to integrate your choreography of this production with the Silks Choreography of Mr. Basil Twist?
Jorrell: The silks are this ever-shifting energy that pervades the world of AIDA. Keeping that concept throughout the opera came with its challenges. But all in all, it was easy to incorporate the dancers and the silks together. The dancers and the silk are, in my mind, the same entity.
Theresa: What would you like the audience to gain from watching this Houston Grand Opera production?
Jorrell: I just want their hearts to be stirred. This opera is so relevant to the times we live in so I can only hope that they see the parallels that are all too familiar in our world today and that it can facilitate reflection for themselves and how they love their own lives.

Houston Grand Opera's 2020 production of AIDA. Photo by Lynn Lane / Houston Grand Opera
AIDA by Verdi
ACT I




In the royal palace of the pharaoh, a young captain of the guard, Radames, learns from the High Priest, Ramfis, that Ethiopia is threatening the Nile valley. Radames secretly hopes to be chosen as commander of the army, envisioning a glorious victory that would enable him to free his beloved Aida, the Ethiopian slave whom he cannot publicly admit his love for. Unfortunately, Amneris, Princess of Egypt, is also in love with Radames; when she sees him with Aida, she senses their forbidden love. A royal messenger reports that the Ethiopians, led by King Amonasro, are indeed marching on Thebes. Radames is appointed commander of the Egyptian army. Hearing this news, Aida is torn between her duty to her country and her love for Radames, since, unbeknown to the Egyptians, she is King Amonasro's daughter.





Radames is taken to the Temple of Vulcan, where the priests ask the god Ptah to bless the sacred sword that Radames will take into battle to defend Egypt's soil.





ACT II





The Egyptians have won the war. Amneris and her attendants prepare for Radames' triumphal return. When Aida approaches, Amneris dismisses her attendants and tests her, telling her that Radames was killed in the battle. Aida's reaction reveals her love for Radames, and her joy when Amneris admits that Radames is still alive only confirms her suspicions. Threatening her rival, Amneris departs for the festivities.





Radames and the Egyptian army parade in triumph through the city, bringing with them the conquered Ethiopians. Among them is Aida's father, King Amonasro, who quickly warns Aida not to betray his rank. He pleads for his fellow captives' lives, but Ramfis and the priests demand their death. Radames, however, requests their freedom as his reward. The king releases all but Amonasro and Aida; he then presents Radames with Amneris's hand in marriage, leaving Aida in despair.


<![if !supportLineBreakNewLine]>
<![endif]>
More information about upcoming Houston Grand Opera productions is available at the company's web site: www.HGO.org.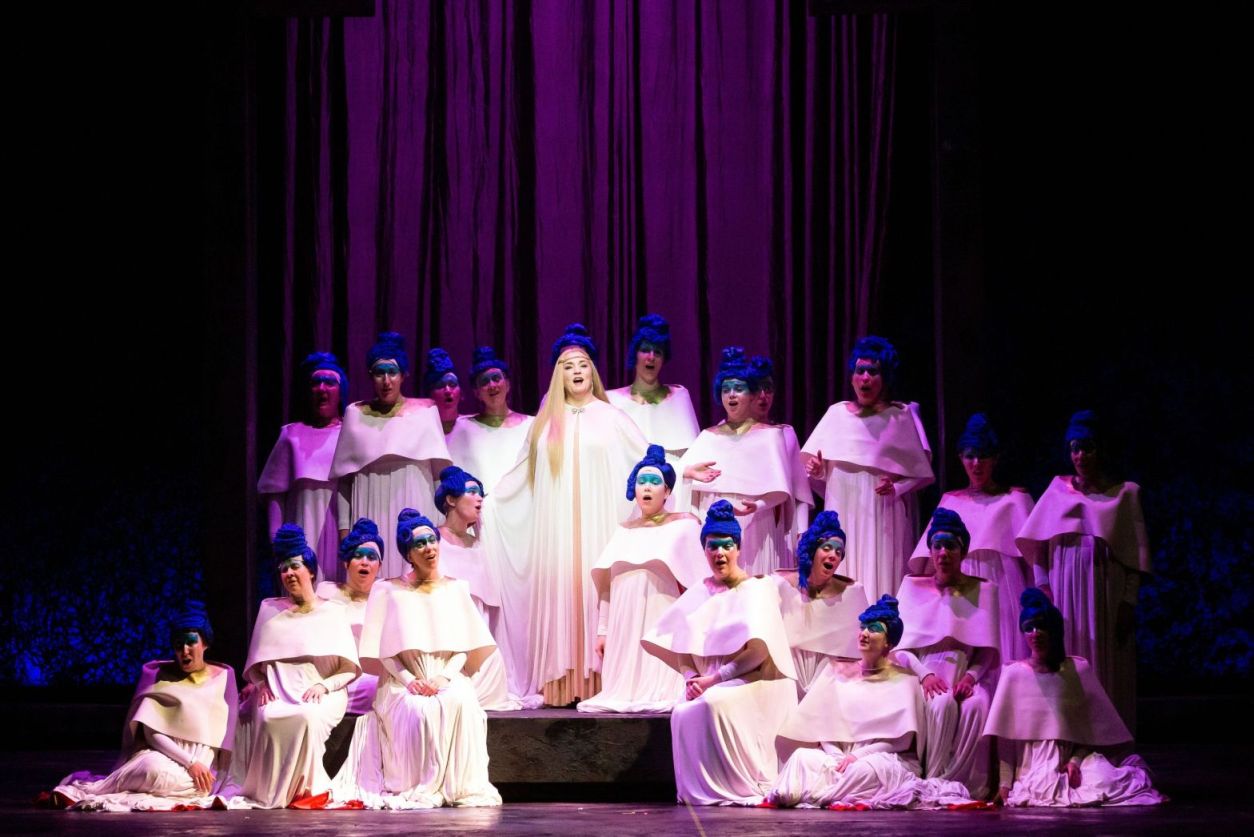 Houston Grand Opera's 2020 production of AIDA. Photo by Lynn Lane/Houston Grand Opera
<![if !vml]>
<![endif]>
ACT III

On a moonlit bank of the Nile, Amneris enters the Temple of Isis for a wedding vigil. Aida waits in secret for Radames, but her father appears first, explaining that the Ethiopians have re-armed and will continue to fight. He extracts a promise from Aida to ask Radames where the Egyptian army plans to enter Ethiopia. Radames arrives; Aida slowly convinces him to prove his love by running away with her, and then tricks him into revealing the route of the Egyptian army. At that moment, Amonasro steps out of hiding, identifying himself as Aida's father and the king of Ethiopia. Amneris comes out of the temple and denounces Radames as a traitor. Amonasro attacks Amneris, but Radames intervenes, allowing Aida and her father to escape, while he surrenders himself to Ramfis.

ACT IV

Amneris is torn between her love for Radames and the rage she feels because of his betrayal. She sends for him and offers to save him if he will renounce Aida. He refuses, and in a fury, she sends him to trial, where he is quickly convicted. Overcome with remorse, Amneris curses the priests who condemn him to death.

Buried alive in a crypt beneath the temple, Radames thinks of Aida, hoping she is safe and well. She, however, has secretly come back to Egypt and is hidden in the tomb to await the outcome of his trial. Weak and faint with hunger, she emerges from the shadows to join him: Radames tries desperately to save her, but in vain. The lovers prepare to be united in eternity as Amneris, outside the tomb, alone and desperate, prays for Radames' soul and for peace.

HGO PERFORMANCE HISTORY

Aida was first presented at HGO during the Company's third season (1957–58) and has been presented subsequently during seasons 1966–67, 1970–71, 1977–78, 1987–88, 1992–93, 1999– 2000, 2006–07, and 2013–14. HGO chose Aida to inaugurate both the opening of Jones Hall in 1966 and of the Wortham Theater Center in 1987.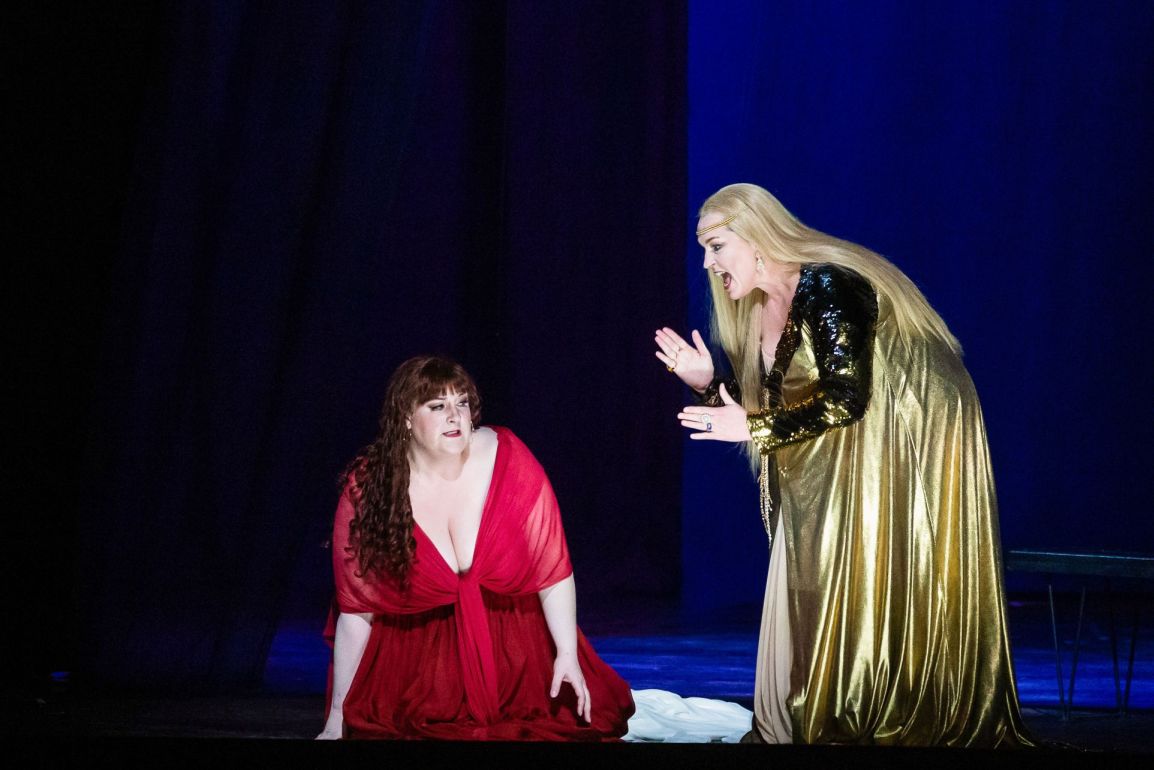 Houston Grand Opera's 2020 production of AIDA. Photo by Lynn Lane / Houston Grand Opera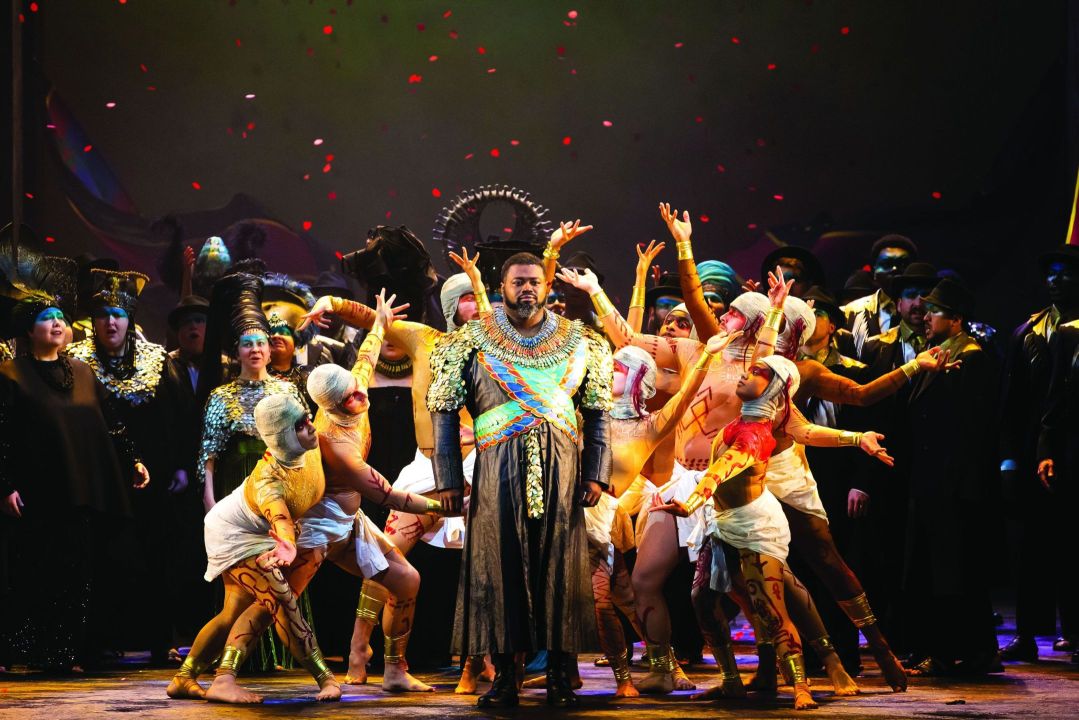 Houston Grand Opera's 2020 production of AIDA. Photo by Lynn Lane / Houston Grand Opera

Houston Grand Opera's 2020 production of AIDA. Photo by Lynn Lane/Houston Grand Opera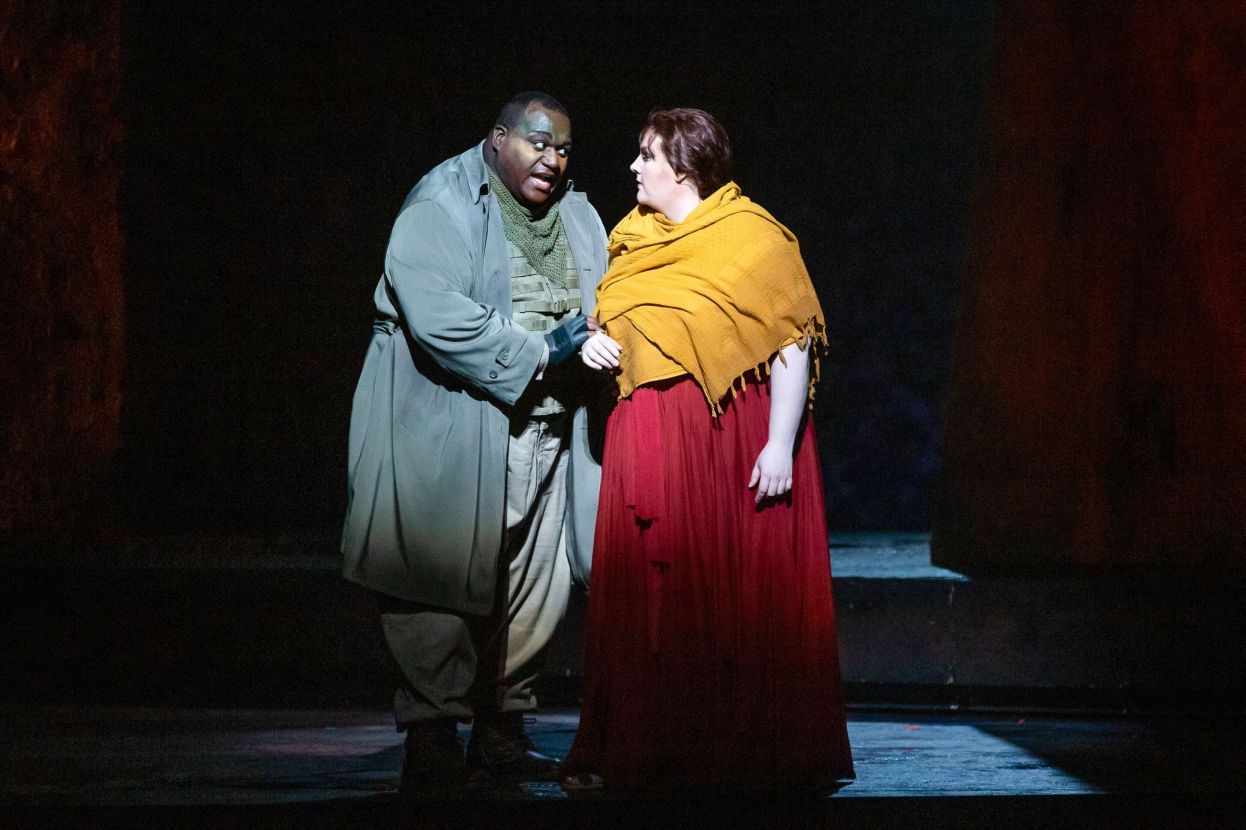 Houston Grand Opera's 2020 production of AIDA. Photo by Lynn Lane/Houston Grand Opera

Houston Grand Opera's 2020 production of AIDA. Photo by Lynn Lane/Houston Grand Opera
About Houston Grand Opera
Since its inception in 1955, Houston Grand Opera has grown from a small regional organization into an internationally renowned opera company. HGO enjoys a reputation for commissioning and producing new works, including 57 world premieres and seven American premieres since 1973. In addition to producing and performing world-class opera, HGO contributes to the cultural enrichment of Houston and the nation through a diverse and innovative program of performances, community events, and education projects that reaches the widest possible public. HGO has toured extensively, including trips to Europe and Asia, and has won a Tony, two Grammy awards, and two Emmy awards—the only opera company to have won all three honors.
Through HGOco, Houston Grand Opera creates opportunities for Houstonians of all ages and backgrounds to observe, participate in, and create art. Its Song of Houston project is an ongoing initiative to create and share work based on stories that define the unique character of our city and its diverse cultures. Since 2007, HGOco has premiered 18 new works along with countless innovative community projects, reaching more than one million people in the greater Houston metropolitan area.

Houston Grand Opera's 2020 production of AIDA. Photo by Lynn Lane/Houston Grand Opera