Houston Grand Opera
www.houstongrandopera.org

Houston Grand Opera
Revives the Most Popular of its 25 World Premieres

DANIEL CATAN'S

FLORENCIA EN EL AMAZONAS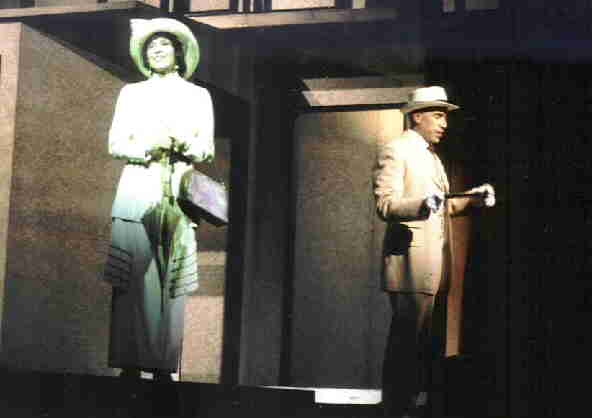 The married couple Paula and Alvaro (Suzanna Guzman and Hector Vasquez) board the steamer EL DORADO for a journey down the Amazon. Photo by George Hixson.



Spanish Language Opera
Based on Writings of Gabriel Garcia Marquez


April 28, 2001 through May 13, 2001

The Wortham Theater Center's Brown Theater

Texas Avenue at Smith Street, Houston, Texas


Houston Grand Opera concludes its 2000 - 2001 mainstage season with a revival of its most popular world premiere to date, Daniel Catan's FLORENCIA EN EL AMAZONAS. Based on the writings of Nobel Prize - winning author Gabriel Garcia Marquez, the opera details the journey of the legendary diva Florencia Grimaldi and her fellow passengers on a boat ride down the Amazon. As they travel through the magical rainforest toward their destination, the opera house in Manaus, the passengers each harbor secret hopes of what the trip will bring.




The diva Florencia Grimaldi (Patricia Schuman) boards the boat incognito while the mystical being Riolobo (Mark S. Doss) - appearing here as a sailor - calls "All Aboard." Photo by George Hixson.




Acclaimed soprano Patricia Schuman makes her HGO mainstage debut in the title role. Her fellow travelers include soprano Ana Maria Martinez and tenor Chad Shelton, both former artists of Houston Grand Opera Studio who were seen in the starring roles of last season's THE ELIXIR OF LOVE. Also on board are mezzo-soprano Suzanna Guzman and baritone Hector Vasquez, both returning to sing the roles that they created in the 1996 world premiere production.

Houston Grand Opera Studio bass Oren Gradus plays the boat's Capitan and bass-baritone Mark S. Doss (this season's Escamillo in Carmen) is the spirit of the river, RIOLOBO. Houston Grand Opera Music Director Patrick Summers leads the Houston Grand Opera Orchestra. FLORENCIA EN EL AMAZONAS is a Francesca Zambello production remounted by Andrew Morton and features sets by Robert Israel, costumes by Catherine Zuber and lighting by Paul Pyant. Angela Scimonelli makes her HGO debut as choreographer and HGO's Head of Music Staff Richard Bado prepares the Houston Grand Opera Chorus.

FLORENCIA EN EL AMAZONAS is a co-proudction of Houston Grand Opera, Los Angeles Opera, Opera de Columbia, and Seattle Opera, in association with Opera de Bellas Artes and Festival Internacional Cervantino.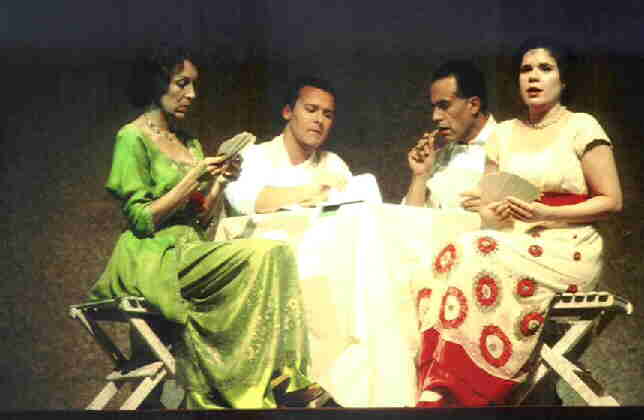 The passengers (from left) Paula (Suzanna Guzman), Arcadio (Chad Shelton), Alvaro (Hector Vasquez) and Rosalba (Ana Maria Martinez) play a game of cards. Photo by George Hixson.




THE STORY

SETTING: THE EL DORADO, a steamboat sailing down the Amazon from Leticia, Colombia to Manaus in the early 1900s.

The story of FLORENCIA EN EL AMAZONAS is accompanied by Lyrics of the popular rock song, BUTTERFLY by CrazyTown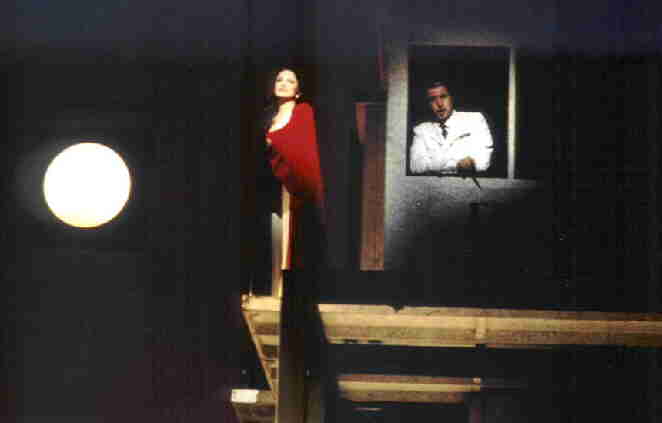 Florencia Grimaldi (Patricia Schuman) walks on deck in the moonlight as El Capitan (Oren Gradus) steers the EL DORADO. Photo by George Hixson.
ACT I

On the riverbank, RIOLOBO, a mysical character who can assume many forms, excitedly announces that the EL DORADO is bound for the opera house in Manaus. There, the legendary opera diva FLORENCIA GRIMALDI, who has not set foot in her native South America for twenty years, will give a concert to reopen the theatre.

From among the crowds lining the riverbank and selling their local wares, we glimpse the ship's passengers coming aboard: a young journalist, Rosalba, who is working on a biography about Florencia Grimaldi; Paula and Alvaro, a middle - aged couple journeying to hear Grimaldi in hopes of rekindling their marriage; and the diva herself, traveling incognito.

As the ship pulls away from the busy port, Florencia reflects on the emptiness of her life and her longing to rediscover herself and find her long - lost lover, Cristobal, a butterfly hunter in search of the rare Emerald Muse. Rosalba's notebook is rescued from the river by the Captain's nephew, Arcadio, and they exchange confidences about their dreams and desires. Alvaro and Paula attempt to dine on deck, but misunderstandings about the exotic menu lead only to bitter exchanges.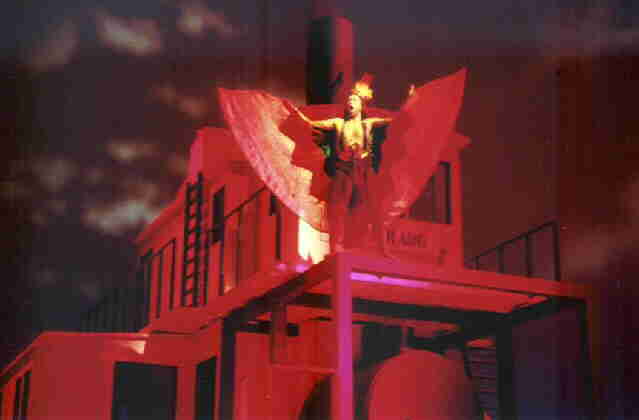 The mystical RIOLOBO (Mark S. Doss) calls upon the spirits of the Amazon to save the ship during a violent storm. Photo by George Hixson.
BUTTERFLY
by Crazy Town
Music and Lyrics: S. Binzer - B. Mazur - A. Kiedis - Flea - J. Frusciante - C. Smith

CHORUS:
Come my lady. Come, come my lady.
You're my butterfly. Sugar, baby

Come my lady. Come, come my lady.
You're my butterfly. Sugar, baby

Such a sexy, sexy pretty little thing.
Fierce nipple pierce, you got me sprung
With your tongue ring.
And I ain't gonna lie
'Cause your loving gets me high
So to keep you by my side,
There's nothing that I won't try.

Butterflies in her eyes
And the looks to kill.
Time is passing
And I'm asking could this be real
'Cause I can't sleep
I can't hold still.
The only thing I really know
Is she got sex appeal.
I can feel
Too much is never enough.
You're always there to lift me up
When these times get rough.
I was lost. Now I'm found
Ever since you've been around.
You're the woman that I want.
So yo, I'm putting it down.
Puttin' it down




After the storm, the travelers gather on deck, transformed by their brush with death: (from left) Riolobo (Mark S. Doss), El Capitan (Oren Gradus), Florencia Grimaldi (Patricia Schuman), Rosalba (Ana Maria Martinez), Arcadio (Chad Shelton), Alvaro (Hector Vasquez), and Paula (Suzanna Guzman). Photo by George Hixson.




Florencia, awakened by the sounds of the jungle, learns from the Capitan that the butterfly hunter has disappeared into the jungle without a trace. Later, a tempestuous game of cards reveals the growing affection between Rosalba and Arcadio and the increasing tension between Paula and Alvaro.

A violent storm quickly develops and the ship is carried helplessly in the rushing currents in a downpour of pink rain. Alvaro saves the boat from being crushed by tree trunks but is knocked overboard. With the Capitan unconscious, Riolobo appears in the guise of a river - spirit and implores the mercy of the gods of the river. Arcadio ably takes the helm but is unable to stop the forces of nature as the ship runs aground.

CHORUS:
Come my lady. Come, come my lady.
You're my butterfly. Sugar, baby

Come my lady. Come, come my lady.
You're my butterfly. Sugar, baby

I don't deserve you.
Unless it's some kind of hidden message.
To show me life is precious
Then I guess it's true.
To tell the truth, I really never knew
'Til I met you.
I was lost and confused.
Twisted and used up.
Knew a better life existed.
But thought that I missed it.
My lifestyle's wild
I was living like a wild child.
Trapped on a short leash paroled
The police files.
And yo, what's happening now?
I see the sun breaking,
Shining through dark clouds
And a vision of you
Standing out in the crowds.

INTERMISSION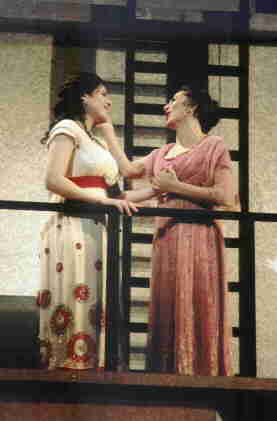 The young writer Rosalba (Ana Maria Martinez, left) finally recognizes that her mysterious companion on the boat is none other than the diva Florencia Grimaldi herself (Patricia Schuman). Photo by George Hixson.




ACT II

In the quiet after the storm, Florencia wonders whether she is alive or dead. Arcadio and Rosalba rejoice to find they have survived the storm, but frightened by the intensity of their feelings for each other, vow not to fall in love and risk disillusionment. Paula laments the loss of Alvaro, recognizing that the wall between them was pride - not a lack of love.

Riolobo once again calls upon the mystical and transformative powers of the Amazon. Suddenly, Alvaro is returned to the boat, explaining that Paula's voice called him back from the brink of death. On behalf of all the passengers, Florencia thanks him for saving their lives and they resume their journey to Manaus.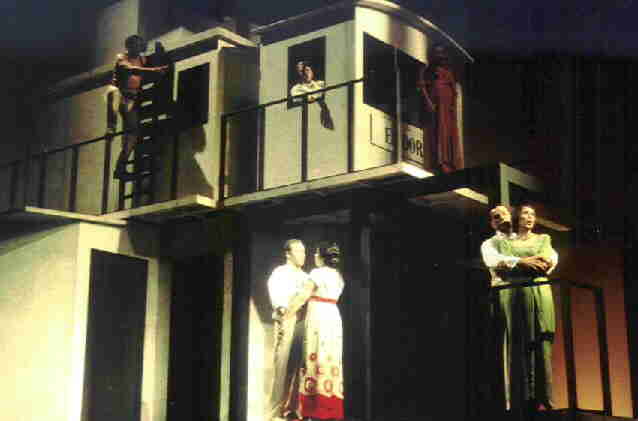 Houston Grand Opera's 2001 production of FLORENCIA EN EL AMAZONAS. Photo by George Hixson.



Rosalba finds her ruined notebook containing all her notes for the biography of Florencia. She is distraught by the loss of two years' work, but Florencia tells her she has lost nothing irreplaceable. The two women begin to argue about the source of Grimaldi's talents, and when Florencia passionately declares that the diva's gift sprang from her love for a man, Rosalba suddenly realizes the woman standing before her is the opera singer herself.

With both pairs of lovers reconciled to their need for each other, the ship is about to reach Manaus when it is discovered that no one may disembark because of a cholera epidemic. In despair at being unable to fulfill her search, Florencia's spirit drifts toward Cristobal in a mysical reunion.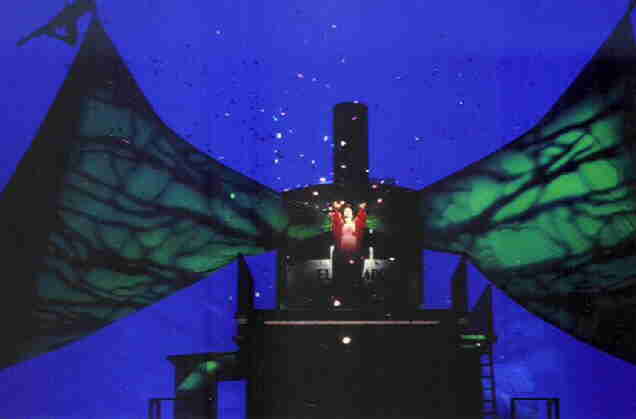 Florencia Grimaldi (Patricia Schuman) undergoes a spiritual transformation in which her spirit unites with that of her true-love, the butterfly hunter Cristobal. Photo by George Hixson.
CHORUS:
Come my lady. Come, come my lady.
You're my butterfly. Sugar, baby

Come my lady. Come, come my lady.
You're my butterfly. Sugar, baby


Hey sugar momma, come and
Dance with me.
The smartest thing you ever did
Was take a chance with me.
So, whatever tickles your fancy.
Girl it's me and you like Sid and Nancy.
So sexy… almost evil
Talkin' about butterflies in my head.
I used to think that happy endings
Were only in the books I read.
But you made me feel alive
When I was almost dead.
You filled that empty space
With the love I used to chase
And as far as I can see,
It don't get better than this.
So, butterfly, here is a song and it's sealed with a kiss.
And a thank you miss.