Houston Grand Opera's 2023–2024 season
HGO's New Season to Feature Six Operas, Including a Highly Anticipated World Premiere, Wagner's Final Masterpiece, a New Staging of a Family-Friendly Classic, and Beloved Audience Favorites
The new season includes the world premiere of superstar composer Jake Heggie's Intelligence; its second-ever Parsifal; a new co-production of The Sound of Music; and three popular favorites, Falstaff, Madame Butterfly, and Don Giovanni
"The season's theme surrounds finding truth within art." —Khori Dastoor, HGO General Director & CEO
* * * * *
HOUSTON—March, 2023—Houston Grand Opera (HGO) proudly announces its 2023-24 season, featuring a season-opening, world premiere opera based on a little-known true story of the Civil War, Intelligence; the company's first presentation of Wagner's Parsifal since 1992; a new staging of The Sound of Music co-produced by HGO and the Glimmerglass Festival; and popular classic operas Falstaff, Madame Butterfly, and Don Giovanni.
"The season's theme surrounds finding truth within art," says HGO General Director and CEO Khori Dastoor. "These operas are united by the complexity of their musical languages, the maturity of their themes, and the immutable truths contained within their stories. Only in opera do we see the truthful representation of multiple art forms, multiple points of view, and a wide diversity of perspectives co-existing in one moment. That complexity is the essence of the human condition. Opera can be ridiculous at times, but it is always honest."
"The dreams of next season, with its mix of newness and comforting familiarity, will be brought to life by a roster of artists and creatives so prodigiously talented, it truly takes your breath away," says HGO Artistic and Music Director Patrick Summers. "These are monumental works of art, whether they were gifted to us by history's great geniuses or the most brilliant creators of the current day. From the great new American story of Intelligence; to the burst of truthful human laughter that ended Verdi's long and historic career, Falstaff; to the familiar Italian operas influenced by dozens of other cultures, Madame Butterfly and Don Giovanni; to the more ancient mystical beauties of Parsifal—there is a journey for everyone."
* * * * *
For the first time in its history, HGO will open its 2023-24 season with a world premiere: the company-commissioned opera Intelligence, created by acclaimed composer Jake Heggie, librettist Gene Scheer, and director/choreographer Jawole Willa Jo Zollar, 2021 MacArthur Fellow and founder of the Urban Bush Women, the renowned Brooklyn dance company that centers the perspective of Black women.
Shared through a fusion of music, words, and dance and inspired by historic events, Intelligence tells the story of two women—Elizabeth Van Lew, from a prominent Confederate family, and Mary Jane Bowser, born into slavery in the family's household—who form a secret pro-Union spy ring. As they change the course of history together, Mary Jane uncovers secrets of her own history and identity. The sensational cast will be led by mezzo-soprano and Sarah and Ernest Butler Houston Grand Opera Studio alumna Jamie Barton as Elizabeth and soprano Janai Brugger in her company debut as Mary Jane. They will be joined by eight dancers from the Urban Bush Women in their HGO debut, with acclaimed conductor Kwamé Ryan also making his company debut at the podium.
The other opera from HGO's fall repertoire is Verdi's comic masterpiece, Falstaff, which recounts the drunken misdeeds of Shakespeare's beloved, down-on-his-luck knight, who crosses the wrong women in a harebrained scheme to pay off his debts. The stellar cast features four beloved company favorites: baritone Reginald Smith, Jr. as Falstaff, soprano Nicole Heaston as Alice, baritone Blake Denson as Ford, and soprano Andrea Carroll as Nannetta. Paula Suozzi directs the production, and maestro Patrick Summers conducts.
* * * * *
The company will launch its winter repertoire with Wagner's revered masterpiece, Parsifal, in a colorful production from Tony Award-winning director John Caird. The opera takes audiences on a mystical journey as a group of knights tries to protect the Holy Grail and their wounded king, who can only be healed by the titular protagonist and the Holy Spear. HGO Principal Guest Conductor Eun Sun Kim will lead a cast of extraordinary Wagnerians—including tenor Russell Thomas as Parsifal, soprano Christine Goerke as Kundry, bass Kwangchul Youn as Gurnemanz, and bass-baritone Ryan McKinny as King Amfortas—for this major operatic event.
Next, Puccini's beloved tragedy, Madame Butterfly, returns to HGO, with Jordan Braun directing the revival of Tony Award winner Michael Grandage's acclaimed production. The opera's diverse cast will be led by internationally sought-after soprano Ailyn Pérez, who returns to Houston as Cio-Cio-San, opposite tenor Yongzhao Yu as Pinkerton in his role debut, with mezzo-soprano Sun-Ly Pierce as Suzuki, bass-baritone Michael Sumuel as Sharpless, bass William Guanbo Su as the Bonze, and tenor Rodell Rosel as Goro. Maestro Patrick Summers conducts.
HGO's spring repertoire opens with Mozart's sublime tragicomedy, Don Giovanni. Conducted by the world-renowned Dame Jane Glover, the production will be led by superstar Italian bass-baritone Luca Pisaroni as the opera's titular womanizing antihero opposite sensational soprano Andriana Chuchman in her role debut as Donna Anna. They will be joined by a powerhouse cast that includes bass-baritone Ryan McKinny as Leporello, tenor Kang Wang in his company debut as Don Ottavio, and mezzo-soprano Sasha Cooke as Donna Elvira. Greg Eldridge directs the revival of Kasper Holten's innovative production.
* * * * *
Closing the season is acclaimed director Francesca Zambello's vibrant new staging of Rodgers and Hammerstein's The Sound of Music, co-produced by HGO and the Glimmerglass Festival. The world-class HGO Orchestra and Chorus will propel the timeless tale and its outstanding cast, which includes Grammy-winning mezzo-soprano Isabel Leonard as Maria and baritone Alexander Birch Elliott as the Captain. HGO's Richard Bado takes the podium to conduct this classic family-friendly production.
Dastoor continues, "The caliber of performers and the resources these operas require, their pure scope, their wild ambition—the season will require marshaling our full creative forces in service of epic storytelling. We cannot wait to share these incredible and historic performances with the diverse community we serve."
* * * * *
During the 2023-24 school year, HGO will present composer Faye Chiao and librettist Anton Dudley's company-commissioned opera Katie: The Strongest of the Strong, which made its digital world premiere in 2020. The 45-minute opera celebrates women's strength and confidence through the inspiring true story of protagonist Katie Sandwina, a circus strongwoman who defied expectations and went on to help lead the U.S. suffrage movement in the early 1900s. The opera will tour community spaces and schools throughout the season.
On February 2, 2024, HGO will present the 36th annual Concert of Arias, the live final round of the Eleanor McCollum Competition for Young Singers, which brings young singers from around the world to Houston. The company holds this popular event each year to identify candidates for the company's internationally acclaimed emerging artist training program, the Sarah and Ernest Butler Houston Grand Opera Studio.
* * * * *
In 2024 HGO will present the fifth annual Giving Voice, its popular celebration of Black artists in opera created by international tenor Lawrence Brownlee. Details including presenting partners, date, and location will be announced at a later date.
From February 16 to 18, 2024, the HGO-commissioned chamber opera The Big Swim, created by composer Meilina Tsui and librettist Melisa Tien, will make its world premiere. The new work—which shares the story of the Jade Emperor and the Great Race between the 12 animals that became the symbols of the Lunar New Year calendar—will be presented at the Asia Society Texas Center as part of its Lunar New Year festivities.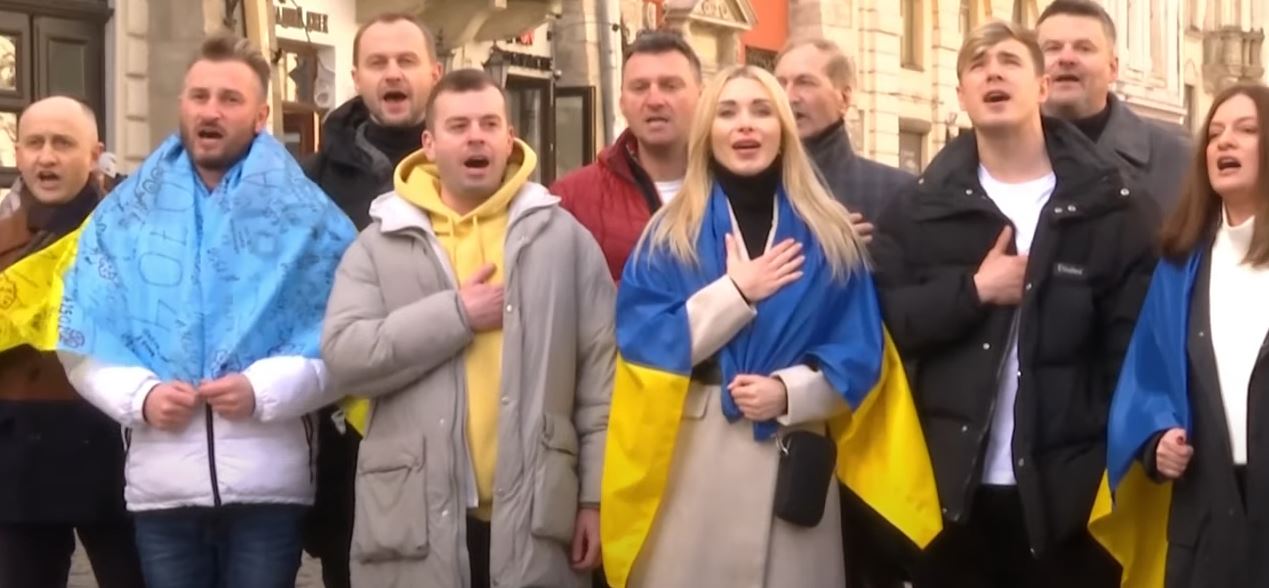 As the war rages on, Ukraine opera singers express their pride to sing the country's national anthem. Click on the picture above to view the YouTube video.
* * * * *
This season HGO is offering a variety of subscriptions, from flexible three-opera packages to the full six-opera season. Full subscriptions start as low as $90. Subscriptions to the 2023-24 season are now available at HGO.org. Single tickets will be available later this summer.
Subscribers to the company's 2023-24 season will receive a host of expanded benefits, including a 25 percent discount on additional tickets, first access to all HGO performances, free tickets to the company's popular Butler Studio Showcase, special deals at the HGO Boutique and downtown-area restaurants, entry to win tickets to special HGO events and parties, and a monthly subscriber newsletter.
The company continues to encourage younger audiences to experience the art form through several opportunities, including its popular Opening Nights for Young Professionals (ONYP) subscription series; and tickets starting at $25 for all productions.
HGO's mainstage season will comprise 34 mainstage, 2 student, and 2 free performances of six productions. Additional details of the upcoming HGO productions are provided below, and more information is available at the company's website: HGO.org. All repertoire, dates, pricing, productions, and casting are subject to change without notice.
* * * * *
About Houston Grand Opera
Houston Grand Opera (HGO) is one of the largest, most innovative, and most highly acclaimed opera companies in the United States. General Director and CEO Khori Dastoor assumed leadership of the organization and responsibility for its strategic vision in 2021. HGO was the only American finalist for Opera Company of the Year in the 2019 International Opera Awards, and the only American company to be nominated twice. In fulfilling its mission to advance the operatic art, to serve the Houston community, and to be a global leader in the future of opera, HGO has led the field in commissioning and producing new works (74 world premieres to date) and in training and nurturing promising young artists and administrators. The company contributes to the cultural enrichment of Houston and the nation through a diverse and innovative program of performances, community events, and education projects that reaches the widest possible public. HGO's pioneering Community and Learning initiative has served as a model for other arts organizations. The company invites all Houstonians to experience superlative opera without the barrier of price through discounted single tickets and subscriptions, subsidized student performances, and free productions.
HGO has toured extensively and has won a Tony, two Grammy awards, and three Emmy awards. It is the only opera company to win all three honors.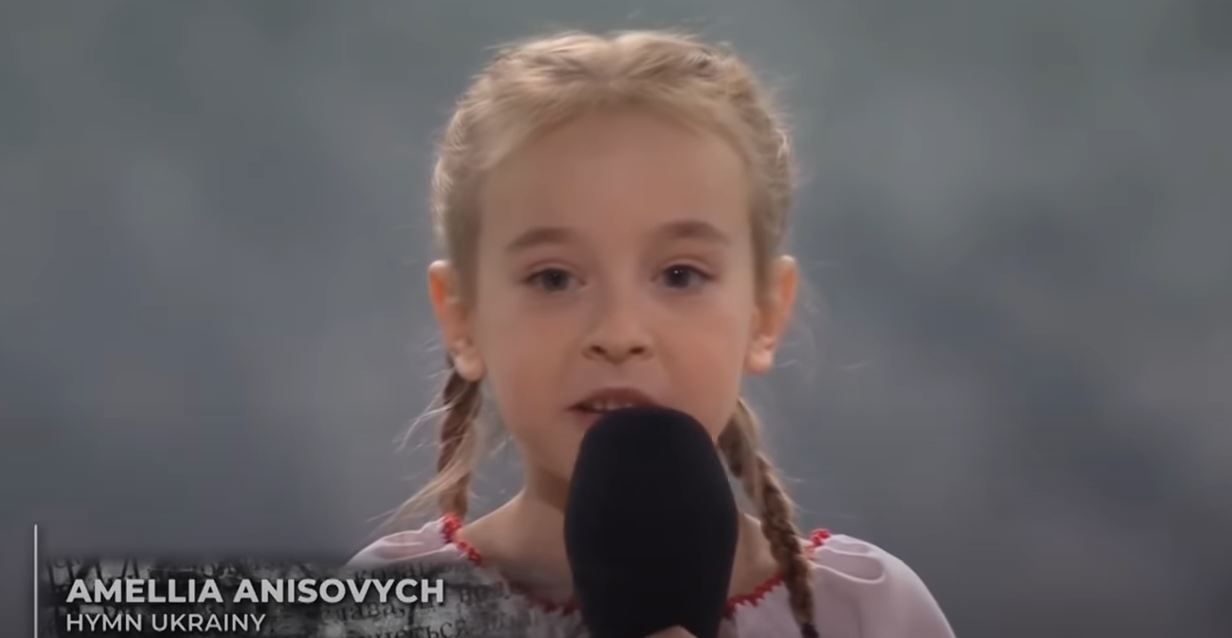 Ukrainian girl who fled to Poland sings the national anthem at a charity concert. Click on the picture above to view the YouTube video.
* * * * *
Houston Grand Opera: 2023-24 Season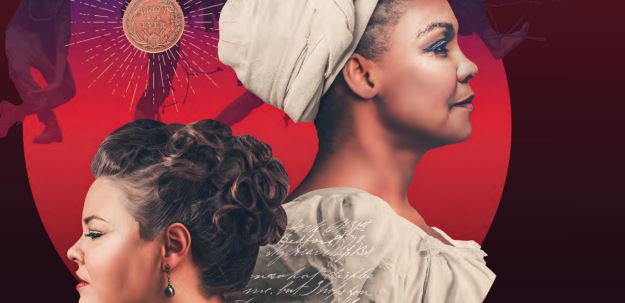 * Company mainstage debut
# Alternate cast
† Sarah and Ernest Butler Houston Grand Opera Studio artist
‡ Former Butler Studio artist
Heggie | Scheer: Intelligence
Music by Jake Heggie
Libretto by Gene Scheer
Conceived by Jake Heggie, Gene Scheer, and Jawole Willa Jo Zollar
Performance dates: October 20, 22m, 28, November 1, 3, 2023
Sung in English with projected English text
CAST:
Elizabeth Van Lew Jamie Barton ‡
Mary Jane Bowser Janai Brugger *
Lucinda J'Nai Bridges *
Callie Van Lew Caitlin Lynch ‡
Henry Nicholas Newton ‡
Travis Briggs Michael Mayes
Wilson Joshua Blue *
Dance Company Urban Bush Women *
CREATIVE TEAM:
Composer Jake Heggie
Librettist Gene Scheer
Conductor Kwamé Ryan *
Director/Choreographer Jawole Willa Jo Zollar *
Set Designer Mimi Lien *
Costume Designer Carlos Soto *
Lighting Designer John Torres
Projection Designers Wendall K. Harrington
Rasean Davonté Johnson *
Associate Choreographer Vincent Thomas *
Dramaturg Jeremy Johnson
HGO Orchestra
An HGO-Commissioned World Premiere
Produced in Collaboration with Urban Bush Women
SPONSORS:
PRINCIPAL GUARANTORS
Sara and Bill Morgan
Gordon Getty
GRAND GUARANTORS
The Edgar Foster Daniels Foundation
Mellon Foundation
Diane B. Wilsey
Carol Franc Buck Foundation
GUARANTORS
Margaret Alkek Williams
Mr. And Mrs. Richard Husseini
GRAND UNDERWRITERS
ConocoPhillips
Mr. Jay Hiemenz
Terrylin G. Neale
Boulware & Valoir / Meg Boulware and Hartley Hampton
Allyson Pritchett
UNDERWRITERS
OPERA America / The Opera Fund
Michelle Klinger and Ruain Flanagan
Brenda Harvey Traylor
Kiana Caleb
Elaine Decanio
David Wolff
This production of Intelligence received funding from OPERA America's Opera Fund.
* * * * *

Verdi: Falstaff
Performance dates: October 27, 29m, November 4, 8, 10, 2023
Sung in Italian with projected English translation
CAST:
Falstaff Reginald Smith, Jr. ‡
Alice Ford Nicole Heaston ‡
Ford Blake Denson ‡
Mistress Quickly Jennifer Johnson Cano
Nannetta Andrea Carroll ‡
Fenton Jack Swanson *
Meg Page Emily Treigle †
Doctor Caius Martin Bakari *
Bardolf Michael McDermott *
CREATIVE TEAM:
Conductor Patrick Summers
Sarah and Ernest Butler Chair
Director Paula Suozzi
Set and Costume Designer Adrian Linford
Lighting Designer Rick Fisher
Chorus Director Richard Bado ‡
Sarah and Ernest Butler Chorus Director Chair
HGO Orchestra
HGO Chorus
A Production of Los Angeles Opera
SPONSOR:
PREMIER GUARANTOR
The Wortham Foundation, Inc.
* * * * *
Wagner: Parsifal
Performance dates: January 19, 21m, 27, 31, February 4m, 2024
Sung in German with projected English translation
CAST:
Parsifal Russell Thomas
Kundry Christine Goerke
Gurnemanz Kwangchul Youn *
Amfortas Ryan McKinny ‡
Klingsor Andrea Silvestrelli
Titurel André Courville *
Flower Maidens Meryl Dominguez †
Erin Wagner †
Renée Richardson †
Ani Kushyan †*
Esquires Demetrious Sampson
Michael McDermott
CREATIVE TEAM:
Principal Guest Conductor Eun Sun Kim
Director John Caird
Original Scenic Johan Engels
and Costume Designer
Associate Scenic Designer David Farley
Original Lighting Designer Duane Schuler
Revival Lighting Designer Michael James Clark
Choreographer Tim Claydon
Chorus Director Richard Bado ‡
Sarah and Ernest Butler Chorus Director Chair
HGO Orchestra
HGO Chorus
A Production of Lyric Opera of Chicago
SPONSORS:
GRAND GUARANTORS
Janice Barrow
Louise G. Chapman
GUARANTORS
Drs. Liz Grimm and Jack Roth
Donna Kaplan and Richard A. Lydecker
Mr. John G. Turner and Mr. Jerry G. Fischer
* * * * *
Puccini: Madame Butterfly
Performance dates: January 26, 28m, 30 (Student Matinee) #, February 3, 6 (High School Night) #, 7, 9, 11m, 2024
Sung in Italian with projected English translation
CAST:
Cio-Cio-San Ailyn Pérez
Raquel González *#
Pinkerton Yongzhao Yu ‡
Eric Taylor #‡
Sharpless Michael Sumuel ‡
Navasard Hakobyan #†
Suzuki Sun-Ly Pierce ‡
Emily Treigle #†
Goro Rodell Rosel
The Bonze William Guanbo Su ‡
Yamadori André Courville
Kate Pinkerton Erin Wagner †
CREATIVE:
Conductor Patrick Summers
Sarah and Ernest Butler Chair
Original Director Michael Grandage
Revival Director Jordan Lee Braun *
Set and Costume Designer Christopher Oram
Original Lighting Designer Neil Austin
Revival Lighting Designer Philip Alfano
Chorus Director Richard Bado ‡
Sarah and Ernest Butler Chorus Director Chair
HGO Orchestra
HGO Chorus
A Co-Production of Houston Grand Opera, Grand Théâtre de Genève, and Lyric Opera of Chicago
SPONSORS:
GUARANTORS
The Robert and Jane Cizik Foundation
Vinson & Elkins
GRAND UNDERWRITERS
Connie Dyer
Marianne and Joe Geagea
Carolyn Levy
Laura and Brad McWilliams
* * * * *
Mozart: Don Giovanni
Performance dates: April 19, 21m, 27, May 1, 3, 2024
Sung in Italian with projected English translation
CAST:

Don Giovanni Luca Pisaroni
Leporello Ryan McKinny ‡
Donna Anna Andriana Chuchman
Don Ottavio Kang Wang *
Donna Elvira Sasha Cooke
Zerlina Erika Baikoff *
Commendatore Patrick Guetti *
CREATIVE:
Conductor Dame Jane Glover
Original Director Kasper Holten
Revival Director Greg Eldridge
Set Designer Es Devlin
Costume Designer Anja Vang Kragh
Original Lighting Designer Bruno Poet
Associate Lighting Designer John-Paul Percox
Projection Designer Luke Halls
Original Choreographer Signe Fabricius
Revival Choreographer Anna-Marie Sullivan
Chorus Director Richard Bado ‡
Sarah and Ernest Butler Chorus Director Chair
HGO Orchestra
HGO Chorus
A Co-Production of Houston Grand Opera; Royal Opera House, Covent Garden; Gran Teatre del Liceu; and The Israeli Opera
SPONSORS:
GUARANTOR
The Robert and Jane Cizik Foundation
GRAND UNDERWRITER
Laura and Brad McWilliams
Rodgers | Hammerstein II: The Sound of Music
Music by Richard Rodgers
Lyrics by Oscar Hammerstein II
Book by Howard Lindsay and Russel Crouse
Suggested by "The Trapp Family Singers" by Maria Augusta Trapp
Performance dates: April 26, 28m, 30, May 4, 5m, 10, 11, 12m, 2024
Sung in English with projected English text
CAST:
Maria Rainer Isabel Leonard
Captain Georg von Trapp Alexander Birch Elliott
The Mother Abbess Katie Van Kooten
Liesl Tori Tedeschi Adams *
Max Detweiler Daniel Belcher ‡
Elsa Schraeder Megan Marino *
Sister Margaretta Renée Richardson †
Sister Berthe Erin Wagner †
Sister Sophia Ani Kushyan †
CREATIVE:
Conductor Richard Bado ‡
Director Francesca Zambello
Associate Director/ Eric Sean Fogel
Choreographer
Set Designer Peter J. Davison
Costume Designer Aleš Valášek *
Lighting Designer Mark McCullough
Sound Designer Andrew Harper
HGO Orchestra
HGO Chorus
A Co-Production of Houston Grand Opera and The Glimmerglass Festival
SPONSORS:
GUARANTORS
The Robert and Jane Cizik Foundation
Margaret Alkek Williams
The Robert and Janice McNair Foundation
Novum Energy
Houston Methodist
GRAND UNDERWRITERS
Connie Dyer
Laura and Brad McWilliams