Presents
As part of the 2021-2022 Season
TURANDOT
by Giacomo Puccini
APRIL 22 - MAY 8, 2022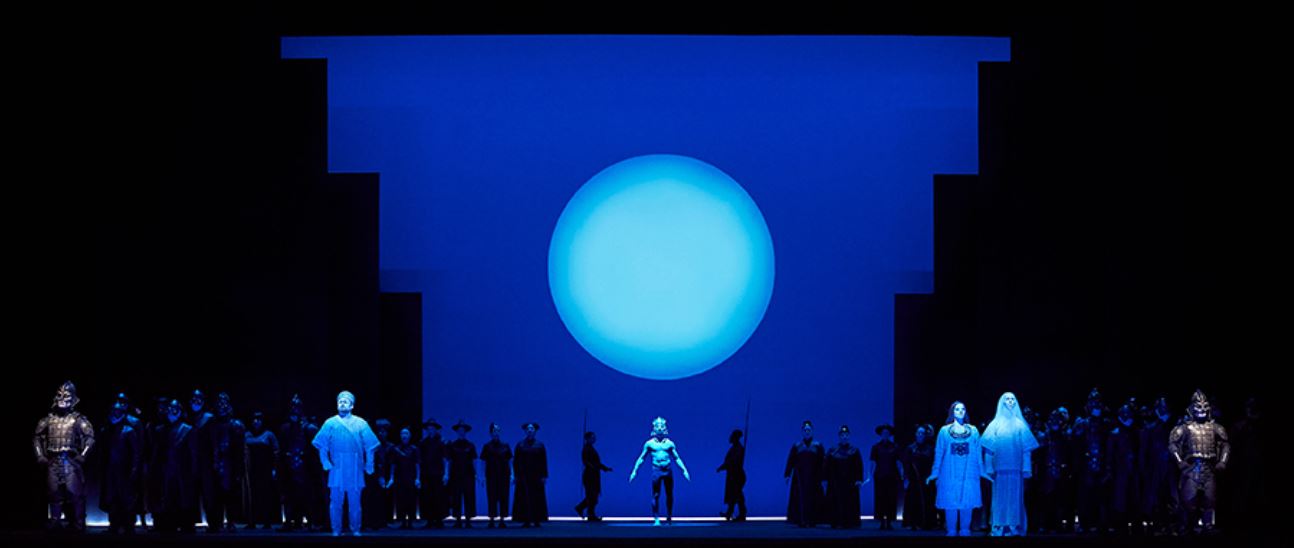 Houston Grand Opera's 2022 production of Turandot.
TURANDOT
An Opera in Three Acts Music by Giacomo Puccini
Libretto by Giuseppe Adami and Renato Simoni
Sung in Italian with projected English translation
BROWN THEATER, WORTHAM THEATER CENTER
CAST
(in order of vocal appearance)
A Mandarin……………………… William Guanbo Su †
Anne and Albert Chao Fellow
Liù…………………………………….. Nicole Heaston ‡
Calaf…………………………………. Kristian Benedikt *
Timur………………………………… Peixin Chen ‡
Prince of Persia………………….. Miles Ward *
Ping……………………………………. Takaoki Onishi *
Pang…………………………………… Andrew Stenson *
Pong…………………………………… Carlos Enrique Santelli *
Handmaidens……………………… Hayley Abramowitz *; Gabrielle Reed
Emperor Altoum…………………. Héctor Vásquez
Turandot……………………………… Tamara Wilson ‡
* Company debut † Houston Grand Opera Studio artist ‡ Former Houston Grand Opera Studio artist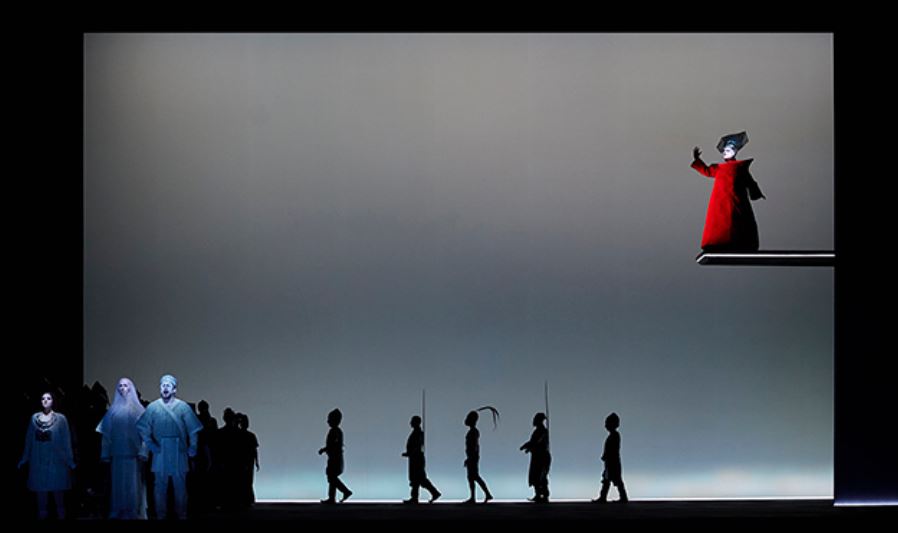 Houston Grand Opera's 2022 production of Turandot.
A visionary artist reimagines a masterwork Full of arresting pools of color, breathtaking lighting design, and highly stylized movement, this masterful new production could only have been created by
visionary director Robert Wilson. Considered Puccini's finest musical masterpiece, Turandot premiered in 1926, after the composer's death. The opera transports audiences to a fantasy land ruled by the
titular princess, who doesn't want to marry. She gives her would-be suitors two options: answer three vexing riddles correctly, or die by beheading. Her plan is working perfectly—until Calaf comes to town
and she meets her match. But first Turandot must try, one more time, to kill him.
Celebrated soprano and HGO Studio alumna Tamara Wilson (Turandot), tenor Kristian Benedikt in his HGO debut (Calaf), HGO Studio alumna, and soprano Nicole Heaston (Liù), and bass and Studio alumnus Peixin Chen (King Timur) lead the diverse and globe-spanning cast. HGO Principal Guest Conductor Eun Sun Kim takes the podium for this superlative new production. See Program Co-production with Teatro Real of Madrid, Lithuanian National Opera and Ballet Theatre Vilnius, Canadian Opera Company of Toronto, and Opéra National de Paris.
Performance Dates:
Friday, April 22, 2022
Sunday, April 24m, 2022
Saturday, April 30, 2022
Tuesday, May 3, 2022
Friday, May 6, 2022
Sunday, May 8m, 2022
• Price Range $20 - $210
• Age Appropriate for all ages.
• Running Time 2 hours, 20 minutes. Includes one intermission.
• Language Sung in Italian with projected English translation.

Houston Grand Opera's 2022 production of Turandot.

-0-0-0-0-0-
SYNOPSIS
Setting: Legendary Beijing
ACT I
At sunset before the Imperial Palace in Beijing, a Mandarin reads an edict: any prince seeking to marry the Princess Turandot must first answer three riddles. If he fails, he will be executed—in fact, the latest suitor, the Prince of Persia, is to be killed at the moon's rising. The crowd becomes unruly as they await the execution. In the hubbub, an old man falls and is in danger of being trampled. His companion, a servant girl named Liù, is trying in vain to help him when suddenly someone comes to their aid. The young man, whose name is Calaf, recognizes the old man as his long-lost father, Timur, the vanquished king of the Tartars. Calaf explains that his father's enemies are pursuing him, and that, like Timur, he is an exile and must keep his identity a secret. Timur reveals that only Liù has remained faithful to him, and Calaf asks her why she has risked so much. Liù replies that it is because Calaf once smiled at her long ago. When the Prince of Persia passes by, the onlookers are moved and call upon the Princess to spare him. Turandot appears and bids the execution to proceed. Calaf, transfixed by her beauty, approaches the gong to announce himself as a new suitor for Turandot's hand. Turandot's three ministers, Ping, Pang, and Pong, try to discourage him, as do Timur and Liù. Calaf, however, entrusts his father to Liù's care and strikes the gong, calling Turandot's name.
-0-0-0-0-0-
ACT II
Ping, Pang, and Pong lament Turandot's bloody reign as the villagers gather to hear Turandot question the new challenger. In front of the palace, the aged Emperor begs Calaf to reconsider, but the young man will not be dissuaded. Turandot prefaces the questioning by recounting the story of the brutal murder of her ancestor, Princess Lou-Ling, by a conquering prince—in revenge, Turandot has determined that no man shall ever possess her. Then she poses her first question to Calaf: What is born each night and dies each dawn? "Hope," Calaf answers correctly. She continues: What flickers red and warm like a flame, yet is not fire? "Blood," replies Calaf after a moment's pause. Visibly shaken, Turandot delivers her third riddle: What is like ice but burns? Calaf triumphantly cries "Turandot!" In vain she begs her father not to give her to the stranger. Calaf offers Turandot a challenge of his own: if she can learn his name by dawn, he will forfeit his life.

Houston Grand Opera's 2022 production of Turandot.

-0-0-0-0-0-
INTERMISSION
ACT III
In the palace gardens, Calaf hears a proclamation: on pain of death, no one in Beijing shall sleep until Turandot learns the stranger's name. Because Liù and Timur were seen talking to the stranger, soldiers drag them in for questioning. When Turandot appears and commands Timur to speak, Liù protests that she alone knows the stranger's identity. At Turandot's command, she is subjected to torture; even so, Liù refuses to betray Calaf. Fascinated and confused, Turandot asks Liù the secret of her courage. "Love," Liù replies. The soldiers intensify the torture, but Liù snatches a dagger and kills herself. The crowd disperses, aghast at the mercilessness that drove Liù to this horrific deed. Calaf is alone with Turandot. He reproaches her for her cruelty, then melts her with a kiss. Love stirs her for the first time. She weeps, and in this vulnerable moment, Calaf reveals his name. Turandot has won. Turandot triumphantly approaches the emperor's throne announcing that she has learned the stranger's name. As she looks upon the vanquished Calaf, she tells the hushed court the stranger's name: it is Love. Calaf rushes to embrace her, and the court hails the power of love and life.
-0-0-0-0-0-
HGO PERFORMANCE HISTORY Turandot was previously staged by HGO during the 1960-61, 1969- 70, 1982-83, 1986-87, 1993-94, and 2003-04 seasons.
-0-0-0-0-0-

Houston Grand Opera's 2022 production of Turandot.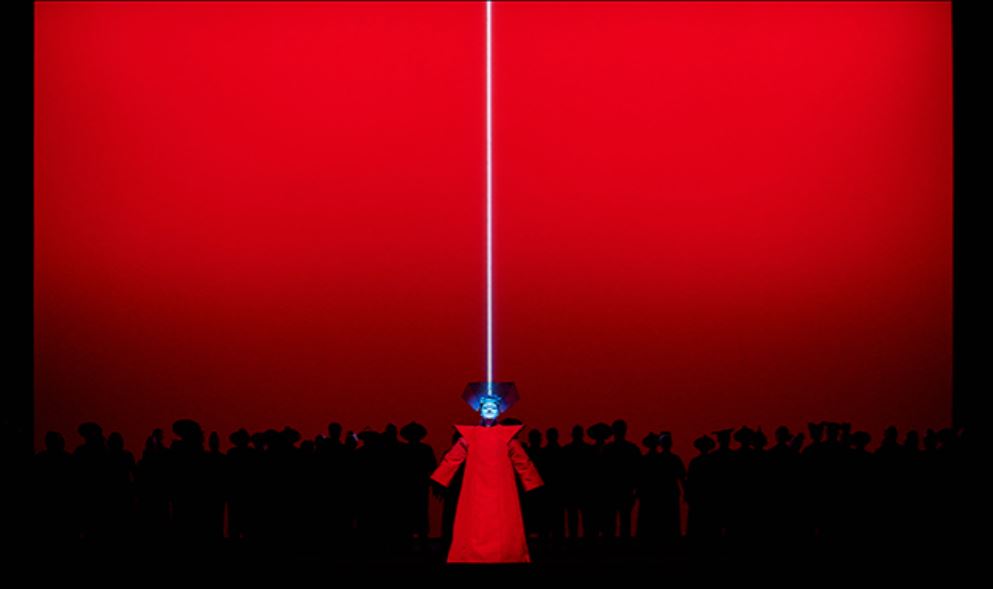 Houston Grand Opera's 2022 production of Turandot.
About Houston Grand Opera
Since its inception in 1955, Houston Grand Opera has grown from a small regional organization into an internationally renowned opera company. HGO enjoys a reputation for commissioning and producing new works, including 57 world premieres and seven American premieres since 1973. In addition to producing and performing world-class opera, HGO contributes to the cultural enrichment of Houston and the nation through a diverse and innovative program of performances, community events, and education projects that reaches the widest possible public. HGO has toured extensively, including trips to Europe and Asia, and has won a Tony, two Grammy awards, and two Emmy awards—the only opera company to have won all three honors.
Through HGOco, Houston Grand Opera creates opportunities for Houstonians of all ages and backgrounds to observe, participate in, and create art. Its Song of Houston project is an ongoing initiative to create and share work based on stories that define the unique character of our city and its diverse cultures. Since 2007, HGOco has premiered 18 new works along with countless innovative community projects, reaching more than one million people in the greater Houston metropolitan area.