Theatre Under the Stars
Presents

HOT SHOE SHUFFLE




DIRECTED AND CHOREOGRAPHED BY
DAVID ATKINS

Book by..........David W. Hahn
Music by..........Megan Cavallari
Lyrics by..........David Goldsmith




Lauren Kennedy and the Tap Brothers




CAST OF CHARACTERS

P.J. Benjamin as Max King




Brad Aspel and P.J. Benjamin



Brad Aspel and Lauren Kennedy
Tim Grandia..........Gair Morris..........Noah Racey
Michael Raine..........Drew Anthony..........Steve Zee
John M. Coppola.....Mark Cubell.....Maria Davidson
Harvey Evans.....Joan Hess.....Kevin Loreque.....Ron Schwinn

Hot Shoe Shuffle is the first new musical to emerge from New Musicals Studio/USA, an innovative new research and development consortium inaugurated in 1996 by Ordway Music Theatre of Saint Paul, The 5th Avenue Musical Theatre Company of Seattle and Theatre Under The Stars. Teams of composers, lyricists and librettists are put to work under the direction of the three non-profit theatres to develop new works for the American musical theatre with the goal to mount at least one full production each year.



(L-R)PJ Benjamin, Producer Frank Young, Mary Ambrose, Radio Personalities Susie Loucks, and Marty Ambrose of Metro Traffic




MUSICAL NUMBERS

Tap-O-Gram.......Mean Feet........A Land Full of Sun.......Waltzing Matilda..........More or Less
It Could Always Be Worse..........Tap Jam..........Take It From Me..........The Old Man's Shoes
The Answer is Dance...No Worries....Drunk Dance...A Girl from Cincinnati.....Rough Diamonds
Vickie and Mr. Valves..........Puttin On The Ritz..........Song and Dance Man..........Opus One
Little Brown Jug.....Pennsylvania 6-5000.....Mood Indigo.....Zing Went The Strings Of My Heart
Tiger Rag.............How Long Has This Been Going On

It Don't Mean a Thing (If It Aint Got that Swing)............Hot Shoe Shuffle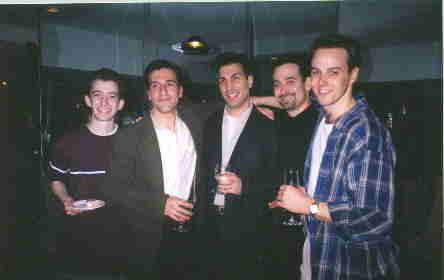 (L-R) Michael Raine, Brad Aspel, Charlie Marcus, Steve Zee and Noah Racey
THE CHAMPAGNE RECEPTION

by Theresa Hyde
TheresaHyd@aol.com

The Party Started with the Announcement of the presence of President George Bush and First Lady Barbara Bush. New Theatre Subscribers, the crowd gave them a standing ovation. They were seated on the sixth row, the same row as ours. And then came with the Introduction of the Tap Brothers by Max King played by P.J. Benjamin, who does a little jig here, a little tap there, he sings a few tunes. And then, we travel to Australia where we meet the seven Aussie brothers in a local pub playing their favorite homemade instruments. A far cry from Broadway. The journey takes us through their hopes and dreams, their wide-eyed revelation of New York City and their tough rehearsals for the Broadway Show. Maybe having too much fun, we end up in Jail, but the party doesn't stop there. We keep on tapping our shoes, singing and dancing.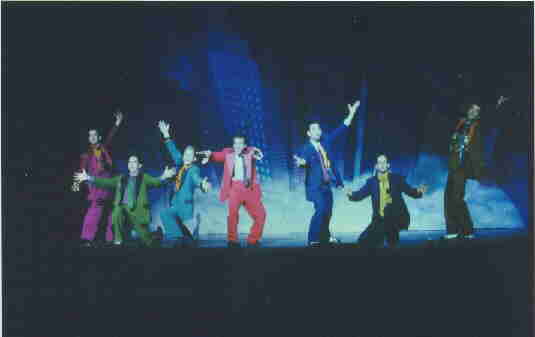 The Grand Finale is a Broadway Show complete with an Orchestra, Back-Up Singers with Conductor Steven D. Bowen on the White Baby Grand Piano. The Heart Stopping Performances and Musical Numbers were so stunning, you just wanted it to go on and on.......But the show had to end. After the show, on the way to the Champagne Reception we pass by a group of giggly swooning teenage girls hoping to catch a glimpse of at least one of the handsome brothers. We were led to the Top Floor where you were greeted with refreshing Champagne and delicious desserts. You can relax and sip your wine on the balcony, enjoy the evening breeze while overlooking Downtown Houston, or you can meet the Stars of the Show.

We meet the youngest brother, Michael Raine. Michael is a recent graduate of New York University's Tisch School of the Arts where he studied musical theatre at CAP 21 Conservatory. Some of his favorite roles include Charley in Merrily We Roll Along, The Balladeer/Oswald in Assassins and Tulsa in Gypsy.



Noah Racey and Michael Raine with family and friends




Theresa: Tell us about the part that you're playing........
Michael: I'm Slide, the youngest brother in the group.
Theresa: How did you become a part of this great production?
Michael: Actually, quite a while ago, through auditions I ended up doing a reading in New York of the role.....
Theresa: Is that where you're from New York?
Michael: I'm originally from Massachusetts. I live in New York now, I did the reading and was lucky enough to stay on the project up here.
Theresa: You are the youngest in the cast, you are so cute!
Michael: I am actually, other than the little boy, I am the youngest in the whole cast, it just worked out that way.
Theresa: You did such a great job, who would you dedicate your performance to?
Michael: To my family, my mom and dad and my sister. Who, by the way, are here tonight.
Theresa: Are you gonna be touring with the Company?
Michael: Oh yeah, we go to Seattle next, and after that, I'm not quite sure where we go. I think we go to the Ordway in Minnesota.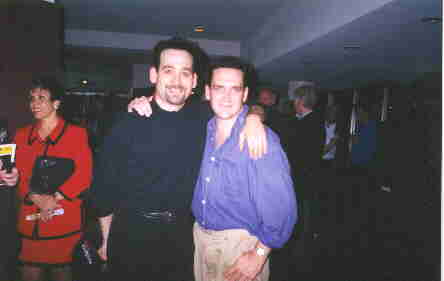 Steve Zee and Drew Anthony




Drew Anthony is the authentic Australian in the group. He lists among his stage credits the Australian productions of Me and My Girl, Cats, Rasputin and 42nd Street. In Hot Shoe Shuffle, he played the roles of Buck and Wing (Australia and Japan) and Spring (New Zealand and Great Britain) and performed with the Australian Youth Ballet Company and the Queensland Ballet Company. TV credits include The Midday Show, Hey Hey It's Saturday, Good Morning Australia and a featured roles in the hit telemovie The Dirtwater Dynasty. Creatively, Mr. Anthony was Associate Director/Choreographer of the Australian productions of Me and My Girl, 42nd Street and The Pirates of Penzance.

Drew: Hello, my name's Drew Anthony, and I'm playing Slap.
Theresa: Tell us about the part that you're playing........
Drew: Well, the part that I play as one of the brothers.....I'm a banger-holic. Coming from Australia, I like HotDogs, I call them bangers, and everywhere I go, in the city of New York, I try to eat as many as I can (laughs).
Theresa: You're originally from Australia.......
Drew: Yeah, yeah. I actually came to this production as an Assistant Director. But one of the boys, the boy who actually plays the role of Slap got in an injury about ten days ago. So I played the role into my head, and I'm performing it for him until he recuperates.
Theresa: How do you like it?
Drew: I'm really enjoying it. I'm loving it here in the States. The Houston audiences are really.....uh.....they're really effervescent. Let me say that. They're really responsive, which is wonderful. It's good for the show too.

Steve Zee plays Wing. He is an international tap performer and teacher, was trained in tap by masters Stan Kahn and Eddie Brown and is a featured soloist in the national touring company of Rhapsody In Taps. He has received several grants for tap choreography including one from the National Endowment for the Arts. As a theatre artist, Steve was trained at the University of California at Los Angeles, by the Piccolo Teatro di Milano in Naples, Italy and worked toward a Master's degree in Theatre History at the Sorbonne/Universite de Paris III in Paris, France.



Thank Heaven for....handsome, sexy Guys who know how to Move and Dance!




Steve: I play Wing in the show. The intellectual, uptight......
Drew: anal retentive (laughs)
Steve: Thank you, Drew! (laughing) Yes, anal retentive brother.
Theresa: How did you become a part of this?
Steve: I came to the show from the Tap World, as opposed to, from the Theatre World. I've been touring the country with the Tap Company. And I got a phone call from Theatre Under the Stars, that they were looking for Tappers who were also actors, and they got me into the audition process, and here I am!
Theresa: Are you originally from Houston?
Steve: I'm the one guy who came from California.
Theresa: Who would you dedicate this performance to?
Steve: I would dedicate this performance to Drew because he's truly fabulous.
Drew: I would dedicate this performance to all the great tap dancers who've retired. That's been the inspiration for the show, really.




Noah Racey and Joan Hess (Band Singer)



Handsome, good-lookin' Noah Racey is here with his girlfriend (darn!). Noah hails from Seattle, Washington where he made his professional debut in 42nd Street at Seattle's Civic Light Opera. Most recently, he was in TUTS productions, Makin Whoopee, Oliver and Tommy Tune's latest project Easter Parade. Noah has also appeared in many regional theatres. His favorite roles include Riff in West Side Story, Ozzie in On The Town, Frank in Show Boat.

Noah: I play the part of Tap. Tap is one of two guys, me and Gair.....
Theresa: Gair Morris?
Noah: Yeah, yeah. Gair Morris and I play Tip and Tap. We are like, the Ladies' men. I am constantly concerned about my looks and about my hair. I'm playing with my hair all the time. That's, you know, in general...my part in the brother scheme of things.
Theresa: How did you become a part of this?
Noah: I heard about this via Kevin McCollum, who's one of the producers. He runs the Ordway Theatre in Minneapolis. I heard about it two years ago when I was doing Bobby in Crazy For You. And Kevin was producing the national tour. He asked me about coming in, in March, when they were gonna start casting for it. And that's simply how it got started.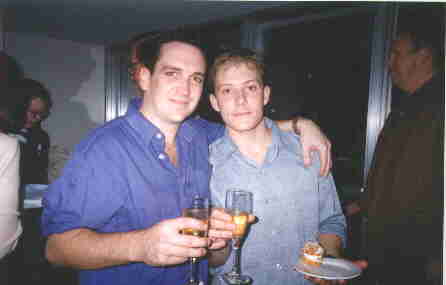 Drew Anthony and Gair Morris



Gair Morris made his TUTS debut earlier this season as The Artful Dodger in Oliver! He received his BA in Musical Theatre from the University of Colorado. He has performed regionally in Sweeney Todd, Peter Pan, A Chorus Line, Fiddler on the Roof and Take Me Along, which gained him a South Florida Carbonell nomination for "Best Supporting Actor in a Musical." As a dancer Gair studied with tap legends Maceo Anderson and Phil Black and also as an intern with the Joffrey Ballet.

Theresa: I remember you from Oliver! You were the wonderful Artful Dodger. How are you?
Gair: Yes! Great.....Tired but great.
Theresa: You did such a great job! Tell us about the part you're playing here.......
Gair: I'm playing Tip Tap. (laughing) That's my full name, TipTap. And I'm second to the youngest brother, and I'm kinda the one that tries to be suave and Ladies' Man, but not quite. And I do whole lot of dancing with all the rest of the brothers.
Theresa: How did you become a part of this?
Gair: Actually, I just auditioned from the ground up from New York City. When they had Open Calls, right. I'm originally from Colorado, and then I moved to New York City. I got the contract out of New York to play Dodger in Oliver also. I've been down here twice and I love it! I love coming down here.
Theresa: Who would you dedicate your performance to?
Gair: My mom, definitely. My family, Joe, Maile and Shea. This one's for you, Dad!

I got the most fortunate opportunity to be photographed with the astounding Brad Aspel, who plays the Lead Role. Brad was last seen as Protean in the recent Broadway hit revival of A Funny Thing Happened on the Way to the Forum. He has appeared in the Broadway production of Grease!, The Busker Alley National Tour, The Music Man, Seven Brides for Seven Brothers, Butterflies Are Free, and Singin in the Rain.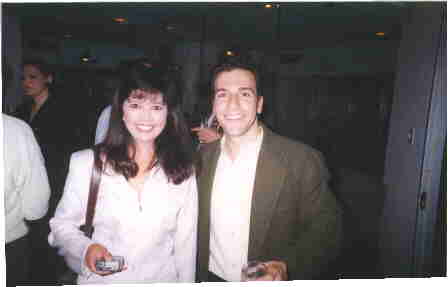 Theresa Hyde and Brad Aspel




Theresa: How are you?
Brad: I'm doing good!
Theresa: Tell us about the part that you're playing....
Brad: The part that I'm playing is Spring Tap, and was actually created by David Atkins, the director / choreographer of the whole show. It's pretty amazing for someone to be so giving to actually allow someone...... It's very hard someone else to step into that role. And he gave me a gift by giving me the role. I mean, Spring Tap is the oldest brother, he has the dream of getting his brothers to Broadway. And fulfilling his father's dream, what his father set him out to do. Although his father left, he's really not that bitter about it, because his father became
a superstar and he just idolizes his father. He just wants his dreams to come true. And obviously, it creates some conflict later when his father deceives him, and brings up some bad feelings about it. But you know, he's completely satisfied by the end by making it to Broadway. You know, it's about family. Families staying together.
Theresa: It's a wonderful play, I mean, I was just awestruck......
Brad: (Laughs) Houston's a good audience.

Theresa: How did you get this part?
Brad: I got this part through an audition, we did a reading of the play in New York. And actually read the part of Slap for the reading, because the director, David, was reading the part of Spring at that time. I don't know if they originally were considering me for this role of Spring because they were having a separate call for that. But, after I'd already been told I was cast for the show, but they weren't sure what part yet, they brought me back in for another two hours. And I had to sing five songs, I had to do three different dance combinations, I had to read four different scenes, and then I got a call the next day that I had the role.

Theresa: And you've done Broadway......
Brad: Yeah, my Broadway debut was in Grease, I played the part of Sonny and Roger. And then, I went on to Open the revival of A Funny Thing Happened on the Way to the Forum with Nathan Lane, and then Whoopi Goldberg, who's the best lady in the whole entire world. And ran with that for two years. Actually I just closed that in January. I learned so much in Forum, because in the beginning we had Nathan Lane, I mean we had like these comic geniuses, you know. Guys were so experienced and so in the vaudeville style and constantly worked at their profession. And when you watch people like that, people like Whoopi Goldberg, who's so loving and giving and generous, always workin'. You know? Always Fun, but Workin'! You see these people, I mean four months into the run there, talkin about this, working out things, it just makes you....everyone.....read the script every night. Nathan would always try to improve on bits. He would always figure out new things to do. It's sensational and you just long for that, you idolize that. So, when you get a part like this. You know, like I have this skit to do in this part.....just makes me wanna.....I mean.....I work on it forever.

Theresa: Where are you from originally?
Brad: I'm originally from Boston, outside of Boston. My mother's a Voice Teacher, I did Theatre Camps all the time. I never took a Dance Class till I was fourteen, and then all of a sudden, I went to this theatre, and said, I have to take Dance. And so, you know, it was Ballet at nine, and Shakespeare at ten, and all that kinda stuff. And it's the first time I ever took Tap. And I said to my Tap Teacher, I really would like to continue Tap dancing, where should I go? And she sent me to this place called the Leon Collins Dance Studio. And Leon was one of those Old Hoofers, you know? Didn't move very much but had incredible feet. And I was just fortunate to have been sent to them, because he was connected to all the other Hoofers.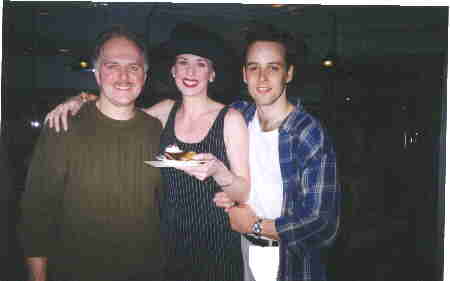 PJ, Joan, Noah




We'd have people pop in, like Gregory Hines, and Honi Coles and The Nicholas Brothers. I mean, these guys would just come in to the studio and at the very end of the class, everytime, everybody would get in a circle and they just put on some music, and they'd say, everybody's got eight bars, Go! And you just go in the circle and you do 8 bars. And it doesn't matter how good you are, it's just about improvising and getting with the beat. And so it's great to be able to do a show like This, where we really tap again, you know? It's very hard to get a Hoofing kinda Tap in the show. Especially Broadway shows that have Tap, you know, are kinda like, Old Dolly Dinkle.......darataradaratara.....but not really rhythmical. And this show is like a dream because I get to sing beautiful songs. I get to act really nice scenes. And I get to really Hoof!!!

Theresa: Who influenced you as an Artist?
Brad: Well, as far as Tap is concerned, my mentor is Charles "Honi" Coles who played the role of Mr. Magics in the show, My One and Only with Tommy Tune. I also worked with Tommy Tune in Busker Alley, and he is a consummate professional as well. Also, my legendary tap dance mentor Steve Condos. But my idols are really the people who really love what they do. And are always working to make it better. And it's not about being a star, it's about Challenging yourself. And that's what I really learned.

Tap Father and Son

P.J. Benjamin plays the father of the Tap Brothers, and is celebrating his 28th year in show business. In Houston, he starred in Peter Pan and in the National Company of Torch Song Trilogy. On Broadway, he created leading roles in Duke Ellington's Sophisticated Ladies, Charlie and Algernon, Serava, and Wind in the Willows. He was in Bob Fosse's Pippin and Torch Song Trilogy, appeared in Ain't Broadway Grand and the revival of the Pajama Game directed by George Abbott. So far, his Highlights include a gala performance at The White House for President and Mrs. Reagan; touring the Amazon with his wife, Louisa Flaningam, in their Act, PJ and Louisa.

Theresa: How are you?
PJ: Good, I'm good.
Theresa: Tell us about the part that you're playing.....
PJ: I play the father of seven boys. Oooooh, I guess I'm a very prolific father! And I haven't seen them for twenty years, and I send for them under the guise of a different character, and I want them to come to New York, and I'm gonna put them in a Broadway show. And I don't want them to know it's me.
Theresa: How did you get this part?
PJ: I auditioned in New York, and Frank Young knew me because I did Captain Hook here in Peter Pan with Cathy Rigby four years ago. So he knew me, and they called me to audition.
Theresa: Where are you from, originally?
PJ: Chicago. My family has a tavern in Chicago, Airway Liquors. We've had it for 30 years, and we just sold the winning lottery ticket! After 30 years of selling the lottery, we sold the winning lottery ticket last week, and we get one percent of the gross! (Laughs) Six million dollar winner!
Theresa: Who would you dedicate your performance to?
PJ: I think to what I call, the Hoofers. The song and dance people in this business. There's a lot of us old timers around and I dedicate it to them.