Main Street Theater
Rebecca Greene Udden, Artistic Director
Presents

LEAVE IT TO JANE

Book & Lyrics by Guy Bolton and P. G. Wodehouse
Music by Jerome Kern
Based on the play "College Widow" by George Ade

Directed by Rob Babbitt
Musical Direction by Kim Hupp

Main Street Theater, 4617 Montrose Boulevard at Chelsea Market
December 31, 1998 through January 17, 1999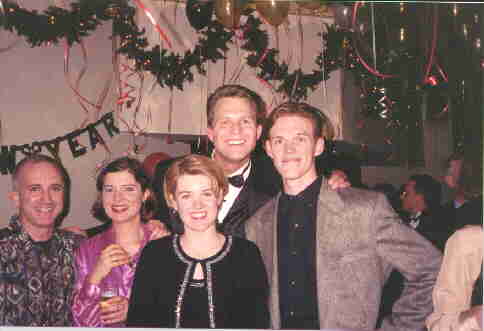 Main Street Theater Rings in the New Year with Leave It To Jane



----------------------------------------------------------------------------------------------------

CAST

Ollie Mitchell, a sophomore.........................................Trey Birkhead
Matty McGowan, a trainer............................................Jason Curtis
Jimmey Hopper, a student.............................................Markos Hernandez
Dick McAllister, a student............................................Aaron Tengberg
"Stub" Talmadge, a busy undergraduate...................Omari Tau Williams
"Silent" Murphy, a center rush....................................Steven Budd
Peter Witherspoon, President of Atwater..................Joseph E. Hudson
Bessie Tanner, an athletic girl......................................Karen Ross
Flora Wiggins, a prominent waitress...........................Michelle Britton
Howard Talbot, a tutor...................................................Robert Leeds
Jane Witherspoon, daughter of Peter Witherspoon.............Laura Coker
Hiram Bolton, D.D., LL.D.................................................Mark Shellum
Sally Cameron, a co-ed....................................................Leigh Ann Turner
Cora Jenks, a town girl.....................................................Jean Combs
Josephine Barglay, a dancer...........................................Meridith Gonzales
Billy Bolton, a half-back..................................................Dan Bunch
Hon. Elan Hicks................................................................Stephen Aleman
Harold "Bub Hicks, a freshman......................................John Raymond Barker
----------------------------------------------------------------------------------------

ACT ONE

ATWATER COLLEGE.
The terrace of Memorial Hall on the opening day of the fall term. Late afternoon.

ACT TWO

Outside, the football field.

-------------------------------------------------------------------------------------------



New Year's Eve Gala Party Premiere
of Leave It to Jane, A Concert Musical by Jerome Kern

by Theresa Hyde
TheresaHyd@aol.com
December 31, 1998

It's Football Season, 1916. Jane is the daughter of the President of Atwater College, and the cool, calm center of the Universe to those around her. No problem is too great for this gal, which is fortunate for her colorful group of undergrads, athletes, scholars and lovers.

They know when things get sticky, they can just Leave It To Jane!

Opening Night for Leave It to Jane started at 9:00pm New Year's Eve, which was followed by desserts, champagne, dancing and a traditional toast at midnight. The evening was filled with Collegiate cheerful spirit and beautiful harmonizing voices. When asked what he thought of the show, Joel Sandel describes, "It defines Delight!!" Joel Sandel is a Houston actor that has performed in MST Musical, Sunday in the Park with George.

Kim Hupp, the musical director provided accompaniment by being the pianist in the middle of the stage. Mr. Hupp has served as MST's musical director for Lady Be Good, Out of This World, Of Thee I Sing, The Secret Garden, and Sunday in the Park with George; he was pianist for Happily Hereafter. He has also served as musical director at HSPVA, AD Players, Opera in the Heights, and Opera To Go, as well as productions at New Heights Theatre, University of St. Thomas and Pasadena Little Theatre. At Stages, he was pianist for Side by Side by Sondheim. Mr. Hupp is a faculty member at the Houston Community College Central campus, where he heads a chamber music ensemble. He studied at the University of Kansas.

Theresa: What was it like, directing this musical by Jerome Kern?
Kim Hupp: It was a little difficult because it was so old, and the style of music would repeat over and over and they would change instrumentation for variety. And in our case, we just had the piano and the flute so, we had to sometimes change the tempo of the final cut of the songs to make it more interesting.

Theresa: What is your past musical background?
Kim Hupp: I've been Music Director of Opera To Go, which is an education outreach program that works through the Houston Grand Opera and I'm working there right now for A Little Night Music. And I've been Music Director for Opera in the Heights and several shows in Main Street Theatre.

Theresa: Also present during this formal Gala Opening is Jo Alessandro Marks, Chair and President of Main Street Theater's Board of Directors.
Jo Marks: It's just delightful, it is so much FUN!!! And those voices are great. Oh, it was a wonderful evening. I just loved it!!! You know, every year we do this about this time, but I tell you, they get better every year!! I mean, last year's were wonderful but this is just an amazing delight!!!



Chair and President of Main Street Theater's Board of Directors Jo Alessandro Marks, Deena Marks Sokolow, Shirley Cohen, and Mark Udden



Enjoying the party with Ms. Jo Marks was her sister, Deena Marks Sokolow and Shirley Cohen. Ms. Cohen's comments about the show, "It was Darling!! Wonderful voices, very very adorable....."

Dan Bunch, who plays Billy Bolton, is there with his lovely wife, Michelle. He is making his MST debut. His work elsewhere includes roles in Oklahoma, The Marriage of Figaro and Cosi Fan Tutte. He has sung with the Houston Symphony Chorus and the Stavanger Symphony Chorus; he has served as soloist in Houston's First Baptist Church Christmas Pageants. A graduate of Southwest Texas State University, Mr. Bunch has taught choir for the Aldine Independent School District and HISD.

Theresa: Tell us about the part that you're playing.....
Dan Bunch: I play Billy, a college student playing for Bingham. I'm about to go to my father' school because I failed in two colleges already. I'm about to go there, when I meet Jane and she entices me to go to her school to win the football game against my father's school.

Theresa: Where did you develop that strong voice?
Dan Bunch: My degree is in Choral education. So, I started in Opera, actually, Opera Training.



Steven Budd and Joseph E. Hudson


Joseph E. Hudson plays Peter Witherspoon in Leave It To Jane. He has appeared at Main Street Theater in My Three Angels, Stonewall jackson's House, and An Enemy of the People. Elsewhere, he has appeared with Theatre LaB Houston, Gypsy Theater Company, Theatre Southwest and the Country Playhouse. His experience also includes work as music director and conductor.

Joe Hudson: I play Dr. Witherspoon, the President of Atwater College. Jane is my daughter, and I don't know of all the shenanigans that she's doing.
Theresa: What's it like doing a musical?
Joe Hudson: I haven't done a musical in about a year and a half, so it's great fun. Although, I don't get to do very much singing in this one because I was involved in My Three Angels right before this. So they were already in rehearsals for this one.......

Steven Budd plays the comical Silent Murphy, one of the football players for Atwater College. He is making his MST debut.

Laura Coker plays the title role of Jane Withersppon and is also making her MST debut. Elsewhere, she has appeared with the Houston Grand Opera as Beth in Little Women. Ms. Coker holds a Masters of Music from the Shepherd School at Rice University, where she appeared in Dialogues of the Carmelites. She also studied at the Aspen Music School and Festival. When asked about her musical background, she says, "My undergraduate degree is in Voice from a College in North Carolina and then I moved down to Houston to get my Masters in Voice at Rice. I've had my try at the Opera, but I thought I'd try it out here at Main Street Theater."

Robert Leeds plays the part of Howard Talbot in Leave it to Jane. He has appeared in MST in An American Daughter, The Witlings, and numerous other productions. Elsewhere, he has appeared with the Houston Shakespeare Festival, Stages, Houston Grand Opera, Texas Opera Theater and The Little Room Downstairs. His television commercials include a feature role for Randall's and an international role for Kellogg's.

Theresa: Tell us about the part that you're playing........
Robert Leeds: I am playing one of the tutors, one of the professors. The main roles in this show are either the students, or the teachers. The students sing, the teachers talk (laughs).

Theresa: How do you like playing in this musical?
Robert Leeds: Actually, the New Year's Eve Musicals at Main Street Theater are pretty much the only musicals I do in the course of the year, anymore.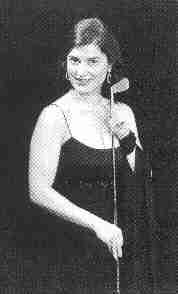 Karen Ross as Bessie Tanner. Photograph by Doug Kilgore



Karen Ross plays Bessie Tanner in Leave it to Jane. She has appeared in numerous MST productions; her work includes roles in Hay Fever and Sunday in the Park with George. Elsewhere, she has appeared with New Heights Theatre, Express Theatre at the Wortham Center, Stages, Curtains, Chocolate Bayou Theatre and Mainland Theatre, as well as theaters in Florida and North Carolina.

Theresa: Tell us about the part that you're playing.....
Karen Ross: I play Bessie, she's kinda the athletic Co-ed, she's Jane's best buddy. And my boyfriend and I are basically helping Jane to get everything to work out.

Theresa: You did such a great job, singing and dancing. Where did you get your musical background?
Karen Ross: Thank you!!! I really have been doing this a long time. I mean studied singing with a private teacher, but other than that, I've just been doing this for a really long time. I do non-musical plays too. I guess I probably do a little bit more musicals than straight plays. But, whatever they want me for!!!

Michelle Britton plays Flora Wiggins, a prominent waitress. Ms. Britton has appeared at MST in The Triumph of Love. Elsewhere, she has appeared in productions in Houston, on both coasts, in the U.K., and with the Edinburgh International Theater Festival; her work includes roles in The Show-Off, Hay Fever, and The Music Man. In New York, she appeared in Having It All, a one-woman show written for her, and with Groundlings Improv.

Theresa: Tell us about your past background.......
Michelle Britton: Mostly I've worked in New York for the last several years. I did a show here, Having it All, which is my one-woman show, we brought that here about 3 years ago and then I went back to New York. I've worked sporadically around Houston but lately, I've been more into screenwriting and I've worked for The Groundlings in New York. But now I'm putting together an original show, a sketch comedy of my own. And that's gonna be done here.

Theresa: Is that gonna be here at Main Street?
Michelle Britton: We're not sure, but a couple of theaters are talking. It's great, it's a very powerful position for a woman to do producing, writing, on top of acting. So that I can venture into more vehicles that will create more opportunities for, not just me, but for other people that are talented and that don't get to work that often.

Michelle Britton: Flora Wiggins is the college vamp (laughs). She basically seduces men for money and jewelry and wants to settle down with some nice young millionaire and get married. She chases the boys and some of them chase her. And she sings and dances and has a good time!

LEAVE IT TO JANE: Upon being jilted by one of the college boys Flora Wiggins exclaims, "It's been five or six times, these men have done this to me. I'm just about getting discouraged!!!"



Steven Budd, Michelle Britton, and Ms. Britton's former French Professor and "great friend" Blake Anderson, and guest




Ms. Blake Anderson: Michelle has a natural talent for speaking French.....

Director Rob Babbitt has directed numerous productions at MST, including Lady Be Good, Hapgood, and Sunday in the Park with George. Also at MST, he choreographed The Grass Harp and performed in Promenade and Bad Habits. He has stage managed the Broadway productions of Grand Hotel (for which he was also assistant dance captain and swing), The Will Rogers Follies and Stepping Out; Off-Broadway, he directed cabarat shows, stage managed Blues in the Night and served as assistant manager of The Virgin Molly for the Atlantic Theatre Co. Mr. Babbitt has also choreographed original productions of Grand Hotel, Bye Bye Birdie, A.....My Name is Alice, Bus Stop, The Music Man, and South Pacific. Locally, he directed Alice in Wonderland at Wortham Center for Express Theatre.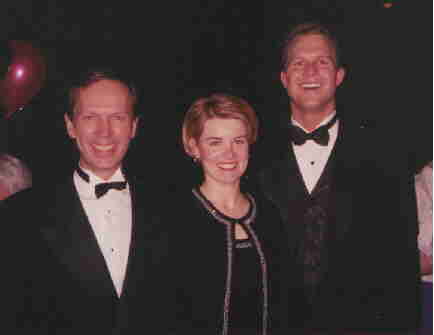 Director Rob Babbitt, Laura Coker as Jane Witherspoon, and Dan Bunch as Billy Bolton



Theresa: Tell us about this musical........
Rob Babbitt: Leave it to Jane by Jerome Kern, book and lyrics by Guy Bolton and P.G. Wodehouse. It was one of the Prince's Theatre shows which were written between 1915 and 1920. And they were the first American musical comedies, the first to be set in America with a young American cast. And the first attempt to integrate book and lyrics into a show. Traditionally, people think, "Oklahoma" as that, but it was really the Prince's Theatre shows. And then of course, in the '20s Kern wrote Showboat, then Roberta in the '30s, then Hollywood Musicals mostly in the '40s.
Theresa: What is the experience like, directing a musical such as this?
Rob Babbitt: Usually, that's all I do. I've only done two plays so, most of my experience has been in musicals. We had a really short rehearsal period, only about 3 weeks. But I had a very good cast and they are great. I auditioned for months until I found the people I wanted and I'm extremely happy with them. I love the Chorus Girls, I love all the Acting men and all my principals, and the comedians.

Dan (Bunch) and Laura (Coker) are charming, in my opinion and that was hard to find. It's hard to find people that can pull off such old-fashioned roles like that.

Theresa: Tell us about your background......
Rob Babbitt: Well, I'm from Houston and so I started here at Theatre Under the Stars, pretty much. I was a dancer, and I moved to New York City and I worked as a choreographer and stage manager there. I stage-managed Will Rogers Follies on Broadway and Grand Hotel for 2 1/2 years on Broadway. I was assistant-dance captain, and swing dancer. I under-studied for people in the show. I did Stepping Out and a couple of other shows there and directed some Cabaret shows. And then, 3 1/2 years ago, I moved back to Houston to direct because I wanted to move into Directing. Becky (Rebecca Greene Udden) asked me to direct Sunday in the Park with George at Main Street, 3 years ago. And that was my first show! And this is now my 12th show. I'm just 3 years into it but, I've had some choreography and performing experience before that. So, I came back to Houston to cut my teeth on Directing!!

Theresa: You mentioned Theatre Under the Stars, which is headed by Frank Young.......
Rob Babbitt: I got my Equity card, thanks to Frank Young and Theatre Under The Stars. I did a bunch of shows directed by Frank Young where I assisted. He gave me my first show to choreograph, Music Man in the Park in Miller Theatre. He's gonna come see our show, I heard. We have a couple of our girls, and a couple of guys too, that have done some shows for him in the past. So, I think he's gonna come see the show just to see his old friends and check out the new talent, I guess.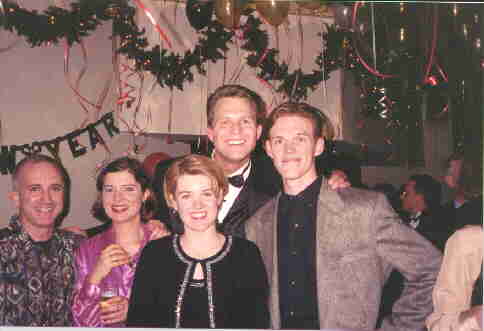 Robert Leeds, Karen Ross, Laura Coker, Dan Bunch, and Trey Birkhead



Trey Birkhead plays Ollie Mitchell and is making his MST debut. For five years he appeared in New York City with The Gingerbread Players; he appeared with other theaters in the Northeast, including Paper Mill Playhouse, Westbury Music Fair, and Valley Forge Music Fair. He toured nationally as Adam in The Diary of Adam and Eve. His work includes The Adventures of Pete and Pete on Nickelodeon, independent films, commercials, and voice overs. Mr. Birkhead is a graduate of Southeast Texas State University and The American Musical and Dramatic Academy in New York City.

Theresa: Tell us about the part that you're playing in Leave it to Jane......
Trey Birkhead: I play Ollie Mitchell, a sophomore. The goofy one that runs around, and is thinking about getting a girl someday (laughs).

Theresa: And you work here at Main Street, as well.......
Trey Birkhead: Yes, I am onstaff. I am the Box Office Manager, I just got promoted over the summertime. I've been working over here at Main Street for a year and a half now. And I love it! I moved over here from New York last year, not knowing what to expect in this town. And I'm pretty impressed with the Arts and everything that's happening here.

Theresa: What are the differences that you find between New York and Houston?
Trey Birkhead: The pace. I mean, New York is GO GO GO GO! and look over your shoulder and watch where you're going. But here, it's like.......

Theresa: Houston is more laid back. Are there more opportunities out there, or is there more competition?
Trey Birkhead: Well, I am in the Union. And so for me, there are less opportunities here. Because Texas is the right-to-work state and the theatres are not required to hire the Union Actors.

MORE ABOUT LEAVE IT TO JANE

Leave it to Jane was one in a string of very successful musicals by the sometimes stormy triumverate of Guy Bolton, P.G. Wodehouse and Jerome Kern, but the partnership had nearly broken up during the run of their previous show, Oh Boy. The trio had a disagreement over Kern's retaining a percentage of the receipts from producers and not cutting the other two in. Wodehouse, meanwhile, was no stranger to creative accounting, and had long been celebrated by tax practitioners for his ingenious exploits in that field.

Happily, Kern and promoter Charles Comstock persuaded the other two to collaborate with Kern again. The show opened at Longacre Theater on August 17, 1917. Although the story on which it was based, The College Widow, by George Ades, had been written more than 20 years earlier, critics and audiences alike were charmed by Leave It to Jane. The show ran for 167 performances, and has since become a staple of American musical theater.

Don't miss LEAVE IT TO JANE, the concert musical by Jerome Kern. Now Showing at Main Street Theater at Chelsea Market - 4617 Montrose Boulevard through January 17, 1999. Call the box office at 713-524-6706 for tickets and information.