THEATRE UNDER THE STARS
Presents
The Pittsburgh Civic Light Opera in association with
DreamTeam Enterprises, Ltd.,
Nicholas Howey, Dallett Norris, Thomas J. Lyon, and Stephen B. Kane Production of




Joseph and the Amazing Technicolor Dreamcoat



JOSEPH
And The
AMAZING TECHNICOLOR DREAMCOAT


Lyrics by TIM RICE

Music by ANDREW LLOYD WEBBER

Theatre Under the Stars
www.tuts.com
Tickets 800-678-5440
Brown Theater / Wortham Center

Featuring

DAVID OSMOND as Joseph
JODI BENSON as The Narrator
and THE OSMOND BROTHERS 2ND GENERATION
With
ERIC A. MARTSOLF as The Pharaoh
RAY BENSON as Reuben
and ERIC JON MAHLUM as Jacob / Potiphar



---------------------------------------------------------------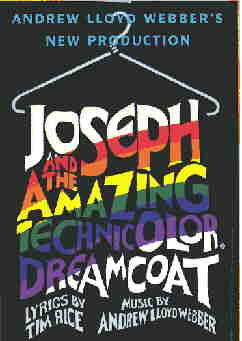 Joseph and the Amazing Technicolor Dreamcoat is based on chapters from the Book of Genesis ("Prologue", "Any Dream Will Do"). The story begins in the land of Canaan with Jacob, who is blessed with twelve sons ("Jacob and Sons"). His favorite is Joseph, and he decides to give his preferred son the gift of a magnificent "coat of many colors" ("Joseph's Coat"). Joseph's brothers are none too pleased with this arrangement. They resent the way in which Jacob dotes on Joseph, and their anger against him grows.

The final straw comes when Joseph relays his dream to his brothers, his dreams tell him that he is to become a gerat man and be far more successful than any of them ("Joseph's Dreams"). They decide something needs to be done about Joseph, and determine that killing him would solve their problems.

While out in the fields, the brothers grab their young sibling, tear off his splendid coat, and are about to throw him into a pit when a band of Ishmaelite traders passes by on their way to Egypt. The brothers sell Joseph to them as a slave ("Poor, Poor Joseph") and return to their father with the bloodied coat (a goat was sacrificed for the cause) to tell him the sad news of Joseph's "death" (One More Angel in Heaven").

In Egypt, the Ishmaelites sell Joseph to Potiphar, who is one of the Pharaoh's officials. He is quickly promoted, until Potiphar's wife decides she has more than just a passing interest in the boy ("Potiphar"). Unfortunately, when she tried to have her way with him and he refuses, Mrs. Potiphar claims she was seduced and has Joseph thrown in jail ("Close Every Door").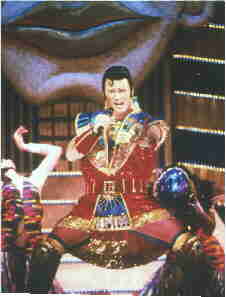 ERIC A. MARTSOLF as The Pharaoh



Joseph makes a name for himself in jail as the man who can interpret dreams. He successfully predicts the meaning of the dreams of two cellmates - the Pharaoh's butler and baker ("Go, Go, Go Joseph"). So when the Elvis-like Pharaoh ("Pharaoh Story") has a couple of dreams that no one can figure out, he calls on Joseph - at the suggestion of his trusty butler - to decipher them ("Poor, Poor Pharaoh"). The Pharaoh describes his frightening dreams of seven thin cows eating seven fat cows and of seven tattered ears of corn eating seven healthy ears of corn ("Song of the King"). He implores Joseph to tel him what they mean. Joseph explains to the King that seven years of bumper crops would be followed by seven years of famine ("Pharaoh's Dream Explained"), and that he should find a man to lead Egypt through the difficult time ahead.

The Pharaoh makes Joseph his right hand man ("Stone the Crows"), and Egypt survives the famine thanks to Joseph's forethought and planning. However, back in Canaan, Joseph's family is struggling during these hard times ("Those Canaan Days"). The brothers travel in search of food ("The Brothers Come to Egypt") and wind up begging Joseph for rations ("Grovel, Grovel"), although they don't realize he is their brother. Joseph recognizes them, however, and decides to put them to a test. He hides a gold cup in the sack of food given to Benjamin, the youngest brother, and then accuses the brothers of stealing ("Who's the Thief"). When the cup is found in Benjamin's bag, the other brothers take the blame ("Benjamin Calypso"), and beg Joseph not to punish Benjamin. Joseph, touched by his brothers' honesty and caring, reveals to them who he is ("Joseph All the Time"). Now reunited, the brothers send for their father ("Jacob in Egypt"). The family lives on to prosper and grow ("Finale: Any Dream Will Do / Give Me My Colored Coat").
---------------------------------------------------------------




Dare to dream with Joseph and the Amazing Technicolor Dreamcoat, TUTS' summer musical at the Brown Theater of Wortham Center. David Osmond stars as Joseph and the rest of the Osmond 2nd Generation are featured as Joseph's brothers for 16 high-energy performances June 30 - July 12. Photo credit: Marty Sohl.



WWW.OSMOND.COM

DAVID OSMOND and THE OSMOND 2ND GENERATION: THE INTERVIEWS

Crowds of girls scream at the Osmonds, all brothers who sing, dance and harmonize their way around the globe. Flashback from the 70's? No. While the name is familiar, this time it is the Second Generation showing the same dedication to performing and family entertainment as their father did before them.

David Osmond (Joseph) and The Osmond 2nd Generation, all sons of 70's pop superstar Allan Osmond of the Osmond Brothers, are as personable as they are talented. The brothers, David, Michael, Nathan, Doug, Scott and Jon, range in age from 14 to 22 and are already seasoned performers with 13 years of entertaining under their belts. All six are Eagle Scouts and shout "family values"!

In the mid 1980's the four oldest brothers kicked off their careers by singing barbershop-style numbers together and soon were headlining on their own at venues like Disneyland and major state fairs, as well as on "The Bob Hope Christmas Show". To perfect their act, they added choreography, piano, drums, saxophone and guitar and mastered acapella, Top 40, ballads and rock.

By 1990 they released a self-titled album and began a whirlwind tour of the U.S. and Canada, performing more than 300 shows and participating in a 70-city mall tour. The Brothers rang in New Year's 1991 with the New Kids on the Block on "Dance Party USA". That year they also opened for NKOTB in London during their "No More Games" tour and added Germany, Ireland, Scotland, Japan, Taiwan, and Hong Kong to their tour schedule. Throughout the world they drove girls into hysteria.

Their single "Second Generation" from their second album of the same name hit the charts in Europe, Asia and North America, making the Osmond family the first in history with eleven hit-charting members. This second album showcased the brothers' song-writing abilities and highlighted their musical versatility.

In 1992, the 2nd G joined the Osmond Brothers (their father and uncles) for five years of twice-daily shows at the Osmond Family Theater in Branson, Missouri. The theater proved to be a perfect venue to highlight the 2nd G's variety of talent. During their five-year run, they continued to record and perform for foreign audiences as well. They recently took time off to return to Japan to record "Countdown Japan", an album of covers originally released in English but performed by the 2nd G in Japanese. While at the Osmond Family Theater, the 2nd G expanded to include brothers Scott and Jon and also periodically showcased up-and-coming brothers Alex and Tyler.

In the summer of 1997, David, Doug and Scott headlined as Joseph, Reuben and Gad in JOSEPH AND THE AMAZING TECHNICOLOR DREAMCOAT at Kingsbury Hall in Salt Lake City. Their critically acclaimed performance caught the eye of Livent, Inc. who offered David the opportunity to star as Joseph for a number of shows and to be his Uncle Donny's understudy during his run as Joseph in Salt Lake City January 15th to February 28th (later extended to March 7th). Meanwhile, in Branson in 1977, the 2nd G won the Branson All American Young Artist of the Year Award for the 3rd year in a row and were inducted into the Hall of Fame.

These multi-talented, highly professional young men already have a strong fan base, a worldwide fan club, and a web site (http://www.osmond.com/2ndg/). They will definitely be fixtures on the entertainment scene for many years to come!

---------------------------------------------------------------




Jodi Benson as the Narrator (Photo credit: Joan Marcus)



Interview with JODI BENSON
Narrator for Joseph and the Amazing Technicolor Dreamcoat

July 1, 1998

by Theresa Hyde
theresa@houstontheatre.com

Jodi Benson has received worldwide recognition and critical acclaim as the voice of Ariel in the Academy Award winning Walt Disney animated feature film The Little Mermaid as well as the spirited voice of Weebo in Disney's live action feature Flubber co-starring Robin Williams. For Warner Brothers, she created the title voice of Thumbelina, an animated feature with songs by Barry Manilow.

Ms. Benson received a Tony award nomination for Best Actress in a Musical and a Helen Hayes Award nomination for creating the starring role of Polly Baker in the Tony Award winning Broadway Gershwin musical Crazy for You.

A native of Rockford, Illinois, Ms. Benson made her Broadway debut in Kenny Ortega's Marilyn: An American Fable. Other Broadway credits include: creating the starring role of Doria Hudson in the Howard Ashman / Marvin Hamlisch musical Smile, Welcome to the Club. Internationally, Ms. Benson had the honor of sharing the stage with her husband Ray Benson in the European premiere of Gershwin's My One and Only, starring as Miss Edythe Herbert.

In Los Angeles, the actress starred as Flora in Flora the Red Menace at the Pasadena Playhouse, Ado Annie in Oklahoma! at Dorothy Chandler Pavilion, Eliza Doolittle in My Fair Lady at the Alex Theatre in Glendale, and Florence Vassey in Chess at the Long Beach Civic Light Opera, for which she won the Dramalogue Award for Best Actress.

Theresa: Tell us about the part that you're playing......
Jodi: I play the narrator, I tell the story in song and I'm onstage the rest of the time, just explaining to the audience what's going on.
Theresa: Why did you choose to become a part of this play?
Jodi: My husband and I are just gonna be, you know, having some fun for the summer. Basically it was just a nice opportunity to work in the summer together.
Theresa: You speak so softly. I guess they give you a big microphone so everybody can hear you.
Jodi: (laughs) I got a big voice onstage.
Theresa: You sure do (laughing). This is just your interview voice, very soft?
Jodi: Just quiet, before the show. Save the energy. (laughing)
Theresa: Tell us about your past background.......
Jodi: Well, in a nutshell, I've been doing Broadway for about 18 years. I've been with Walt Disney for 12 years doing feature animation, Little Mermaid, Hercules, Lady and The Tramp. I've done 6 or 7 Broadway shows, international and national tours, got about 12 albums.
Theresa: Wow, 12 albums.....
Jodi: I guess I've got about 12 different CD's out. Yeah, I've been in the business a long time, have had a lot of neat experiences.
Theresa: Who are your most favorite stage actors?
Jodi: I enjoy working with my husband, he's in the show, we work together a lot. Gosh, I've worked with a lot of really amazing people. Robin Williams is quite amazing.
Theresa: What would you like to say to the Houston-theatre going audience?
Jodi: It's great to be here in Houston, to work with TUTS. We'll have a good time. I think the show will go over well, it's a real family show.