THE ACTORS WORKSHOP
OF HOUSTON

Presents

THE LADY IN QUESTION

by
Charles Busch

Directed by Michael L. Sullivan

December 31, 1997 - January 24, 1998

The Actors Workshop
713-236-1844

========================================

TIME
1940

PLACE
The Bavarian Alps, outside the train station at Ludwigshafen,
And the Schloss of the Baron Von Elsner

========================================


THE CAST

Karel Freiser............................................William M. Shepherd
Professor Mittelhoffer, Doctor Maxmillian..........Stephen Burton
Heidi Mittelhoffer..............................................Kara Greenberg
Professor Erik Maxwell............................................Lyman Hall
Hugo Hoffman, Lotte Von Elsner...........................Suzanne King
Baron Von Elsner..................................................Walt Zipprian
Gertrude Garnet.................................................Scott Newsome
Kitty, the Countess de Borgia...............................Tonnie Walker
Augusta Von Elsner..............................................Mimi Stebenne
Raina Aldric.....................................................Dottie McQuarrie




The Lady in Question is the Houston premiere of Charles Busch's comedy spoofing World War II era movies pitting a damsel in distress against the Nazis. According to Director Michael Sullivan, the play was written in the early 1980's. "Charles Busch (the playwright) writes all of his plays for himself to play the leading heroine. We followed his trend, and we cast a male as the leading heroine."

Michael L. Sullivan is in his third season as the Artistic Director of The Actors Workshop. He has been active in Houston area theaters as a performer and director since 1978. Previous productions include Our Town, The Incredible Murder of Cardinal Tosca, Tartuffe, Musical Comedy Murders of 1940, and Dark At The Top of the Stairs. Michael was last seen on The Actors Workshop stage as Doc Delaney in Come Back Little Sheba.

========================================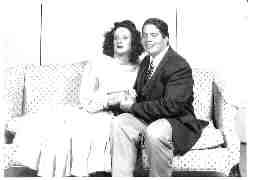 Scott Newsome and Lyman Hall



Interview with Scott Newsome (Gertrude Garnet):

by Theresa Hyde
TheresaHyd@aol.com

Scott is a recent graduate of the University of Houston, where he received a bachelors degree in theatre. He has appeared in the Edward Albee Workshops at Stages Repertory Theatre and A Day Without Art Celebration at Theatre Lab Houston. He was last seen at The Actors Workshop in Scriptwriters Houston Evening of One Acts. Scott wishes to thank the cast for their help in his "transformation."

THyde: Tell us a little bit about your background?
SNewsome: I've been in theatre most of my life. When I was in elementary school I started doing shows that needed kids like Oliver. In junior high, I did a little bit of theatre. In Stratford High School out in West Houston, they had a really good theatre program. When I was in College, I kinda veered off from the theatre thing, and decided I was gonna do Business, and did a bunch of other things. I, then went back to theatre and I just graduated with a Bachelors Degree at UH.

THyde: You've appeared in Edward Albee Workshops at Stages. What characters have you played? Which ones are your favorite?
SNewsome: Actually, this is my first published play. I've never done a published play before. I've mostly done workshops or student plays. This is probably my favorite so far because it's so insane. And Michael (Sullivan) has given me the freedom to be as overly dramatic as I can be.

THyde: You're playing a woman? (Laughs) How is it?
SNewsome: Yeah. It's.....it's hell. I hate it. I mean I love playing the character, I hate all the make-up, the hose, the whole routine that goes into it.

THyde: You wear heels too?
SNewsome: Yeah. That was hard learning to walk in heels. I still think I don't do it that well, I still have to regain my balance, if somebody pushes me onstage.....

THyde: I'm beginning to realize that this is a big part of theatre. This cross-dressing and stuff......
SNewsome: It's something that dates back.......I mean you have like, Some Like It Hot....people that have been doing these for years.
THyde: Or Dustin Hoffman in Tootsie, Robin Williams in Mrs. Doubtfire.

THyde: Tells us a little bit about this play.
SNewsome: It's a spoof, a comedy. It takes place in 1940's Nazi-occupied Germany. And my character is an international piano star who is travelling, who happens to be coming through Germany for a concert. And she's very stuck on herself, she thinks so highly of herself and only wants to do things in her little world. My American love interest, Erik, his mother is a prisoner of the Nazis and they're trying to enlist me to help her get out. And I don't want anything to do with it, because I only love my career.

THyde: How did you get to be a part of this?
SNewsome: Actually, I did something here for Scriptwriters Houston right before this show, it was called The Waiter's Play. It was part of an evening of one-acts. Michael, the director just pulled me aside afterwards and offered me the role.

THyde: Who are your favorite actors?
SNewsome: Marlon Brando, of course, because he's so natural. I'm a big fan of Glenn Close. I just love everything she does. I actually got to see her onstage when they did Sunset Boulevard up in New York. That was neat. I got to meet her and get her to sign the program and stuff.

THyde: Who influenced you as an artist?
SNewsome: Actually, I just had an awakening recently. Cause I got to take a class at UH with a man named Jose Quintero. Outside the theatre community, no one knows who he is. Inside the theatre community, he's a legend. He was one of the originals in the Circle In The Square, which is a big theatre up in New York. The man is a legend. He's won Tony Awards. He's often at UH, I took his course and the man just blew me away.


========================================

Interview with Lyman Hall (Professor Erik Maxwell):

by Theresa Hyde
TheresaHyd@aol.com


Lyman Hall is making his debut at The Actors Workshop as Professor Eric Maxwell in this production of The Lady In Question. Lyman's previous theatrical experience includes such roles as: Mrs. Boyle in The MouseTrap, Dr. Jim Bayliss in All My Sons, and Rooster Hannigan in Annie. Lyman is currently a student at San Jacinto College majoring in Drama, Music, and Recording Engineering.

THyde:TH: Tell us a little bit about your role in this play.
LHall: I'm sort of a half-German American and my mother's an actress in Europe and she's been arrested by the Nazis. I've come to Germany to help in the rescue.

THyde:TH: How did you get this part?
LHall: There was an open-call audition for The Actors Workshop, I saw it in the paper.

THyde:TH: Tell us about your background.
LHall: I went to St. Thomas High School, my first part was as the bailiff in Twelve Angry Men, and went on to do Shakespeare. After graduating from St. Thomas, I went to San Jacinto College because of the audio engineering program they have over there. It's supposed to be one of the best in the state. I got involved in the Drama Dept.. This play is the first time outside of any school.

THyde: Who are your favorite actors?
LHall: I like Dustin Hoffman. I admire Mel Gibson. I've seen quite a few of his roles all the way back from Mad Max.

THyde: Who influenced you as an artist?
LHall: My drama teacher at St. Thomas High School, Richard Whal. He really influenced me. He's in New York right now, teaching in Rochester.


========================================

Interview with Walt Zipprian (Baron Von Elsner):


Scott Newsome as Gertrude Garnet and Walt Zipprian as Baron Von Elsner (Seated)
and Suzanne King as Lotte Von Elsner (Standing)



by Theresa Hyde
TheresaHyd@aol.com

Walt Zipprian is returning to The Actors Workshop after his recent appearance in The Invisible Man and Larceny At Large. Other roles include The Bishop of Lex in See How They Run, Charles Condomine in Blithe Spirit at Cast in Rosenberg, Man #2 in I Hear You Listening and Dr. Bradman in Blithe Spirit at Country Playhouse.


THyde: Tell us about your background.
WZipprian: I started acting about ten years ago, my first bit was as a super-numerary in HGO's production of Othello with Placido Domingo. And that kinda gave me the bug.

THyde: Super-numerary?
WZipprian: Yeah, that's another term for extra in the Opera, they call them supers. And after that I went to audition for a play called Street Theatre which was about the Stonewall riots in New York From there on, I've been pretty busy in the last few years, I did some stuff with a group called Coat Song Productions. We did a couple of plays at a theatre called Curtains on Washington Avenue, then we did a show at Cumba House. Then, I didn't do anything for a couple of years.

In 1996, I did a show out in an old theatre in Rosenberg called Cast, I did See How They Run, which is a British farce, then Blithe Spirit. I did a Larry Durbin play called I Hear You Listening at Country Playhouse. Which is a really neat show, it was a series of 8 monologues of people who had lost their minds. I really enjoyed doing that.

I did Blithe Spirit again at Country Playhouse. The first time I did the lead, and the second time I played Dr. Bradman. After that, I did The Invisible Man, here (TAW). And then I did another show here I just finished called Larceny At Large. It was part of the Scriptwriters Houston, they did three one-acts here, and that was one of the one-acts.

And then, I'm doing this. After I finish doing this I'm gonna take a little break. And in May I'm going back out to Rosenberg and I'm gonna do Picnic.

THyde: How did you get this part?
WZipprian: I just read. It was a cold reading. I knew Michael because I did those two previous shows here, he didn't direct either one of them, but I met him. When I did the last show, I asked him if they were playing anything, and he said that they were playing The Lady In Question, and would I come audition. I just did a cold reading, and got the part.

That's how I get all my parts. Just cold reading. I've never done a monologue, I'm kinda intimidated to do a monologue. Maybe someday, I'll pick one out. I don't know what's good for me, what monologue would be the perfect one for me to do.

THyde: And you're also an X-Ray Technician by trade. Do you do that 8 hours a day?
WZipprian: Uh-huh.....5 days a week.

THyde: Who are your most favorite actors?
WZipprian: Golly......that's a tough one. Probably Harvey Keitel is one of my favorites. Jimmy Stewart, you know the Classic. I like Diane Weist a lot, she does a lot of Woody Allen movies. She's really good.

THyde: You never went to school for Acting?
WZipprian: No. I think Acting's kinda like Music or Writing. You can take lessons to put your sentences together in the right way, what's a part or a symbol, what's a noun or a verb, and unless you really got the Art in you, you're not gonna be able to act or write.

THyde: Who influenced you as an Artist?
WZipprian: Me, as an Artist. Gosh......that's a really hard one.....I'd say I take my influence from my surroundings, really. I couldn't think of any one person that influenced me. I watch a lot of old movies. My favorite movie....mmmm.....cliche, cliche........Sunset Boulevard. So I guess, you know William Holden will be one of my favorite actors.

THyde: Have you ever played a woman? You have a man playing a woman in this play.
WZipprian: I, personally, have never.....No. I think, you know, I'm 6 foot 6, I've got really big feet, that would be tough to cast me as a woman.


========================================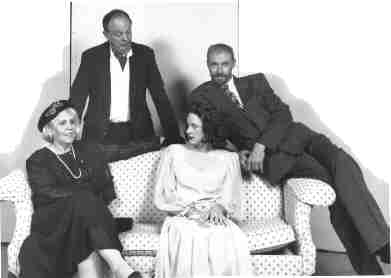 From left to right: Mimi Stebenne as Augusta Von Elsner, Stephen Burton as
Doctor Maxmilian, Scott Newsome as Gertrude Garnet, and Walt Zipprian as Baron Von Elsner
Interview with Mimi Stebenne (Augusta Von Elsner):

by Theresa Hyde
TheresaHyd@aol.com

Mimi Stebenne last appeared at The Actors Workshop in The Cemetery Club in 1991. She was a member of Stages Repertory for four years and Main Street Repertory for three. Her most notable roles of her 31 on stage besides Ida in Cemetery Club were Mrs. Partridge in Solid Gold Cadillac, Ms. Rice in The Trust, and Nettie in the Subject Was Roses, the aunt in La Nona and Ketty in 8x10 Glossy. She has appeared in seven films and assorted industrials. She has seven wonderful grandchildren.

THyde: Tell us about the part that you're playing.
MStebenne: Yes. I play a Nazi Baronness, rich, decadent, mean. It's a real stretch for me, I've never gotten to play this kind of part. So, I'm enjoying it, thoroughly.

THyde: How did you get this part?
MStebenne: I auditioned. That's standard, usually. Sometimes a director will call you and ask you to do a part.

THyde: Tell us about your acting background.
MStebenne: It started in 1980, my first class was at the Alley, so for five years, I did Community Theatre and then I went to Stages for 5 years, and then Main Street for about 4 years. My last role was at Main Street in Solid Gold Cadillac. And this is my 32nd show.


THyde: Are you originally from Houston?
MStebenne: No, I'm from Denver, Colorado. But I waited until my kids went off to college, before I went into the theatre, but it was always my passion. And then, I got accepted by The American Academy of Dramatic Arts when I was 50. That was really something to me, I didn't get to go, but I was still excited about that.

THyde: And you moved to Houston?
MStebenne: In 1959. And have been here ever since.

THyde: Who is your favorite actress?
MStebenne: Glenn Close and Merryl Streep. There's so many good actresses. You learn a little from watching everyone.

THyde: What qualities do you look for in an actress?
MStebenne: This goes for theatre besides movies.....I never liked to go and see the person that I really know. Like if it's a fellow actor, I want to see the character. We have a lot of actors in Houston that when they are doing a part, they are themselves, not the character they're playing. And that really bothers me. And that's the same in movies. It's like John Wayne, he was always John Wayne, it's a little hard for him to be anything else. But, Merryl Streep, is always playing a character that's someone different. And so is Glenn Close. That's true acting, I think.

THyde: Who influenced you as an artist?
MStebenne: Gosh, Laurence Olivier. Katherine Hepburn. All the good classics. My mother was a single mom, but when we had any money at all, we would go to the theatre. So I saw a lot of good shows when I was growing up. I don't think I ever took any classes then, but in College, I did some musicals. And then I didn't see a play for 22 years, and then I started doing my bit.

THyde: Who would you dedicate this performance to?
MStebenne: My mom. Because she wanted to be in theatre and I never found that out until she was dying. And she wanted, at one time, to be an actress. I felt sad, that she didn't get to do what she wanted to do. She might not like this particular role though........(laughs)

THyde: What is your opiniong about Theatre in Houston?
MStebenne: I wish that more people were supportive of theatre in Houston. It has made some inverts and improved culturally. But still, so many small theatres are struggling, and they shouldn't have to. And maybe that's a nationwide thing, you know. People should support the Arts.

THyde: Theatre does get a lot of competition, because of movies and videos that's really cheap entertainment. But what I like about theatre is that it's three-dimensional as opposed to a flat screen.
MStebenne: I've done several movies, and it's much harder to do live theatre. You know, you don't get the retake.....

THyde: What movies have you been in?
MStebenne: The Kangaroo, that was about a year and a half ago, and Mueller & Mueller, The James Brady Story, there are quite a few out there. But it really is more difficult every night to sustain the same thing that you did the night before. And people that are doing Chorus Line on Broadway, I just can't imagine. They have so much energy.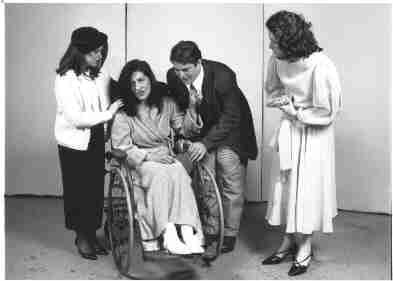 Left to right: Kara Greenberg, Dottie McQuarrie, Lyman Hall and Scott Newsome
========================================
Interview with Stephen Burton
(Professor Mittelhoffer, Doctor Maxmillian):

by Theresa Hyde
TheresaHyd@aol.com

Stephen Burton is pleased to be in another Charles Busch comedy, having previously appeared in Times Square Angel here. He has also performed here in Dogs of Foo, Angels Fall, Marvin's Room, and The Skin of Our Teeth. This past year, he was in Annie Get Your Gun with HITS Unicorn and Annie Warbucks with the College of the Mainland. Some favorite roles have been Ollie in Earl, Ollie, Austin and Ralph with the Group Workshop, Alan in Last Splash for Goatsong Productions and Marley's Ghost in College of the Mainland's A Christmas Carol.

THyde: You do two characters......
SBurton: I do the Professor and the Doctor. The Professor is in the Resistance, and the Doctor is a Nazi.

THyde: How long have you been acting?
SBurton: Oh, about ten years.

THyde: Tell us about your background?
SBurton: Professionally, I am a pharmacist in a hospital.

THyde: Are you originally from Houston?
SBurton: No, I'm originally from Oregon. Moved to Houston about 20 years ago. And I've been here at The Actors Workshop for 3 or 4 years now. I've done, probably, as many as 6 plays here in that time period.

THyde: Who would you dedicate your performance to?
SBurton: My higher power that I discovered in AA. It's a wonderful new life, and I've really been enjoying it.