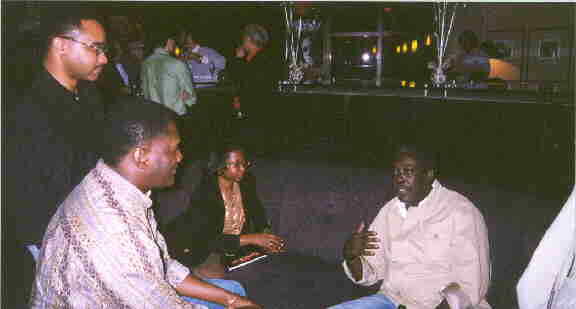 Pulitzer Prize Winner, LOVE SONGS Producer and Screenwriter Charles Fuller (right)

LOVE SONGS by Charles Fuller
Interview with Pulitzer Prize Winning Author, Screenwriter and Producer

By Theresa Hyde
TheresaHyd@aol.com
April 9th, 1999

LOVE SONGS is a trilogy that depicts a different side of the Black American experience – one that shows what life and love are really like whether black or white. The trilogy opens with a story starring one of the pioneer of Credit Card Movies, Independent Filmmaker Robert Townsend as a promising young boxer. Champ is pursuing his athletic career while working a "real job" as an auto mechanic to make ends meet for himself and his wife Sheron, who is expecting a baby. This story is directed by Louis Gossett, Jr., the memorable Drill Sergeant from An Officer and A Gentleman, who is an Academy Award-winning veteran actor whose career spans 48 years on the stage and screen.

In the second story of the trilogy, directed by Robert Townsend, Ellis (Andre Braugher) is a working class man who woos the woman of his dreams (the beautiful Lynn Whitfield), all the while trying to convince her that his love is right for her. To complete the trilogy, three-time Emmy Award nominee Andre Braugher directs the story of Reuben (Louis Gossett, Jr.), a hard-working family man with a loving wife and a level-headed teenage son, whose life is thrown into turmoil when Reuben must protect his sister-in-law, Della, from the physical abuse of her husband, Willy.

LOVE SONGS is written by Pulitzer Prize Winning Writer Charles Fuller, produced by Showtime Networks Inc. and premiered at this year's Worldfest-Houston International Film Festival. As Showtime Field Marketing Director Mary Bourne-Marth puts it, "Last year and the year before, we sponsored the Sundance Channel. And last year at the Houston International Film Festival, the Opening Film was a Showtime film, as well. We've had a long-term relationship with Hunter (Todd), and we have a continuing relationship with the Houston International Film Festival. Charles (Fuller) said it best, he had a whole group of people gathered around him and he said, 'One of the things that we (Showtime) have developed a reputation for in this industry is letting good Artists do their work, and not getting in the way.' Letting them do their very best."

Attorney Kenneth A. Zimmern who considers himself a "film buff" says, "LOVE SONGS introduced us to a world I'm not typically exposed to. And I thought that was interesting. Charles Fuller, who wrote A Soldier's Story has written and produced this Trilogy and it was beautifully done."






(L-R) Pulitzer Prize Winning Writer Charles Fuller and Theresa Hyde.



I approached the Pulitzer Prize Winning Playwright with quiet hesitation probably because he was 3 times bigger than me, as he gently offered me a seat. I didn't feel worthy at all to be in the presence of such a great man. Any first question I ask would have sounded so…..dumb.

THYDE: How does one become a Pulitzer Prize Winner?
CHARLES FULLER: (laughs) You write a Pulitzer Prize winning play (more laughs). I don't know, I don't know that…I'm not sure (laughs). I wrote a play called A Soldier's Play that was made into a movie called A Soldier's Story. I have no idea how it all…

THYDE: I'm a writer, as well. But how do you get Louis Gossett Jr. and Robert Townsend in your movie?
CHARLES FULLER: I've worked with them before. And whenever I write something, because I used to work in the Theatre, and I know a lot of actors, it's very easy to get the actors to do my work. So, I call 'em up and ask them if they wanna do it, and they do it.

THYDE: You're so special…
CHARLES FULLER: It's not anything special, it's just (pause)…I work hard (laughs).
THYDE: But we all work hard (laughs)…
CHARLES FULLER: (laughs) Call it hard work, that's what it is.
THYDE: And you also produced the movie…
CHARLES FULLER: It's the first time I've ever produced a movie. It's hard work, 24 hours a day you work. You're responsible for the budget, you're responsible for the actors, for everything on the set. But you work on everything, you're responsible for everything. And I liked that, I liked that responsibility.

THYDE: Where are you from, originally?
CHARLES FULLER: I was born in Philadelphia, raised in Philadelphia. I went to Catholic Schools, Elementary, High School, and University. I was in the army. I got married, I have two sons, whom I love very much. I have an ideal life of a Writer, really, a great life of a Writer…..a wonderful life.

THYDE: What is it like working with Robert Townsend and Louis Gossett Jr.?
CHARLES FULLER: Bobby and I have worked together in A Soldier's Story, so we knew each other and we had a lot of fun. Lou and I worked together in 1, 2…..this is the 3rd movie of mine that Lou has done. And so we knew each other from those experiences. Lou is a great actor, and so when Lou is on the set, in a sense, he brought to all the other actors a kind of….he was like a Beacon to them. They wanted to show Lou how good they were, really. And they have a great deal of respect for Lou, and it worked very well for us, in terms of making the film. Everybody wanted to show Lou that they could do whatever it was they needed to do. I mean, he has a tremendous respect among actors and writers. I respect him enormously. He's a great actor, a fantastic man.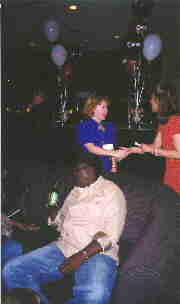 (R-L) Theresa Hyde talking to Showtime Field Marketing Director Mary Bourne-Marth during the Film Festival Opening Night Gala, Charles Fuller (seated).



CHARLES FULLER smiled the most intelligent smile and with a brilliant glint in his eye, continued to talk about LOVE SONGS. He went on telling his stories about the set and the making of the film. The crowd gathered around him listening intently and hung on to his every precious Pulitzer Prize Winning Word. And as Zoe Bui stated, "the Houston International Film Festival is a great opportunity" for us to share in all his glory. Thank you, Hunter Todd!



Film Festival Opening Night Gala
THE 32ND ANNUAL WORLDFEST-HOUSTON
The Houston International Film Festival
WorldFest-Houston, The Independent Film Festival
April, 1999