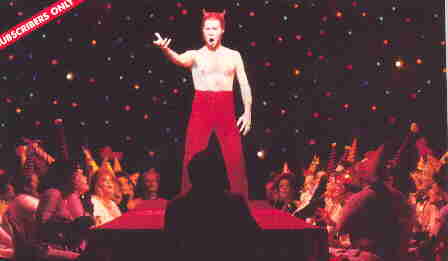 HOUSTON GRAND OPERA ENDS THE 1998-99 SUBSCRIPTION SEASON WITH SAMUEL RAMEY AS MEFISTOFELE IN SPECTACULAR ROBERT CARSEN PRODUCTION
Ramey returns in one of his signature roles and is joined by soprano Patricia Racette
and tenor William Joyner in his HGO debut

Houston, TX, March 31, 1999 - American bass Samuel Ramey returns to the Houston Grand Opera stage in one of his signature roles on April 30 in a revival of Robert Carsen's spectacular production of Boito's Mefistofele. In this classic story, which has been adapted numerous times for opera, theater, literature and film, the devil makes a wager with heaven that he can win the soul of the philosopher Faust for hell. Mefistofele opens in the Wortham Theater Center's Brown Theater on Friday, April 30 at 7:30 PM, with additional performances May 2m, 5, 8, 11, 14 and 16m. Tickets for Mefistofele are available to current, renewing and new Houston Grand Opera season subscribers and as part of a special two-opera package including Mefistofele and the world premiere of Tod Machover's Resurrection, playing April 23 through May 7. For information, call the subscriptions department at 713-546-0246.

Stage director Peter McClintock will lead the team recreating Robert Carsen's celebrated
production, staged by Houston Grand Opera in 1992. Carsen's production is conceived as an opera within an opera, and features enormous sets and a cast of over 180 principals, choristers, dancers and supernumeraries. The sets and costumes were designed by Michael Levine with lighting by Duane Schuler and choreography by Alphonse Poulin. Former Houston Grand Opera Music Director John Demain will conduct the Houston Symphony Orchestra. This production, which premiered in Geneva in 1988, is co-owned by San Fran isco Opera and the Lyric opera ot Chicago.

The all-American cast is led by American bass Samuel Ramey (Olin Blitch in HGO's 1996
Susannah) in the title role. Tenor William Joyner makes his HGO debut in the role of Faust. Soprano Patricia Racette, who made her acclaimed Houston Grand Opera debut in this season's production of La Traviata, returns to portray Margherita. Soprano Sondra Radvanovsky makes her HGO debut as Elena, mezzo-soprano Judith Christin is Marta, mezzo-soprano Stephanie Novacek portrays Pantalis and tenor Chad Shelton sings Nereo and Wagner.

Mefistofele is based on Goethe's play Faust. Arrigo Boito, who is best-known for his librettos for
Verdi's Otello and Falstaff, wrote his own libretto. Boito's only completed opera, Mefistofele was first performed in 1868. The premiere was a fiasco, weighing in at six hours. It was revised twice, with the current version first performed in 1876.

Mefistofele is the story of the rationalist philosopher Faust's temptation by the devil. Mefistofele
wagers with heaven that he can gain the soul of Faust. He appears in Faust's study, and Faust agrees to trade his soul in return for the promise of one peaceful moment. In the next episode, Faust courts a young woman, Margherita, and later tries to arrange her escape from prison after she murders their illegitimate child and her own mother. Mefistofele and Faust travel back in time to ancient Greece, where Faust falls in love with Helen of Troy. In the end, Mefistofele continues to try to win Faust's soul, but as Faust dies his spirit is accepted into Heaven.

THE CREATIVE TEAM:
Robert Carsen (Production) has directed for opera and theater companies throughout North
America and Europe, including Flemish'Opera, the Aix-en-Provence Festival, Vienna State Opera, Opera Bastille in Paris, Zurich Opera, Munich Opera, Welsh National Opera, New York's Roundabout Theater and the Old Vic Theatre. His 1992 production of A Midsummer Night's Dream for the Aix-en-Provence Festival won the 1992 French Critics Prize. Mr. Carsen has also directed for Euro Disney (Buffalo Bill's Wild West Show, which he also wrote) and for Stravinsky's The Soldier's Tale, conducted by Kent Nagano with Ian McKelien, Sting and Vanessa Redgrave.

Peter McClintock (Director) directed Houston Grand Opera's 1994 production of Turandot. He has long been associated with the Metropolitan Opera, where he directed productions of Die Meistersinger, Manon and Samson and Daiiia, and served as Assistant Director for numerous directors including Franco Zeffirelli, Hal Prince and Elijah Moshinsky. For San Francisco Opera, he has directed productions of William Tell, Turandot and Don Carlo. His work has also been seen at Lyric Opera of Chicago and Berkeley Opera.

Michael Levine (Set and Costume Designer) has worked internationally in theater, opera, dance and film. He has designed for the Paris Opera, Vienna State Opera, English National Opera, the Metropolitan, San Francisco, Chicago, Houston and Canadian Opera companies, the National Theatre, The Royal Shakespeare Company, and the Shaw Festival, as well as in London's West End and on Broadway. He has collaborated with many directors, choreographers and film makers including Robert Le Page, with whom he designed Tectonic Plates for the T'heatre de Repere, A Midsummer Night's Dream for the National Theatre and Bluebeard's Castle and Ewartung for the Canadian Opera Company. His work has been honored with a Paris Critics Prize, an Olivier Award and a Tony Award nomination.
Duane Schuler (Lighting Designer) has lit numerous production for Houston Grand Opera, including the 1996 productions of Susannah and Norma and the 1997 productions Boris Godunov and The Magic Flute. Mr. Schuler is the Resident Lighting Designer at Lyric Opera of Chicago, having designed more than 130 productions for that company since 1977. He is the former resident designer at the Guthrie Theater, and he has received consistent critical praise for designs at Lyric Opera of Chicago, the Metropolitan Opera, the Deutsche Oper Berlin, Los Angeles Opera, Santa Fe Opera, the Goodman Theater, and many other major companies internationally. He is founding partner in Schuler & Shobk, Inc., a theatrical consulting firm.

Alphonse Poulin (Choreographer) has been a professional dancer, a choreographer and a ballet master. He danced for Boston Ballet, Municipal Theater of Sdo Paulo, Brazil and Lisbon's National Ballet, among others. While directing the dance department at Geneva's Conservatory of Music, he choreographed numerous operas, including Italian Girl in Algiers, Love of Three Oranges and The Merry Widow. He has also choreographed Prince Igor for San Francisco Opera and Opdra de Marseille, Tristan and Isolde for Seattle Opera, La Rondine for Opera North, Faust for Vienna State Opera and Turandot for Opera Bastille in Paris. Currently he is guest ballet master for Nederiands Dans Theater, National Ballet of Madrid, Batsheva Dance Company, Boston Ballet and the Juilliard School of Music, among others.

John De Main (Conductor) was Music Director for Houston Grand Opera for eighteen years.
During his distinguished tenure, he led the history-making production of Porgy and Bess which was recorded for RCA and won a Grammy Award, Tony Award and France's Grand Prix du Disque. He also conducted a number of other notable productions, including the world premieres of Bernstein's A Quiet Place, Carlisle Floyd's Willie Stark and The Passion of Jonathan Wade, and John Adams' Nixon in China. He currently is Music Director of Madison Symphony and Artistic Director of Opera Pacific and Madison Opera. He is also a sought after guest conductor of orchestras and opera companies around the world. He has appeared as a guest conductor with Baltimore Opera, Los Angeles Opera, San Diego Opera, San Francisco Opera and Seattle Opera, among others. On the concert stage, Mo. DeMain has led concerts with orchestras throughout Europe and the U.S., including Houston Symphony and London Sinfonietta. This season he conducts the world premiere of Eliot Schoenfeld's The Merchant and the Pauper for Opera Theater of St. Louis, Madame Butterfly, The Flying Dutchman and a double-bill of Carmina Burana and Pagliacci for Opera Pacific and Faust for Madison Opera. Television audiences have seen Maestro DeMain on PBS's "Great Performances" conducting Treemonisha, Willie Stark, An American Christmas and Livefrom Lincoln Center.

The Cast:

Bass Samuel Ramey (Mefistofele), who reprises this role which he first sang at HGO in 1992,--
returns again next season in Verdi's Nabucco. Ramey, to whom Time referred as "a basso of extraordinary dramatic and lyric gifts," has had an astonishingly rapid rise to stardom. He can be found regularly on the stages of the world's great opera houses, including La Scala, Covent Garden, the Vienna Opera, the Paris Opera, New York City Opera, San Francisco Opera and the Metropolitan Opera, as well as major European festivals. Ramey's acclaim in the bel canto repertoire includes MozarCs Don Giovanni and The Marriage of Figaro, Rossini's Semiramide, The Barber of Seville, La Donna del Lago and Otello, and Donizetti's Lucia di Lammermoor. In the dramatic repertoire he has been acclaimed for his three devils, Boito's Mefistofele, Gounod's Faust and Berlioz' Damnation of Faust, for Verdi's Attila and Don Carlo, Offenbach's The Tales of Hoffmann, and Stravinsky's The Rake's Progress. Ramey has recorded for many major labels, including CBS Masterworks, Philips, Deutsche Grammophon, and London/Decea. Television viewers have seen him on numerous occasions on Live From Lincoln Center, Live From The Met and PBS's Great Performances.

Tenor William Joyner (Faust) is making his Houston Grand Opera debut. Mr. Joyner has appeared with opera companies and symphony orchestras throughout North America and Europe. He has appeared with Washington Opera, New York City Opera, Florida Grand Opera, Minnesota Opera, Cleveland Opera, Pittsburgh Opera and Calgary Opera. This season he performs in The Merry Widow with Teatro Massimo in Palermo, Lucia di Lammermoor with Thditre du Capitole in Toulouse, makes his Miami Opera debut in Macbeth and returns to Calgary Opera for Carmen. Mr. Joyner is an active concert singer, having performed with the San Jose Symphony, the Cathedral of St. John and the New York Philharmonic.

Soprano Patricia Racette (Margherita) made her acclaimed HGO debut earlier this season as
Violetta in La Traviata. She will return to HGO next season to create the role of Love Simpson in the world premiere of Carlisle Floyd's Cold Sassy Tree. She was the 1998 winner of the prestigious Richard Tucker Award. Ms. Racette created the title role of Tobias Picker's Emmeline at Santa Fe Opera which was telecast on PBS' Great Performances to nationwide critical acclaim. Last season, she appeared in Peter Grimes and The Tales of Hoffmann at the Metropolitan Opera, Emmeline with New York City Opera, William Tell with San Francisco Opera and Washington Concert Opera, and La Traviata with Opera Bastille in Paris. This season, she appeared at the Metropolitan Opera as a last minute replacement as Violetta in La Traviata to great acclaim and in gala performances celebrating Luciano Pavarotti's and Placido Domingo's 30th anniversaries. Concert appearances include Stabat Mater with the San Francisco Symphony and Beethoven's Symphony No. 9 with the Houston Symphony. International credits include appearances at Royal Opera House at Covent Garden, Vienna State Opera, Grand ThdAtre de Geneve and Welsh National Opera.

Soprano Sondra Radvanovsky (Elena) is making her Houston Grand Opera debut. She has appeared with the Metropolitan Opera in several productions including Carmen, Aida, Il Trovatore, Elektra and The Tales of Hoffmann, Dallas Opera in Das Rheingold and Portland Opera in Don Giovanni. She is a recent graduate of the Metropolitan Opera!s Young Artist Development program and a winner of the 1997 George London Foundation Competition.
~

Mezzo-soprano Judith Christin (Marta) has sung in over seventy roles, performing with leading opera companies throughout the United States, including the Metropolitan Opera, San Francisco Opera, Houston Grand Opera and many others. She appeared with UGO earlier this season as Mary in The Flying Dutchman and The Ghost of Antonia's Mother in The Tales of Hoffmann. She is also appearing this spring in the world premiere of Tod Machovees Resurrection and returns next season for the world premiere of Carlisle Floyd's Cold Sassy Tree. Recently, she appeared in Peter Grimes and The Magic Flute at the Metropolitan, The Marriage offigaro at San Francisco Opera and San Diego Opera, Countess Maritza at L.A. Opera, Mefistofele at Lyric Opera of Chicago, Romeo and Juliette at Pittsburgh Opera and Madame Butterfly at Santa Fe Opera.

Mezzo-soprano Stephanie Novacek (Pantalis), a Houston Opera Studio artist, has performed
numerous roles for Houston Grand Opera including Messaggiera in Orfeo, Flora Bervoix in La Traviata, Hansel in Hansel and Gretel, Suzuki in Madame Butterfly, Third Lady in The Magic Flute, Page in Salome and Siebel in Faust. She has also performed in two world premiere productions, creating the roles of Jo in Mark Adamo's Little Women and Maria Callas in Michael Daugherty's Jackie 0, which was released by Decca under the Argo label. This summer, she will portray Suzuki in the Multimedia Modular Stage production of Madame Butterfly. Ms. Novacek recently made her New York debut singing the roles of Dido and the Sorceress in the critically acclaimed Mark Morris Dance Company revival of Purcell's Dido and Aeneas at the Brooklyn Academy of Music. She also traveled to Hamburg, Germany for Operalia '98, Placido Domingo's world opera contest, and advanced to the final round which was broadcast on German television and radio.

Tenor Chad Shelton (Nereo/Wagner) made his HGO debut last season in Macbeth, and has also
appeared in Orfeo, La Traviata, The Tales of Hoffmann, Billy Budd, Little Women, Arabelia and Carmen. Mr. Shelton will return later in the season to sing Pinkerton in Madame Butterfly. Mr. Shelton's other professional engagements include singing with Ohio Light Opera as Frederic in The Pirates of Penzance, with Waterbury Symphony as Dino in the world premiere of The Padrone, and with Baton Rouge Opera as Tamino in The Magic Flute. His oratorio work includes solos in the Bach Magnificat and Mozart's Vespers with Trinity Chorale and in Handel's Messiah with Orchestra New England. He is a Houston Opera Studio artist.

Mefistofele is sung in Italian with English surtities, English translations projected over the stage and
underwritten by Compaq Computer Corporation.

The Southwestern Bell Pre-Curtain Lecture Series takes place thirty minutes before each performance. Guest speakers present a twenty-minute informal lecture on the sixth floor of the Grand Foyer. These lectures, free and open to all ticket holders, are intended to enhance audience members' enjoyment by preparing them for the production they are about to attend.
The Wortham Theater Center features easy wheelchair access to both theaters. An infrared listening system, generously underwritten by Pennzoil-Quaker State Company, is available and free of charge at all performances. Please call the subscription office at 713/546-0246 or 1-800-346-4462 for details. Descriptive services for visually impaired persons are also available with 48-hour advance reservations. Please call the Education and Outreach Department at 713/546-0232 for information or to make a reservation.

Tickets for Mefistofele are available to current, renewing and new Houston Grand Opera season subscribers and as part of a special two opera package including Mefistofele and the world premiere of Tod Machover's Resurrection, playing April 23 through May 7. For information, call the subscriptions department at 713-546-0246.

Shell Oil Company Foundation is the guarantor for Mefistofele.

Since its inception in 1955, Houston Grand Opera has swiftly moved from a small regional organization into the fifth-largest opera company in the United States. With David Gockley as its general director for the past 27 years, HGO has widened its circles, both in repertoire and in reach. The company has an international reputation for commissioning and producing new works (23 world premieres and six American premieres since 1973) as well as a reputation for reaching out to new audiences (Nixon in China, Harvey Milk Florencia en el Amazonas and Jackie 0 are notable examples). HGO also tours extensively, including trips to Japan, Italy, Egypt and France, and the company is the only one in the United States to win a Grammy (two actually), a Tony and two Emmy awards. HGO has an eye on the future of opera too, launching not only the acclaimed Houston Opera Studio (a program designed to train young singers for major careers) but also the Community Connections Initiative (a multi-pronged program aimed at educating and nurturing new
audiences). For its 1998-99 season, Houston Grand Opera's budget is $17.5 million.
~
~