New Heights Theatre
Presents
The Houston Premiere of

Ann-Marie MacDonald's

GOODNIGHT DESDEMONA
(GOOD MORNING JULIET)


Directed by
Claire Hart-Palumbo

December 31, 1997 through February 7, 1998
(Thursday, Friday, & Saturday Evenings)

New Heights Theatre
339 West 19th Street (in historic Heights)
(713) 869-8927

Starring

Lisa Marie Singerman.......................................Constance Ledbelly
Hal Core............................................Chorus, Iago, Romeo, Ghost
Jennifer Doctorovich.........Ramona, Mercutio, Desdemona, Servant
Bill Hargrove.......................Professor Night, Othello, Tybalt, Nurse
Erika Thorp.................................................Student, Soldier, Juliet

It was the Best New Year's Eve Theatre Party in Town! The Play was marvelous. The food was catered by Mesa Grill - voted by Houston Press as "Houston's Best Mexican Restaurant" in 1997. Wine and Champagne flowed all through the night. After the show, scrumptious desserts were served non-stop up till the early hours of the New Year.

It's a hilarious comedy! It runs the gamut from Time Travel, Bisexuality, Be-Heading, Birthdays, Duelling, Feminism, and Hermaphrodites(!?!)



Lisa Marie Singerman and Bill Hargrove
"Why, It's Shakespeare," Singerman exclaimed. "Of Course!"
The play opens with a voice. A voice from The Twilight Zone. A Strikingly handsome Hal Core in a very dapper black suit introduces the play. Lisa Marie Singerman as Constance Ledbelly was astounding as the Shakespearean scholar who time-travels to the Elizabethan era. Bill Hargrove, who does the best "Shakespeare" of the evening with his powerful voice and resounding verses reverberating throughout the theatre. Versatile Jennifer Doctorovich had so much range. How can one person play all those characters? And of course, can one do a Shakespeare without a Juliet? This one had the most lascivious Juliet, played by Erika Thorp, ready and willing to take on anything - man, woman, whatever.

"We had such a great time doing it. I mean the cast and the crew! I just hope the audience enjoys the show, we worked very hard on it, sometimes staying up here until 1:00 o'clock in the morning!" said Bill Hargrove.

"I think it's clever, playful, insightful and definitely interesting. The first act was a little perplexing, but through the second act it got really interesting. Very fun!" said Charlie Webber, Real Estate Developer. "It's a contrast between what actually happened in the text and what they've done with the story. It's interesting. And a good thing to do on New Year's," comments TN Amick, Set Builder.

Marilyn Lewis, New Heights Theatre Board Member said, "The show is hilarious - A Real Success!" Scotti Sween, Playwright whose play, An Unnatural Woman went to a special conference in Yale was there to be a part of this special event. "A Wonderful Farce. A very intelligent farce. You can come here and forget everything and laugh. It makes you appreciate Shakespeare and remember things that might have been forgotten," she says.

=========================================================

Interview with Ron Jones
Artistic Director for New Heights Theatre:

By Theresa Hyde
Theresahyd@aol.com

Ron Jones has been directing, acting and producing in Houston for 26 years. He started at the University of Houston, his very first play was directed by Cecil Pickett. (".....who just passed away. He was an absolutely wonderful acting teacher. But beyond that, an inspiration to everybody who worked with him.")




New Heights Theatre on West 19th Street



Ron describes himself as very shy when he was in college. He got his undergraduate degree from the University of Houston, although he didn't major in Theatre. He majored in English and taught. He went back and got a Masters Degree in Education. His greatest influence, Mr. Cecil Pickett got him interested in Theatre.

RJONES: I just started acting a lot, and I acted a long time before I started directing. I was in one of his acting classes, and he said, "Come and audition for me." So I did, and I was cast in Mother Courage And Her Children, which was before its time, because obviously, it was a play by a German playwright, about the seven year war.

Mr. Pickett cast an African American - Mother Courage and all of her children were Caucasian. One of her children was Dennis Quaid. So, that was a wonderful experience. Then, I just got very lucky, and Marrietta Marich, who's a producer in Houston and have been for years saw me in that show and asked me to come and do a show for her in the Dean Goss Dinner Theatre.

I freelance, I freelance all over. I would direct a show a year at several different theatres in town, although I can't really do that now, because of my commitments here (NHT). I still direct at least one show a year at Main Street Theatre. I will be directing The Sisters Rosensweig there, later this season, and I just finished directing Durang Durang at Actors Theatre of Houston.

THYDE: What made you decide to do this play?
RJONES: Well, a couple of reasons. Last season we did a play called The Compleat Works of William Shakespeare, Abridged. It was a parody of Shakespeare, in which three actors played all the roles in all of Shakespeare's plays, men and women. And it was the most successful show we've ever done, it ran for 17 weeks. And on Dickens in the Strand Theatre in Galveston, for a run down there.

I heard about Goodnight Desdemona, Good Morning Juliet by Canadian playwright Ann-Marie MacDonald. I've read a lot about it, it's been done at regional theatres throughout the country. All the reviews I've read were good, and it just sounded like something that our audiences would like, since they like Compleat works so much.

I decided to get a hold of it and read it. It's not easy to find because it's not published by one of the regular publishing firms, it's published by Canadian press. So I finally got a hold of it, read it, and liked it a lot and gave it to Claire Hart-Palumbo, who directed the show. I said, "Read this and see if you might like to direct it." She directed The Compleat Works for us last year as well.

THYDE: Tell us a little bit about New Heights Theatre.
RJONES: New Heights Theatre is in the middle of its fourth season. We are a theatre who's mission statement is to bring theatre of ethnicity, theatre that will appeal to different cultural and ethnic backgrounds. And also to use theatre as an educational tool. We plan to take some of our shows in the high schools and the middle schools.

But we do have a very very diverse type of programming, I think possibly the most diverse in the city. Every year, we do a play about the Hispanic experience, about the African-American experience. Next season we're gonna do a play about the American-Indian experience. We do plays about the Gay experience, and we just try to offer something for everybody.

THYDE: Can you tell us about the history of this Theatre?
RJONES: There's a lot of history about the building itself. The camera equipment that's displayed as you enter the theatre is something from the Forties, and that equipment was actually in use when the movie theatre was burned. It opened as a movie house in 1928 and showed all first-run films. I have photos of the marquees out in front with Bette Davis and all the stars from the 30's. It functioned as a movie house until 1967.

In 1967, The Heights Theatre was showing I'm Curious Yellow, which was the first, sort-of, soft-porn. It wasn't really even soft-porn, R-rated film perhaps.





THYDE: (Laughs) But it was considered soft-porn then.....
RJONES: Yeah, At that time, It was. (Laughing). We actually have a big poster from I'm Curious Yellow in our lobby as well. And some Heights residents got upset about it, and picketted in front of the theatre and someone threw a torch on the roof. And the building burned. And the whole roof of the building fell in. And one of the interesting and ironic things for me is that my grandmother used to live in the Heights Tower, which is right across the street. If you look out there, you could see it's about 12 stories high and she lived on the 11th floor. And as a child visiting her, I would look out and I would see this building across here. It looked like it had been bombed.

THYDE: You saw the whole thing as it actually happened?
RJONES: Well, I saw the aftermath. Never even dreamed that I'd be in theatre, much less that I would someday lease the building.

THYDE: That's an amazing story. Who are your favorite directors?
RJONES: I think one of the most talented directors we have in Houston is Rob Bundy, the artistic director of Stages Theatre. He's an absolutely delightful person.

THYDE: Yeah, I saw Quills, and their presentation was unbelievable.
RJONES: Wasn't he wonderful? Everything he does, everything he touches is wonderful. He's tremendously talented. Beyond that, he's a very genuine person and a great friend. So I admire and respect him a great deal.

Marietta Marich, who I talked about earlier, is a wonderful director, and I think the Grand Dame of Houston Theatre because she's also a wonderful actress. She was the first Miss Mona at the Tower Theatre in The Best Little Whorehouse in Texas. Carolyn Houston-Boone, who is a professor at the University of Houston, but she also acts and directs. A real talent.

THYDE: What qualities do you look for in a director?
RJONES: I think a director has to have good leadership qualities because everything is his responsibility. He has to make certain that his cast has confidence in the piece that they're doing, and confidence in him or her as a director, and confidence with the other actors. Because Acting has got to be an ensemble effort. Mr. Pickett told me this, "You're only as good as the people that are onstage with you." You can never be any better than they are, so you have to work with them. You have to give them what they need to be successful, and then they'll give it back to you.

THYDE: What do you have in store for us for the rest of the season?
RJONES: We have a very eclectic season coming up. After this show, we are doing a play by a South African Playwright, Athol Fugard, called Valley Song. Eileen Morris, who is the artistic director for the Ensemble Theatre is directing for us.

We're following that with another Tennessee Williams play, that's never been done in Houston before, called Kingdom of Earth. And I'm gonna direct that. And then, we're closing the season with a very exciting project, this is the thirtieth anniversary of the play, The Boys in the Band. We're doing the 30th anniversary production of that show. So I'm excited about the season that we have coming up.


=========================================================

Interview with Hal Core
Starring in Goodnight Desdemona, Good Morning Juliet

By Theresa Hyde
TheresaHyd@aol.com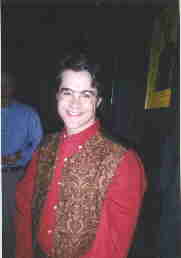 Hal Core



Hal Core moved to Houston after receiving his MFA degree at Arizona State University, where he appeared in The Oresteia, The Taming of the Shrew, Henceforward..., The Relapse, and The Comedy of Errors. Last winter Hal was a company member of the Cleveland Playhouse's internship program, and appeared in Androcles And The Lion, The Emperor's New Clothes, and Nightfall with Edgar Allan Poe. He was last seen onstage in a nightshirt, in the Actor's Theatre of Houston 's production, Durang Durang.

Theresa: Introduce yourself.
Hal: Hi, I'm Hal Core. I'm from Beaumont, Texas, now residing in Houston.

Theresa: You're awesome.
Hal: Well, Thanks a lot.

Theresa: You played so many characters......
Hal: Yeah, I know.

Theresa:.......Including Rom-iette. That's the best one.
Hal: (Laughing) Rom-iette was a dream come true. Yeah, I've always wanted to play Juliette.

Theresa: What made you decide to do this play?
Hal: When I read it, I was really stunned by it, it's so clever. It reminds me of The Complete Works of Shakespeare.....but it's a little less campy. It has a little more substance to it. I thought, Yeah, this is the show I wanna do. The script, and the cast that she (director, Claire Hart-Palumbo) had assembled, they're really fun to work with. It's all worthwhile.

Theresa: You're very good-looking. You're the very first character that came out........
Hal: Oh, but I can be ugly very easily.....

Theresa: (Laughs) Yeah, when I saw you in that dress......Tell us about your background. How old are you?
Hal: I'm 30 years old, I just turned 30 on October 29th. Seems like yesterday. I trained at Arizona State University at Tempe, Arizona. And I got my MFA in Acting there in May. And I moved back.....this is kinda my region, my home town, so to speak, in this area. So I came back to Houston, and I've been working ever since. It's been great.

Theresa: What are you looking forward to in 1998?
Hal: I'm a stand-in for a movie that's being filmed here. It's a Bill Murray film, Rushmore. And I'm doing some Children's Theater shows at Early Stages.

=========================================================

THE CREW

STAGE MANAGER....................................... Michael O'Connor
DRAMATURGY.............................................Wally Zialcita, Andrea Patterson
FIGHT DIRECTOR.........................................Brian Byrnes
LIGHTING DESIGN.......................................Dale Pollack
SET DESIGN...................................................George Brock, Claire Hart-Palumbo
COSTUME DESIGN.......................................Reba Kochersperger
SOUND DESIGN............................................David King
RUNNING CREW...........................................Heath Hoffmeister

ARTISTIC DIRECTOR....................................Ron Jones
ASSOCIATE ARTISTIC DIRECTOR..............Claire Hart-Palumbo
TECHNICAL DIRECTOR................................George Brock