The score runs the gamut from the nonsensical 'Do - Do - Do' to the unforgettable "Someone Who'll Watch Over Me." Main Street Theater's Concert Musical Series is made possible by generous underwriting from The Humphreys Foundation.
Joel Sandel (left) and friend. Mr. Sandel plays Jimmy Winter in Main Street Theater's production of OH KAY!
Oh, Kay! will mark the first production in the 1999/2000 Humphreys Concert
Musical series. Taking its cue from the popular Encores series in New York, Main
Street Theater has produced concert versions of under-produced musicals for the
past four years. For the past two years, the Humphreys Foundation has
underwritten this series, which, due to its popularity, has been expanded to offer
three full productions this year, including Oh, Kay! and Cole Porter's Jubilee.
Previous productions in the series include Of Thee I Sing, Out of This World and
last year's smash hit, NINE.

Main Street Theater Celebrates Gershwin's Centennial
September 26 marked what would have been the one hundredth birthday of
George Gershwin, arguably this century's most original American composer. Best
known for such popular standards as 'Someone Who'll Watch Over Me,"
"Fascinatin' Rhythm,' and 'Let's Call the Whole Thing Off," Gershwin also made
many successful forays into classical music. In fact, his "Rhapsody in Blue"
remains the most frequently performed orchestral piece by any American composer.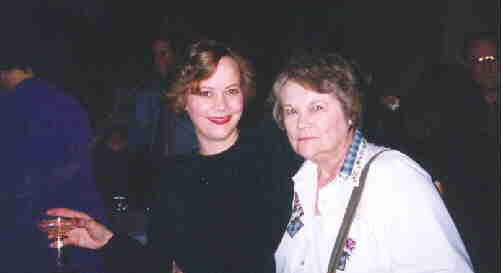 Laura Chapman (left) and proud mom, Eleanore. Ms. Chapman plays Constance Appleton in Main Street Theater's production of OH KAY!
George Gershwin died of a brain tumor in 1937 at the age of 38, leaving a large
body of work which made an indelible mark on twentieth century music. From his
early days as a song-plugger on Tin Pan Alley, to mature works like Porgy and Bess
or his Concerto in F, Gershwin expressed unforgettably the American experience.
Abram Chasins said of Gershwin, 'The language he spoke was an eclectic one:
black humor, Russian sentimentality, Jewish sorrow, Broadway pep and French
ooh-la-la. In short, typically American. It made our worlds one world.'

About the Authors
George and Ira Gershwin collaborated on eighteen musicals, including Lady Be
Good, Strike Up the Band and Girl Crazy. Their work on Of Thee / Sing earned
them a Pulitzer Prize in Drama, the first ever awarded to a musical. After George's
death in 1 937, Ira went on to write lyrics for such composers as Kurt Weill, Jerome
Kern and Harold Arlen.

P. G. Wodehouse, best known for creating the characters of Bertie Wooster and his
eminently competent manservant, Jeeves, wrote the books to several musicals,
including Jerome Kern's Leave it to Jane and Cole Porter's Anything Goes, on
which he collaborated with Guy Bolton. Guy Bolton worked on books for several
Gershwin musicals, including Girl Crazy and Lady Be Good. Bolton also wrote an
adaptation of Anastasia for the stage, which was later made into a movie starring
Ingrid Bergman.

(L-R) Johanna Beth Harris, Trey Birkhead and Andrew Ruthven
About this Production of Oh, Kay!
Rob Babbitt and Kim Hupp, the creative team behind last year's NINE, return to
MST to bring Oh, Kay! to life. Mr. Babbitt will direct and Mr. Hupp will provide
musical direction to a cast of such MST favorites as Joel Sandel (lago in last
season's Othello), Doris Davis (Madame LeFieur in NIAIE), Emily Ann Carter (Bianca
in Othello), Karen Ross (Louisa in NINE), Jef Johnson The Fool in Accidental Death
of an Anarchist), Terry Jones (Guido in NINE) and Trey Birkhead (Ollie in Leave it to
Jane).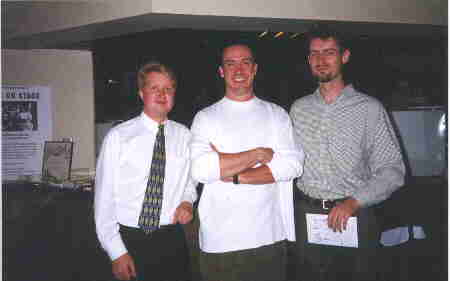 Jef Johnson (center) and friends Milo(L) and Steve(R). Mr. Johnson plays the hilarious "Shorty" McGee in Main Street Theater's production of OH KAY!




~
What: Oh Kay! music by George Gershwin, lyrics by Ira Gershwin and book by
P. G. Wodehouse and Guy Bolton
Where: Chelsea Market, 461 7 Montrose Boulevard, (713) 524-6706
Half-Price Previews: Wednesday, October 20 ($7.50)
Regular Performances: Thursday, October 20 - Sunday, October 31, 1 999
Showtirnes / Prices: Thursdays at 7:30 PM ($1 5); Fridays and Saturdays at 8:00
PM ($20); Sundays at 3:00 PM ($1 5). Half-price student rush tickets offered
one hour before curtain, pending availability. Discounts available for students,
seniors or groups of ten or more.
~
Board of Directors: Jo Alessandro Marks, Chairman-. Rebecca Greene Udden. Vice President; Victoria Schutter, Secretary; Saraiane Milligan, Treasurer: Jan Domenico, Frances Edmundson,
Lillie Fontenot, Joan Got, Tom Hagemann, ErnestJ. Henley, Rush Lynch, M.D., Pluria Marshall, Jr., Joan Murrin, Mary Murphree, Mary Anne Piacentini, Enid Robinson Rosenfeld, MarkScheid,
Larry Selna, Robert Wagnon, Gretchen Weis, Betty Williams, Mary Wright, Maxwell P Zimmerman.