THE ENSEMBLE THEATRE PRESENTS

John Henry Redwood's

THE OLD SETTLER

September 15 - October 15, 2000





THE OLD SETTLER by John Henry Redwood, Now Playing at The Ensemble Theatre thru October 15th, 2000. Call 713-520-0055 for tickets and information


The Ensemble Theatre Opens their New Soulful 2000 - 2001 Season!! Interview with ARGENTINA M. JAMES at The Opening Night Reception, September 21st, 2000. THE OLD SETTLER by John Henry Redwood. Now Showing at the George Hawkins Main Stage at The Ensemble Theatre 3535 Main Street Houston, Texas thru October 15, 2000. Set in World War II, Harlem, New York, 55 year old spinster (or, as they were called in those days, an Old Settler) Elizabeth Borny (played by Joyce Anastasia) lives with her sister, Quilly McGrath (played by Bobbi Yarbrough) where they talk, laugh, and get on each other's nerves. They take in a young male roomer, Husband Witherspoon (played by Henry Edwards Jr.) to help with the rent, and things get complicated. Directed by Kelley Dianne Smith, this heart-warming play will leave you singin' the blues as you laugh, cry and feel the love and tension that comes between the two sisters.



THE OLD SETTLER
Heart-Warming Soul Food! The Ensemble Theatre Invites You to Sample a Taste of their New Soulful 2000 - 2001 Season with the Premiere of THE OLD SETTLER by John Henry Redwood, Now Showing thru October 15, 2000 at the George Hawkins Main Stage.


CAST:

Elizabeth Borny................................Joyce Anastasia
Quilly McGrath.................................Bobbi Yarbrough
Husband Witherspoon.......................Henry Edwards Jr.
Lou Bessie Preston............................Channon Dade

TIME: Late Spring, 1943
PLACE: All of the action takes place in the apartment of Elizabeth Borny, in Harlem, New York


------------------------------------------------------------------------------------------------------

ABOUT THE PLAYWRIGHT

John Henry Redwood's first play, Mark VII: xxxvi, was produced off - Broadway at the Billie Holiday Theatre. The play won the 1986 Audelco Award for Best Play. His second play, A Sunbeam, won the 1988 McDonald's Literary Achievement Award for Best Play, and had its premiere at the Pittsburgh Public Theatre. Mr. Redwood was commissioned by the Saltworks Theatre Company (Pittsburgh, PA) and the Allegheny General Hospital to write What If You're The One?, a one - act play encouraging women to have mammograms. Mr. Redwood was also commissioned by City Theatre Company (Pittsburgh, PA) to write The Funky Chicken, a play for young audiences, which was funded by the Lila Wallace - Reader's Digest Fund New Work for Young Audiences program.

Mr. Redwood is also the author of Write Me Out and Acted Within Proper Departmental Procedure, and he revised the teleplay The Wedding for Harpo Films. As an actor, Mr. Redwood has performed on Broadway in Guys and Dolls and The Piano Lesson, and has appeared in numerous regional theatre productions. He has acted in eight productions of Fences, and appeared in the films Mr. Holland's Opus, Passion Fish, Big and Porky's.

------------------------------------------------------------------------------------------------------

ABOUT THE PLAY

In World War II Harlem, New York, fifty - five year old spinster (or, as they were called in those days, an Old Settler) Elizabeth Borny, takes in a young male roomer, Husband Witherspoon, to help her with the rent. Husband has come to Harlem from South Carolina to search for his girlfriend, Lou Bessie Preston. Also living with Elizabeth is her sister, Quilly McGrath, fifty - three. There is an ominous cloud of tension that hangs over Elizabeth and Quilly's relationship.

This tension is further exacerbated when Elizabeth and Husband take to liking each other. Quilly, who doesn't like Husband living with them in the first place, surely doesn't approve of their "carrying on," especially since Elizabeth is old enough to be Husband's mother. It is this "carrying on" that exposes a thirty - year old wound which, until now, only had a bandage - now the wound can heal for the sisters.

------------------------------------------------------------------------------------------------------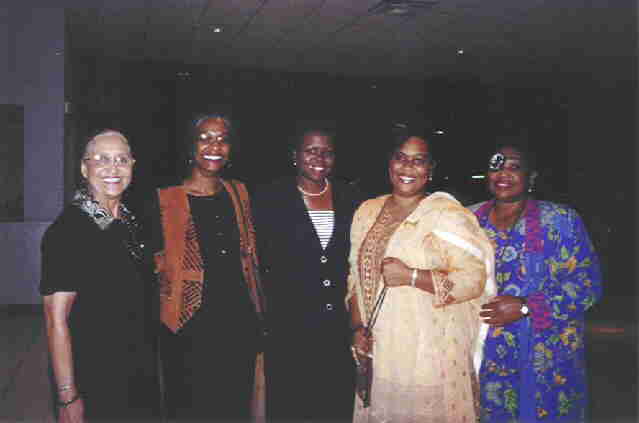 (L-R) Karen Statin, Wilma Barnett, Deborah Wilson, BeBe Wilson, Director Kelley Dianne Smith, and the Director's proud mother Dianne Smith



INTERVIEW WITH KELLEY DIANNE SMITH
DIRECTOR FOR THE OLD SETTLER
September 21, 2000, Thursday

by Theresa Hyde
TheresaHyd@aol.com

Kelley Dianne Smith has "grown up" in The Ensemble Theatre. She began her theatre career as the property designer, production manager, and stage manager. Ms. Smith has also served as the co-director to the infamous BeBe Wilson in Shakin' the Mess Outta Misery and Bourbon at the Border. She has also graced the stage in productions such as The Colored Museum at The Ensemble Theatre, Macbeth at Main Street Theatre, and Eye of the Gall at The Little Room Downstairs, to name a few. The Old Settler marks another growing point for Kelley as she continues to express her love of theatre through directing. This is her first production at The Ensemble Theatre.

Theresa: What are the challenges of this particular play, The Old Settler?
Kelley Dianne: The time period, which is 1943, making sure that the movements were appropriate for the period. The clothes and the language captured what the playwright wanted, as far as the mood of the play. So keeping in tune with that and keeping the cast focused.

Theresa: Why did you choose to direct this play?
Kelley Dianne: Actually, they chose me. It was wonderful, because it stretched me in different other directions. I'm used to directing younger kids and more modern plays, and so I had to go out and do research on the period and the clothes and how everybody walked, and how they talked and the different slangs that they used, "hipcats" and stuff like that. And so it opened up my horizons.


Theresa: So, your background is in Children's Theatre.....
Kelley Dianne: Actually, I just finished mounting, writing and directing a play for The Young Performer's Program that we have here. That was actually my first directorial experience for The Ensemble. But this is my first Adult experience. It was called Cynthia and the Prince, An African Fairy Tale. And then I'm working on another one, for Argentina James and her daughter's school.




(L-R) Argentina James and Kelley Dianne Smith



Theresa: What are the main differences between Children's and Adult Theatre?
Kelley Dianne: Children, you have to give them a lot of encouragement. Children, though, don't have the inhibitions that we have as adults. The fear and judgement that holds us, they don't have that yet. So it's really great working with them because they just go for it. That's pretty much the difference.

Theresa: What type of research did you do for The Old Settler?
Kelley Dianne: Clothing, the restricted movement maybe. I wanted to see their hair, in particular black women because the cultures were a little different in that time period. I wanted to see what kind of jobs they had, just the economic climate, who was President.....what kind of food, what the price of bread was. You know, the economic status of black people in Harlem.

Theresa: Are you from Houston?
Kelley Dianne: Yes, I am. Born and raised. I went to Valparaiso University in Indiana, that was Pre-Med, and then I decided not to do that. And then I came home, went to The University of Houston, where I got a Bachelors and a Masters Degree in Theatre.

Theresa: What made you choose Theatre?
Kelley Dianne: I've danced pretty much all my life. I've been a dancer for 18 years. I love the stage! It just comes so natural. It was in my heart.

Theresa: What about Mr. John Henry Redwood, the playwright?
Kelley Dianne: He's also an actor, so I did a lot of research on what he felt about this particular piece. And I agree with a lot of things that he said, the simplicity of it all. In the language that they speak, it's in the words. So you don't need a big elaborate set, you don't need a lot of costumes. It's just about the two people and the acting onstage.

------------------------------------------------------------------------------------------------------

DIRECTOR'S NOTES
by Kelley Dianne Smith

THE OLD SETTLER is a heart-warming play about two sisters whose love helps them heal the past. On the surface, all we see is two women living together, getting on each other's nerves, and keeping each other informed on the happenings in their small church circle. But it is not until Husband and Lou Bessie enter, that we find out how much they love each other. In doing research on the period and reading the director's notes, I decided to keep it simple and focus on what was important - these two sisters. What is evident is that no matter what life brings, you can survive if you have one person you love and who loves you back. At the end of it all, all we have left on stage are Elizabeth and Quilly and their love. So, I love that I "get" that, my actors get that, and my designers get that, and my hope is that you'll get it, too. Much love and many blessings to all.

------------------------------------------------------------------------------------------------------