THEATRE UNDER THE STARS
30TH ANNIVERSARY

Offers A Dickens of A Holiday Musical
December 4-21, 1997

OLIVER!
Houston, TX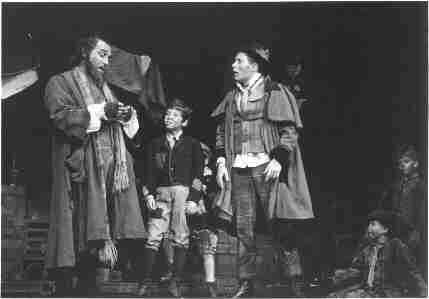 Befriended by thieves, young Oliver Twist (Christopher Jones) looks up to Fagin (Stephen Berger) and Dodger (Gair Morris) in the Tony-winning Lionel Bart musical based on Charles Dickens'classic novel.



OLIVER!, the jubilant musical adaptation of Charles Dickens' novel "Oliver Twist" becomes Theatre Under the Stars' holiday stage attraction December 4-21, 1997 at The Music Hall. Filled with such lively showtunes as "Consider Yourself," "As Long As He Needs Me," "You've Got To Pick a Pocket or Two," "Food, Glorious Food," "Who Will Buy?" and "It's a Fine Life," OLIVER is a holiday treat for the entire family.

The musical's story is a classic. An endearing English orphan, Oliver Twist, is consigned to a London workhouse and then makes his way to the mean streets of London where he is recruited by a wily young thief, the Artful Dodger, for the scoundrel Fagin's band of juvenile pickpockets. Protected by the barmaid Nancy and her young protege Bet, Oliver makes a bitter enemy of Nancy's boyfriend, the evil Bill Sikes. Eventually, however, honestly and kindness prevail to unite the orphan with his long "lost" grandfather.

With book, music and lyrics by Lionel Bart, OLIVER! began a six-year initial run in London on June 30, 1960, playing 2,618 performances. It opened on Broadway on January 6, 1963, drawing capacity houses for 97 weeks through November 14, 1964 and brought Lionel Bart the 1963 Tony Awards for both music and lyrics. The show enjoyed a major national tour and returned to New York for a second engagement in the fall of 1965. It was last revived on Broadway in 1984 and in London in 1995.

Directed for TUTS by Michael Tapley, with musical direction by Allen Grubbs, OLIVER! features Houston youngster Christopher Jones, 11, in the title role with Stephen Berger as Fain, Rachel deBenedet as Nancy, Lee Lobenhofer as Bill Sikes, Gair Morris as Dodger, Newton R. Gilchrist as Mr. Bumble and Marsha Bagwell as Widow Corney.


CAST OF CHARACTERS
Oliver Twist.........................................................Christopher Jones
Mr. Bumble..........................................................Newton R. Gilchrist
Widow Corney.....................................................Marsha Bagwell
Mr. Sowerbury.....................................................Dink O'Neal
Mrs. Sowerbury....................................................Denise Thorson
Charlotte...............................................................Danette Holden
Noah Claypole......................................................Noah Racey
The Artful Dodger.................................................Gair Morris
Fagin.....................................................................Stephen Berger
Nancy....................................................................Rachel deBenedet
Bet.........................................................................Emily Yarrell
Bill Sikes.................................................................Lee Lobenhofer
Mr. Brownlow.........................................................James Belcher
Dr. Grimwig.............................................................Dink O'Neal
Mrs. Bedwin............................................................Susan Shofner
Old Sally.................................................................Marybell Chaney

========================================================


Interview with Christopher Jones
Oliver Twist in the TUTS Musical Production of OLIVER!

by Theresa Pisula
Theresa@HoustonTheatre.com



Christopher Jones is an 11 year old 5th grader at Ponderosa Elementary School. He began singing and performing on stage at the age of 5. This marks Chris's first appearance with TUTS as he reprises the title role of his 1995 debut with Centre Stage's rendition of OLIVER! Theatrical credits include Alligator in Really Rosie and Wilbur in Charlotte's Web, while other performances include Elvis in One Magic Christmas and vocal ensemble wiht Encore! Youth Performers and The Houston Children's Chorus. Chris is the eldest of four Jones boys, and his family works hard to leverage their schedule to help him lead a normal "kid's life" which includes playing sports, civic projects and serving as president of his school's Student Council.

Theresa: Tell us a little bit about the part you're playing in this musical.
CJONES: I play Oliver Twist, and he's a little orphan kid who goes through lots of obstacles in one time period, and finally ending up in a home, Mr. Brownlow's home. And that's actually his grandfather, and he's really a nice kid but he can fight if he wanted to, I mean, he's feisty.

Theresa: He does go through a lot of adventures. Have you ever been in a production as big as this before?
CJONES: No, I haven't. I haven't been in one as big as this, but this is pretty big. It's probably the biggest they can get. But I played Oliver before, in a production at Centre Stage in Kingwood. I played Oliver there. That's the closest I've gotten to this.

Theresa: What does your friends think about you being in this play?
CJONES: They think it's really cool, and when I first told them, they were all amazed. They all come to see me, they get all excited and they're like "When are you gonna take me? When are you gonna take me?". And they also help me out in my schoolwork, when I go back to school and I miss a couple of days, they help me and show me.

Theresa: Were you born in Houston?
CJONES: I was born in Conroe.

Theresa: What do you like most about being in this production?
CJONES: It's really fun to be in this production, it's fun to be with all the kids.

Theresa: How many kids are there?
CJONES: (Looks over to TUTS Managing Director of Marketing Cissy Segall and she says "29")
That's a lot there. That's my favorite part about it.

Theresa: Do you feel that it's gonna be good for kids because of all the violence that they see on TV?
CJONES: I really think that this Play is good for kids 'cause.....well, first of all, kids probably have never been to a theater like this, and I think it can be a very good experience for them. And I think it's something that the whole family can enjoy 'cause it's such a Christmas kind of a Charles Dickens, it's a classical, so I think they would really enjoy this.

Theresa: You have three brothers and you're the oldest. Would you encourage them to be part of theater or be an actor?
CJONES: My brothers and I, we're always into Music. We just love Music. And my younger brother Quentin, who's 7, if somebody asked him, "Do you want to be an actor?" He would say, "I might want to be an actor, but not in this theater, it's too big for me." He likes to play the dentist in Little Shop of Horrors, he likes that.

Theresa: Little Shop of Horros? Which part do you like?
CJONES: I like Seymour.

Theresa: What is special about this Christmas Season for you?
CJONES: It's just really a special Christmas because I've never played in a musical before. I probably will never get another chance playing in The Music Hall again, so, that's why it's special.

Theresa: Who do you want to dedicate your performance to?
CJONES: Definitely, my parents, and my friends. And also, I have a teacher named Ms. Hornsby. She left because she had to go teach somewhere else. And that's who I want to dedicate it to.

Theresa: Looking back in the year 1997, what does this year mean to you?
CJONES: Well, I've done lots of stuff this year. This Play, of course, and spending time at my cousin's beachhouse in the summer, that's really fun. The first year I got to drink some champagne. I have 3 cousins, one's Scott, he's 16, another one's Mark, he's like 13, then Caroline.

Theresa: Are you going to be pursuing a career as an actor?
CJONES: I might, but it's not going to be any further than this. This is tough work, and one can just imagine how tough something can be in anything bigger than this one.

Theresa: (Two or three boys who play Workhouse Boys were watching the interview joins in) What are your names?
SBAKER: Hi, my name is Steven Baker. I play Charley Bates and the Oliver understudy.

Theresa: Steven Baker is an 11-year old fifth grader in his second semester at TUTS' Humphreys School. A veteran of the Oliver role (in Stratford High School's production), he was more recently seen as Sir Tom of Warwick in Camelot for Galveston Island Outdoor Musicals.

JHIATT: I'm Jonathan Hiatt. I'm a workhouse kid, and an extra. I sing with the chorus.
Theresa: Jonathan Andrew Hiatt, age 12, is a native Houstonian who attends the eighth grade at Memorial Hall School. He loves to read, write fantasy-action stores, play the piano, skateboard, and swordfight. After two semesters at HSMT, he makes his TUTS debut in OLIVER! (To Jonathan) How do you like being in this Musical?
JHIATT: It's great! I've been in stuff that's close to this but never anything actually this big. And in Houston. This has helped me a lot. Like, I do speeches at school, it's helped me a lot in those. I just like being on stage.

Theresa: Do your friends think you're a star?
JHIATT: Some of them do....and my friend Wendy, is also an actor and she shows me some things that she does.

Theresa: What do you think about being part of this production?
SBAKER: It's Fun! The experience. Learning a lot about Acting.

Theresa: Do you all plan to be in anything like this in the future?
JHIATT: I think I might be considered in Gigi. (TUTS next musical production).
SBAKER: I'm gonna move soon. I'd like to be in something like this again, if there's something like Theatre Under the Stars there.

========================================================

Interview with Emily Yarrell
BET in the TUTS Musical Production of OLIVER!

by Theresa Pisula
Theresa@HoustonTheatre.com


Emily considers herself "at home" after seven years at TUTS Humphreys School of Musical Theatre and appearing as Bielke in TUTS' 1993 production of Fiddler on the Roof. Last year, Emily played Nancy in Lanier Middle School's spring musical, OLIVER! At Lanier, Emily flourished under the direction of her teachers and was awarded the Ruth Redd Choral Award as well as academic achievements including the Presidential Scholar designation. She is a ninth grader at HISD's Bellaire High School. She speaks with a very soft, whispery voice.

THERESA: Tell us a little bit about the character that you're playing.
EMILY: Well, Nancy's like the head barmaid and I'm kind of like her little sister, in a way, I'm her sidekick, I'm there with her all the time. She's my idol. I wanna be her.

THERESA: You actually played Nancy in a previous Oliver?
EMILY: In my middle school, we did Oliver last year and I played Nancy. This is such a huge production.

THERESA: And did you sing all the same songs that you sing in this production?
EMILY: We did every single song. We did even more than they do. They (TUTS) took out some songs.

THERESA: You're blonde. But you're a brunette in the show.....
EMILY: Oh, she.....in the show has a wig (referring to Bet, her character) and Nancy does, too.

THERESA: How old are you?
EMILY: Fifteen. Oh, you mean in the show? I'm supposed to be like 13, or 12 or something....

THERESA: Were you born here in Houston?
EMILY: No, I was born in Dallas. But I've lived and grew up here ever since I was young.
THERESA: You do a great job singing those songs. What are the songs that you sing?
EMILY: I sing by myself in It's A Fine Life. And I'd Do Anything. And I sing with the ensemble in Oom-Pah-Pah.

THERESA: Have you ever been in as big of a production as this before?
EMILY: Yeah, when I was like, in fifth grade, which was like four years ago, I was in Fiddler on the Roof and I played one of the daughters. And it was a great experience, because you get the feeling of a professional show, and it really is.....it's just great.

THERESA: What do you think about how watching this musical will benefit other children?
EMILY: Well, a lot of kids come to shows and they're just kinda like bored with it, cause they think it's not very interesting. But I think that if they came and they saw all the other kids, they'd be like, "Wow!" and they'd pay more attention. It'd be exciting for them.

THERESA: What is special about this Christmas Season for you?
EMILY: Being able to be in this play. It's like, the best thing in the whole.....I mean, it's so much Fun. I'm gonna have like, post-partum depression when it's over. (Laughs). I'm gonna be like, "What am I gonna do?". 'Cause, like, This is my life.

THERESA: How long have you been acting?
EMILY: Well, I've been at TUTS for seven years. I've just been taking tons of classes at the Humphrey's School. Last year, I was like, the lead (Nancy) in Oliver, and it was just a growing experience. And then, This!.....This is even.....You learn so much.
Fiddler on the Roof was this big a production. It was here, but I wasn't in as big of a part. I was in more scenes, but I was just like, sitting there, 'cause I was part of the family. And in This, I'm an important part of every scene I'm in.

THERESA: How much preparation did you have to make for this?
EMILY: The kids had to start rehearsing two weeks before the adults came in. And then, they rehearsed for like, two or three weeks, and so it was like, five weeks of rehearsal, like everyday to get ready for the show to start. And I'm still practicing and working, even though it's going on.....to fix my character, to fix my problems and mistakes, kinda like Practice.

THERESA: Do you find that your friends treat you differently?
EMILY: I find that everyone has an interest for it, "How's the play going, how are you doing?" They've all come to see it. I haven't done a show where I didn't know somebody, like every night. It's amazing.

THERESA: Who do you want to dedicate your performance to?
EMILY: I dedicate it to my family because I am forever grateful for their love and support. I dedicate it to my mom and my dad for everything.
I wish to thank all my teachers who have encouraged and inspired me to reach for the stars.
To my family, teachers and friends, because they're all real supportive and they help me so much.


========================================================

Interview with Rachel deBenedet
NANCY in the TUTS Musical Production of OLIVER!

by Theresa Pisula
Theresa@HoustonTheatre.com



Rachel deBenedet returns to TUTS, having played the man-hungry Harriet in last month's Makin' Whoopee! and the money-hungry Lady Jacquie in Me and My Girl, the role in which she toured the U.S. and Canada. Rachel has won critical acclaim in diverse roles ranging from Elsa Barlow in Fugard's The Road to Mecca to Maria in The Sound of Music to Salome in The Robber Bridegroom. Other regional credits include Seattle's 5th Avenue Theatre (Lina Lamont in Singin' In The Rain), Sacramento Music Circus (Lois/Bianca in Kiss Me Kate), Theatre West (Eliza Doolittle in My Fair Lady and Anna in The King and I). Rachel studied acting in London, where she played Emma in Pinter's Betrayal and Lucy in The Country Wife under the direction of Royal Shakespeare Company members. Rachel is a very beautiful blonde, although her character Nancy is a redhead. Her frame is thin and light.

THERESA: You were with Theatre Under the Stars before?
RACHEL: Yes, a couple of times. I was here for a couple of months, in October and November, in Makin' Whoopee! In a very different role. I played a sort of a cigarette-smoking vamp. And a year and a half ago, I was here in Me and My Girl.

THERESA: Do you tour a lot?
RACHEL: I work out of town. I work in regional theaters a lot. I did tour for almost a year, with Me and My Girl, but that was 8 years ago. I haven't gone in a real full-fledged tour since then. I'm based out of Boulder, Colorado. I work out of town up to 6 to 7 months of every year.

THERESA: Are you married? Do you have any kids?
RACHEL: A-ha, I'm married. No, no kids. Just my husband and my dog.

THERESA: You play a great part. I've seen the play, and you play this redhead, and she sings these beautiful songs. And I guess the part that you play is like, an abused person. And it's amazing that they wrote it back in the 1800's.
RACHEL: Right. You know, Dickens writes a lot about the real dark sides of life. His characters are very rarely light. He wrote about Fagin's Gang, all the kids that he has that are picking pockets for him and working for him. Nancy was one of his kids growing up, and basically grew up picking pockets for Fagin since she was half Oliver's age. So, she has been in this underworld her whole life, and she is in a relationship with Bill Sikes, who is the most powerful underworld figure, at least in the show. He is a murderer and a thief, and has lots of power in the community. But he abuses her. But they deserved what they got, it was something that they had brought upon themselves. Although, this kind of abuse still happens today.

THERESA: Do you know of anybody that might be going through the same things that Nancy is?
RACHEL: Not with the exact same physical abuse situation. Luckily no one in my life is going through that, that I know of.....

THERESA: And it still does happen.....
RACHEL: Oh, definitely. And you always wonder why people stay in these relationships. So it's very interesting for me to play a woman who is caught up in that relationship, and she loves him.

THERESA: She was very much in love, I mean the songs.....were very good and they were about her love for him. How do you like playing here in Houston?
RACHEL: Oh, I love Houston. I come back whenever I can. It's fun and the cast, we all live and work together (but, we all live in separate apartments). This particular project is 5 weeks. And Makin' Whoopie was 5 weeks right before that. This one just went on right after that last one, so I didn't get to go home. But my husband came here for a couple of days.

THERESA: How was Makin' Whoopie different from this musical?
RACHEL: It's a polar opposite of this musical. It's all comedy. It does not have a serious bone in its body. And it's all tap dancing and fluff, it doesn't pretend to be anything else, it doesn't try to be anything else. It was a lot of fun. But then this one, obviously, two people get killed onstage, all these children are being starved to death....

THERESA: What is special about this Christmas season for you?
RACHEL: Well, this Christmas season, I am away up until a couple of days before Christmas. My parents are coming down here this weekend, so I get to see them. But I hear that my husband is decorating the house like crazy, so I get to walk home and it'll all be decorated. It's wonderful!

THERESA: Do you want to dedicate this performance to anybody in particular?
RACHEL: I supposed I would dedicate it to my grandparents, who were always been great fans of theatre. They passed away a year in succession at Christmastime.

THERESA: Looking back in 1997, what did this year mean to you?
RACHEL: This year has been a really varied year. I was at home for a large part of it working in Colorado, so I was able to spend lots of time with my husband and my dog, and then, I got away, which was also great. So, it's been a really good year. I really enjoy being in Houston, I always enjoy my time down here. And being from Colorado, it's very nice to be in the warmth, while everyone else is shivering. As you can tell by my room, I've been stung by bees a lot since I've been here. That's what the decorations in my dressing room are for.

THERESA: What are you looking forward to in 1998?
RACHEL: Well, I'm planning to move back to New York in the spring, so I'm looking forward to that. I'm excited and anxious. I have a couple of plays lined up when I get back to Denver for January and February. One of which is an Agatha Christie, which I do a lot of. And then, a Rodgers and Hammerstein Revue called Some Enchanted Evening, which includes all the best in South Pacific, and The King and I, and The Sound of Music.