Houston Best Actor James Belcher stars as the Russian Marxist Revolutionary Leader Vladimir Lenin in The Alley Theater's Production of TRAVESTIES by Tom Stoppard. TRAVESTIES centers around the fictional meeting of three extraordinary figures in Zurich in 1917: novelist James Joyce, the dadaist Tristan Tzara and Lenin. The Revolutionary and two revolutionary artists collide inside the faulty memory of one of Stoppard's greatest comic creations, a minor official named Henry Carr, whose exuberant imagination rewrites history in very surprising ways. Gregory Boyd, the Alley Theatre's Artistic Director is directing, returning to Houston after launching The Civil War on Broadway. Single tickets to Travesties can be purchased at the Alley Theatre Box Office, 615 Texas Avenue or by phone at 713-228-8421 Photo from www.marxists.org
ALLEY'S Gregory Boyd Gives Tom Stoppard's Smartly Funny
TRAVESTIES
Imaginative New Staging in Neuhaus Arena
May 21 - June 13, 1999

HOUSTON, Texas-The Alley's 1998-99 season finale, Travesties-a fictional
collision of three major historical figures: Lenin, James Joyce and the Dadaist poet Tristan Tzara
in 1917 Zurich-is the articulate and funny creation of Tom Stoppard, one of the most highly
regarded playwrights in the English language who recently won an Oscar for the blockbuster
movie Shakespeare in Love. Alley Artistic Director Gregory Boyd directed Travesties in the
Neuhaus Arena, which has been transformed by set and lighting designer Kevin Rigdon into a
visually stunning playground for this production.
Travesties, co-sponsored by Arthur Andersen and Baker & Botts, L.L.P., begins preview
performances Friday, May 21 and opens Wednesday, May 26. The production closes Sunday,
June 13.

"The idea that three historical figures of such magnitude would meet in such a comical
and ingenious way is quintessential Tom Stoppard," said Mr. Boyd. "No other living
playwright-or writer--can dazzle audiences with such wit, brilliance and virtuosity.
Everything he writes, whether for the stage or film, is a celebration of the art of writing."
Travesties centers around the 1917 fictional meeting of three extraordinary individuals:
novelist James Joyce, revolutionary Lenin and the Dada poet Tristan Tzara. The details of the
encounter are told through the faulty memory of Henry Carr, a minor official of the British
consul of Zurich, Switzerland. This cerebral and hilarious historical jaunt led Michael Billington
of The Guardian to write that Travesties is "a dazzling pyrotechnical feat that combines
Wildean pastiche, political history, artistic debate, spook-reminiscence, and song-and-dance in
marvelously judicious proportion. It radiates sheer intellectual joie de vivre. Exuberant and
freewheeling "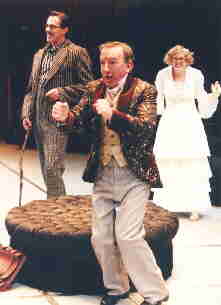 (L-R) John Feltch as James Joyce, John Tyson as Henry Carr, and Shelley Calene Black as Gwendolyn in Tom Stoppard's TRAVESTIES. Photo by Bruce Bennett.




Mr. Stoppard was bom in 1937 Czechoslovakia and moved with his family to Singapore
in 1939 to avoid the growing dangers of World War 11. Soon they evacuated from Singapore and
moved to India. After his father's death in the Japanese invasion, his mother later married a
British Army major (Kenneth Stoppard) and moved the family to England in 1946. At 17, Tom
became a cub reporter for the Western Daily Press in Bristol that, for the next six years, had him
writing all sorts of assignments, including film and theatre criticism.


He ended his journalism career in 1960 to pursue his own writing, which included a play
titled A Walk on the Water (produced in 1968 under the title Enter a Free Man). Over the
next several years, he wrote short stories, 15-minute radio plays for the BBC and five episodes
for the television series The Dales. In 1964, he was awarded a grant from the Ford Foundation
and was invited to West Berlin for a five-month colloquium. During this period, Mr. Stoppard
wrote the draft for the play Rosencrantz and Gufldenstern Are Dead (initially titled
Rosencrantz and Guildenstern Meet King Lear), a retelling of Hamlet through the eyes of two
marginal characters. Laurence Olivier's National Theatre obtained the rights for the London
premiere of Rosencrantz and Guildenstern and it debuted April 11, 1967 at the Old Vic,
making him the youngest playwright (at 29) to have a work staged at the National Theatre.
He went on to write several other plays, including The Real Inspector Hound (I 968),.
Jumpers (I 972), Travesties (I 974), Night and Day (I 978), The Real Thing (I 982), Arcadia
(I 993), Indian Ink (I 995) and The Invention of Love (I 997).


His body of work includes writing for television, radio and screen. His film credits include screenplays for Brazil (1985), Empire of the Sun (1987), and Rosencrantz & Guildenstern are Dead (1990, which he also directed), The Russia House (1991) and Shakespeare In Love (1998), for which he received an Oscar for Best Original Screenplay.

Not only elevating Stoppard's profile, Shakespeare in Love introduced mainstream audiences to Shakespeare and the thrill of live theatre. Of the film Charles Spencer of the United Kingdom's Telegraph wrote, "Shakespeare In Love is an exhilarating celebration of the theatre to which Stoppard has devoted his life, the mixture of Shakespearean verse and Stoppard's distinctly modern jokes works like a dream...the movie gloriously captures the thrill of love, beautifully described in Stoppard's own phrase in the script as 'a riot in the heart,'"

In the cast of Travesties, John Tyson is Henry Carr, Alley Company Actor Jeffrey Bean is Tristan Tzara, James Belcher is Lenin, Alley Resident Company Actor John Feltch is James Joyce, Alley Resident Company Actor Paul Hope is Bennett, Shelley Calene Black is Gwendolen, Amy McKenna is Cecily and Alley Resident Company Actor Annalee Jefferies is Nadya.
Travesties features scenic and lighting design by Alley Associate Director/Design Kevin
Rigdon, costume design by Jeanne Button and sound design by Joe Pino.






(L-R) John Tyson as Henry Carr, and Jeffrey Bean as Tristan Tzara in Tom Stoppard's brilliantly funny pyrotechnical tour-de-force TRAVESTIES. Photo by Bruce Bennett.



The Alley Theatre@ recipient of the 1996 Special Tony Award for outstanding regional
theatre, is a resident theatre company located in the heart of downtown Houston. Alley
productions have been seen throughout the United States and abroad. In 1990, the Alley
produced Jekyll & Hyde, which later toured nationally and is now enjoying a successful
Broadway run. In 1995, the Alley brought an unprecedented two productions to the Venice .
Biennale: Tony Kushner's two-part epic Angels in America and the world premiere of Hamlet
a monologue-written, directed and performed by Alley Associate Artist Robert Wilson.

The 1996 Shakespeare repertory of Antony and Cleopatra-an international collaboration with
Vanessa Redgrave and Corin Redgrave's Moving Theatre of London-marked a bold new step
forward for the Alley Theatre that continued in March 1998 with the world premiere production
of Tennessee Williams' early play Not About Nightingales at the Cottesloe Theatre in London.
A collaboration with the Moving Theatre and Royal National Theatre and directed by Trevor
Nunn, Not About Nightingales made its U.S. debut at the Alley Theatre in June 1998 and is
currently playing on Broadway, featuring two Alley Company Resident Actors. The Alley
began its 1998-99 season with the world premiere of an original and unique musical event
entitled The Civil War by Gregory Boyd, Jack Murphy and Frank Wildhom (composer of
Jekyll & Hyde and The Scarlet Pimpernel). The Civil War debuted at Broadway's St. James
Theatre April 22, 1999.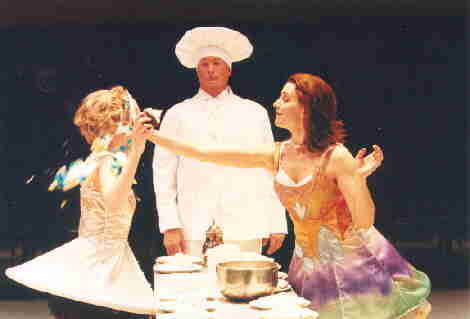 (L-R) Shelley Calene Black as Gwendolyn, Paul Hope as Bennett, and Amy McKenna as Cecily (Hint: Amy McKenna's the one that gets to go topless onstage). TRAVESTIES is a brilliantly funny, pyrotechnical tour-de-force - A freewheeling fireworks display about art, revolution, sex, and song-and-dance by Tom Stoppard. TRAVESTIES runs through June 13 at the Alley Theatre. Call 713-228-8421 for Tickets. Photo by Bruce Bennett.
TICKET INFORMATION
Tickets for Travesties are on sale now at the Alley Theatre Box Office, 615 Texas
Avenue, or by calling 713/228-8421. Single tickets to preview performances are $22; single
tickets to performances on or after the May 26 opening range from $3 6-$40. Groups of IO
persons or more can purchase tickets at a discounted rate by calling 713/229-9341, ext. 350.
Patrons with low hearing may call (TTY) 713/220-5 71 0 to purchase tickets.
SPECIAL PERFORMANCES AND EVENTS

Captioning is available for the 2:30 p.m. performance on Sunday, June 13. Alley patrons
are also invited to attend two post-show Talk-Backs with the cast, scheduled for Wednesday,
June 2 and Tuesday, June 8 (both performances begin at 7:30 p.m.).
This production is recommendedfor mature audiences.
Travesties is funded in pad by a grant from the Texas Commission on the Arts through the Cultural Arts Council of
Houston/Harris County.
~