www.TUTS.com

Presents
JAGGED LITTLE PILL
THE TONY AND GRAMMY AWARD-WINNING MUSICAL
WILL PLAY HOUSTON'S THEATRE UNDER THE STARS FROM AUGUST 29 THROUGH SEPTEMBER 10, 2023
Hobby Center for the Performing Arts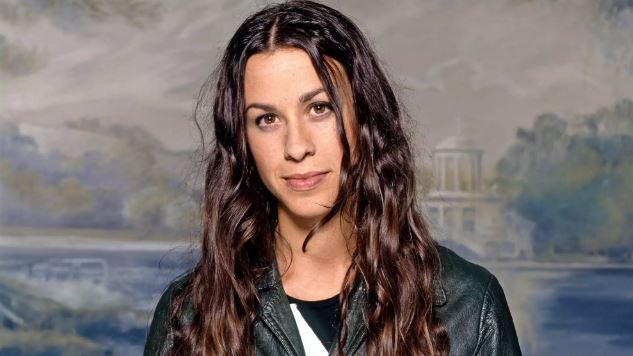 JAGGED LITTLE PILL

August 29 - September 10, 2023

WHAT:

Theatre Under The Stars (TUTS) presents Jagged Little Pill

DATES:

August 29 - September 10, 2023

WHERE:

The Hobby Center for Performing Arts – Sarofim Hall (800 Bagby St., Houston, TX, 77002)

TICKETS:

Online: tuts.com, Phone: 713.558.TUTS

INFO:

THEATRE UNDER THE STARS

PRESENT

JAGGED LITTLE PILL

TUTS ARTISTIC DIRECTOR: Dan Knechtges

For Tickets and information:
Online: TUTS.com

Email: patronservices@tuts.com

Phone: 713-558-TUTS(8887)

Box Office Window: Theatre Under The Stars Box Office (inside the Hobby Center for the Performing Arts)

800 Bagby

Houston, TX 77002

Lobby Hours Monday-Friday from 10:00 AM - 6:00 PM Saturdays from 11:00 AM - 4:00 PM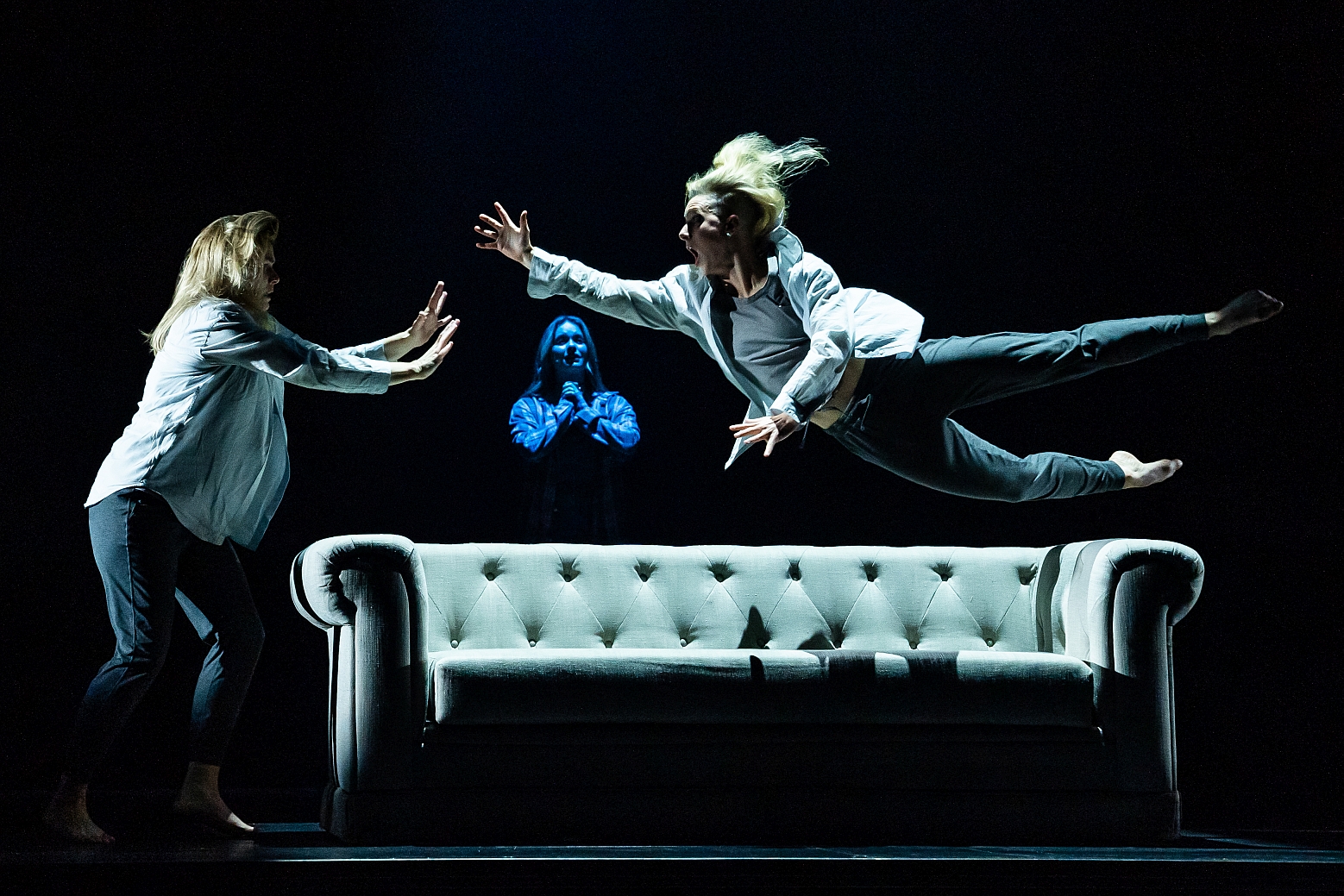 (L to R) Heidi Blickenstaff, Allison Sheppard and Jena VanElslander in the North American Tour of JAGGED LITTLE PILL. Photo by Matthew Murphy for MurphyMade, 2022.
JAGGED LITTLE PILL
The Hobby Center for the Performing Arts
AUGUST 29 THROUGH SEPTEMBER 10, 2023
HOUSTON — Theatre Under The Stars kicks off the 23/24 Season with a show that will have audiences rocking out. Inspired by the seminal rock album of the same name by seven-time Grammy Award winner Alanis Morissette (she/her), JAGGED LITTLE PILL hits Houston August 29 and runs through September 10. Tickets to the Tony and Grammy award-winning production are available in person at the Theatre Under The Stars box office Monday through Friday from 12 - 6 p.m., online at TUTS.com or by phone at 713-558-8887. "JAGGED LITTLE PILL is crafted with such excellence and so moved me when I saw it, that I knew I had to bring it to Houston," said Dan Knechtges, TUTS Artistic Director.
For a complete list of tour stops, please visit: JaggedLittlePill.com.
Directed by Tony Award winner Diane Paulus (she/her; Waitress, Pippin), JAGGED LITTLE PILL is an "electrifying, visceral and stunning" (The Hollywood Reporter) musical with an original story by Tony and Academy Award-winning writer Diablo Cody (she/her; Juno, Tully), about a perfectly imperfect American family that "vaults the audience to its collective feet" (The Guardian). Nominated for a season-record of 15 Tony Awards following its Broadway premiere, The New York Times declared the show "redemptive, rousing and real… JAGGED LITTLE PILL stands alongside the original musicals that have sustained the best hopes of Broadway."
.
Ignited by Morissette's groundbreaking lyrics and music – from beloved hits such as "You Oughta Know," "Head Over Feet," "Hand In My Pocket," and "Ironic", to brand new songs written for the show – JAGGED LITTLE PILL features explosive choreography by Tony Award nominee and frequent Beyoncé collaborator Sidi Larbi Cherkaoui (he/him; "Apesh*t", "Love Drought/Sandcastles" Live at The Grammys), and the raw power of an onstage band under the Musical Supervision, Orchestrations & Arrangements of Grammy, Tony and Pulitzer Prize winner Tom Kitt (he/him; Next to Normal, American Idiot).
The JAGGED LITTLE PILL creative team includes Tony-nominated Scenic Designer Riccardo Hernandez (he/him; Parade), Tony-nominated Costume Designer Emily Rebholz (she/her; Dear Evan Hansen), Tony Award-winning Lighting Designer Justin Townsend (he/him; Moulin Rouge!), Tony-nominated Sound Designer Jonathan Deans (he/him; Waitress), and Tony-nominated Video Designer Lucy Mackinnon (she/her; Spring Awakening). Hair, Wig, and Make-up Design is provided by J. Jared Janas (he/him; Sunset Boulevard)..
JAGGED LITTLE PILL officially opened on Broadway December 5, 2019 at the Broadhurst Theatre after beginning previews November 3. Prior to Broadway, JAGGED LITTLE PILL completed a record-breaking, sold-out run at American Repertory Theater (A.R.T.) in Cambridge, MA. That pre-Broadway world premiere production ran for 79 sold-out performances, from May 5–July 15, 2018, marking the longest-running and highest-grossing production in A.R.T.'s history. JAGGED LITTLE PILL concluded its award-winning Broadway run on December 17, 2021, after playing 36 previews and 171 performances. That same month, the production made its international debut in Australia at Theatre Royal Sydney. The Australian tour is currently playing at Comedy Theatre, Melbourne.
In 2019, Atlantic Records partnered with the Broadway production for the release of its Original Broadway Cast Recording, adding the show to the label's elite roster of Grammy Award-winning artists and cast albums. The cast album for JAGGED LITTLE PILL was officially released on December 6, 2019 – the day after the show's opening night on Broadway – and won the 2021 Grammy Award for Best Musical Theatre Album.
In the fall of 2020, the musical garnered a season-leading 15 Tony Nominations – including Best Musical – and Grand Central Publishing released a hardcover coffee table book following the journey of JAGGED LITTLE PILL to Broadway, with behind-the-scenes photos and stories from Alanis Morissette, Diablo Cody, the cast and more. Following the show's big Grammy Award win in 2021, JAGGED LITTLE PILL also won Tony Awards for Best Book of a Musical (Diablo Cody) and Best Featured Actress in a Musical (Lauren Patten). .
---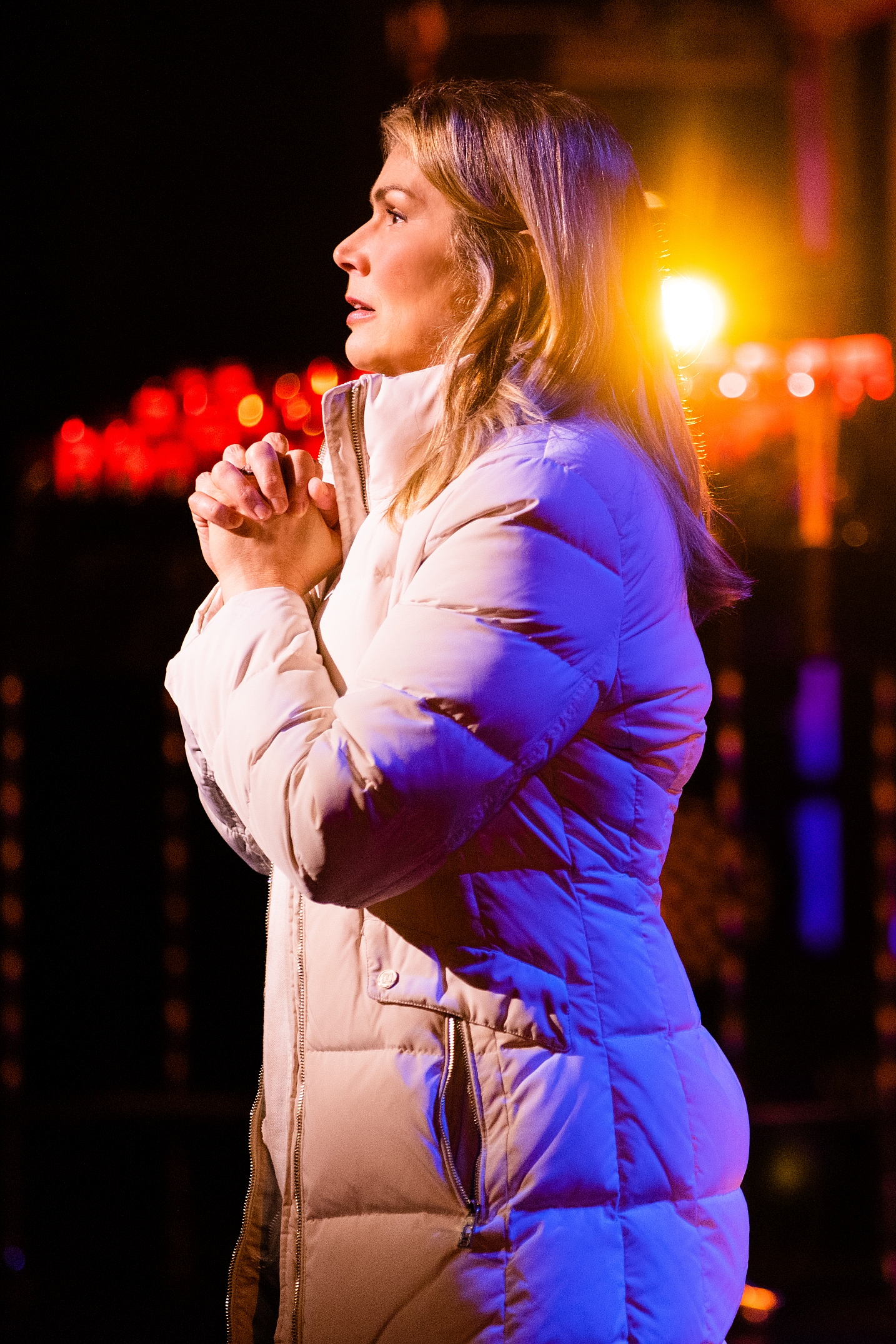 Heidi Blickenstaff in the North American Tour of JAGGED LITTLE PILL - Photo by Matthew Murphy, Evan Zimmerman for MurphyMade, 2022.
ADDICTED TO ALANIS
By Theresa Pisula
Theresa@HoustonTheatre.com
August 29, 2023
First of all, let me tell you about the music. The band was electric!! It's like a roller coaster ride lit on fire, rockin' and rollin' you from start to finish. Accompanied by classical violins, the string section took you from the highest of highs, to the mellowest of lows. And be forewarned, the ending is a shocker. As my good friend Shanda Alsandor said, "Oh, I wasn't expecting that."
As you begin to follow the story, it becomes obvious that this jagged little pill creates issues. A lot of issues. Like pre-marital sex, black lives matter, marital strife, Christmas greeting cards, homosexuality, LGBTQ community, hospital emergency rooms, bisexuality, Harvard education, internet porn, OCD, drug addiction and so much more. It's like rain on your wedding day. It's a free ride, when you've already paid. It's the good advice, that you just can't take. (I know, I'm sorry. I can't help it. I'm addicted to Alanis). Life has a funny way of sneaking up on you. Helping you out.
Having won the Tony Award for Best Book of a Musical, Diablo Cody also won the Oscar and the BAFTA award for writing the movie Juno. She also wrote Tully and Young Adult starring Charlize Theron. Diablo (the devil) was born Brook Busey in 1978 in Lemont, Illinois. She attended the University of Iowa. She also worked as a stripper in Minneapolis, and blogged (weblog writer) her way through life, while working at peep shows and adult novelty stores. She chose the name Cody while driving through Cody, Wyoming.
The Musical Jagged Little Pill takes you through all of Alanis Morissette's mood swings. Angry Alanis "You Oughta Know"; pensive Alanis "Ironic"; lovely Alanis "Head Over Feet"; philosophical Alanis "You Learn"; the ever-present Alanis "Hand in my Pocket" and my personal favorite, the Aggressive Alanis "All I Really Want". Alanis was born June 1, 1974 in Ottawa Ontario, Canada. Her mother is a teacher and her father is a high-school principal. She started to play the piano at 6 years old. She composed her first song at 10 years old. She attended Catholic schools, and started appearing on TV shows while in Junior High School. I remember she even dated Ryan Reynolds. She has won 7 Grammy awards and 14 Juno awards. She's the perennial bad ass, and to boot, a mother of three: daughter Onyx and sons Winter Mercy and Ever Imre.
Prior to the show, Shanda Alsandor and I had an elegant dinner at Diana American Grill, within the Hobby Center of the Performing Arts theatre building. While at the restaurant, I met a couple of friends from the good old days, Kathleen Reed from Weatherford and Mike and Susan Salinas from Encon. The places I'm referring to are Oil & Gas companies I've worked for, a staple of Houston, Texas. The tall, blonde statuesque Kathleen gave us a hug and said she came to opening Press Night with her friend, who was also in the Press. Mike Salinas noticed that I haven't been in the theatre in a long while. And I answered, "But I had to go to this one!!" Yes, he admitted, we are all big Alanis Morissette fans.
The restaurant is named as a tribute to Diana Poteat Hobby (1931 - 2014), whose vision was essential in bringing the Hobby Center to life. She was a devoted patron of literary and performing art forms. The Hobby Center programs in literature, drama and music, especially by local artists in smaller spaces, were among Diana's greatest joys. She came to Texas as a young bride from her family farm in North Carolina. In addition to sharing the humanities through art, nothing gave her more pleasure than serving fresh vegetables from her garden and sharing the bounty of her orchard with her family and friends. She would be honored that her legacy of gracious hospitality lives on at the Hobby Center.
The dining room is relaxed and comfortable with a spectacular view of downtown Houston. I ordered the salmon and Shanda enjoyed the pasta dish. The menu, devised by Robert Del Grade of Café Annie, focuses on the best ingredients, precisely cooked and thoughtfully embellished. Chef de Cuisine Mason Denton leads the kitchen team, and Marcello Liberona directs the service staff and oversees the wine list and cocktail program. Diana American Grill draws on the heritage of great theater district restaurants where Houstonians can relax and eat well before a great show, after beating the horrendous traffic and triple digit heat (my auto digital clock registered 113 degrees Fahrenheit!!).
And this just in. This falls in the category of "only in Houston". The Los Cucos Mexican restaurant on Hwy. 249 caught on fire for the second time this week. The first fire was on Aug. 23, just days before the second one. According to the reports, there were about 12 fire engines, four tour ladders, two tankers, a cascade apparatus, and two other vehicles used to combat the fire. One firefighter was hospitalized, and two others were treated for heat exhaustion. The Klein Fire Department called the first incident a "total loss." Ironically, if you are trying to decide where to go for dinner tonight, just drive on over to the Los Cucos Mexican restaurant on Hwy. 249 and have some fried fajitas and fried margaritas. Joking aside, this is how brutally HOTTTT it is here in Houston. Some of you may think you know what HOT is. You have no idea.
It's not fair to deny me of the cross I bear that you gave to me. You, you, you oughta know!! So, what the hell are you waiting for? Go to the show already!! I recommend getting your heart trampled on by anyone. I recommend walking around naked in your living room. Swallow it down, like a jagged little pill. It feels so good, swimming in your stomach. I recommend biting off more than you can chew to anyone. I recommend sticking your foot in your mouth at any time. Throw it down!! The caution blocks you from the wind. Hold it up to the rays. Wear it out, the way a three-year-old would do. Melt it down, you're gonna have to, eventually anyway. The fire trucks are coming up around the bend. Then, wait and see after the smoke clears.
You live, you learn. You love, you learn. You cry, you learn. You lose, you learn. You bleed, you learn. You scream, you learn. Feel free. I just can't help it. I'm addicted to Alanis. I plan to OD on her jagged little pill. And then wait until the dust settles.

Jade McLeod and the North American Touring Company of JAGGED LITTLE PILL. Photo by Matthew Murphy for MurphyMade, 2022.

Lauren Chanel and the company of the North American Tour of JAGGED LITTLE PILL - photo by Matthew Murphy, Evan Zimmerman for MurphyMade, 2022 .

Lauren Chanel and the company of the North American Tour of JAGGED LITTLE PILL - photo by Matthew Murphy, Evan Zimmerman for MurphyMade, 2022

Lauren Chanel and the company of the North American Tour of JAGGED LITTLE PILL - photo by Matthew Murphy, Evan Zimmerman for MurphyMade, 2022 .
---
THEATRE UNDER THE STARS ("TUTS") - (Dan Knechtges, Artistic Director; Hillary J Hart, Executive Director) - Theatre Under The Stars delivers outstanding musical theatre experiences. We cultivate the art form—producing world-class shows, providing access for the community, and training the next generation—for Houston, by Houston. For more information, visit tuts.com.